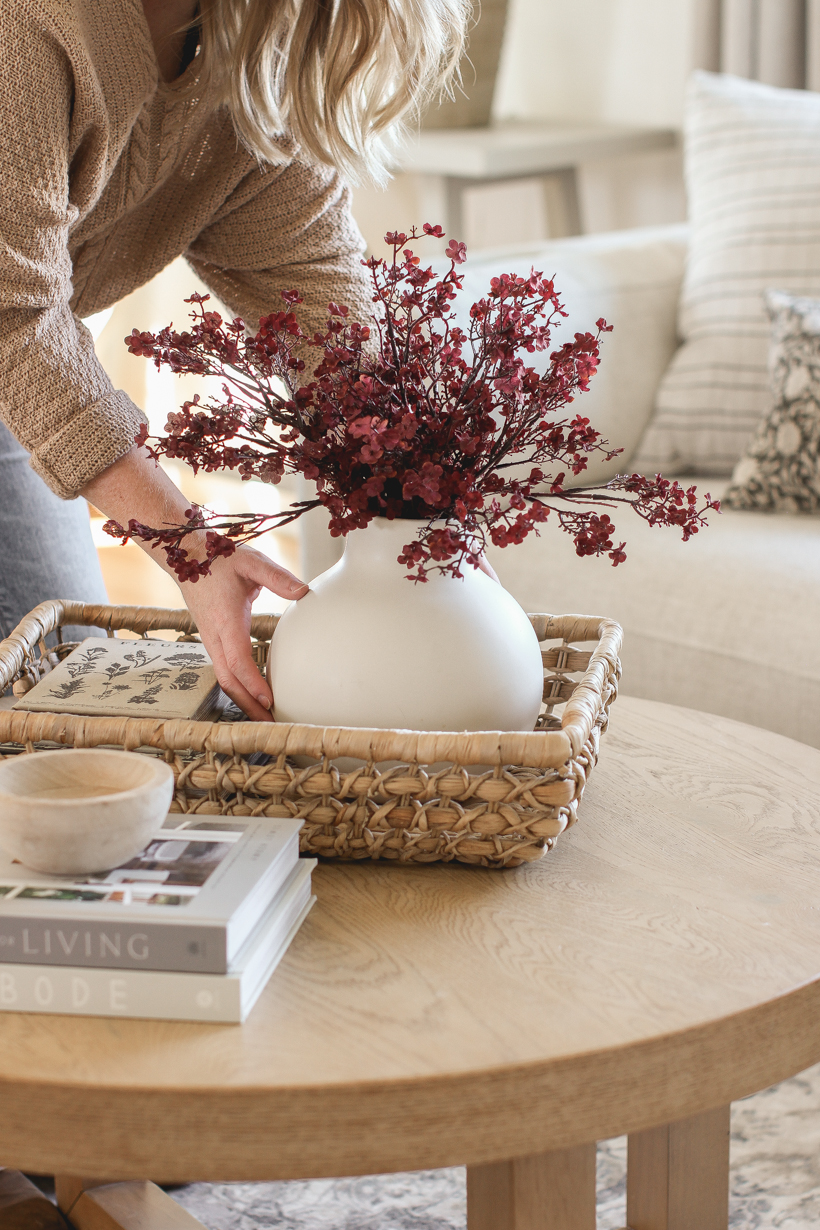 Continuing with the theme of simple fall decorating, I'm sharing some of the fall stems I added around the house this week, plus 30 more of my favorites from stores I love. Swapping out my summer greenery for more fall-inspired stems like maple leaves, dried grasses, and wheat only took me a few minutes to do and instantly made the house feel warm and cozy. I typically look for stems with lots of texture in shades of brown, cream, and deep purple/burgundy. Those colors are the "Liz" version of traditional orange, yellow and red for this beautiful season. 😊
A few weeks ago I shared the pretty fall pillows and cozy throw blankets I added to the living room – read more about those here – but filling the house with vases of rich, earthy fall colors and foliage was just what these spaces needed to really make it feel like fall.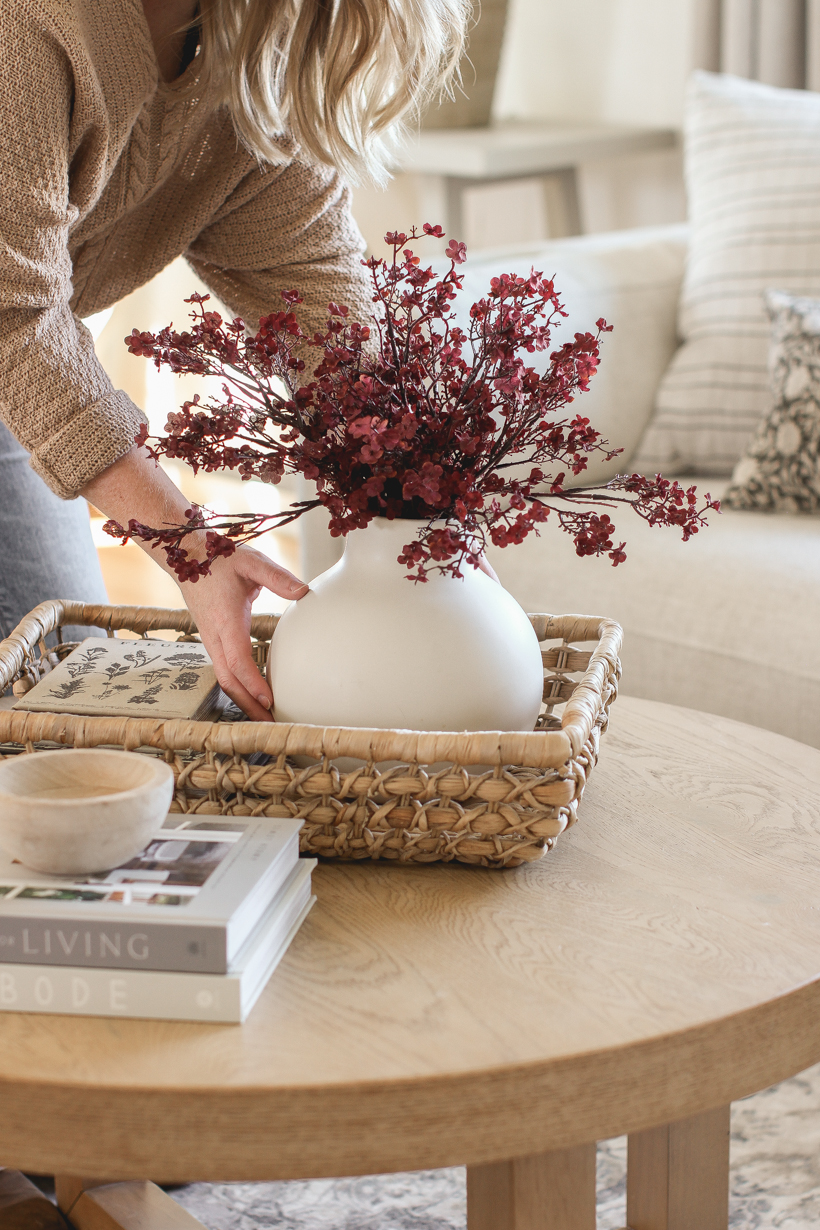 Side note: I caved this week and turned my heat on. I was sitting at my computer in sweats, socks, and slippers with a blanket and still freezing… it was time. 😂
I added two new fall stems to my collection this year:
– some faux deep burgundy baby's breath I found on Amazon – super affordable, under $20 for 6 stems!
– and dried queen anne's lace – a little more expensive, but I love the minimal simplicity of these curly dried stems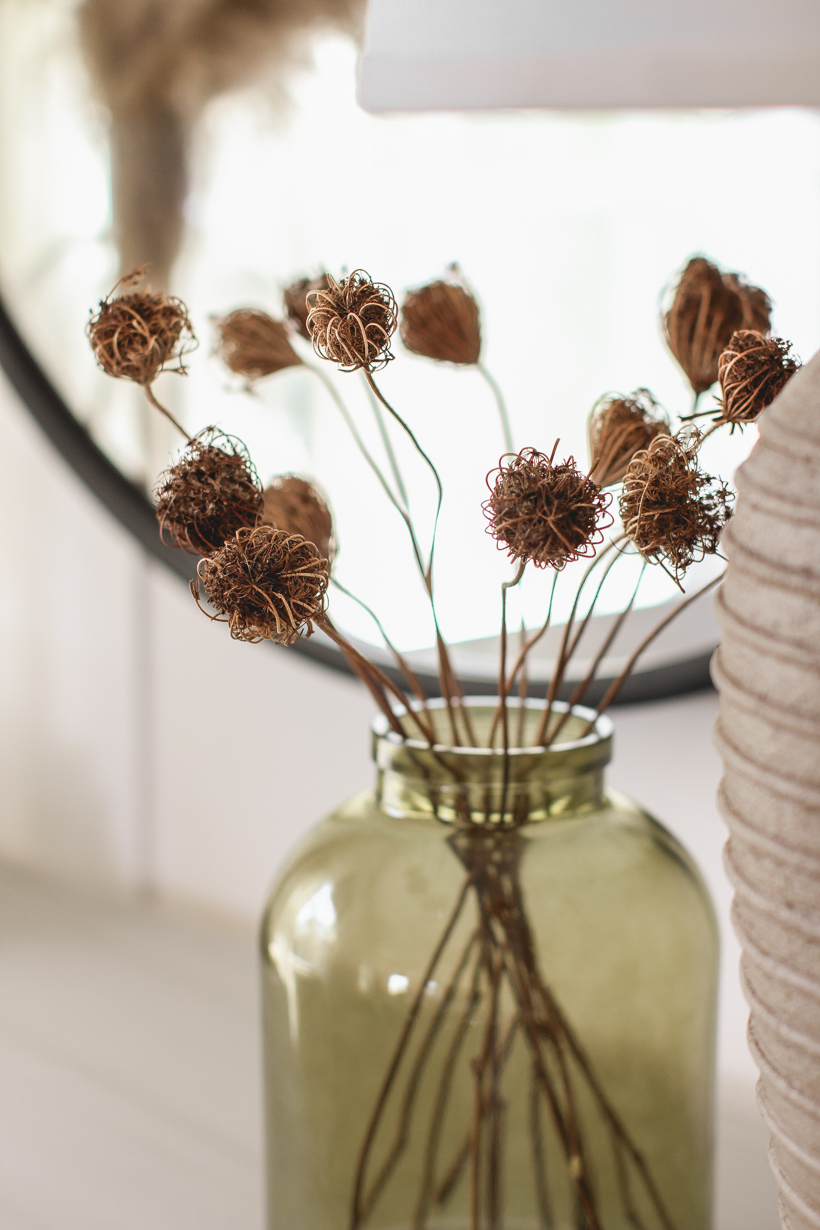 Here's a tip for you:
Look for stems that are dark brown, black, or neutral for fall – avoid anything with bright green stems and leaves! Think about what you see out in nature this time of year… all the abundant green summer foliage is starting to go to sleep for the winter, and you're left with sparse bare branches and no green in sight until spring. That's what you want when you're looking for faux fall stems to decorate with!
Okay, one more tip:
Speaking of nature, don't forget to go outside and look around your yard for things you can bring inside to display in bowls or vases. I have a hydrangea bush in my front landscaping that I want to go steal a bloom or two from!
In case you don't find anything you can use for free outside in your yard, here are more fall stems and foliage I'm loving this year!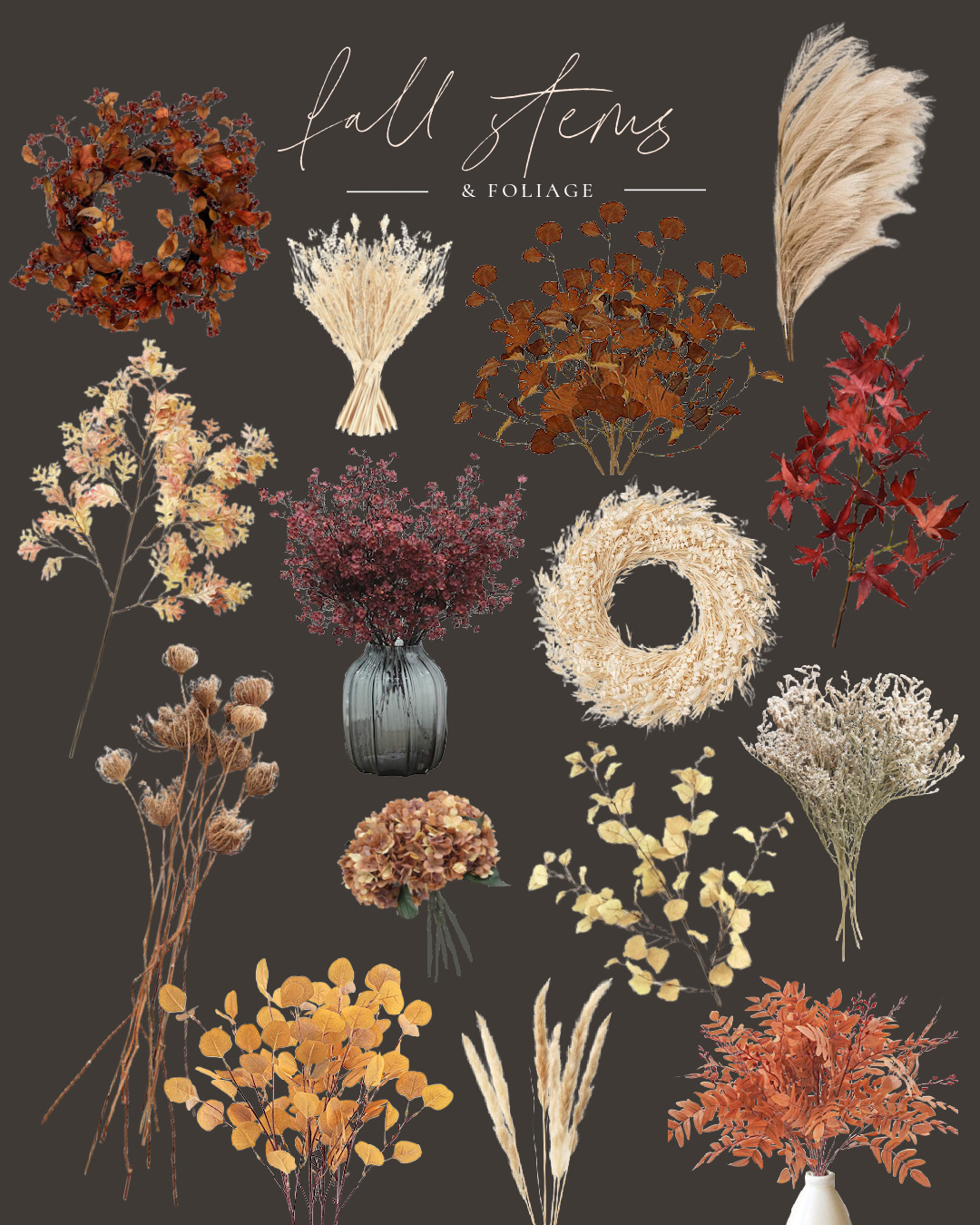 Large Pampas Grass | Silk Hydrangea Stems | Autumn Stems | Fall Shrub Leaves
Yellow Eucalyptus | Burgundy Baby's Breath | Oversized Bleached Oak Branch | Bleached Leaves Bundle
Japanese Maple Leaf Spray | Dried Queen Anne's Lace | Fall Leaves and Berries Wreath
Aspen Tree Branch | Dried Grass Wreath | Tan Pampas Grass | Dried German Statice
CLICK PHOTO BELOW TO SHOP:

---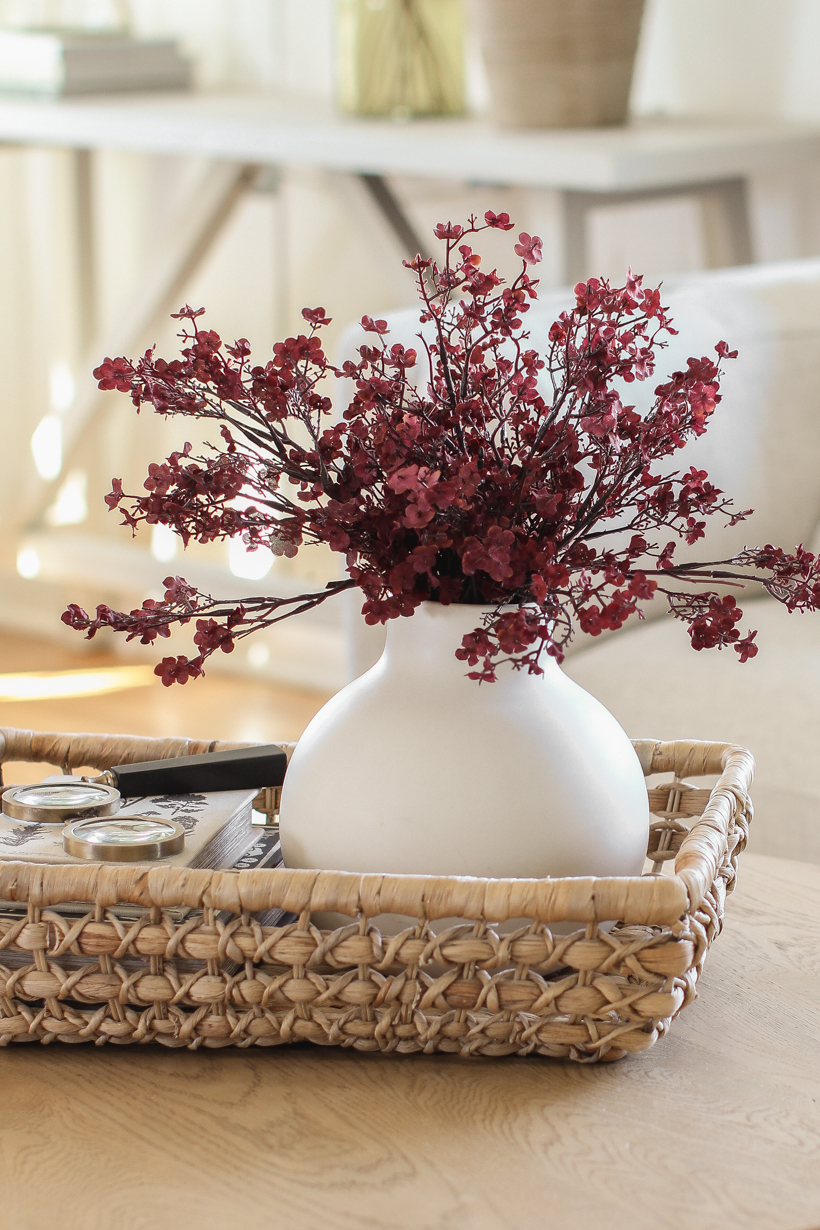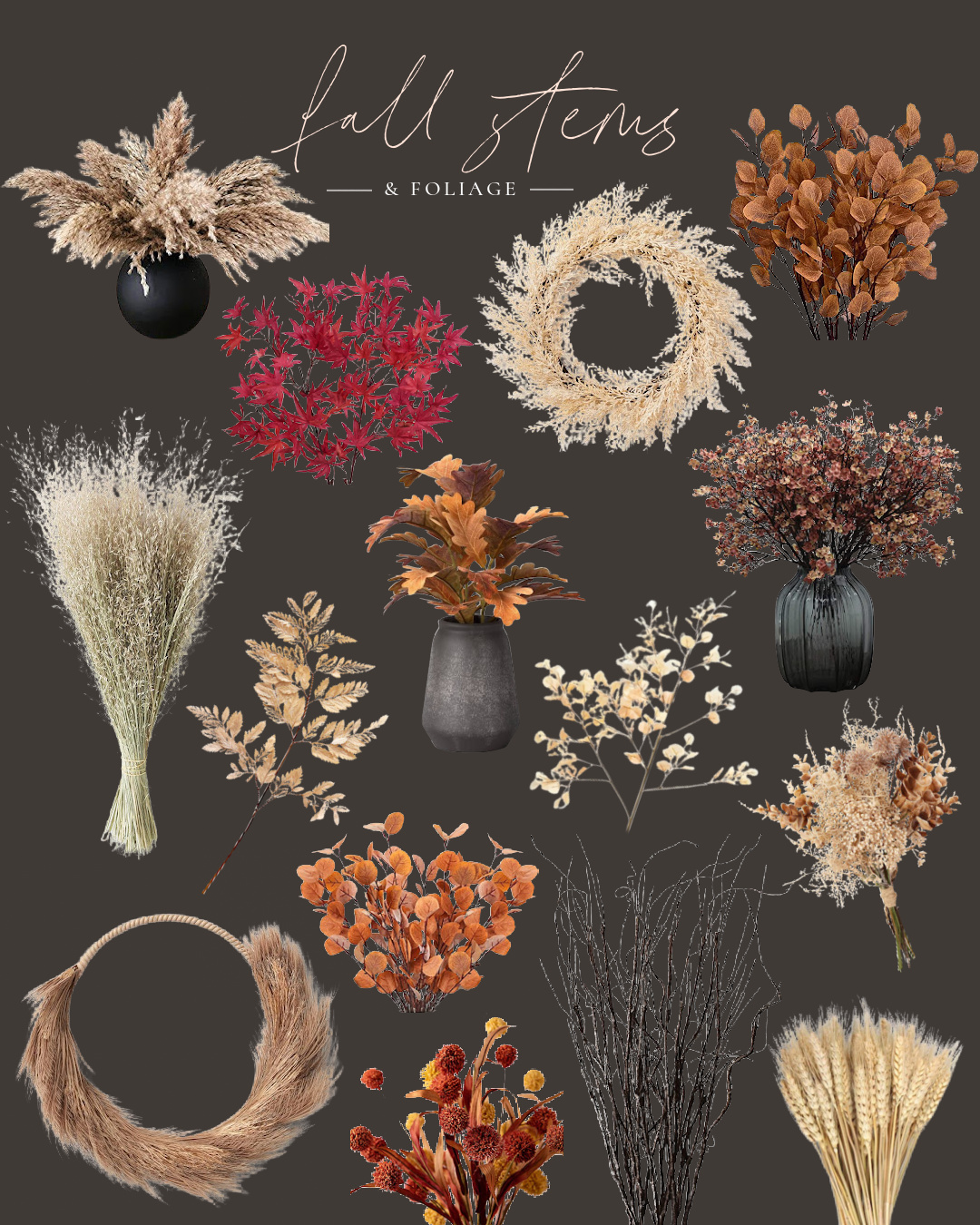 Willow Branches | Echinop Bouquet | Fall Flower Bouquet | Artificial Maple Leaves
Dried Fluffy Pampas Grass | Eucalyptus Stems | Baby's Breath | Dried Wheat
Rust Eucalyptus | Taupe Flat Fern | Dried Rice Grass | Fading Eucalyptus Branch
Dried Decorative Wreath | Oak Leaf Arrangement | Cream Grass Wreath
CLICK PHOTO BELOW TO SHOP: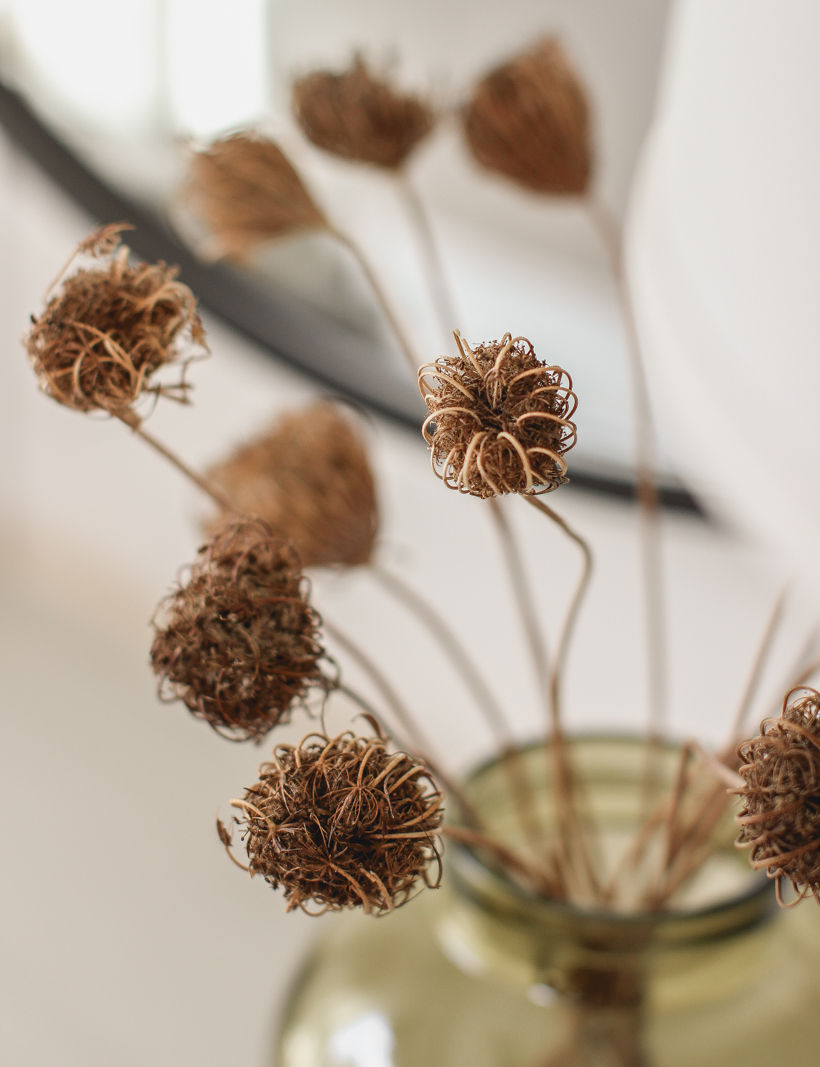 How cute are these curly, wispy queen anne's lace stems? I just adore them. Let me know your favorites from this post and if you buy any for your home! I'd love to see them!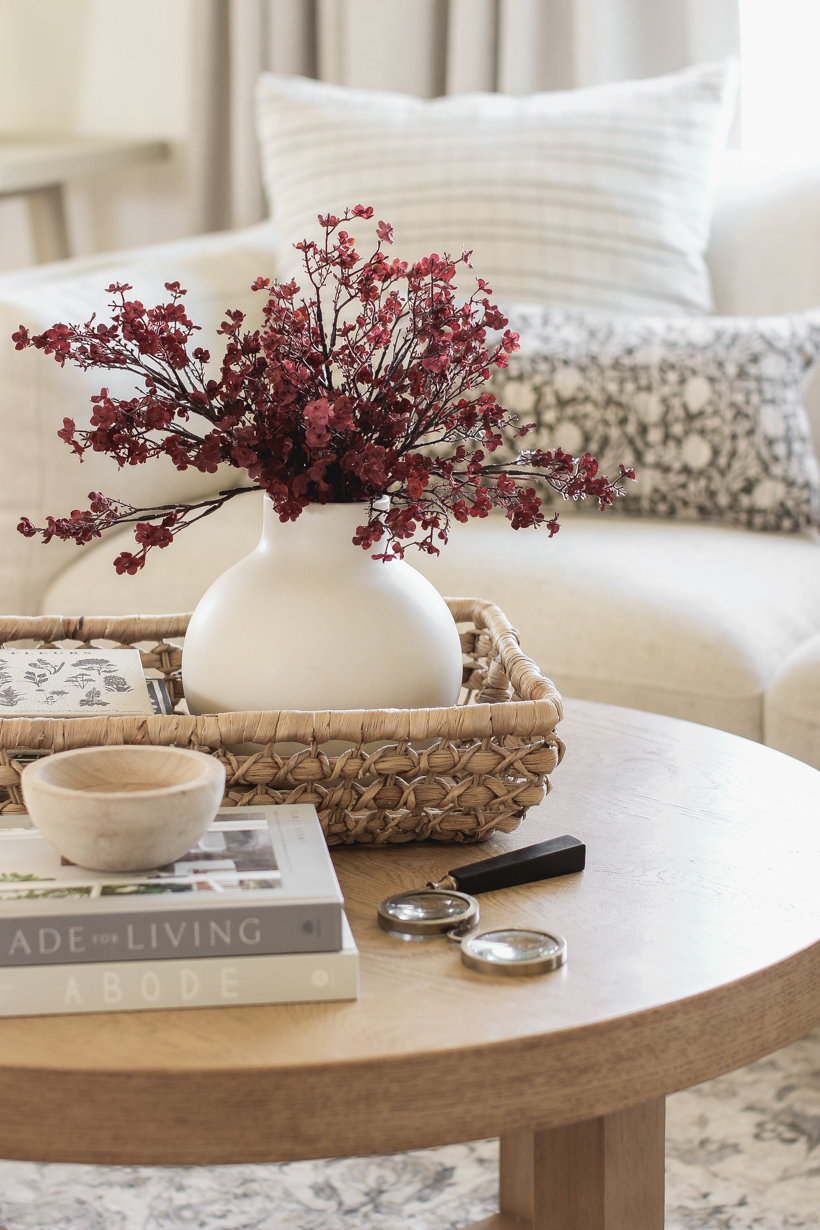 As always, I sincerely appreciate you shopping through the links I share, which allows me to make a small commission from your purchase while your purchase price stays the same. When you use my affiliate links, I'm better able to create content for this blog as well as support my family, and I thank you from the bottom of my heart for supporting what I do!
---
Shop my Posts | Shop my Amazon Store
Join our Community | Follow on Instagram
Follow on Pinterest | Follow on Facebook