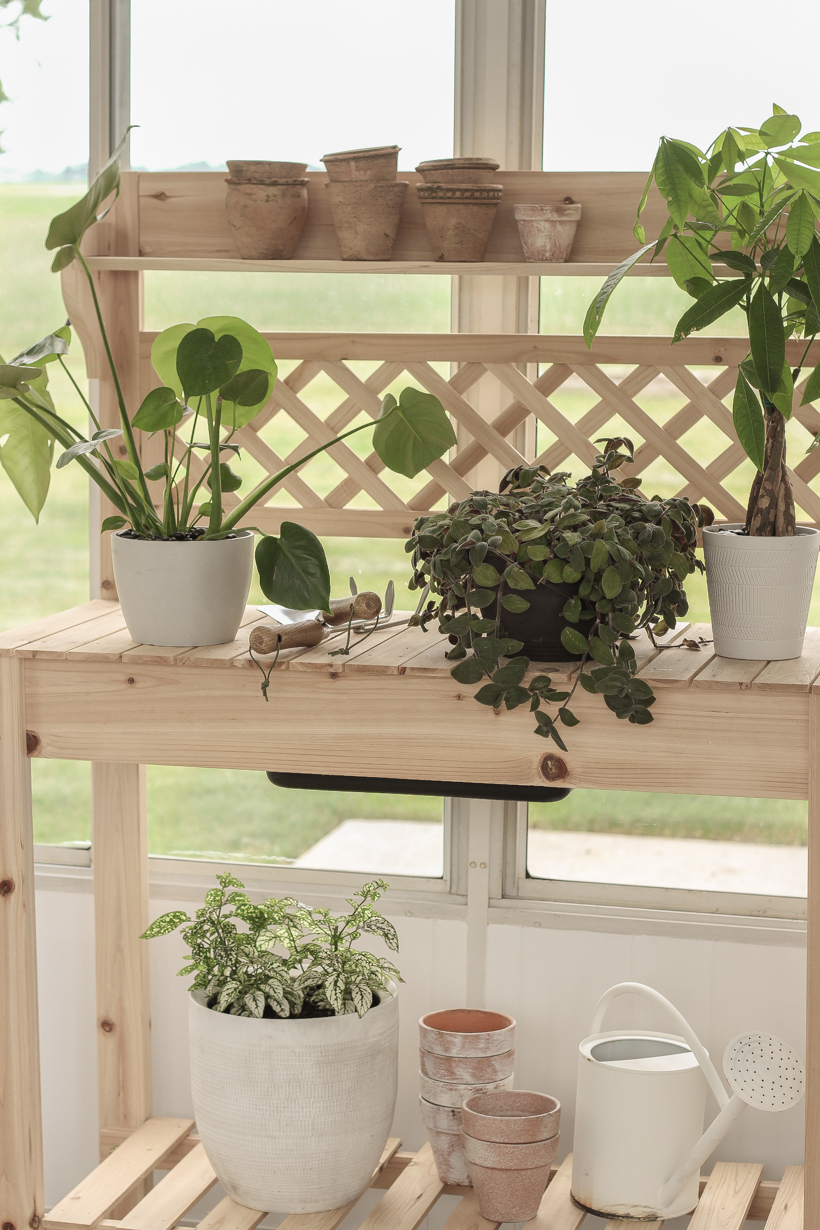 I've been working a lot on our outdoor spaces lately, and this week I focused on what I call the breezeway, which is an enclosed patio/walkway from our garage to the house. It was in desperate need of a good scrub, and once all the dirt and grime was washed away, I realized how much it needed a little TLC. A new coat of paint on the paneling, all the windows washed, and the cutest little potting bench for some plants since the breezeway is the perfect greenhouse with windows on every wall.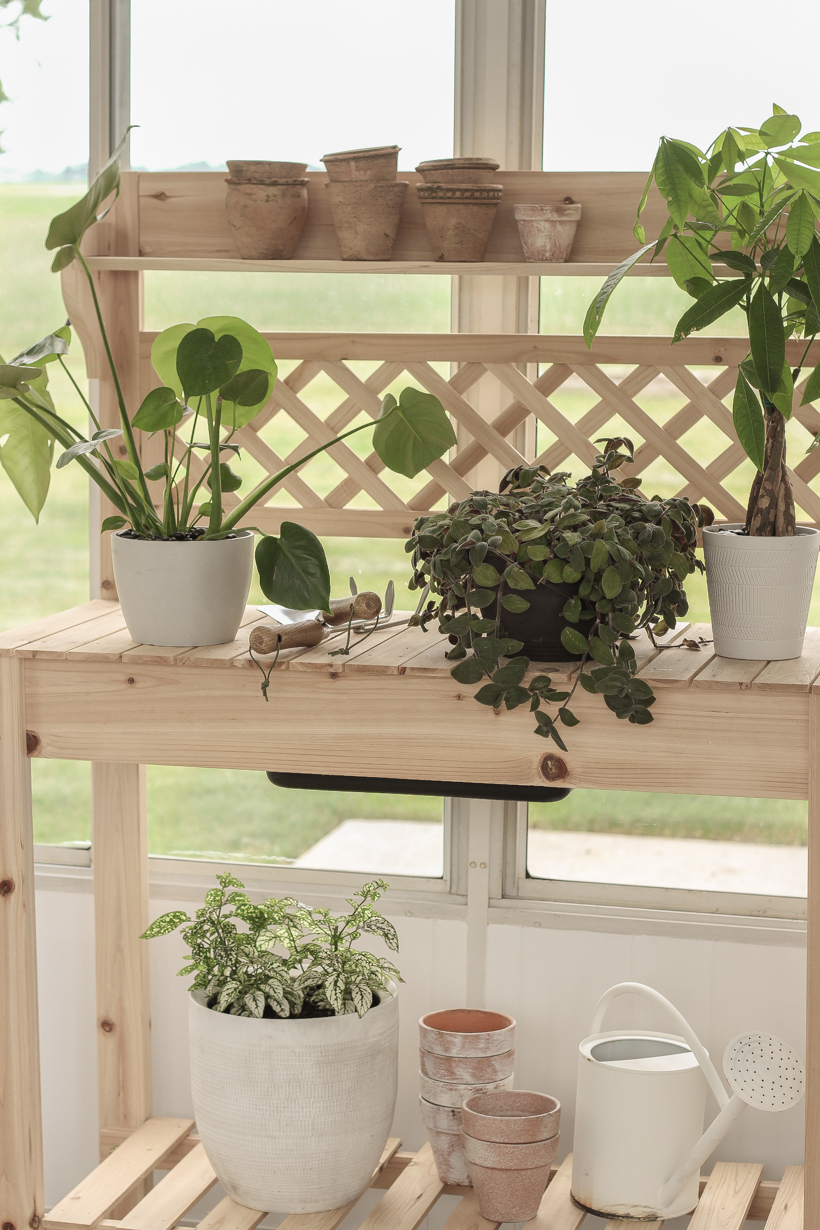 I honestly wasn't expecting a lot out of this Amazon find I paid less than $90 for. But to my surprise, it was very easy to assemble, had a ton of charm and storage space, and came in a beautiful light wood color (though you could paint it if you want). It's not as massive as the one I designed and built a few years ago, but is much simpler to assemble and perfect for the amount of space I have in the breezeway. (39.5″ W x 55″ H x 17″ D)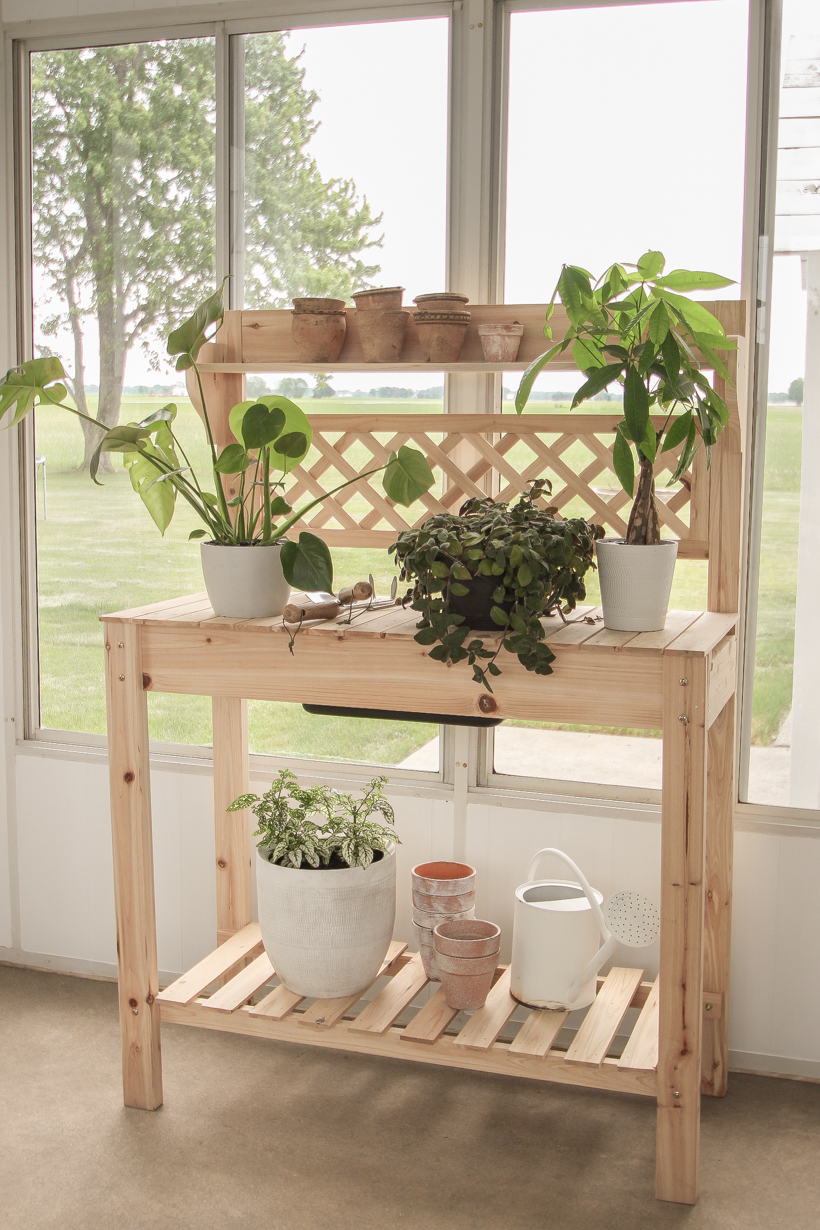 I love the little shelf detail and the lattice on top. And the slatted work surface is actually two pieces that can slide out to the side or be removed to reveal a dry sink (essentially a plastic tub) underneath. It's so handy to have that dry sink when I'm working on potted plants to catch all the dirt and contain the mess.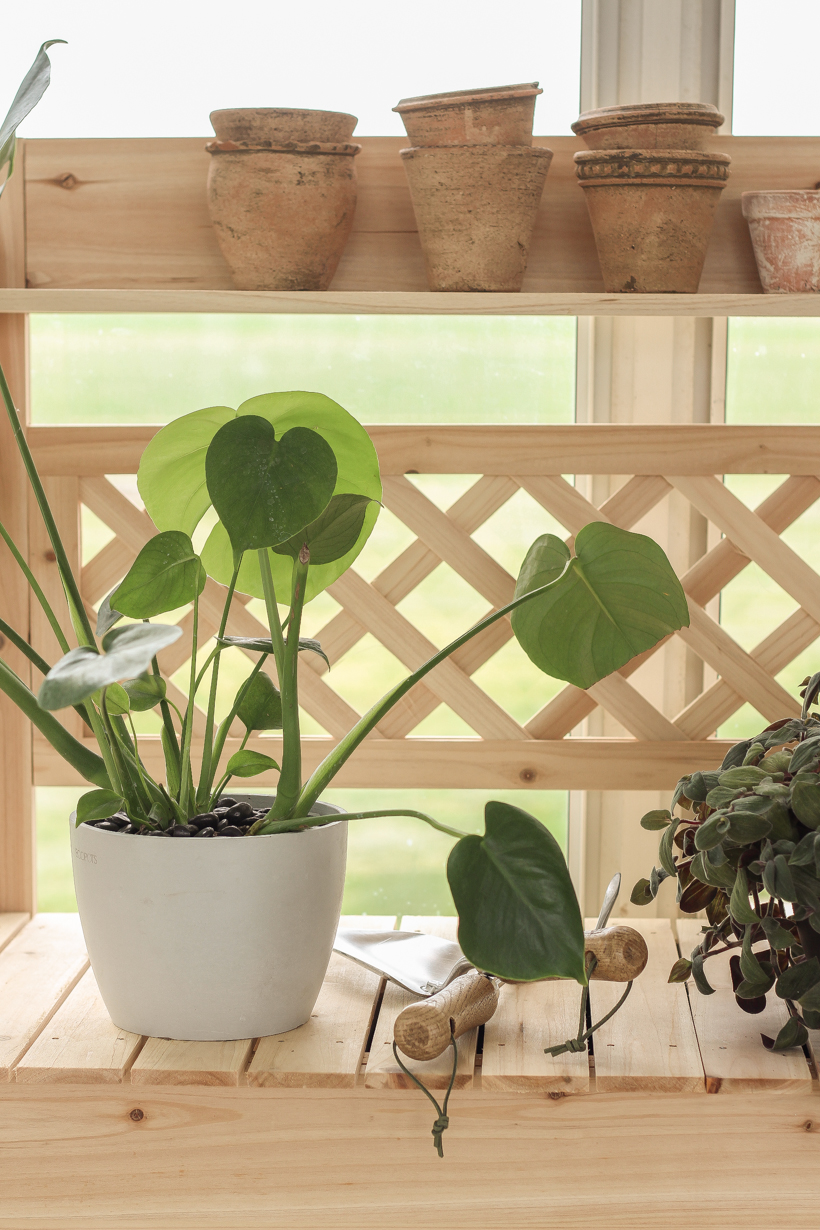 I stopped in Target the other day and couldn't resist this pretty set of wooden handle garden tools. I love finding pieces that are functional, but can also be used as decor.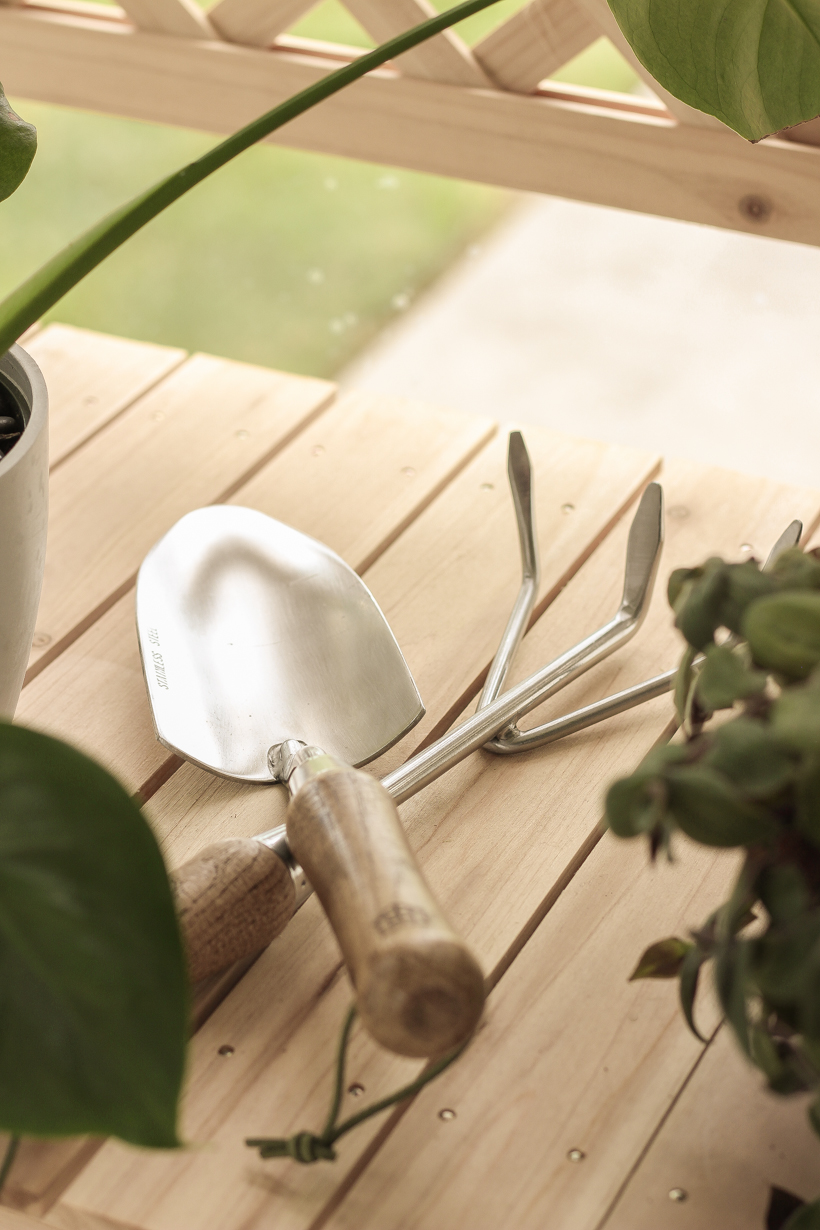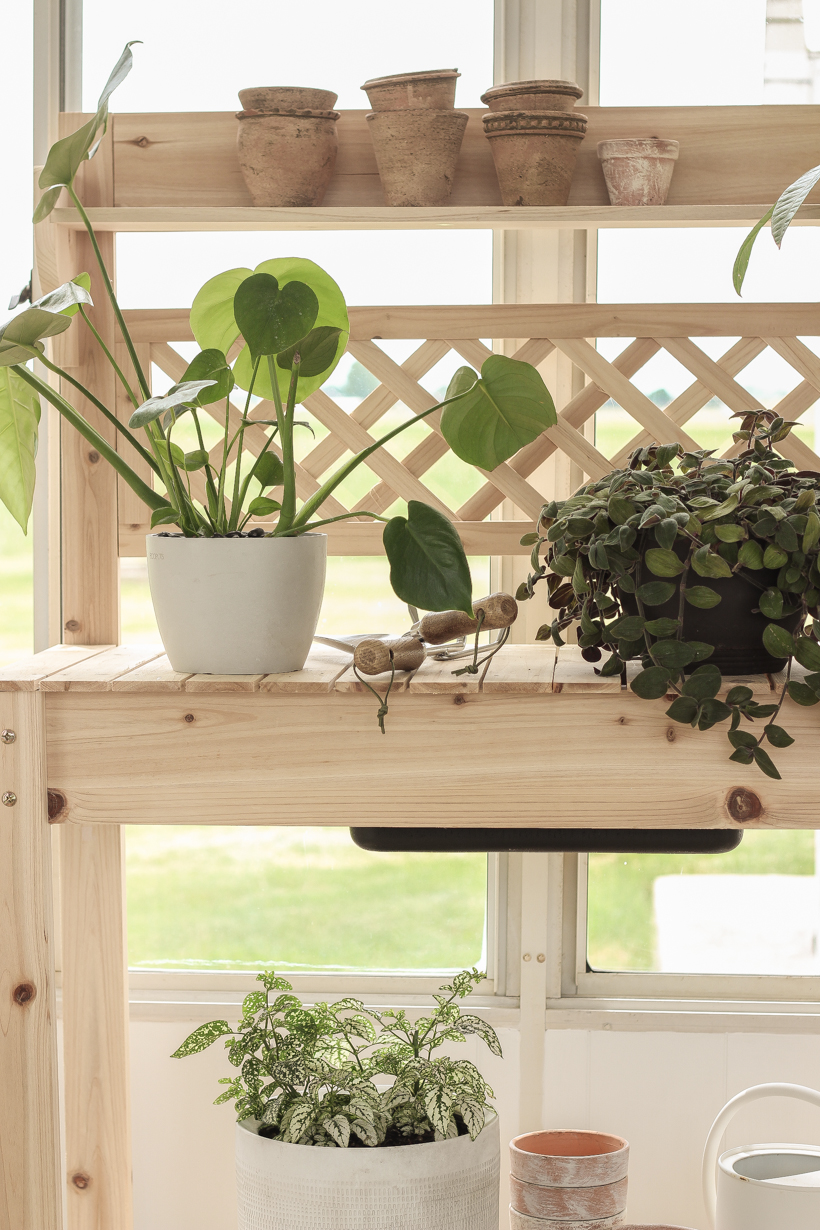 I picked out a few plants that don't need a ton of direct sunlight…
a Bolivian wandering jew (creeping inchplant), Monstera swiss cheese plant, and pachira money tree, plus hypoestes (polka dot plant) on the bottom shelf. The Monstera is new to me, and I love watching the massive leaves unfurl and grow.
I found these plants at Menard's, Lowes, Walmart and Salsbery, a local nursery.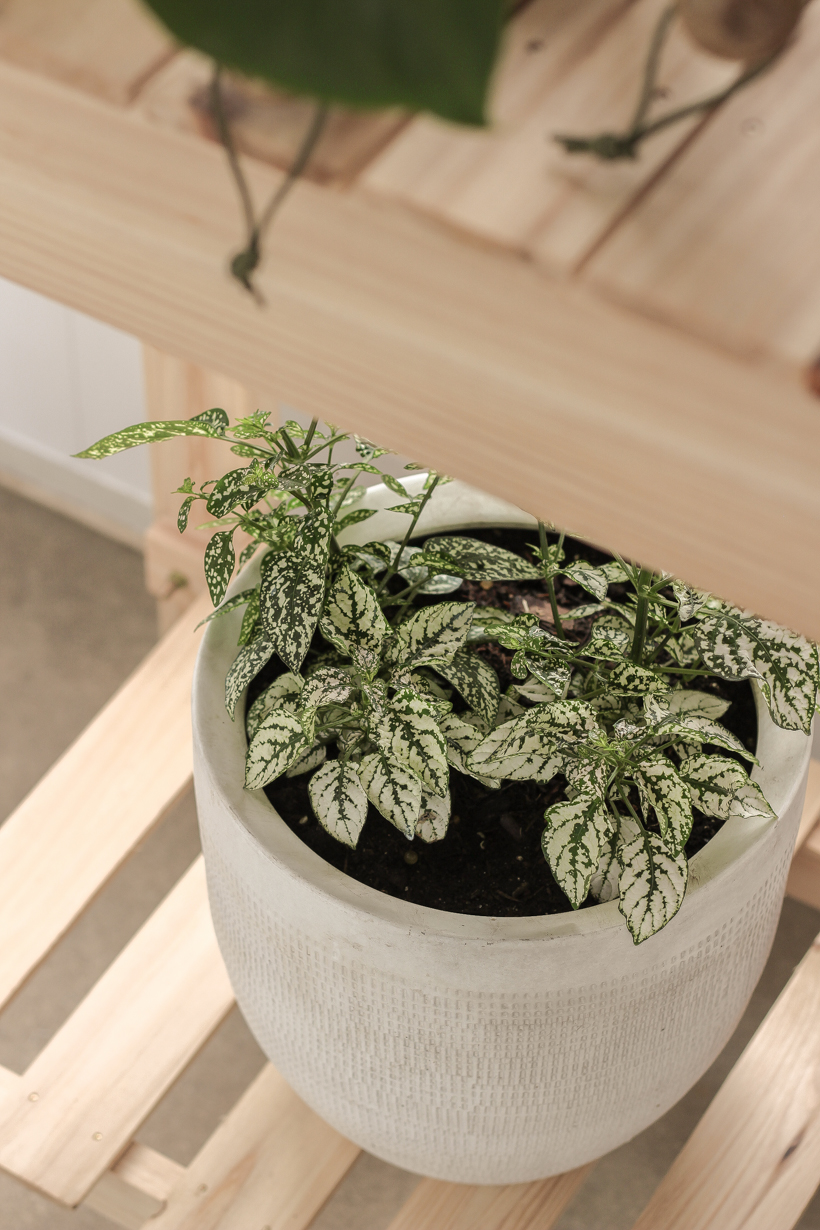 Every time I walk through this space now, it feels so bright and happy. I'm honestly embarrassed that it took me this long to make the breezeway a priority because it's literally the door EVERYONE uses when they enter our home… and it looked like it hadn't been cleaned in a decade!
I'll share the rest of what this space looks like after I finish a little more painting, but I wanted to share my thoughts on this potting bench first in case you're looking for something similar. I can't say yet how it will hold up long term, but I'm hoping that since it's in the breezeway and not exposed to the elements it will last quite awhile. I can already tell I'm SO going to enjoy styling this and picking out plants each spring!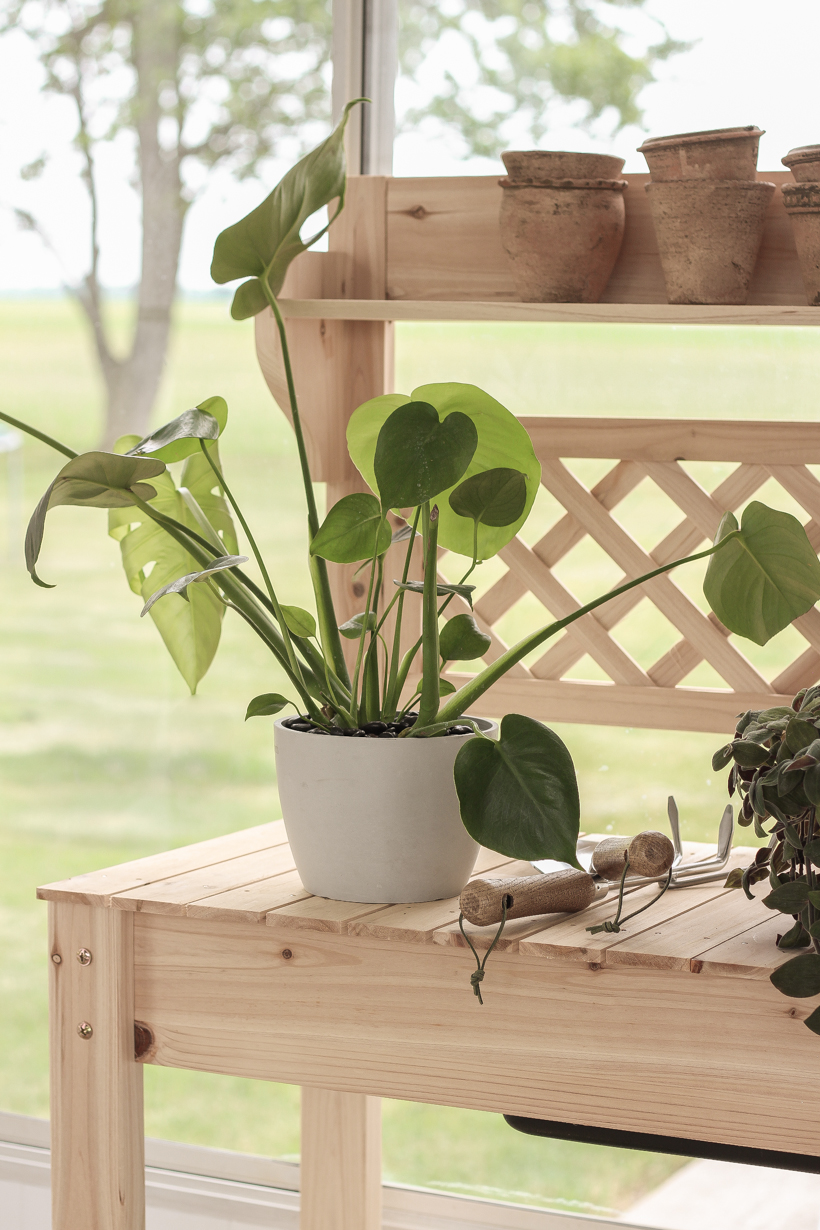 – SHOP THIS POST –
potting bench | set of 2 wood handle garden tools

As always, I sincerely appreciate you shopping through the links I share, which allows me to make a small commission from your purchase while your purchase price stays the same. When you use my affiliate links, I'm better able to create content for this blog as well as support my family, and I thank you from the bottom of my heart for supporting what I do!
---
Join my text community
Subscribe to our Newsletter | Follow on Instagram
Follow on Pinterest | Follow on Facebook