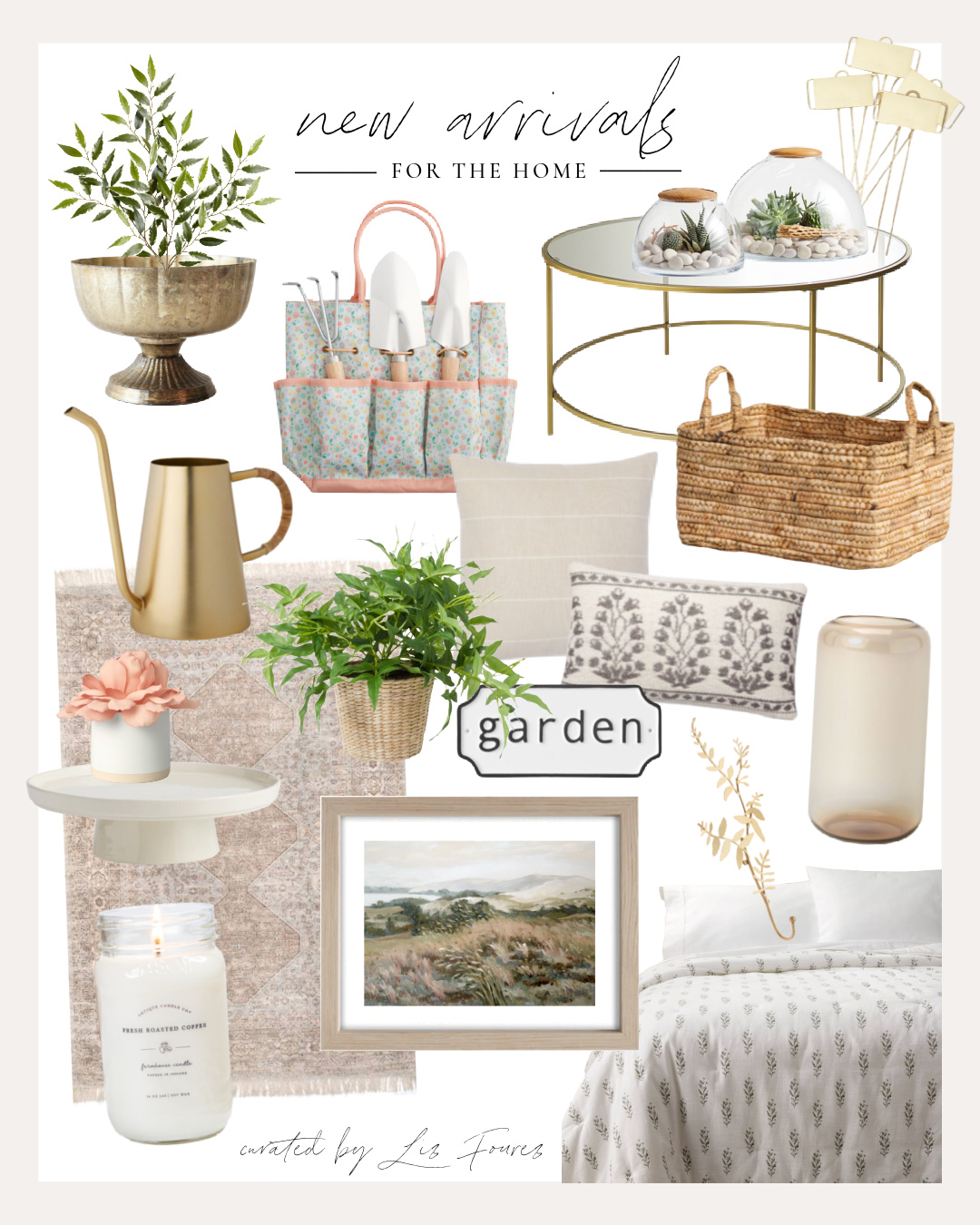 This season has me feeling inspired in so many ways. I'm cleaning, organizing, and refreshing all our spaces, one by one, and having fun shopping for a few new things to welcome spring into our home…
soft, playful pastel shades
lots of flowers, greenery & floral motifs
gold accents for a fun, sophisticated touch
garden-inspired decor
and more!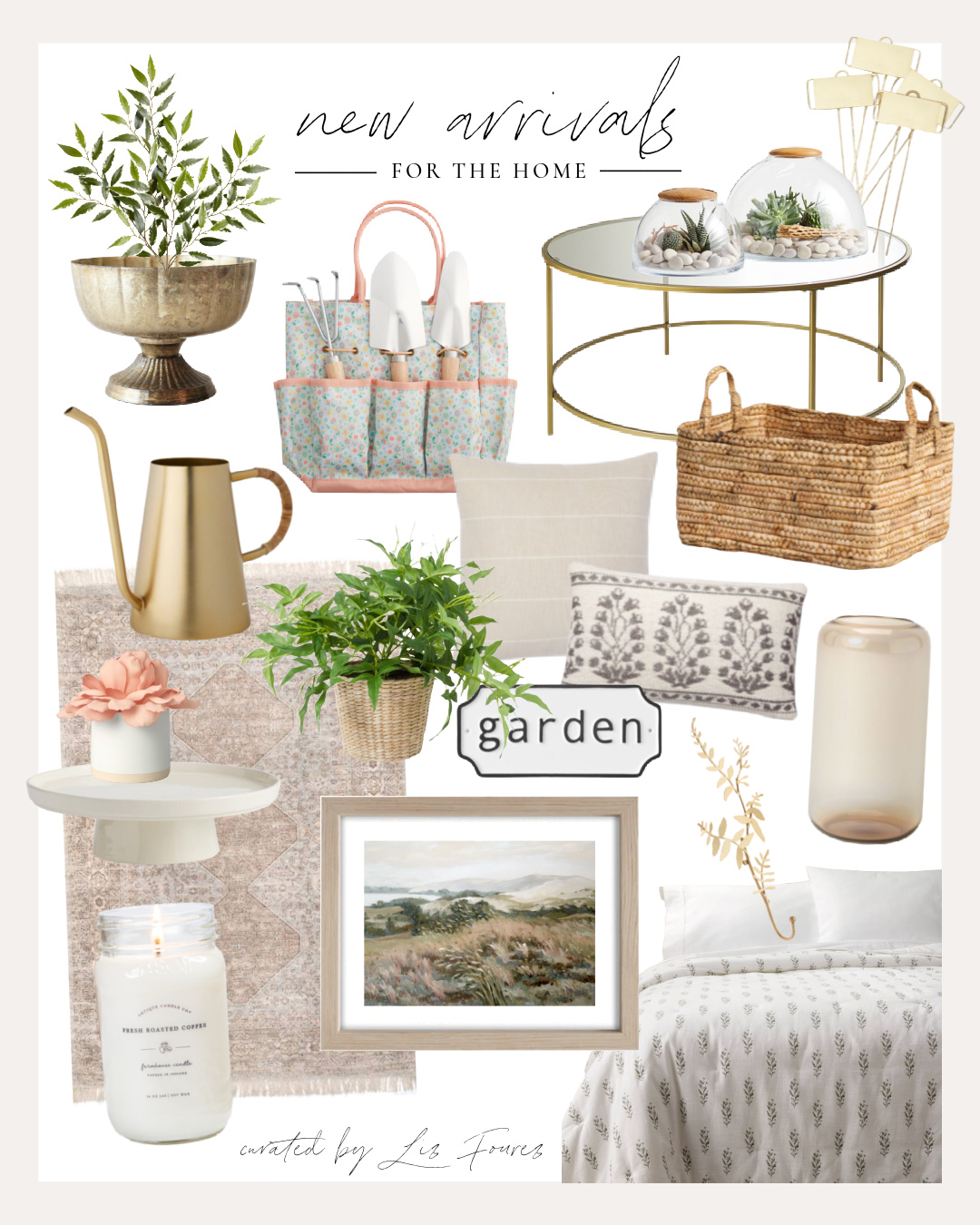 SHOP NEW ARRIVALS

---
GOLD METAL COMPOTE BOWL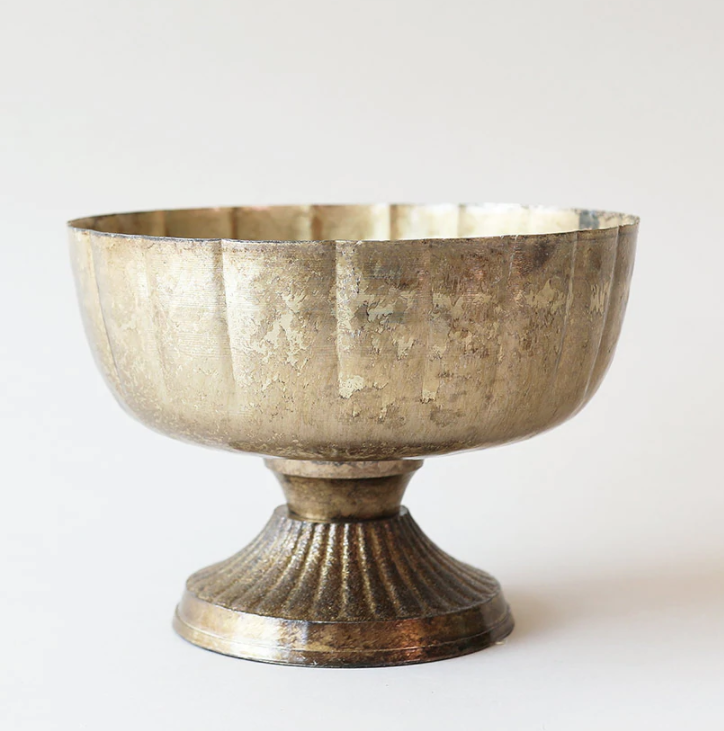 A vintage-inspired vessel beautiful enough to display on its own or filled with flowers. 8″ width x 5.5″ height x 8″ depth
---
HILLSIDE ART PRINT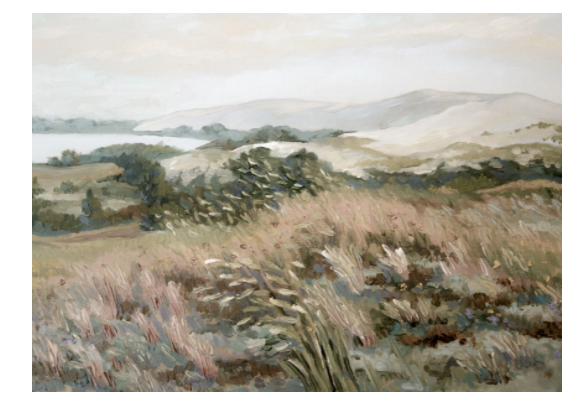 A field of wildflowers with pretty shades of blush, blue and green. You can purchase the art as a digital download to print yourself, on a canvas, or as a framed and matted print ready to be hung. Frame sizes range from 5 x 7 up to 40 x 60.
---
FLORAL THROW PILLOW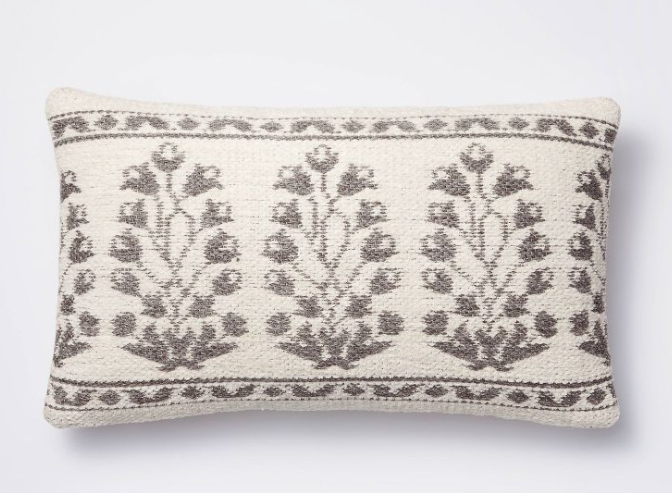 Add a touch of elegance with this woven throw pillow featuring a gray floral jacquard motif. 24″ width x 14″ height x 6″ depth
---
BRASS COFFEE TABLE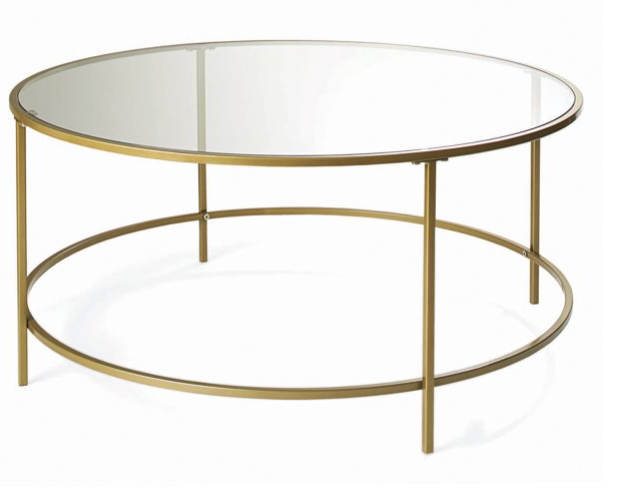 I absolutely loved my black frame glass coffee table like this I had a while back, and this gold version is even prettier. You could use it with more modern styles or take it traditional, which I love. 35.98″ length x 35.98″ width x 16.5″ height
---
GLASS TERRARIUM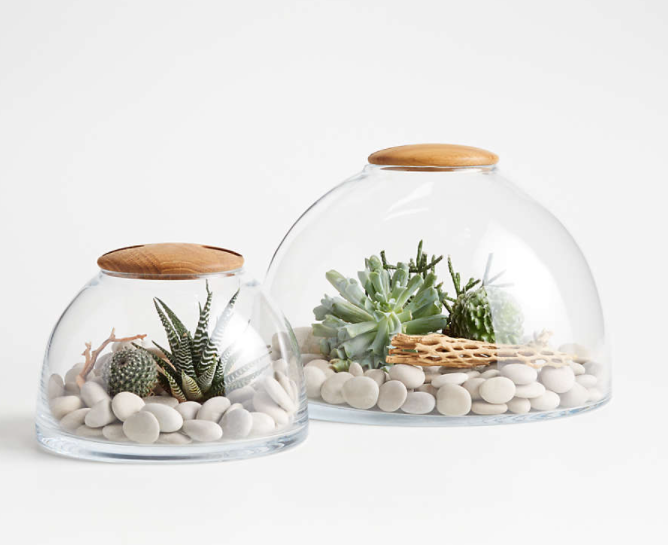 These handcrafted terrariums allow you to create a miniature ecosystem of air plants, succulents, mosses, and ferns. Available in two sizes: small (7.88″ dia. x 5.71″ height) and large (11.82″ dia. x 8.27″ height).
---
TASSELED AREA RUG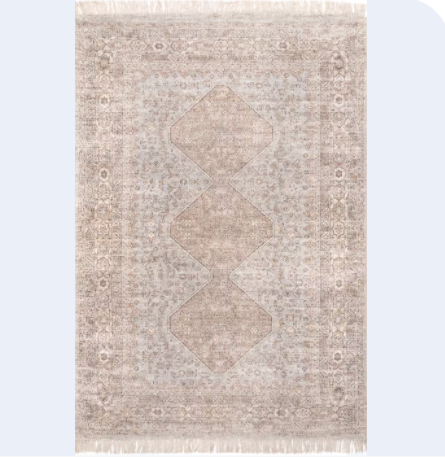 This durable rug with a beautifully detailed weave and soft colors would look beautiful in a living room or under a bed. Available in 5 x 8 and 8 x 10.
---
BRASS GARDEN TAGS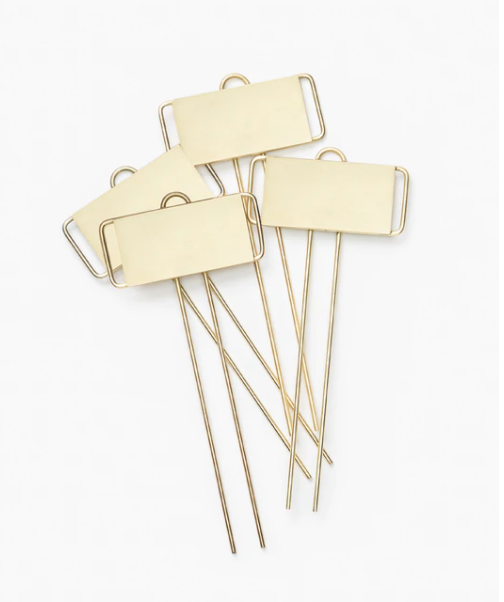 Add a touch of timeless elegance to your planters with these garden tags in a beautiful brass finish. Set of 4 – 7″ L x 3″ W x 7″ H
---
COTTON STRIPED THROW PILLOW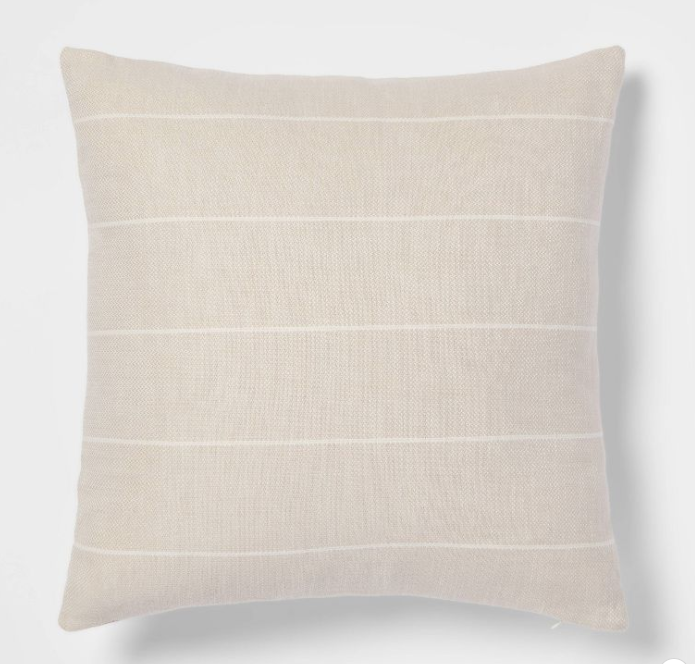 You can't go wrong with a classic thin striped pillow, and this design comes in five different colors. Features a removable zippered cover that is machine washable. 18″ length x 18″ width x 3.5″ depth
---
LARGE TINTED VASE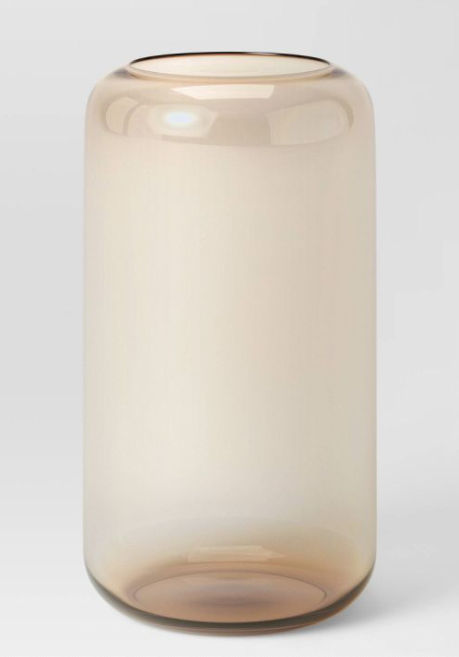 This large vase would look stunning displayed solo or with a bouquet of long-stemmed flowers. 12.09″ height x 6.57″ width x 6.57″ depth
---
RECTANGLE BRAIDED BASKET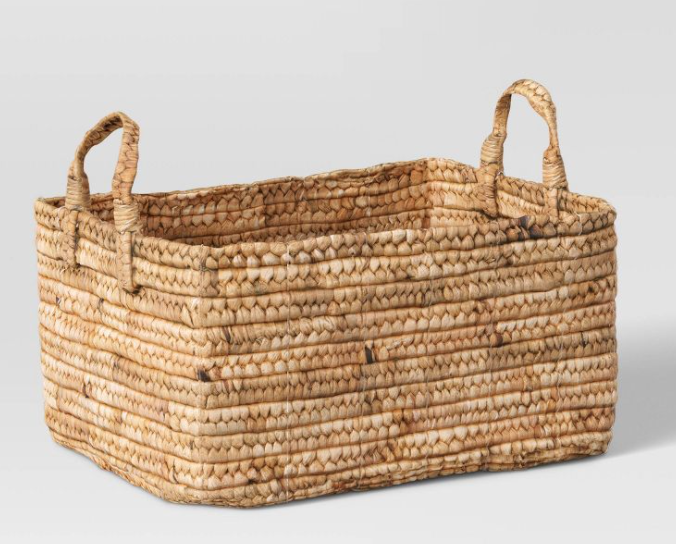 Perfect for helping with spring cleaning and organizing, braided baskets can tuck away items you don't want to be seen. 10.62″ height x 14.56″ width x 10.82″ depth
---
POTTED ARTIFICIAL PINK ROSE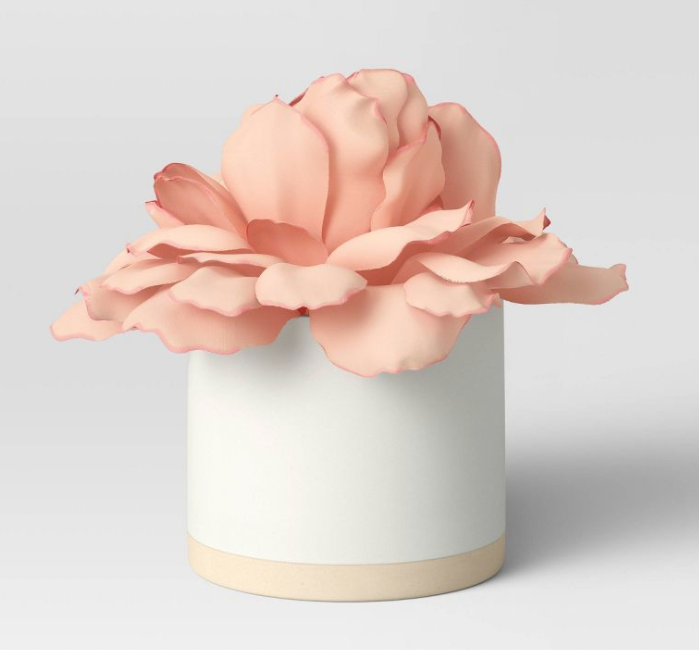 A simple singular pink rose inside a two tone ceramic container is the perfect little touch of spring. 5.5″ height x 6″ width x 6″ depth
---
METAL GARDEN WALL SIGN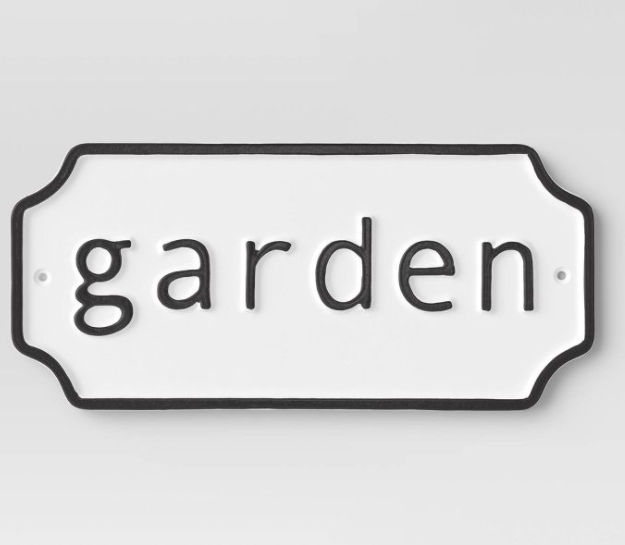 Add some charm to your outdoor living space with this black and white metal garden sign. .6″ depth x 5.6″ height x 12.4″ length
---
FAUX JASMINE IN BASKET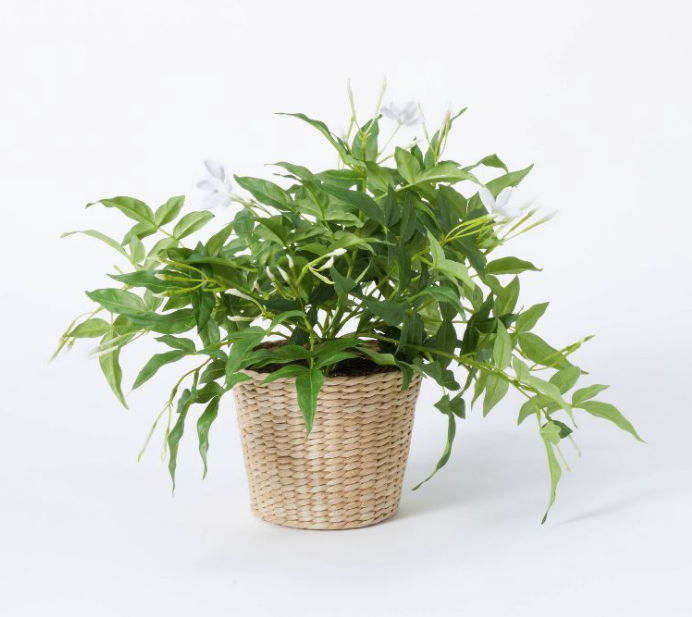 Use this artificial jasmine plant tucked inside a rattan woven basket as an easy centerpiece for your table. 13″ height x 20″ width x 20″ depth
---
COTTON FLORAL QUILT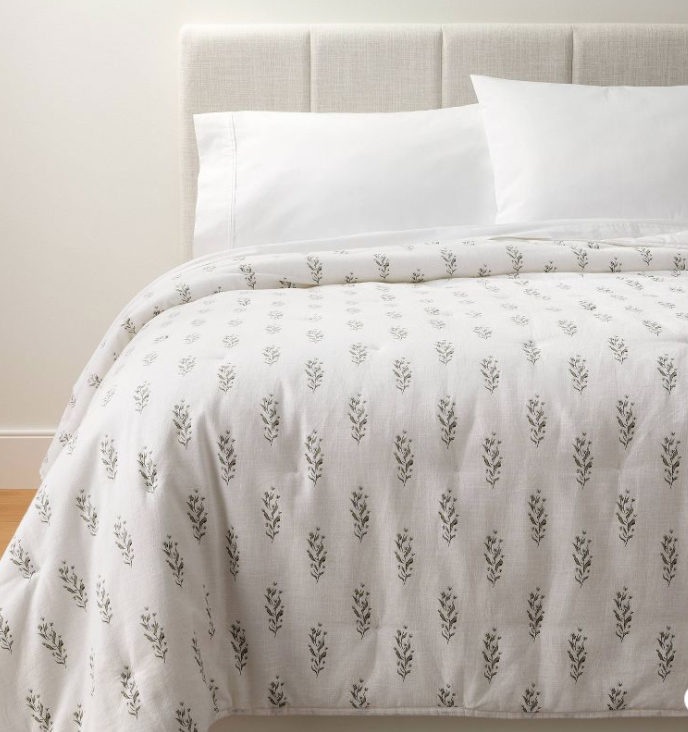 Add a little charm and grace to your bedroom style with this white cotton slub quilt featuring a gray wood block floral pattern. Machine washable and midweight for year-around comfort. 92″ length, 88″ width
---
BRASS WATERING CAN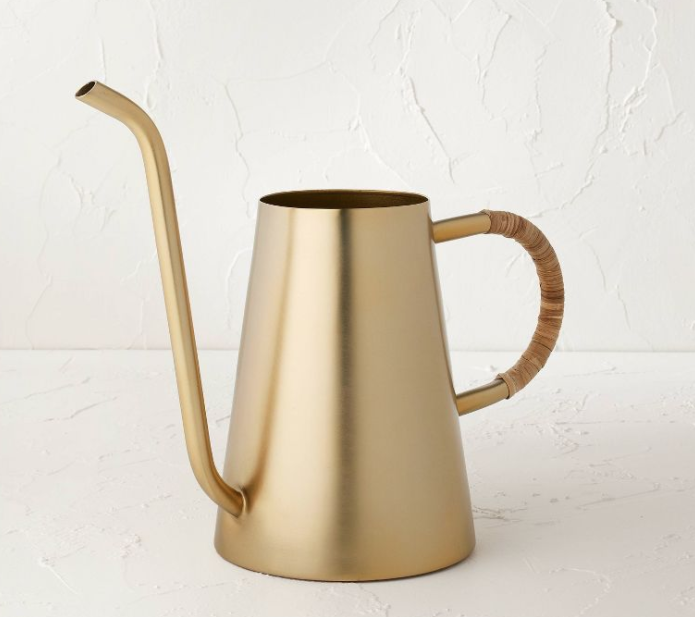 Elevate your plant care routine with this lacquered brass watering can. 10″ height x 12.25″ width x 5.75″ depth
---
IVORY CAKE STAND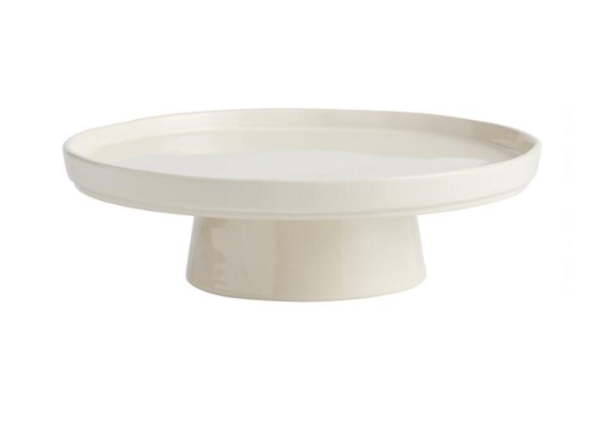 This matte ivory stoneware cake stand featuring a sleek, organic shape would make a great addition to any kitchen. 10.79″ diameter x 3.27″ height
---
GOLD METAL FERN WALL HOOK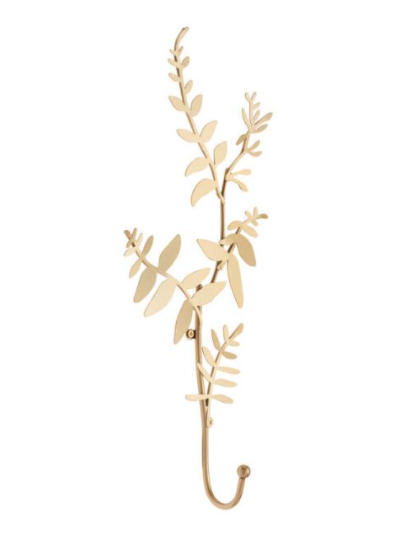 Bring a little botanical beauty into your space with this gold wall hook that resembles trailing fern leaves. This would be so cute in a girl's bedroom or bathroom! 5.5″ width x 2″ depth x 13.4″ height
---
FAUX SMILAX SPRAY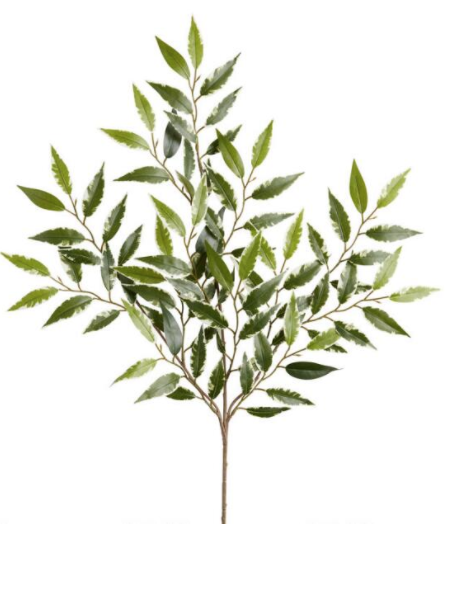 A great affordable greenery option with lush variegated leaves in kelly green and cream. Approximately 27″ long
---
GARDENING TOTE AND TOOL SET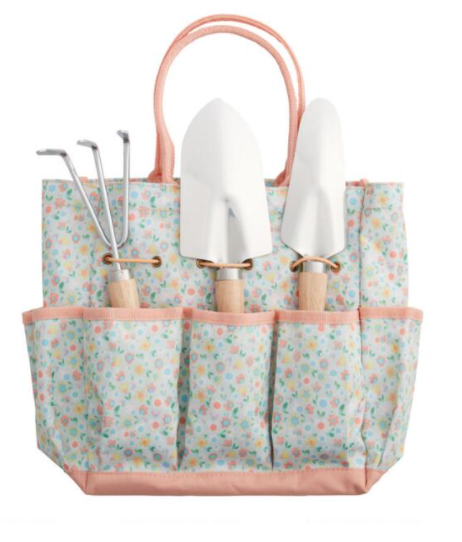 This heavy-duty tote would be the perfect gift for home gardeners. Includes a pair of protective gloves and three garden tools: a digging trowel, planting trowel, and cultivator. Tote: 10″ width x 4″ depth x 10.75″ height
---
FRESH ROASTED COFFEE CANDLE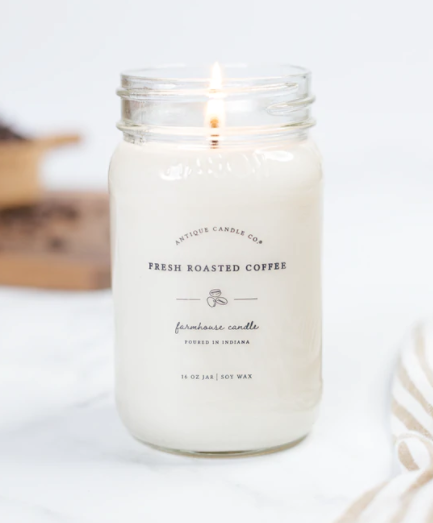 A delightful, morning aroma of roasted French coffee beans, blended with soft hints of cocoa nibs, warm vanilla, and sugar. Available in 16 or 8 ounce mason jars, as well as wax melts.
---
MORE NEW ARRIVALS: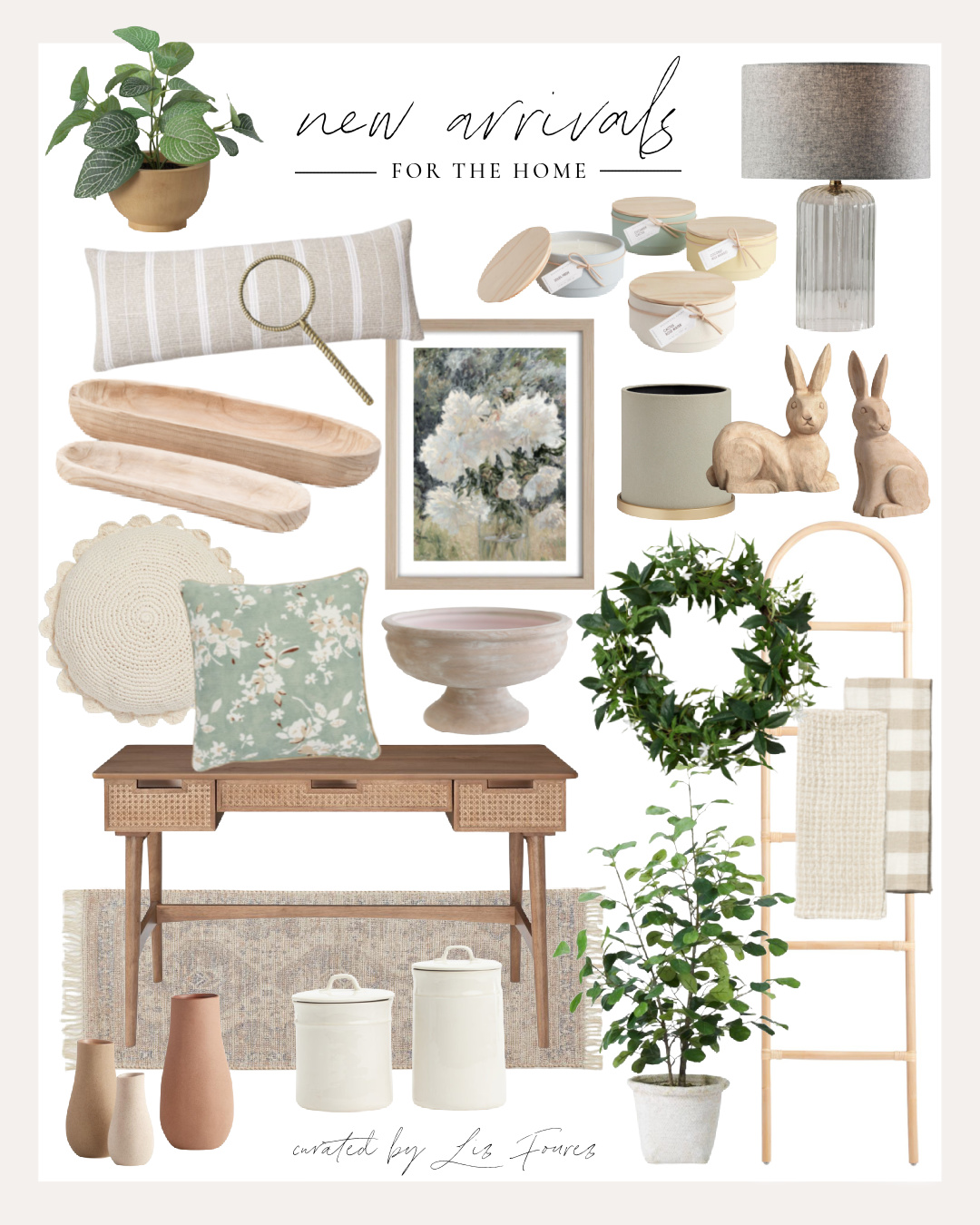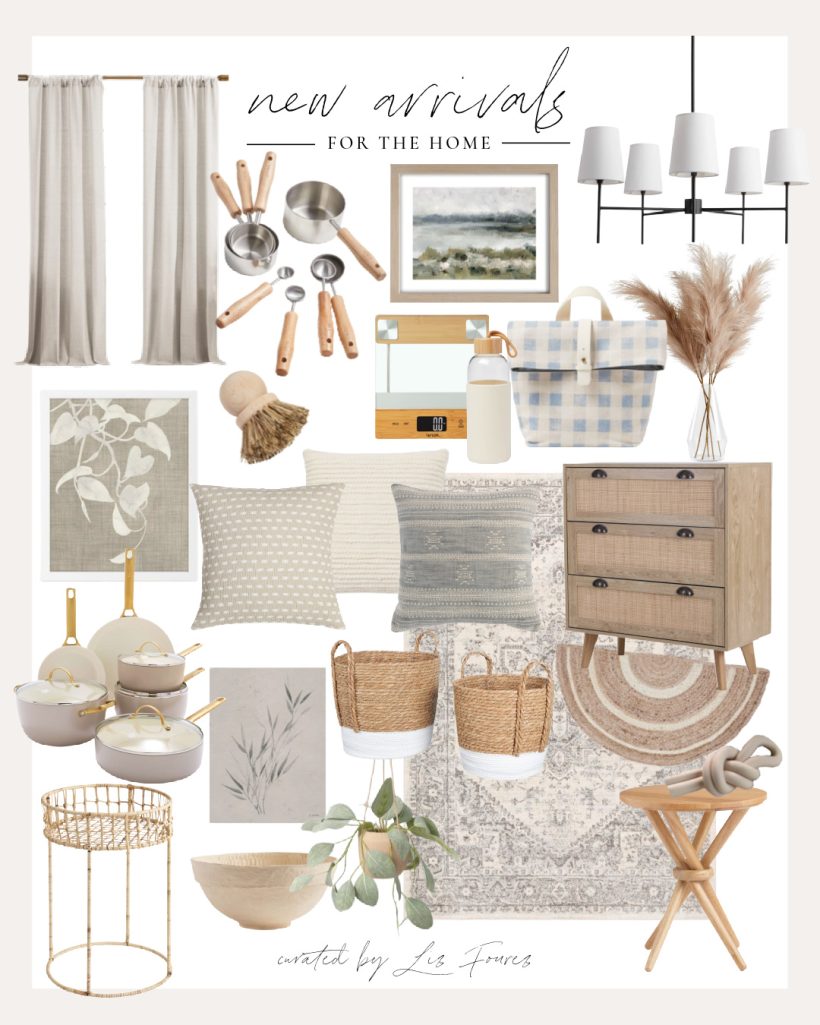 As always, I sincerely appreciate you shopping through the links I share, which allows me to make a small commission from your purchase while your purchase price stays the same. When you use my affiliate links, I'm better able to create content for this blog as well as support my family, and I thank you from the bottom of my heart for supporting what I do!
---
Join my text community
Subscribe to our Newsletter | Follow on Instagram
Follow on Pinterest | Follow on Facebook