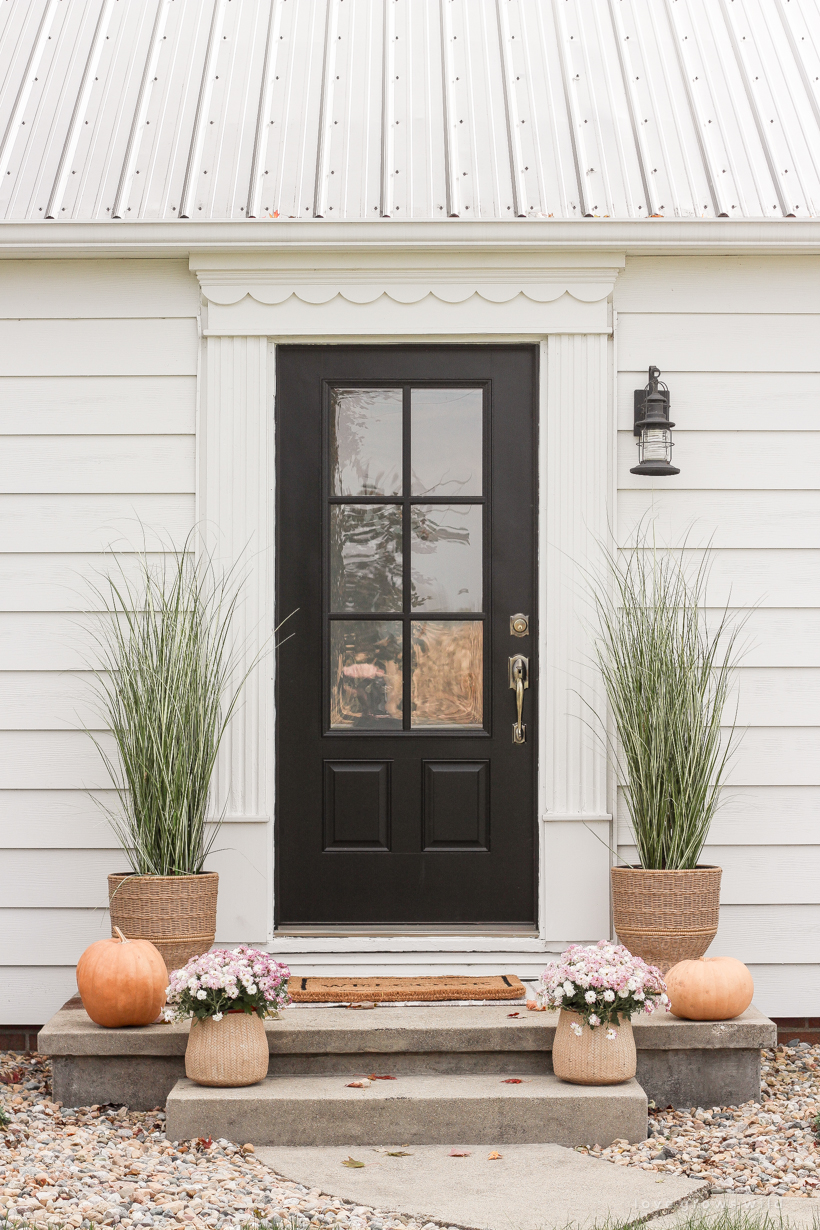 We are continuing to enjoy this beautiful fall with gorgeous colors on the trees and a slight chill in the air, and I couldn't let this season pass without decorating our front porch and our beautiful new front door with a few touches of fall.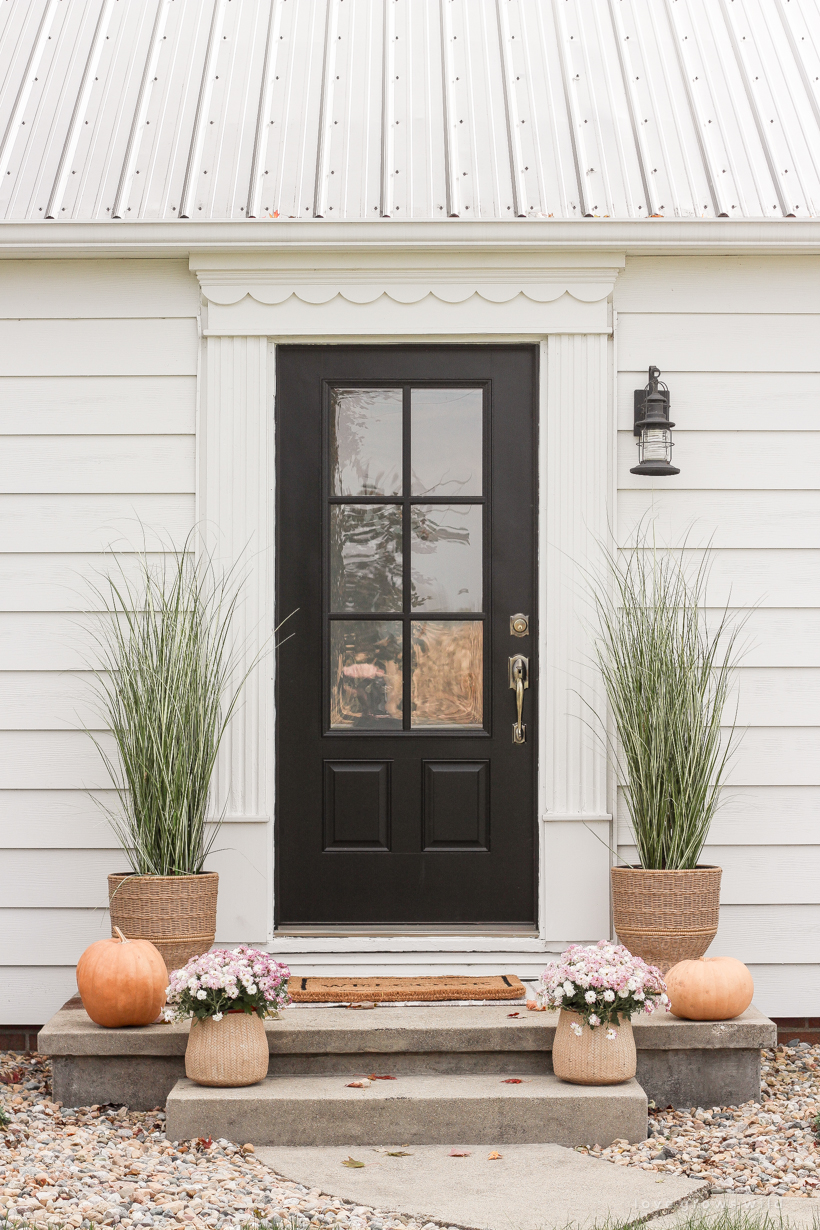 In case you missed it, I finally replaced our old solid front door with this black beauty back in April, and I've been so happy with the change. The glass lets so much more light into the front of our home, and I love the bold contrast of the black against all that white. I often get asked about privacy with this door and if I have anything to obscure the view inside, and if this door opened directly into our living room I probably would have some kind of shade installed on the inside. But this door happens to open right into a coat closet, so the only view you have into the house is straight at a white door and wall.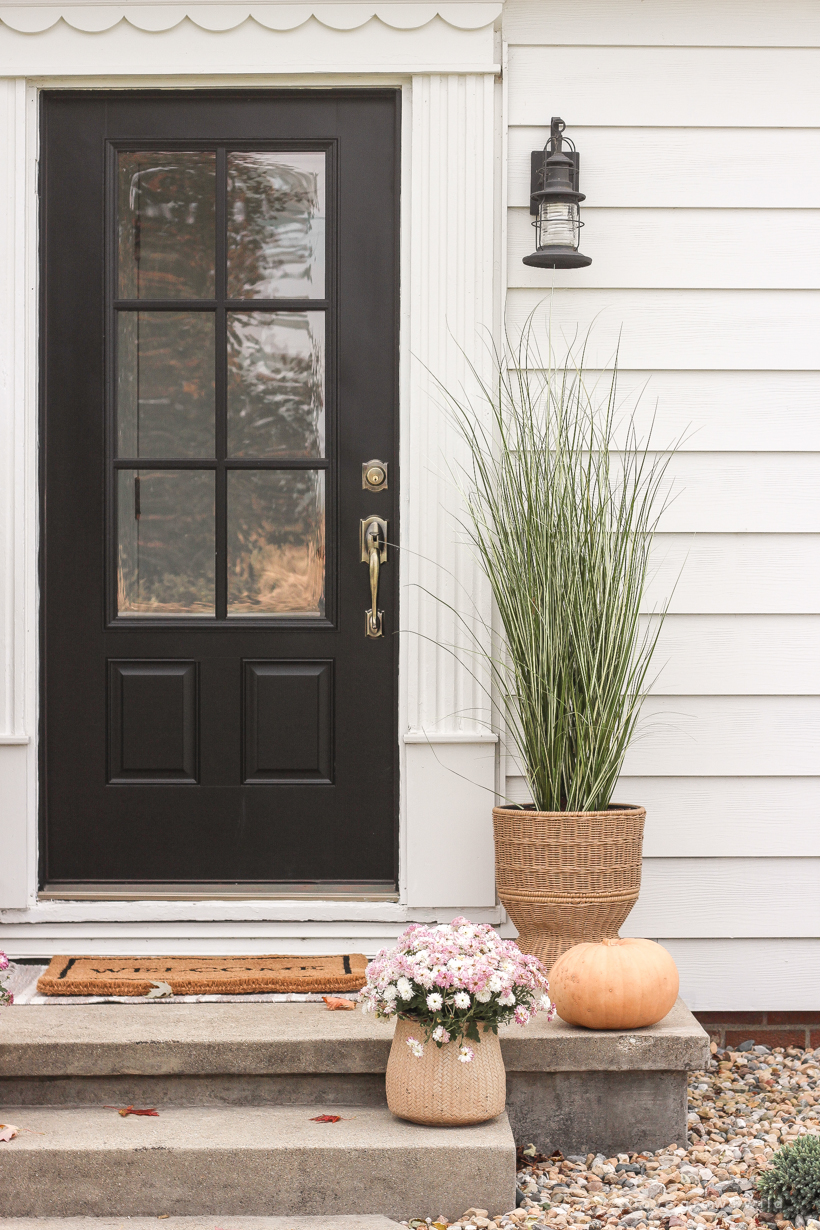 If you've been around here for very long, you know that I'm not much of a fussy, over-the-top decorator, and I like to keep my seasonal decor on the simple side. This mindset allows me to enjoy decorating for the seasons more without so much work or spending more money than I should. And I also have less that I have to store throughout the rest of the year!
I did pick up a new welcome mat for the front door and layered a pretty subtle stripe rug underneath (both from Target). Since the welcome mat is on the smaller side, adding the rug underneath makes it feel more in proportion to the door and also gives the space a little bit of depth and pattern.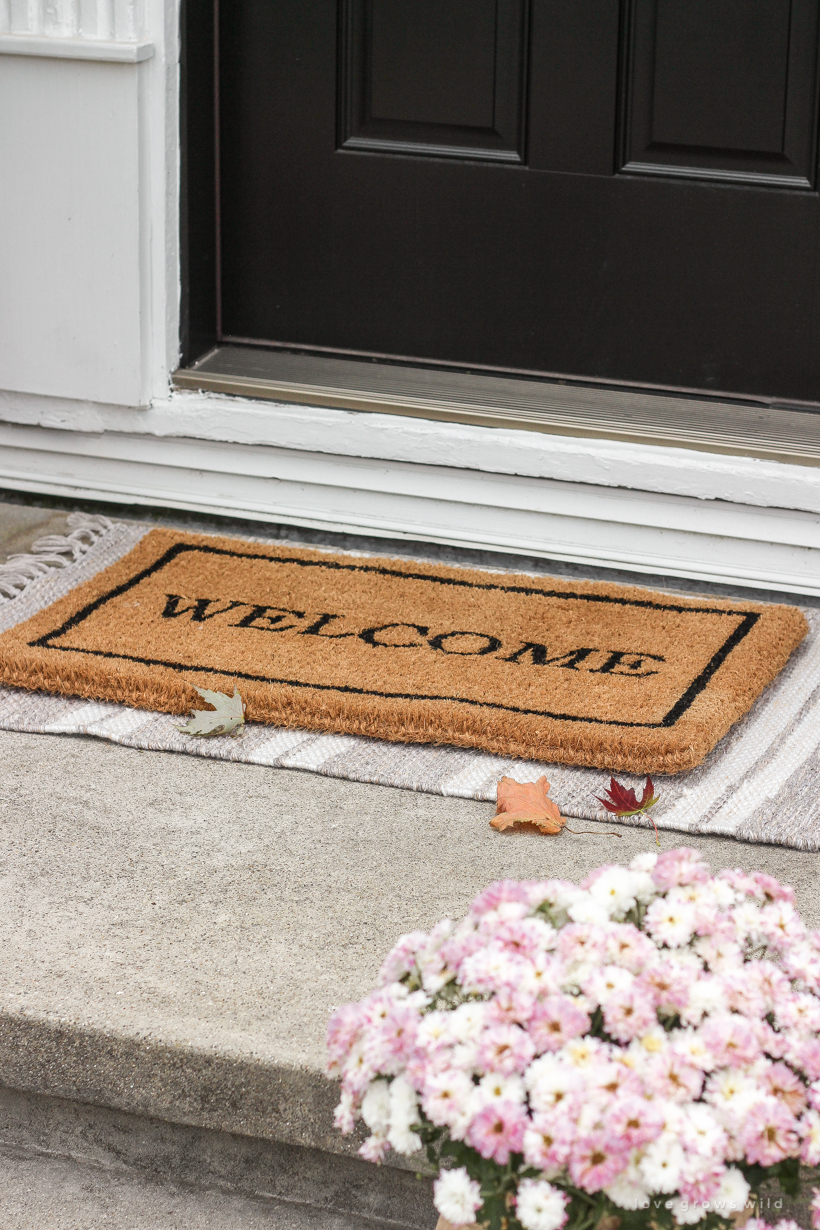 Since the entire house is stark black and white, I like to bring in warmer elements to soften up the front porch like these rattan planters and basketweave pots. Just a few pumpkins, some mums with a hint of color to tie into the rug stripes, and a scattering of colorful leaves that the wind blew over is just what this space needed to feel cozy and welcoming, but simple and elegant.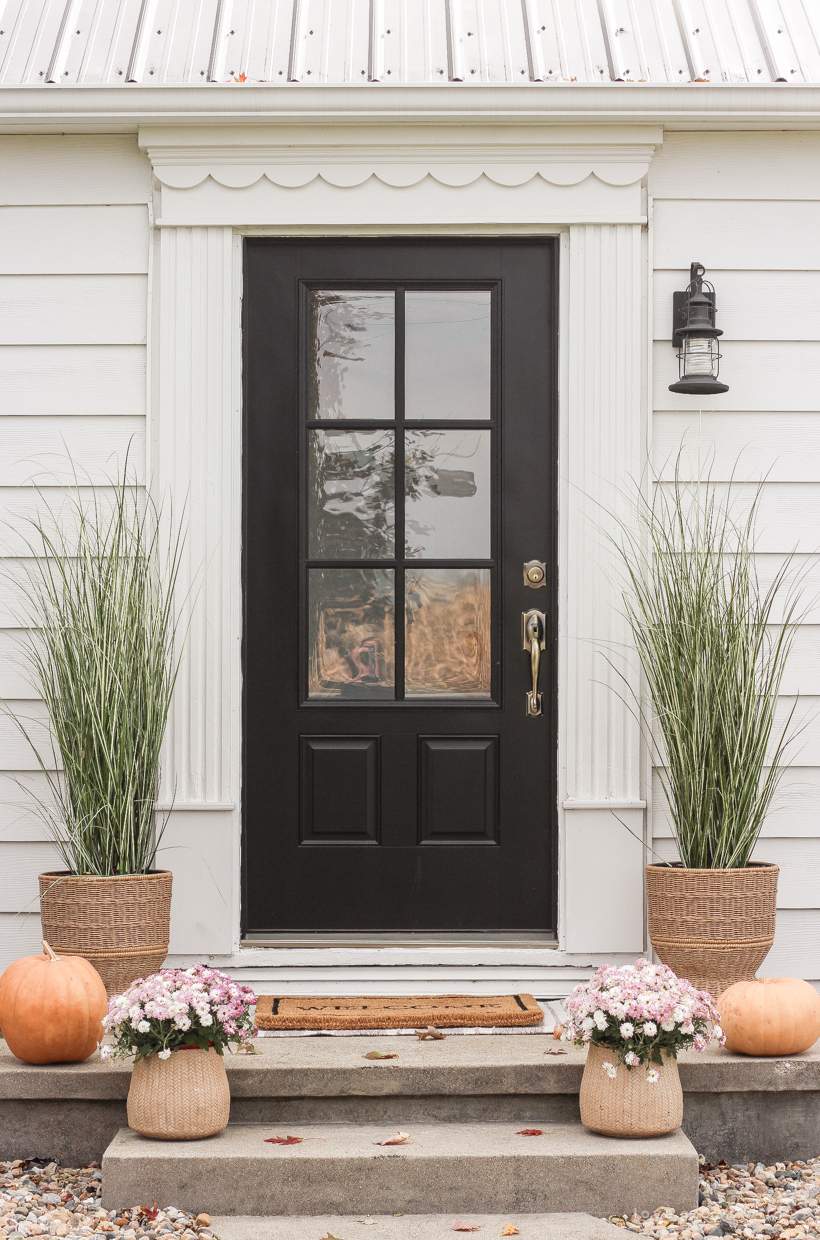 One big problem I've always had with our front porch, which faces North, is getting plants to grow well here. Between the lack of sunlight and the lack of watering (I swear, I'm great with keeping all the plants on the deck watered, but the front porch always gets forgotten about), everything I seem to plant up here dies rather quickly. I really wanted beautiful tall grass on either side of the door, so I decided to try something different and keep my fingers crossed that it would look okay… I bought FAUX outdoor grass!
It was actually rather hard to find artificial plants that look realistic and are also able to withstand the weather outdoors. I ended up coming across this artificial grass that comes in several different heights, and decided to take a chance on it. I was actually really pleased with the quality and that the coloring didn't look too bright and fake. We get a lot of wind out here, so I anchored the planters down with rocks and filled them with dirt to give the faux plants a more realistic look. So far these tall plants have withstood the wind, but the actual pot portion of the planter isn't very deep, so we shall see. I'm so happy with the way our porch looks for fall though, and I hope you have had fun decorating yours this season as well!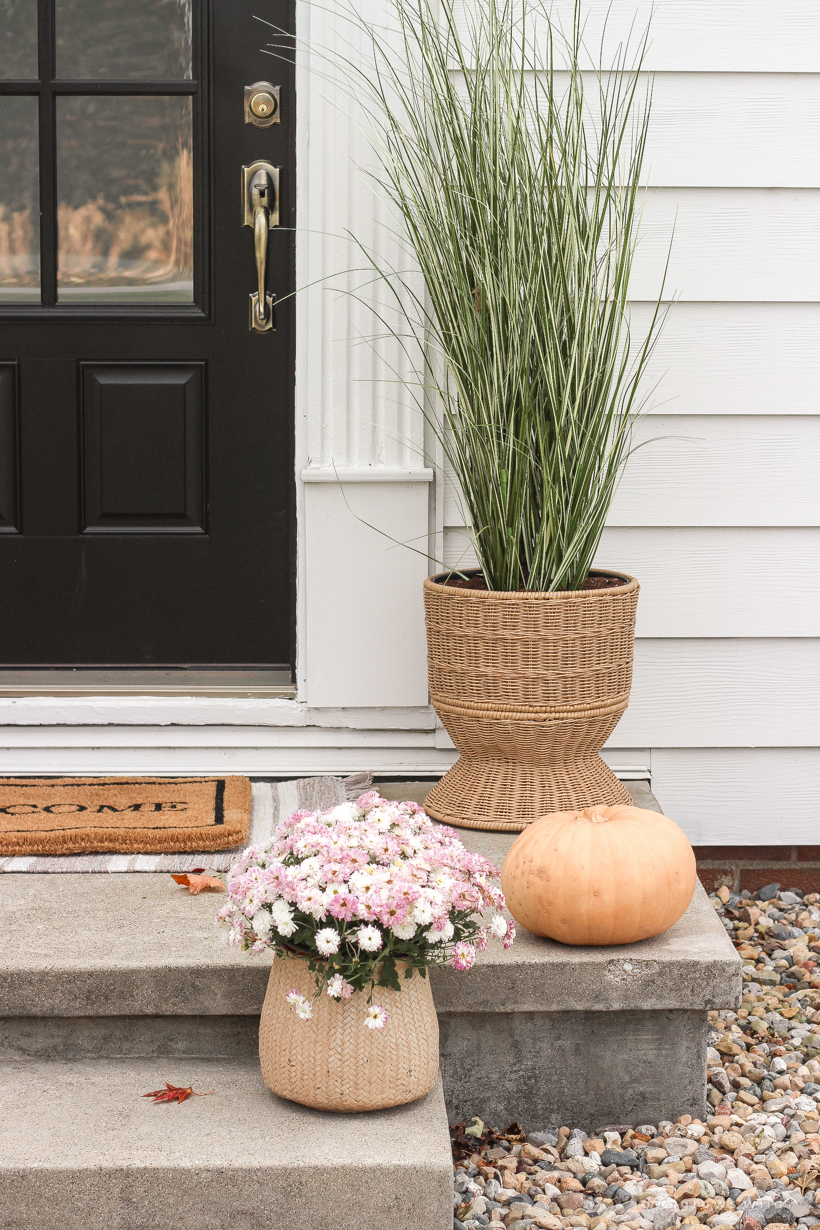 – SHOP THE POST –

– SOURCES –
door: Therma-Tru Benchmark Door ¾ Lite Simulated Divided Lites with painted black finish custom ordered from Lowe's
hardware: Home Depot – also available at Lowe's
planters: Target
artificial grass: Wayfair
welcome mat: Target
stripe rug: Target
cement basket pots: similar at CB2
outdoor sconce: similar at Home Depot
As always, I sincerely appreciate you shopping through the links I share, which allows me to make a small commission from your purchase while your purchase price stays the same. When you use my affiliate links, I'm better able to create content for this blog as well as support my family, and I thank you from the bottom of my heart for supporting what I do! xoxo Liz
---
Subscribe to Blog | Follow on Instagram
Follow on Pinterest | Follow on Facebook