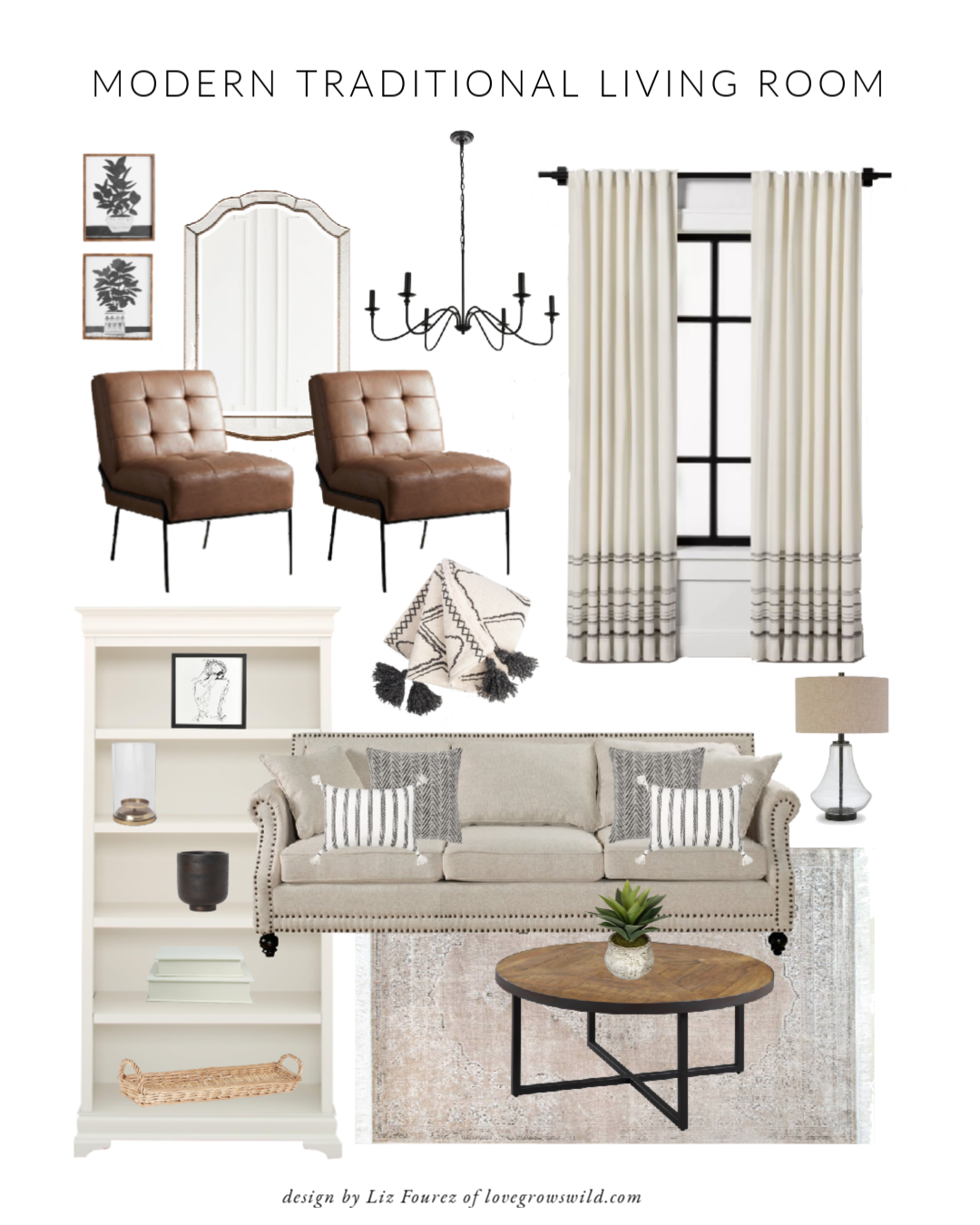 Today on the blog I'm starting something new that I've wanted to do for a very long time! Over the last 8 years I've taken you along for the ride as I renovated my little farmhouse, which has been one of the best, most challenging, and most rewarding things I've done in my adult life. No matter how long we live here, our house will never be 100% "complete". I'll always tinker with little projects and redecorate our spaces, but the majority of the big updates have already been tackled.
My goal here has always been to provide you with new ideas and inspiration for your home, so I've been brainstorming a lot lately and came up with the concept for a new monthly blog post series! Instead of sharing spaces in just MY home over and over, once a month I'll be sharing a COMPLETELY new room design I've created along with a list of product sources that I used to create the look! One of the biggest reasons I've been wanting to do this is because I know every single person reading this has a unique style of their own, and even my style has grown and evolved so much over the last 8 years. Working on these custom design boards will allow me to give you more diverse design ideas that I hope you'll be inspired by. And if you feel unsure about exactly what "your style" is at the moment, I hope maybe you'll see one of these design boards and think "Yes! THAT is my style!".
For my first design in this new series, I put together a Modern Traditional Living Room that I think you're going to love! Let's dive into the details…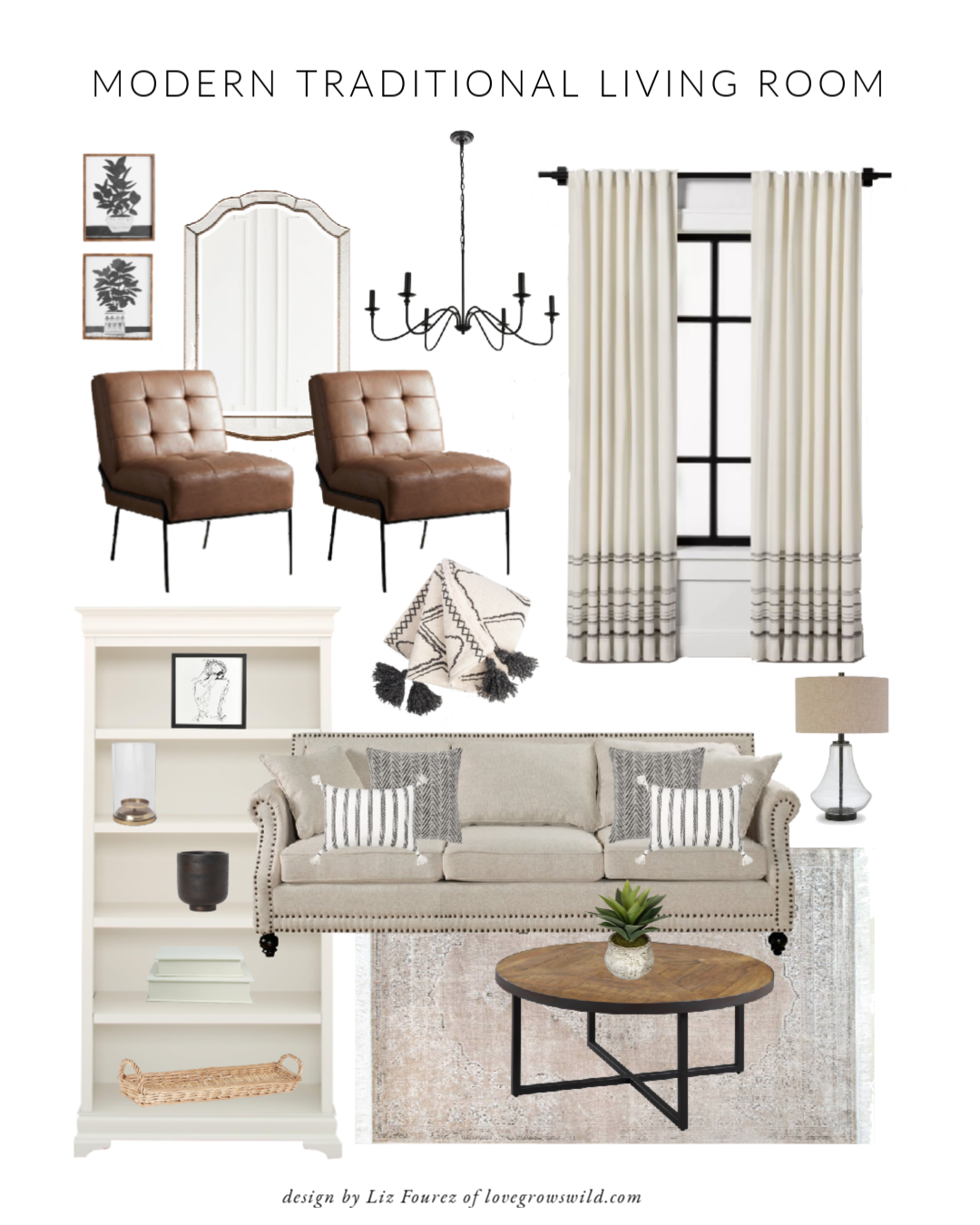 Many of the pieces in this design are similar to something you would see in my home, but with a modern meets traditional twist. I was inspired by my sister, Kristi, who just bought her first house with her husband, and she's been sending me all kinds of beautiful ideas for the modern traditional look she's going for. Neutral colors, soft white walls, linen fabric + cognac leather, dark wood tones, black accents, and a touch of antique brass. It feels classic, yet updated, and I'm obsessed with the faded vintage rug, unique leather chairs, simple, but stunning lighting, and antique gold arched mirror in this living room design!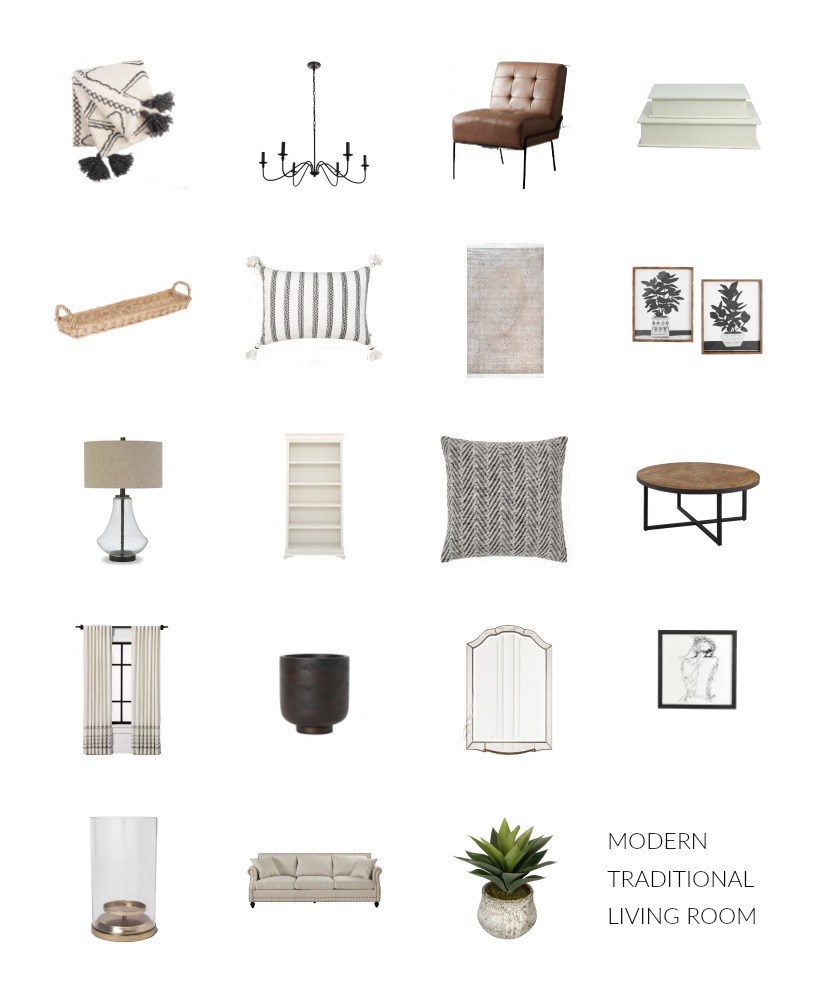 1 // geometric sherpa throw blanket
2 // matte black 6 light candle style chandelier
3 // armless tufted leather accent chair
4 // 3 piece decorative book box set
5 // long wicker basket
6 // black + white stripe oblong pillow
7 // beige medallion fringe area rug
8 // set of 2 framed plant wall art
9 // seeded glass table lamp
10 // white 5-shelf bookcase
11 // gray knit herringbone pillow
12 // antique pine round coffee table
13 // hem stripe curtain
14 // wooden plant pot
15 // antique accented arched wall mirror
16 // framed drawing print
17 // brass + glass hurricane pillar candle holder
18 // rolled arm sofa
19 // artificial succulent in weathered vase
SHOP:

Note: As always, I sincerely appreciate you shopping through the links I share, which allows me to make a small commission from your purchase while your purchase price stays the same. When you use my affiliate links, I'm better able to create content for this blog as well as support my family, and I thank you from the bottom of my heart for supporting what I do!
---
Subscribe to Blog | Follow on Instagram
Follow on Pinterest | Follow on Facebook