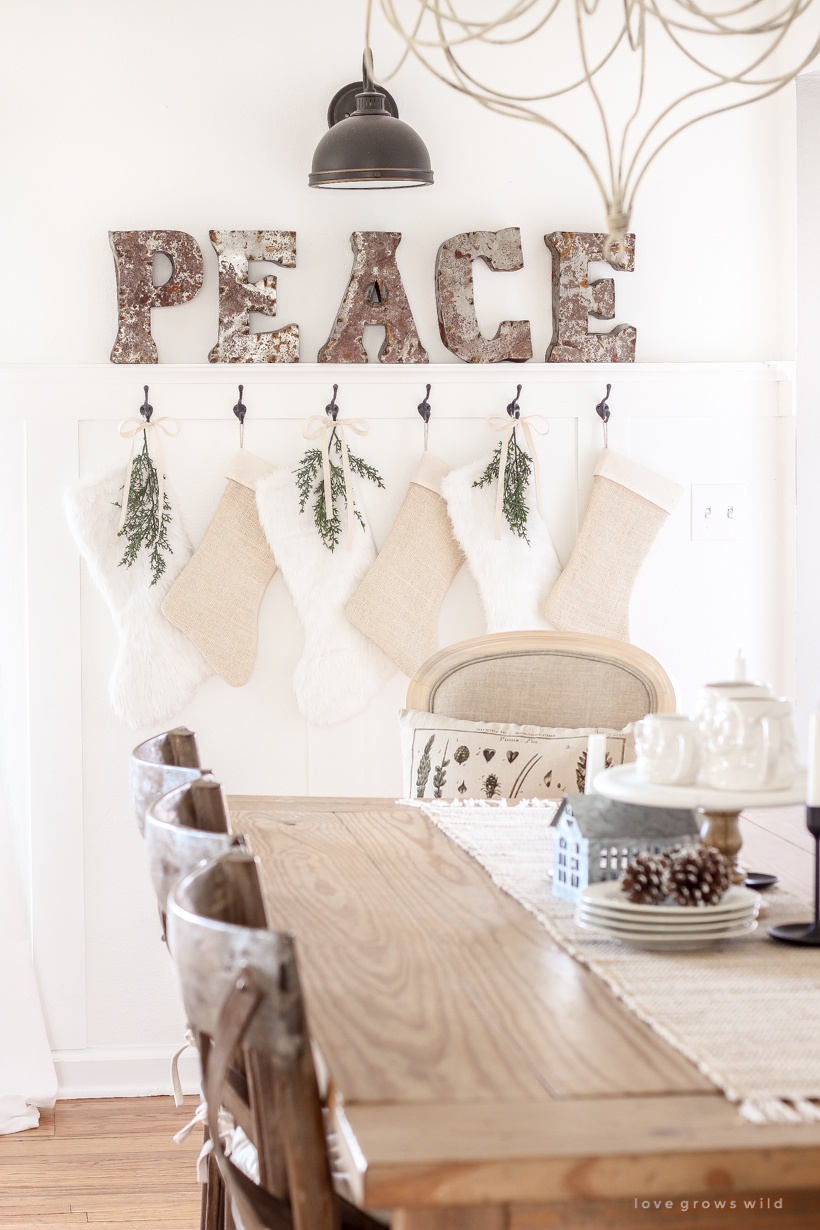 It's almost time to wrap up the year with a little holiday break from work, but I wanted to squeeze in just a few more Christmas decorating ideas before I shut my brain and computer off for a bit. I mentioned in this post where I shared photos of our decorated tree in the living room that I still needed to finish the rest of this space, and today that's exactly what I have for you… our Christmas living and dining room!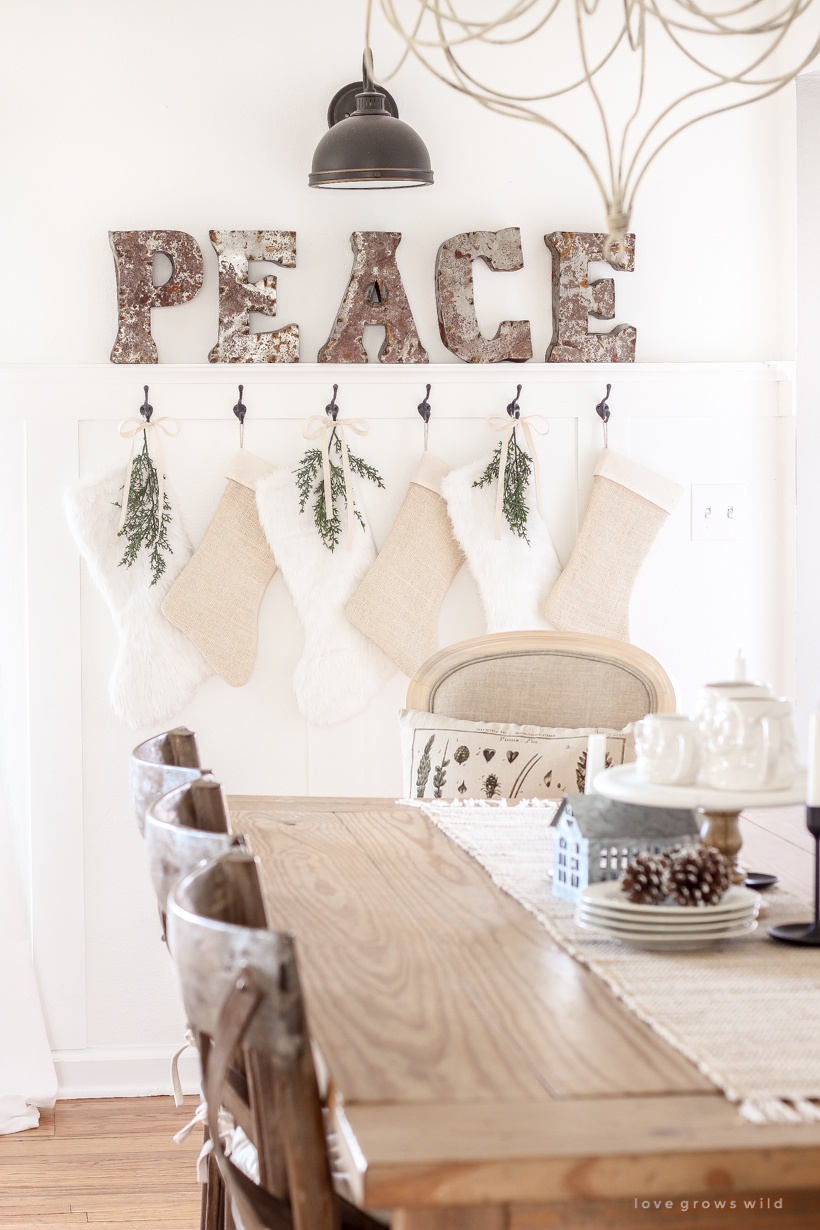 Note: all sources are listed at the bottom of this post.
One of my favorite pieces of Christmas decor I own are these rusty metal letters that spell out PEACE, and I've used them in several different places over the last few years. First I had them in my bedroom, then on the wall behind my dining table, and now this year I found the perfect spot for them above the coat hooks by our front door. I love the way the aged metal stands out against the bright white walls, and the stockings underneath make such a sweet display. The cream burlap stockings I sewed myself many years ago, and the white faux fur ones came from Hobby Lobby this year. For an added detail I took one branch of faux greenery from Hobby Lobby and cut it into three pieces, tying them to the hooks with a cream bow.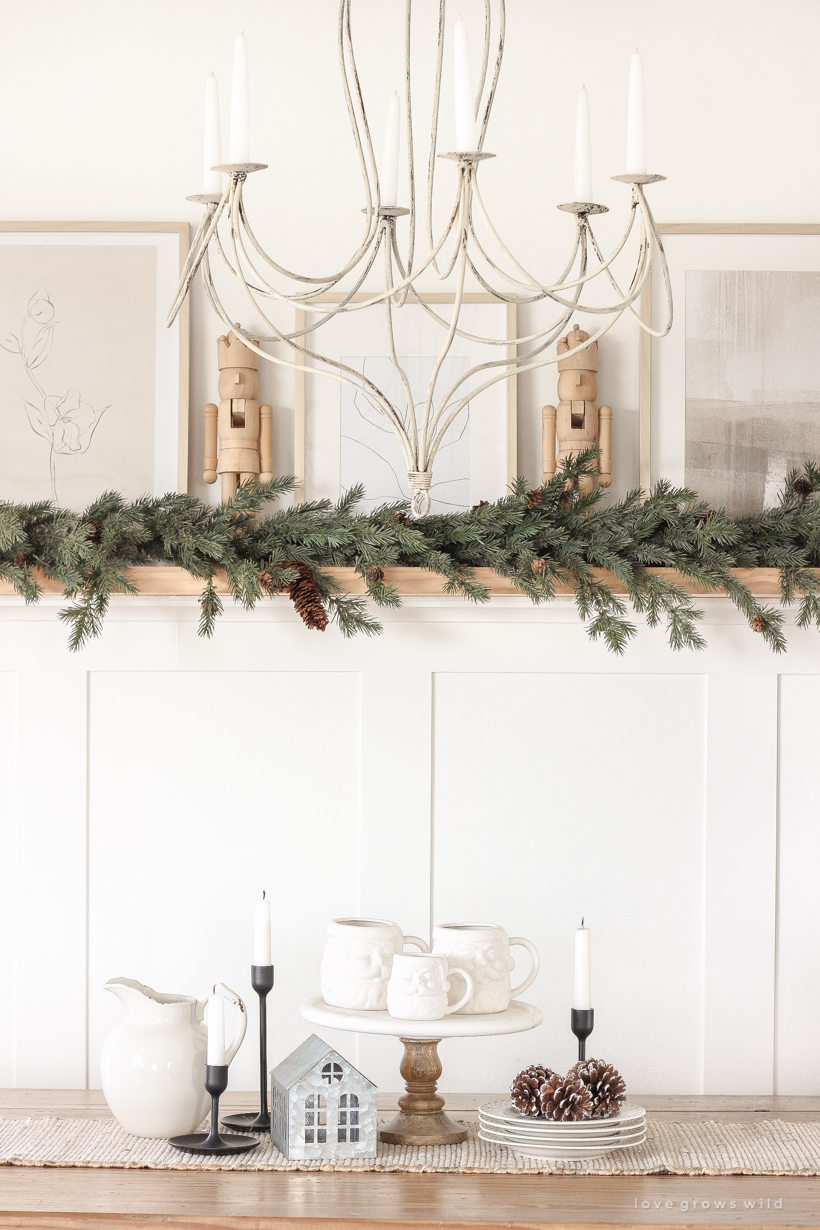 I have some plans and ideas for this art shelf above the dining table once all the holiday decor is gone, but this year I kept it super simple adding just a pinecone garland and two nutcrackers in between the artwork. The shelf isn't wide enough for the garland to just sit on top, so I added a small nail (a thumbtack would also work) to the middle and ends of the shelf and used floral wire to secure the garland.
I don't buy a lot of new Christmas decor anymore because I already have such a large stash, but I did come across some really adorable and affordable things from Walmart this year that I used in our living and dining room. The little white Santa mugs were in their Christmas section and only $2-3 each depending on the size. Such a good price for how cute they are! They also had similar snowmen mugs, but I thought the Santa was just darling and had a vintage appeal. I also found some cute galvanized metal houses (not with the Christmas decor) over by the candle holders and lanterns, and I thought they would be perfect for creating little Christmas vignettes with some bottle brush trees and candles.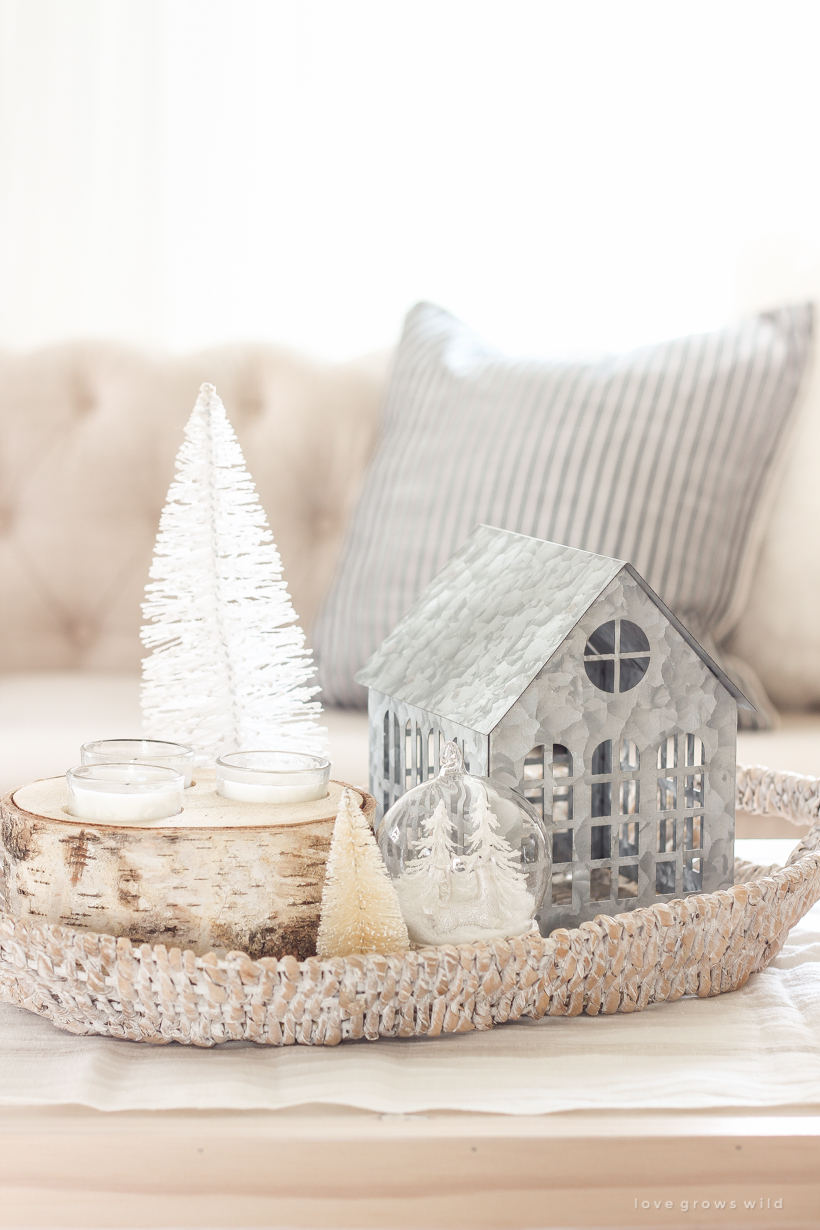 There are a few new additions to our living room…
We are still loving the two recliners we got a couple months ago, and I also added a big round mirror on the wall behind the sofa and a pretty wood side table next my recliner… we all have our favorite seats in the house, right?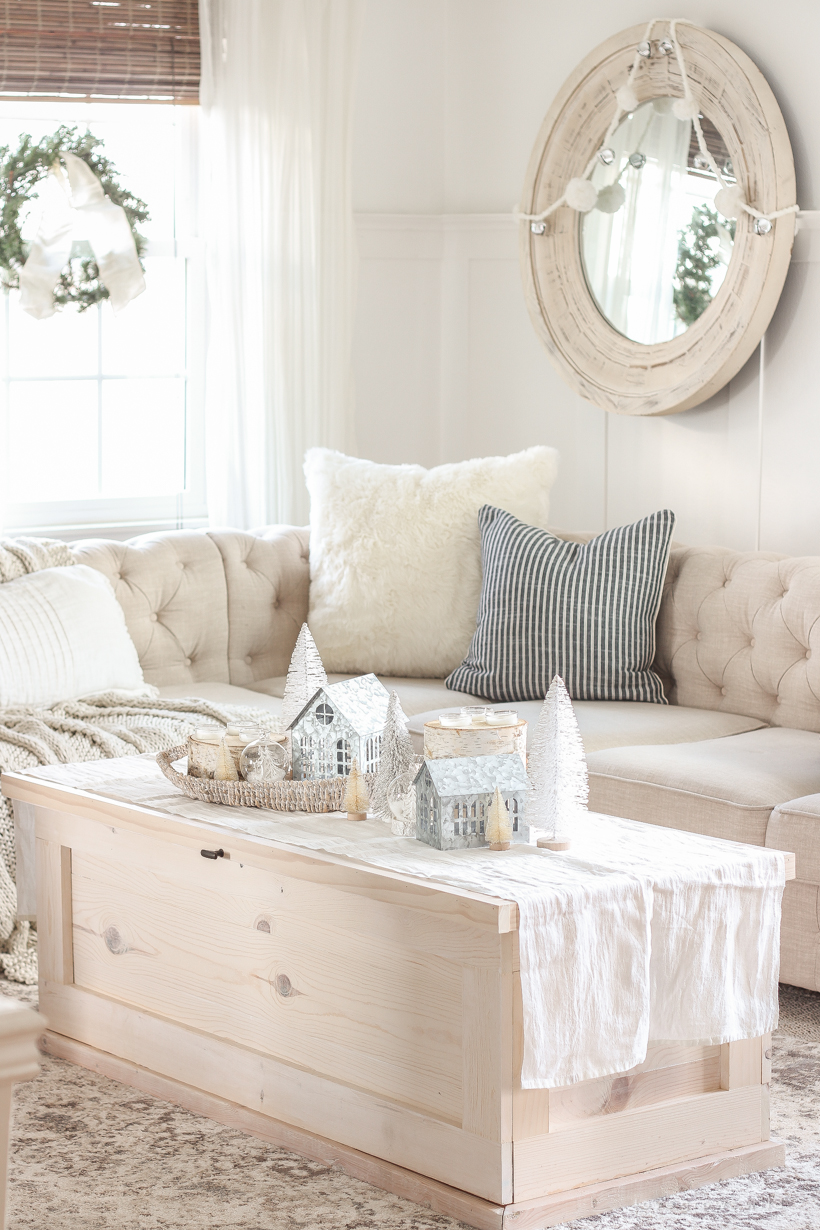 Normally I keep decor on the coffee table pretty simple, but I couldn't resist creating this pretty little scene with a few of the metal houses, a variety of bottle brush trees, birch log candle holders, and some snow globe ornaments. I've been craving more wood elements in this room lately and am seriously considering getting a darker wood coffee table, but the whitewashed trunk I built earlier this year (tutorial here) fit the winter white theme perfectly. I don't know what it is about cute, little bottle brush trees and mini houses, but this might be my favorite little vignette I've done in the whole house this Christmas. So sweet and magical!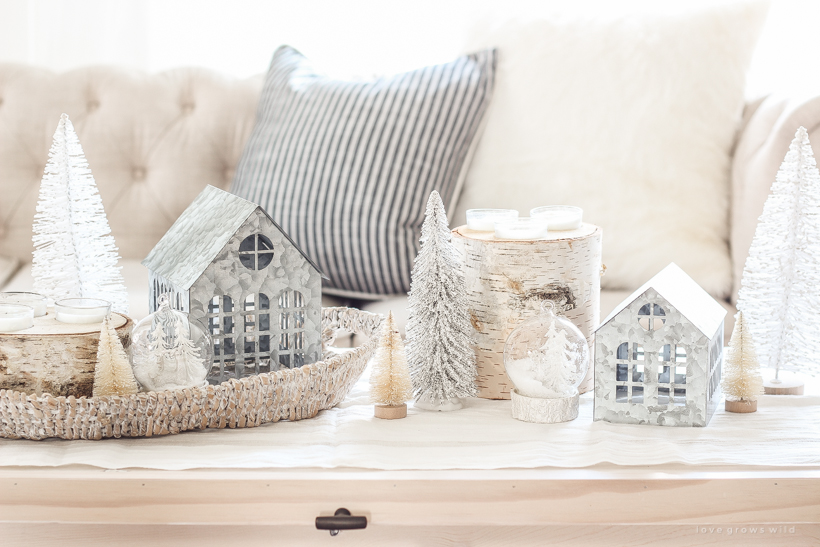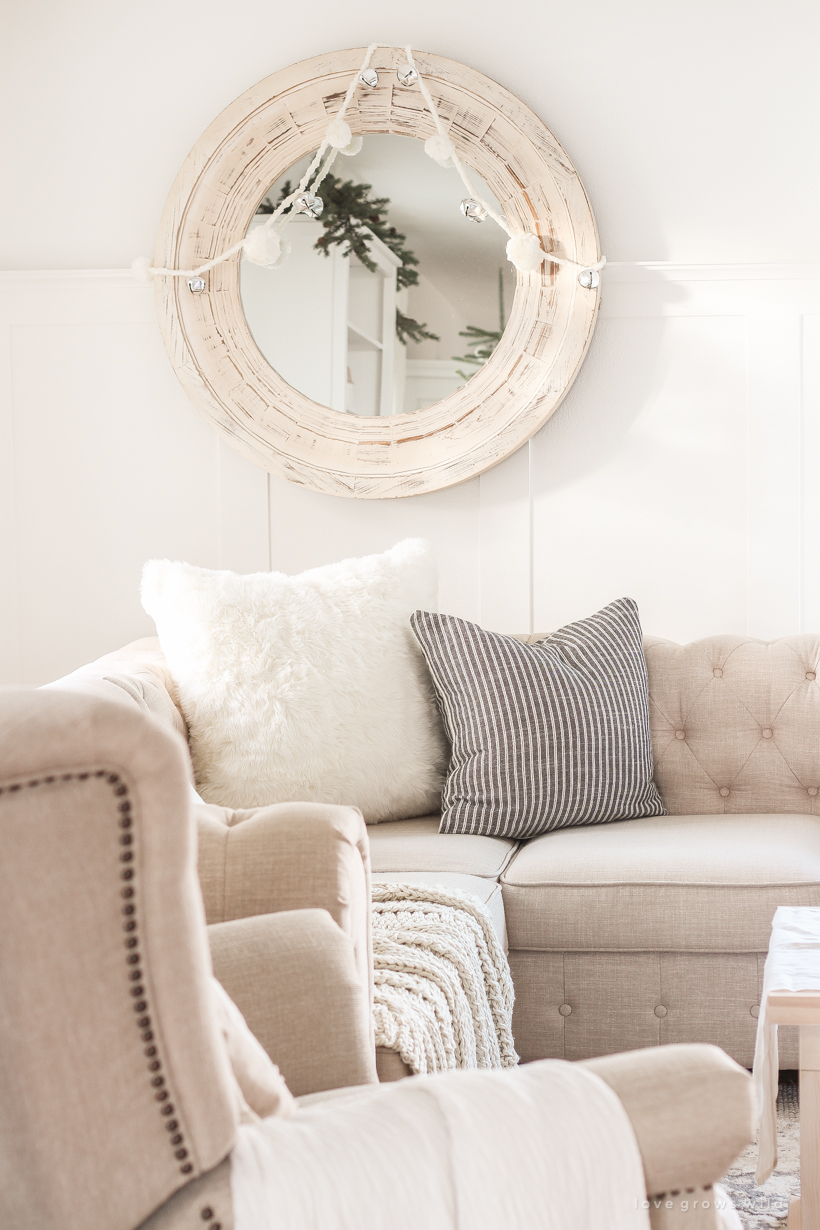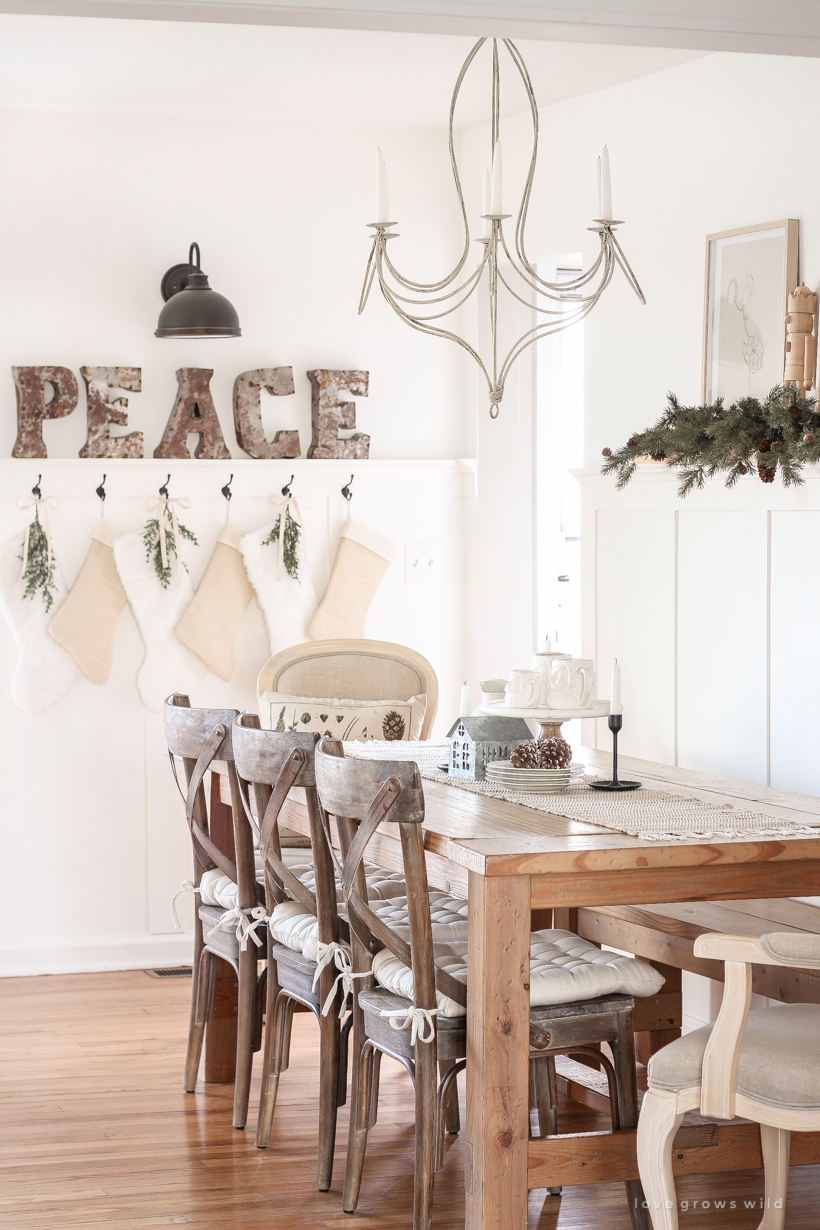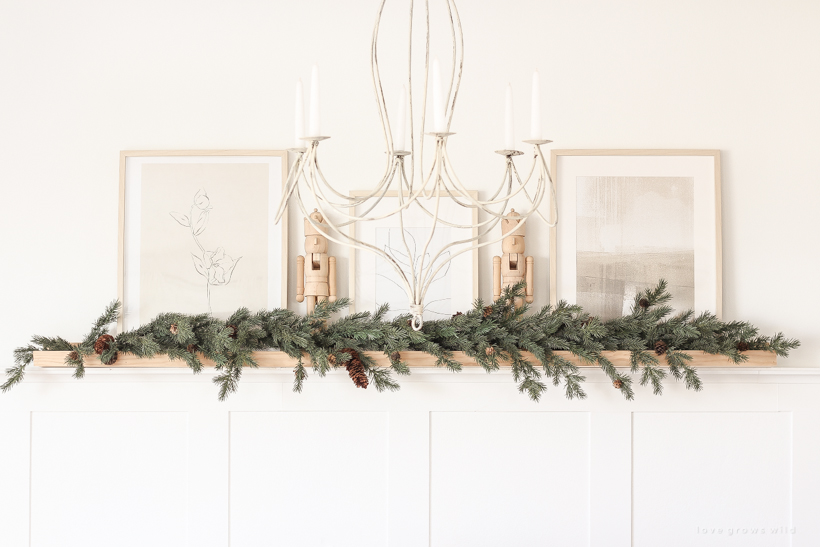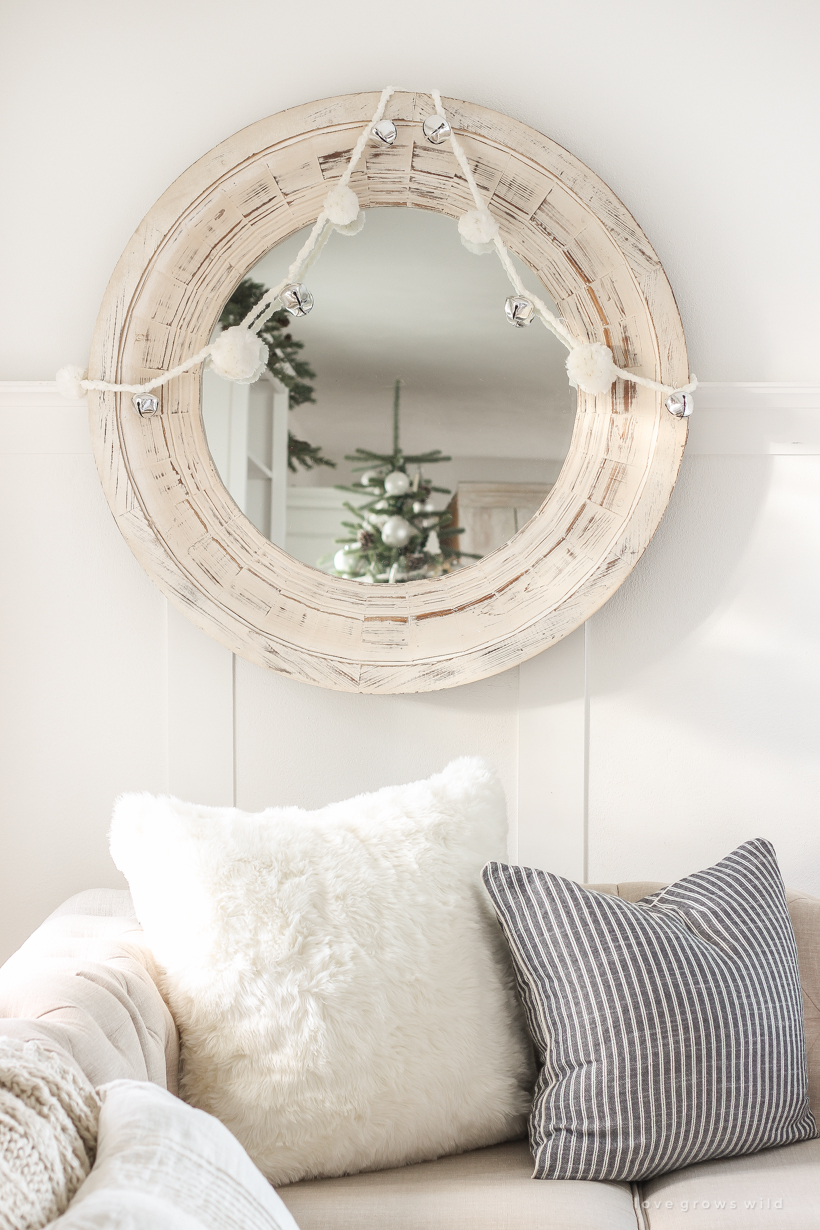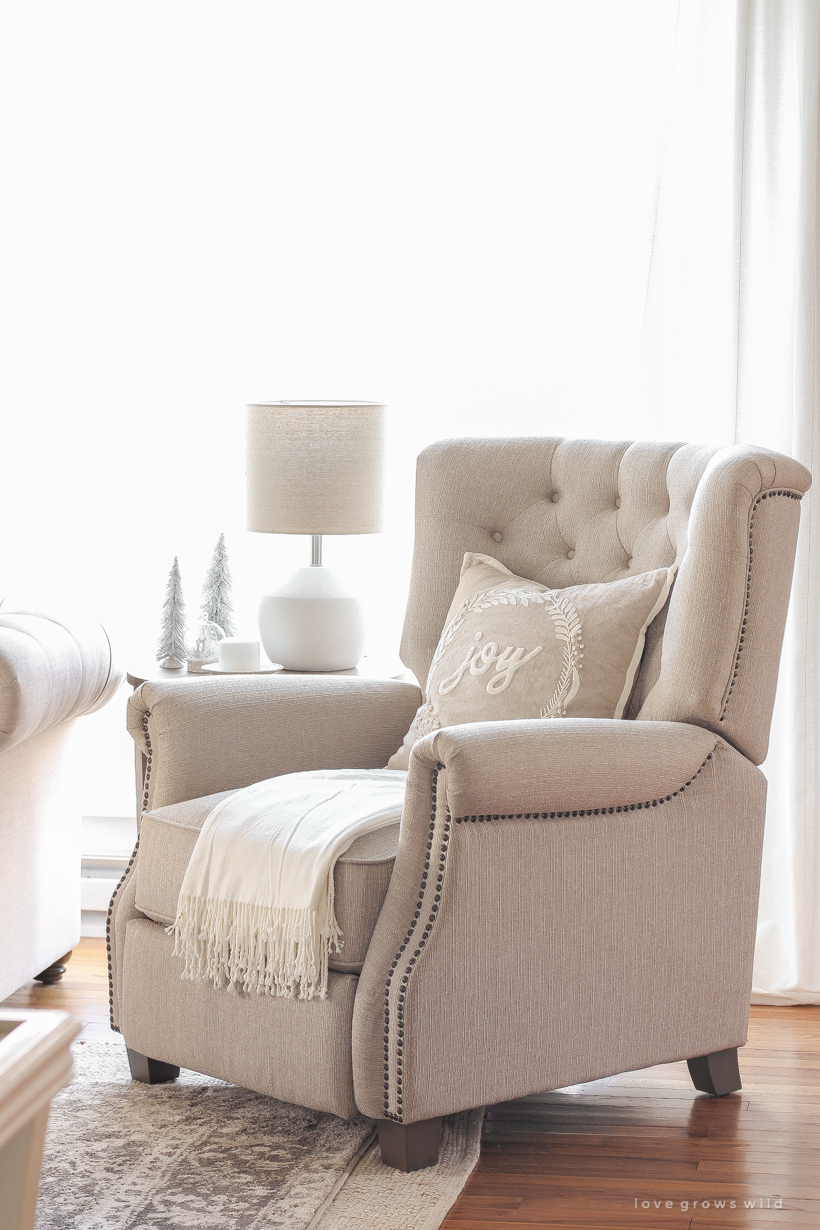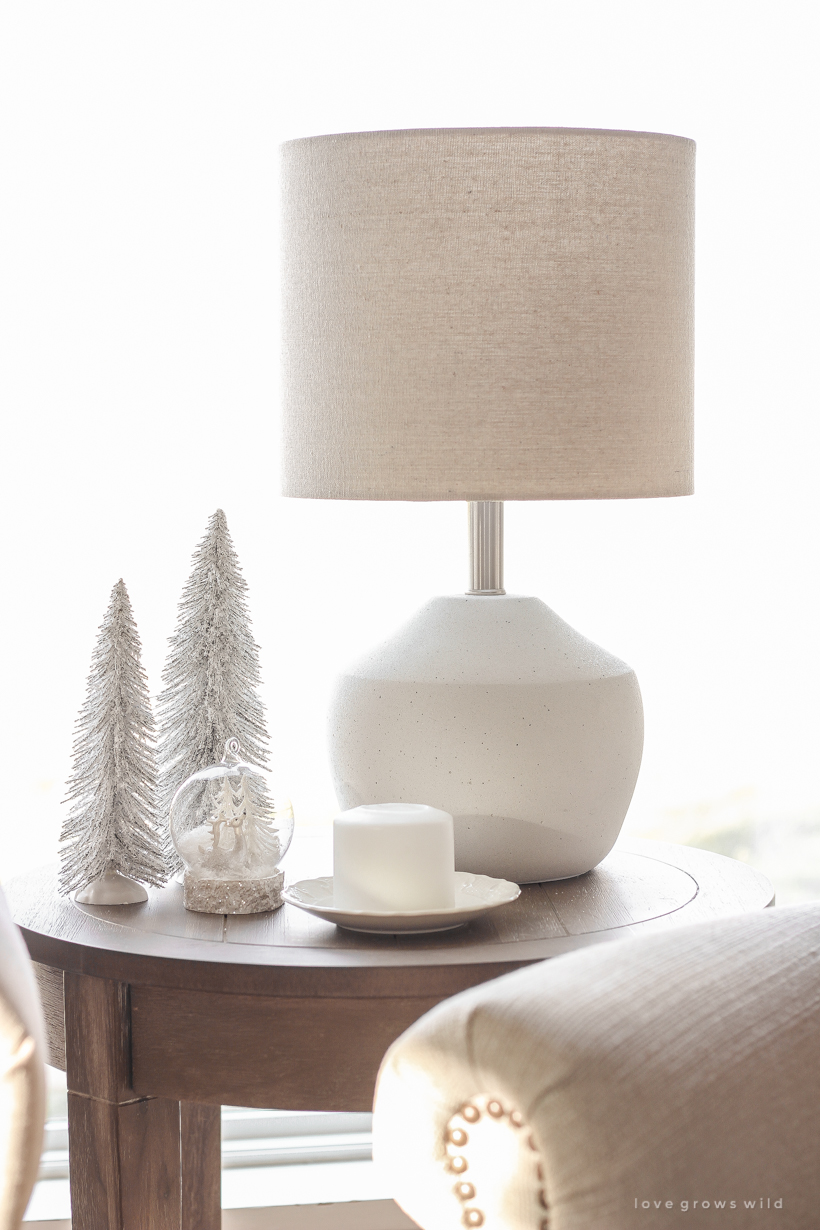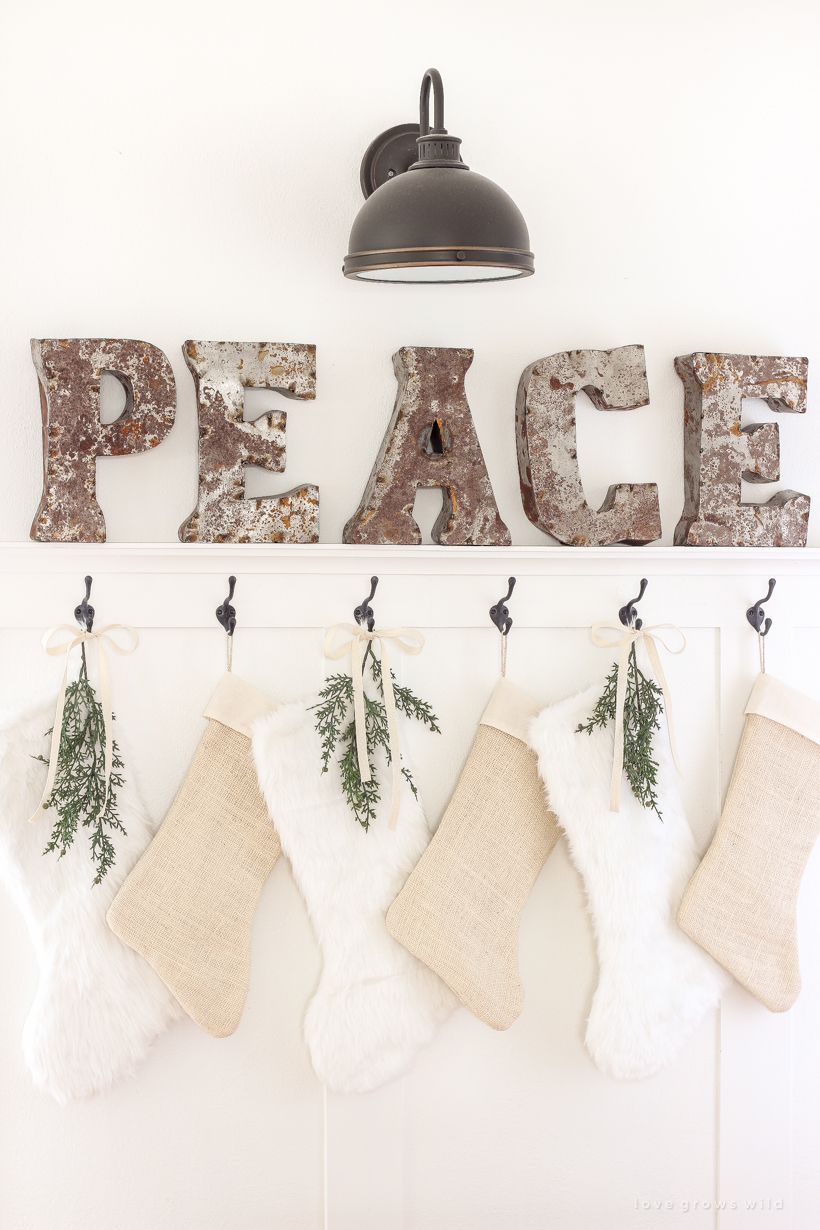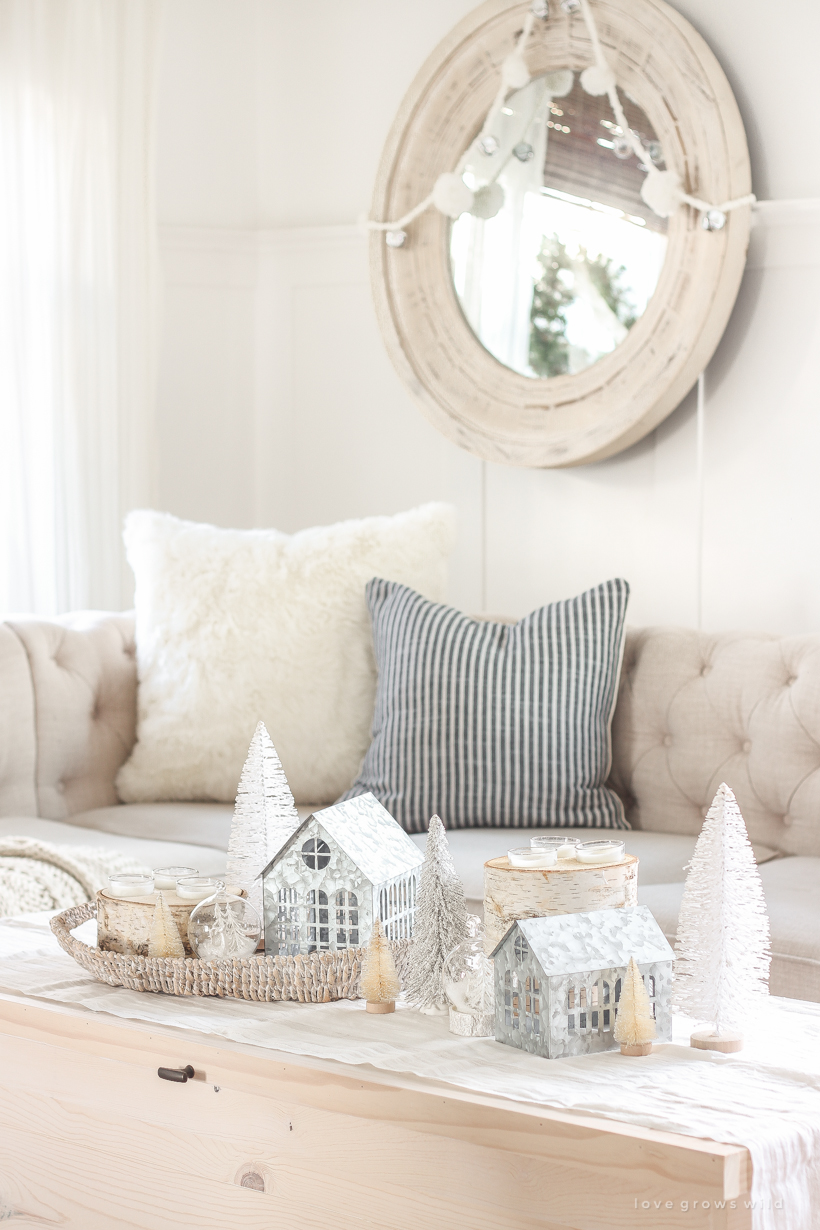 As always, I sincerely appreciate you shopping through the links I share, which allows me to make a small commission from your purchase while your purchase price stays the same. When you use my affiliate links, I'm better able to create content for this blog as well as support my family, and I thank you from the bottom of my heart for supporting what I do!
---
– SHOP THE POST –
---

---
– SOURCES –
---
rusty metal letters: Birch Lane | white fur stocking: Hobby Lobby | cream burlap stocking: handmade
medallion rug: RugsUSA | recliner: Walmart | joy pillow: HomeGoods
sectional sofa: Wayfair | coffee table: tutorial here | jute rug: RugsUSA | knit blanket: Wayfair
round mirror: Pier 1 | white faux fur pillow: Target | black stripe pillow: Marshalls
wall sconce: Wayfair (sold out) | farmhouse dining table: tutorial here | dining chairs: World Market
candle chandelier: Rustic Garden | jute table runner: Pier 1 | marble cake stand: Amazon
white Santa mugs: Walmart | black candle holders: IKEA | galvanized metal house: Walmart
art shelf: tutorial here | artwork: Etsy + Etsy | birch log candle holders: HomeGoods
bottle brush trees: Target + Hobby Lobby | snow globes: Hobby Lobby | side table: Pier 1
pom pom + bell garland: Hobby Lobby | dining chair cushions: World Market | table lamp: Walmart
pinecone garland: Hobby Lobby | tie top sheer curtains: World Market | bamboo shades: Home Depot
---
Subscribe to Blog | Follow on Instagram
Follow on Pinterest | Follow on Facebook