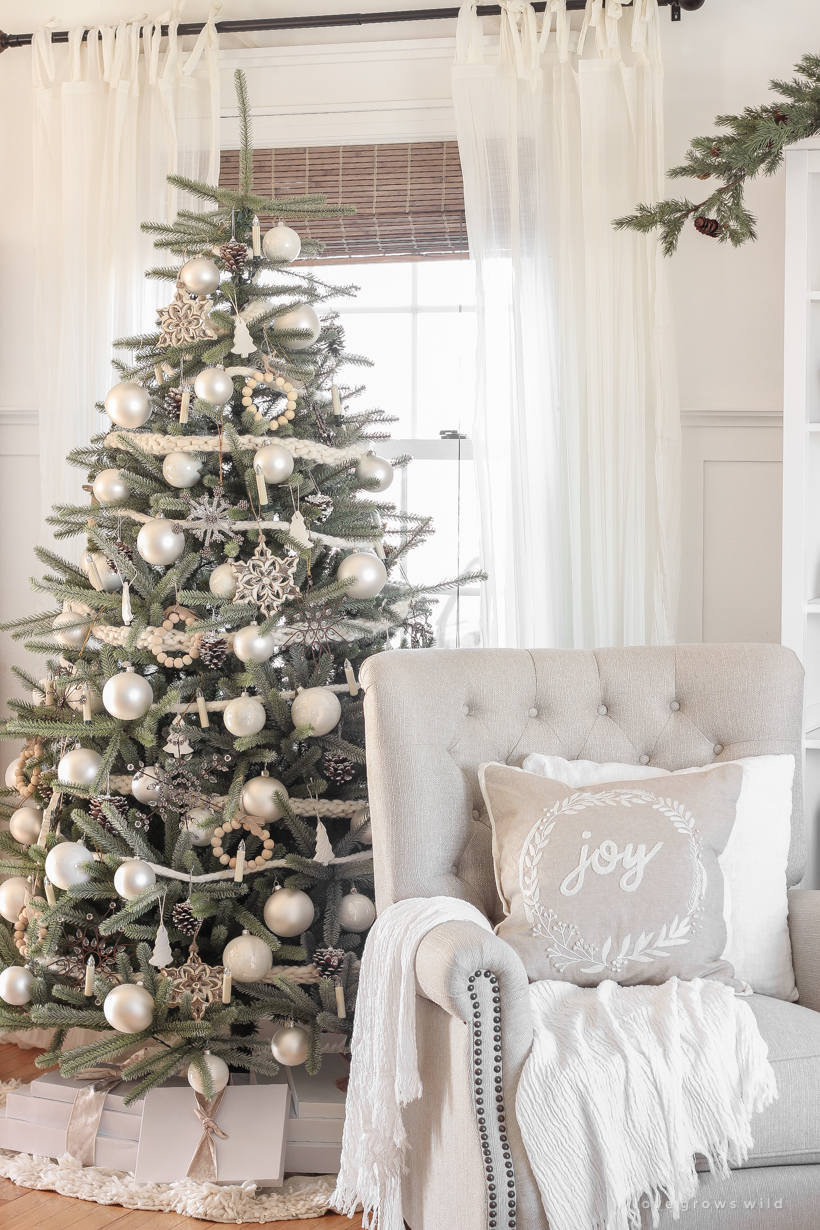 Those of you who have been following Love Grows Wild for awhile know that the one room in my house I tinker with the most is our living room. And if you're also one of my Instagram friends, you probably already know that recently I decided to try adding some extra seating in the living room, which meant changing up the layout. Was it smart to do this right before the holidays when I also need to find room for a Christmas tree? Admittedly, probably not. But I'm a bit of an impulsive decorator and somewhat stubborn when I get an idea in my head, so… I went for it!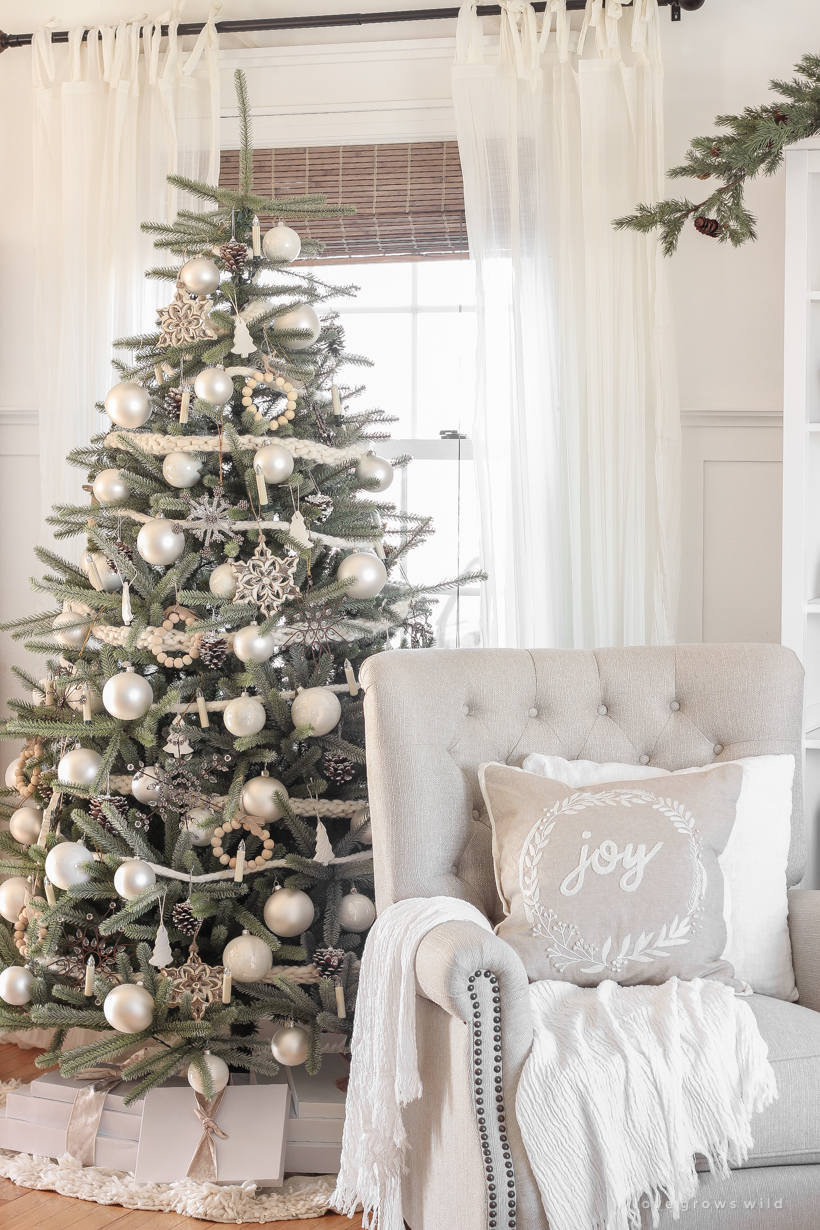 Before we go any further, I wanted to let you know that I am joining a wonderful group of women who are sharing parts of their homes this holiday season, and if you are visiting from Boxwood Avenue, welcome!
I ordered two beautiful recliners for such a good price, and I bet you'll be shocked when you see where they came from… Walmart, my friends. Free two day shipping, and three different fabric color options. They were very easy to assemble and are actually very comfortable for such an affordable, stylish chair. It's so nice having extra options for seating in the living room now, but it has been somewhat of a challenge redesigning this whole space and finding room for everything!
If I'm being completely honest with you, decorating for the holidays and also for my job has in the past put a lot of stress and deadlines on my plate. It's such a wonderful blessing to collaborate with blogging friends or partner with a brand this time of year because both things can help grow and profit my business. But on the other hand, I end up feeling a ton of pressure to create something new and different and super inspiring in a short amount of time when my personal life and family are also very busy getting ready for the holidays too. This year I wanted to allow myself to decorate and enjoy the season authentically without so many deadlines.
The reason I'm sharing this little insight with you is because in my mind I wanted to have our living room absolutely perfect and beautifully decorated for Christmas to share with you today. I wanted every pillow to be perfectly coordinated and the layout to be just right to highlight the Christmas tree and show you the entire space in a big "reveal". But the reality is that I'm still figuring out how to make this new layout and extra seating work. And I have things on order that haven't arrived yet. And I have a blank wall that I need to figure out what to do with. And I have extra pieces of furniture I don't need anymore shoved in a corner…
I'm in the middle of making our little farmhouse better for our family, and it's okay that it isn't perfect when I wanted it to be. Because I know that many of you probably feel the same way about your home. So instead of a room makeover that happened without a hitch in under an hour (isn't that how it happens on TV?), I'm showing you a small little corner where I was able to put up our Christmas tree and the bookcase I styled very simply for the holidays.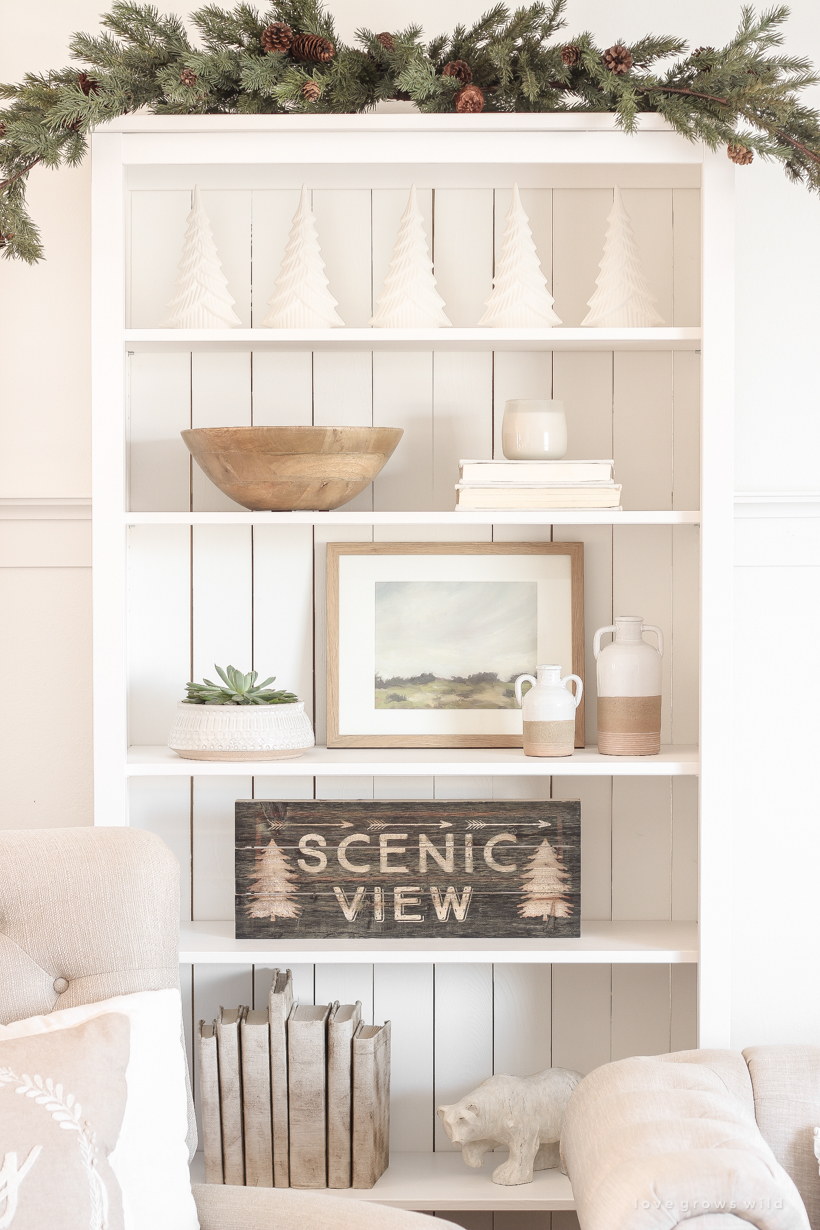 Our tree is the sanibel spruce from Balsam Hill, and I love the muted green color and sparse branches. This year I started with some knit garland I got from Pottery Barn a few years ago, but here's a little tip if you like this look: Go a craft/sewing store, and grab the thickest, fluffiest yarn you can find. It is much cheaper, and you can use a lot more of it on your tree! To make your yarn look like this knit garland, loosely braid 3 strands together to really give it a thick, cozy look!
For the ornaments, I started with my staple white bulbs, both matte and glossy. These particular ones are from Balsam Hill, and even though I love them, they are on the pricey side. I always recommend looking at Hobby Lobby or any craft store that is near you because they almost always have them or something very similar, plus they are usually on sale! I accented the bulbs with wooden snowflakes, wire crystal snowflakes, snowy pinecones, battery operated LED candles, and my handmade white Christmas tree ornaments that I'll be sharing a tutorial for very soon. The clip-on candles I have are from Balsam Hill, but I did find this set on Amazon that has good reviews for a little bit better price.
Note: I have a full source list at the bottom of the post.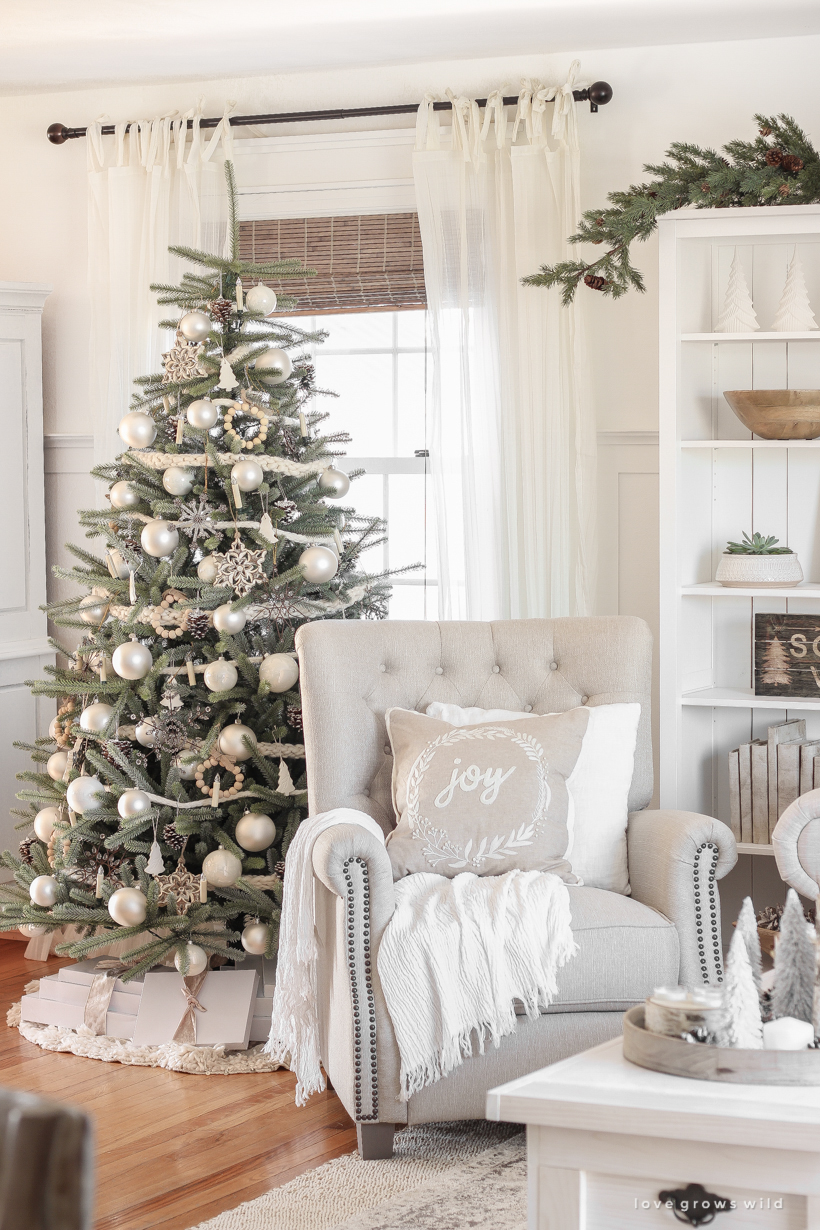 On the bookshelf, I simply swapped out a few of my everyday decor pieces with little nods to winter like the ceramic white trees, a scenic view sign, some pinecones in a basket at the bottom, and a cute polar bear, plus a pinecone garland set on the top. I wanted to keep a few basic everyday items mixed in with the Christmas decor so it still felt like our living room, just a little more festive for the holidays.
You can see how I gave this inexpensive bookshelf an upgrade here.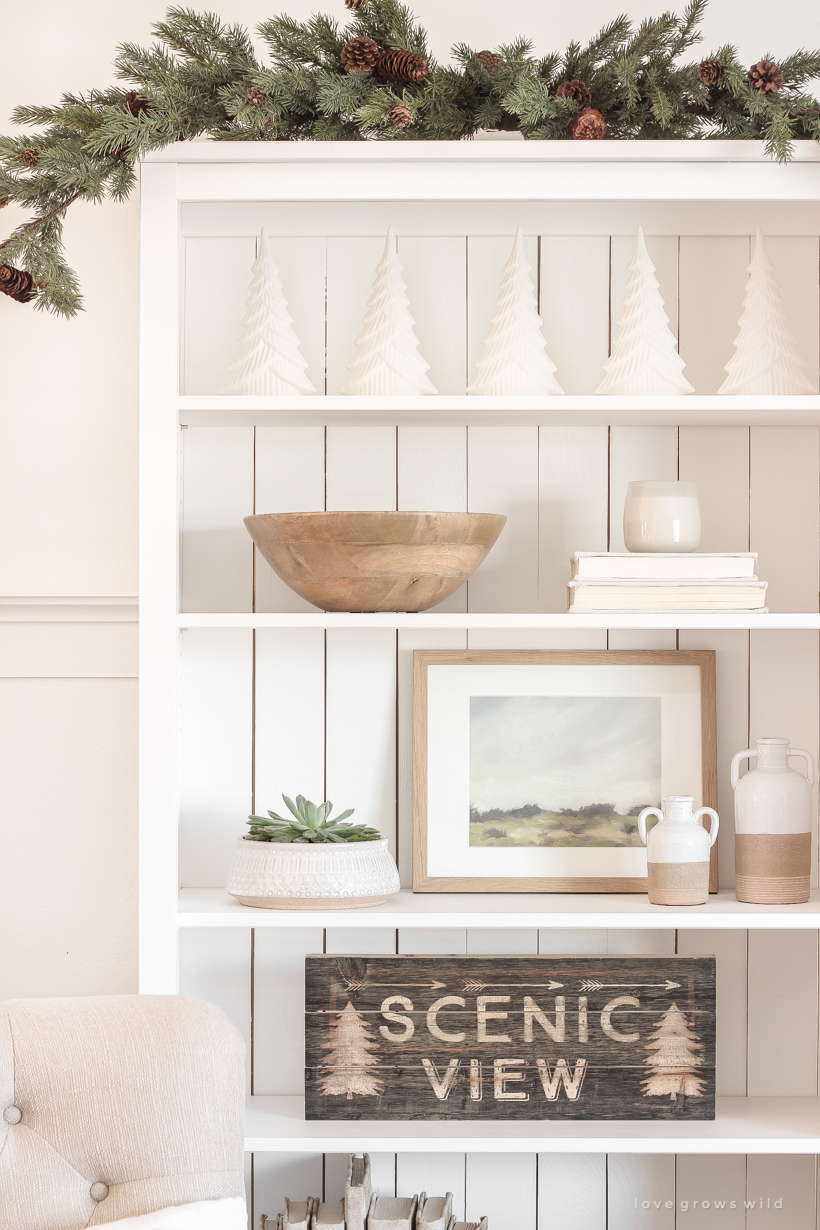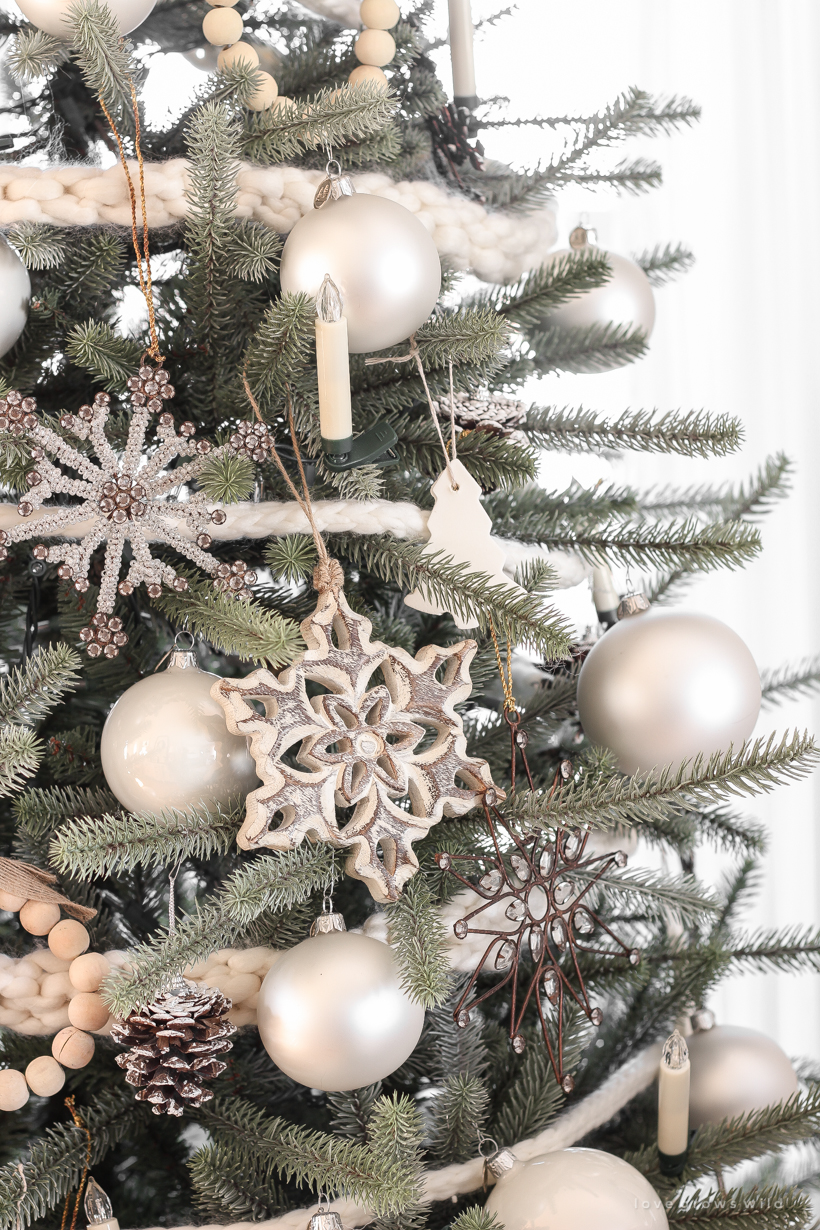 I love the way this space is starting to feel, and I'll be sure to share more updates as I get a few orders in and make more progress. I just wanted you to know that if your home is in the middle of a renovation or you don't love the way your living room looks right now or whatever the situation may be… you are not alone, sweet friend. It's okay to be in the in between and still enjoy decorating for the holidays. Don't shy away from inviting anyone over or hosting because you haven't achieved perfection yet. Take it from the girl who is STILL re-doing her living room 7 ½ years later… : )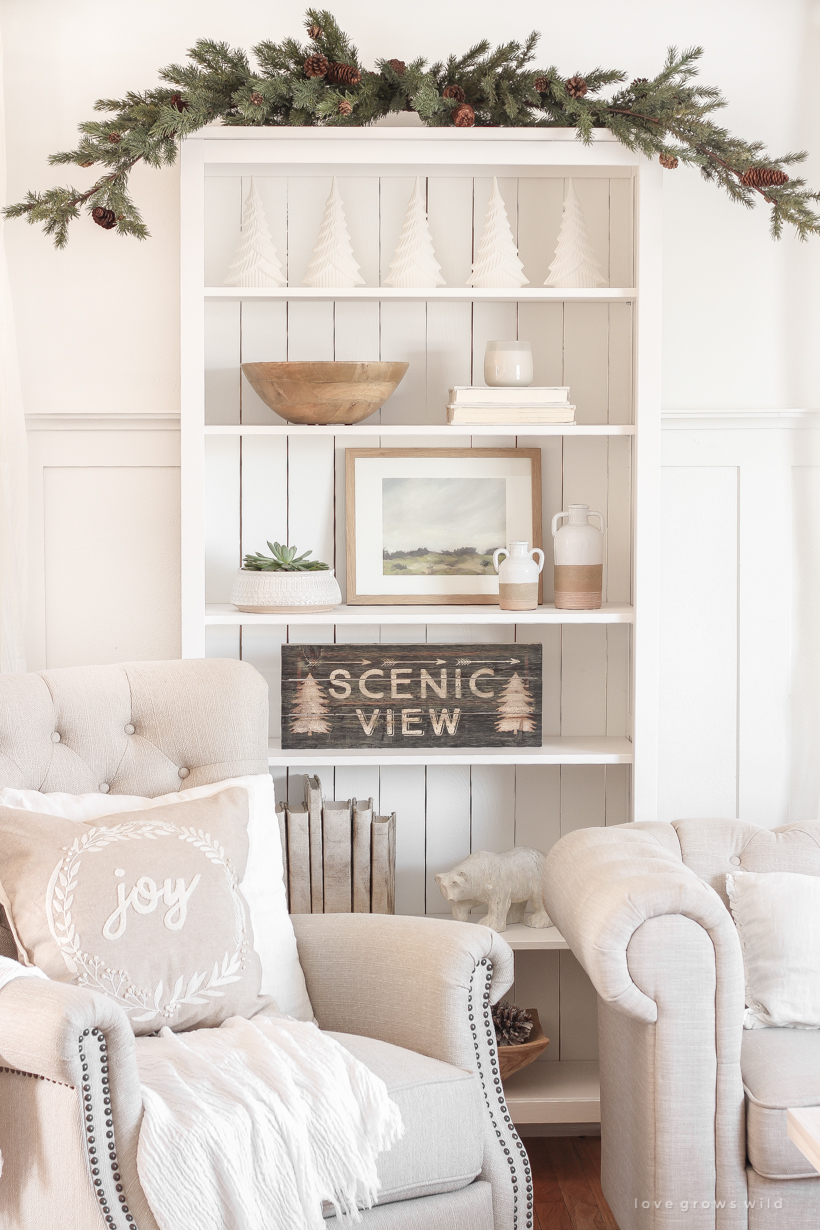 Thank you so much for coming to see this little corner of our living room and for allowing me to open my heart on feeling the pressures of this beautiful season. I hope you found a little bit of decorating inspiration, but more importantly a little bit of encouragement and support! I hope you'll continue visiting the rest of the homes on this tour, starting with my incredible friend, Marian, of Miss Mustard Seed.
More Christmas Inspiration:
2019 Holiday Decorating Guide – my picks from retailers I shop most!
Cozy Christmas Decorating Inspiration from Our Farmhouse
Scrap Wood Christmas Trees Tutorial
How to Make Sugar Cookie Christmas Trees
Hosted by Maison de Cinq
Miss Mustard Seed
Rooms for Rent
Boxwood Avenue
Tuesday's Tours
Miss Mustard Seed | Rooms for Rent | Boxwood Avenue | Love Grows Wild
And don't miss yesterday's tours!
Maison de Cinq | Ella Claire & Co. | Maison de Pax | Thistlewood Farms
– SOURCES –
medallion rug: RugsUSA | recliner: Walmart | joy pillow: HomeGoods
sectional sofa: Wayfair | coffee table: tutorial here | jute rug: RugsUSA
Christmas tree: Balsam Hill | tree skirt: Balsam Hill | knit garland: Pottery Barn
white bulb ornaments: Balsam Hill | wooden snowflake ornaments: Hobby Lobby | LED candles: Amazon
crystal snowflakes: Balsam Hill | wood bead ornaments: Hobby Lobby | pinecone ornaments: Big Lots
white tree ornaments: tutorial coming soon | bookshelf: IKEA | white ceramic trees: Gordmans
wood bowl: IKEA | covered books: tutorial here | two tone jugs: Love Grows Wild Market
scenic view sign: Gordmans | landscape painting: Etsy | succulent bowl: tutorial here
pinecone garland: Hobby Lobby | tie top sheer curtains: World Market | bamboo shades: Home Depot
---
Subscribe to Blog | Follow on Instagram
Follow on Pinterest | Follow on Facebook