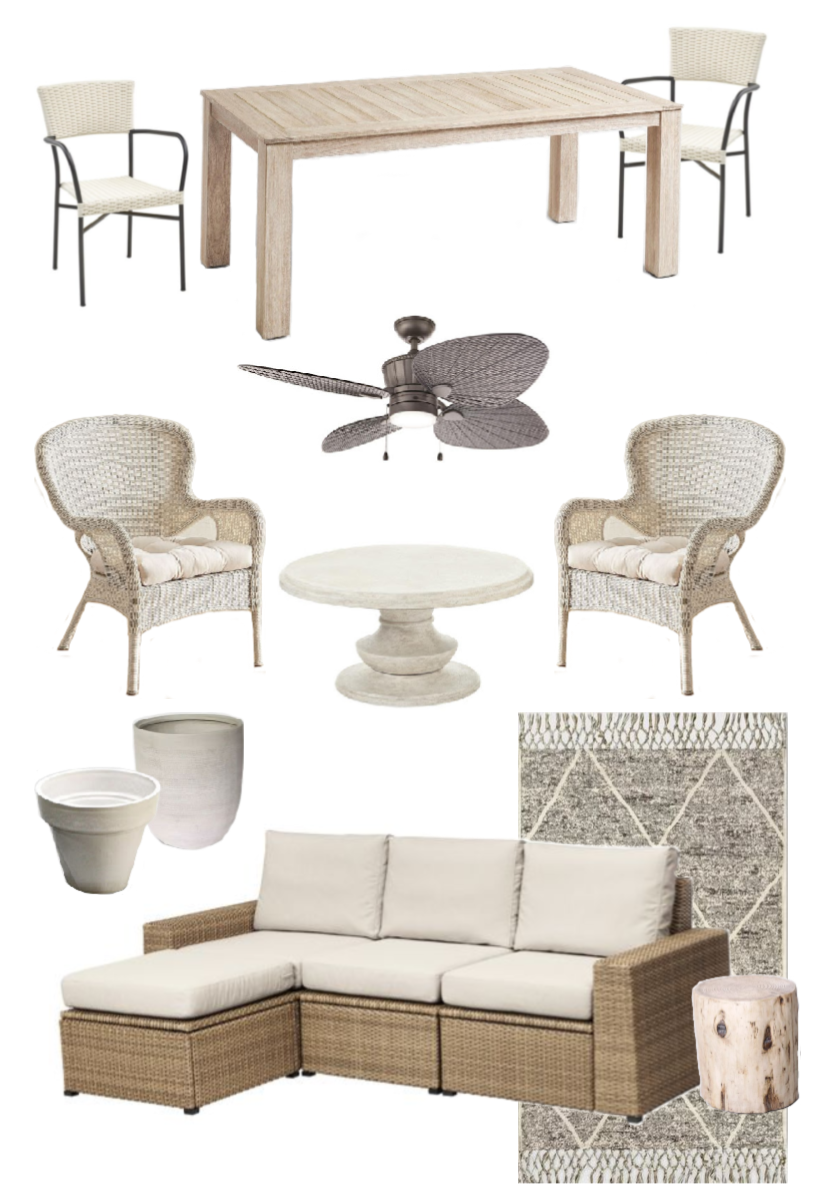 It didn't take long after I announced plans for building a deck to watch my dream and vision come to life in a matter of a few short weeks. Once they got the main posts set and the rain cooperated, it only took a few days really for them to get the entire deck and gazebo built. It has been so very exciting to watch, and if you follow me on Instagram and watch my IG stories, you've been getting to see all the real time progress too! We've had a little bit of a delay in finishing up the roof and ceiling on the gazebo (mostly due to waiting on materials and scheduling), so in the meantime I went ahead and started figuring out the design and layout, ordering the outdoor furniture, and doing a little bit of decorating while we wait. We have already been spending so much time out on the deck, and I can already tell this was one of the best decisions I've made for our home and for our family. I can just picture all the morning cups of coffee, late night star gazing, s'mores, and snuggles that are going to happen out on the deck this summer!
As always, I have been sharing all the progress with you guys on Instagram (it's so much quicker/easier to share the little daily things on IG vs. the blog), and I have been getting flooded with questions about where I bought all the furniture and decor pieces from. I initially had intended to share everything once I had photos of the completed deck. But since finishing the gazebo is on hold and I don't want you guys to miss out on buying and enjoying any of these pieces this summer, I put together a BIG post today with everything I bought for the deck and an initial review of each piece! I really wanted to let you guys in on my thought process of how I went about designing and picking out each piece of furniture, and I even added several of the runner-up options I looked at buying in case you want something slightly different, but similar to what I bought! I hope this post is super helpful and maybe inspires you to spruce up or redecorate your outdoor living space. Let's dive right in!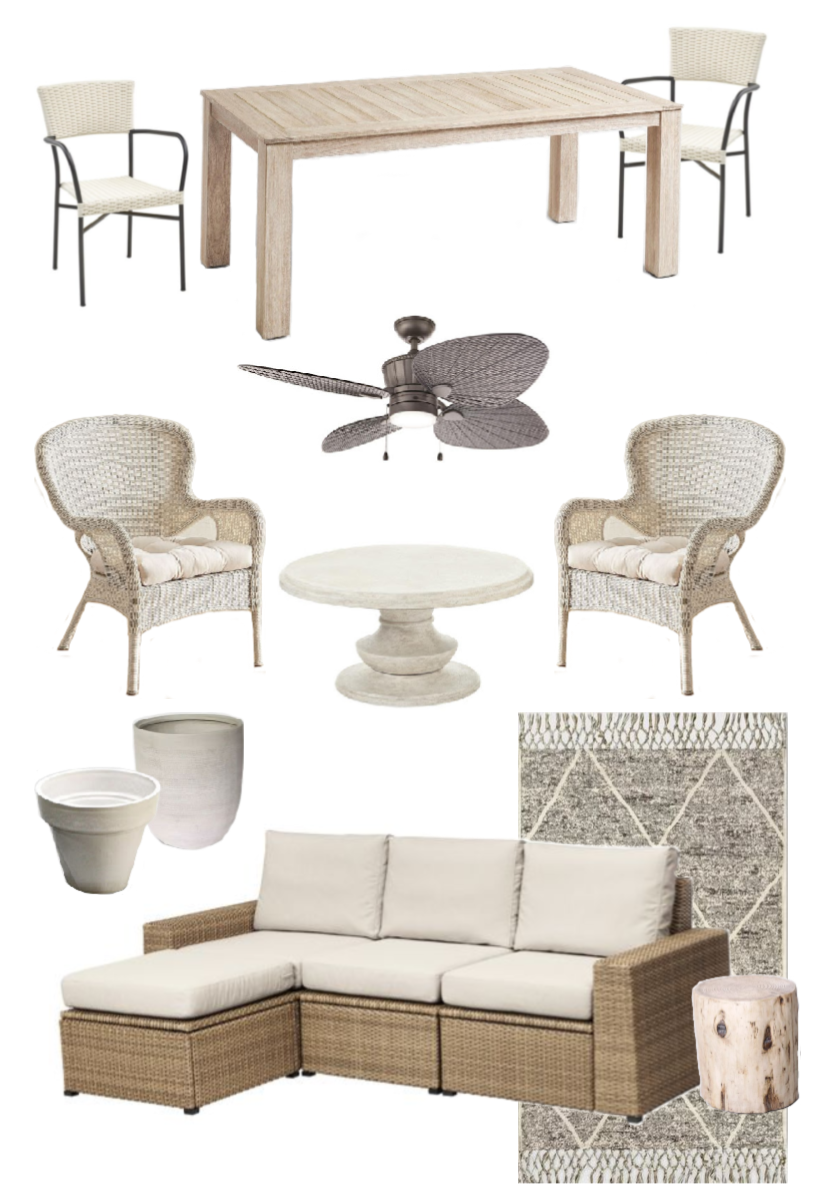 Note: Some of the links in this post are affiliate links, which allows me to make a small commission from your purchase, but your purchase price stays the same. When you use these links, I'm able to keep this blog going and make it better, so thank you from the bottom of my heart for your support!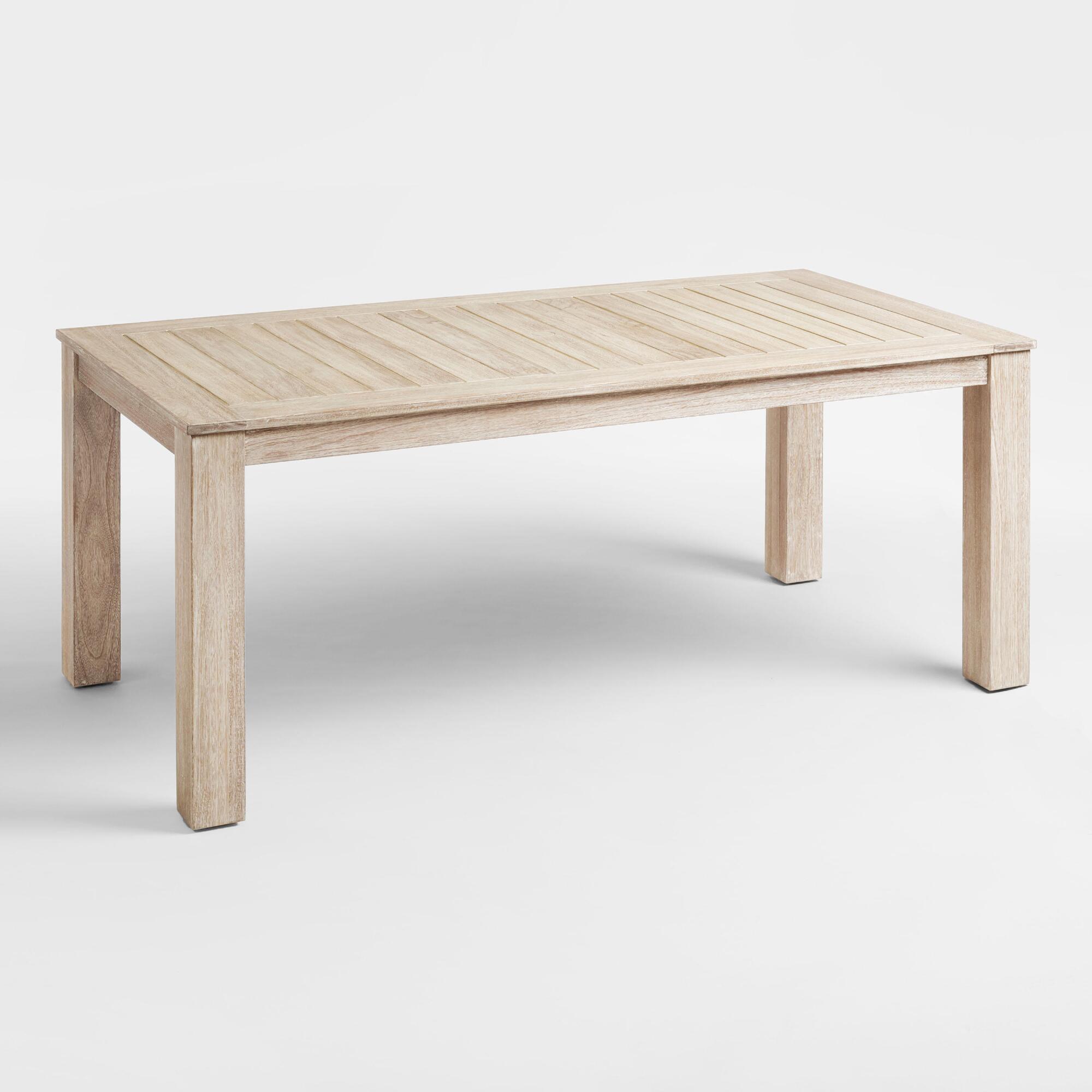 from World Market
From the beginning I knew I wanted two different areas of the deck: a seating/lounge space and a space for dining outdoors. When I started researching outdoor dining tables, I found that they can get real expensive real quick, and I wanted a full size 6-8 seat table, not just a smaller round one. World Market had some of the best prices (I waited until this table went on sale, which they frequently do) and styles I really liked, so I finally pulled the trigger on this whitewash eucalyptus wood outdoor dining table and LOVE it. It was really simple to assemble, and all I had to do was screw the legs into the top. The box it comes in is very large and heavy, but moving the table around once it was assembled wasn't bad. I love the simple lines of this table and the slatted top. The wood has a very light pretty woodgrain and a gorgeous whitewash finish. The table also has a hole in the center in case you wanted to use an umbrella with it, which I'm still debating on… it gets SO windy out where my house is at. But it does come with a plug for the hole that is the same finish as the table if you didn't want to use an umbrella. I was able to fit 6 chairs (shown below) around this table, but if you went with a slightly slimmer chair that didn't have arms you might be able to fit 3 on each side plus 1 on each end, making 8 total. Remember: you can always sign up for stock alerts so you get an email when this table becomes available again! Check your local store availability too… that's how I was able to get mine!
MORE DINING TABLE OPTIONS: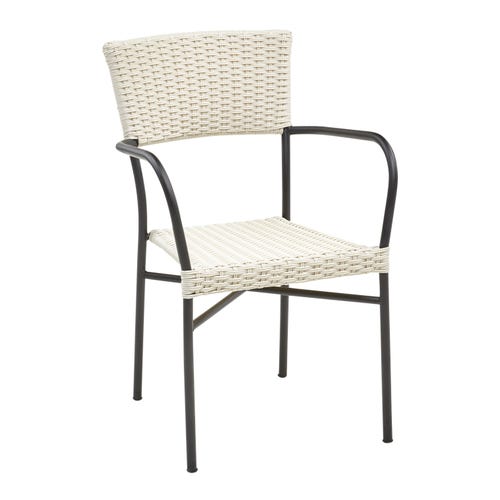 from Pier 1
These chairs for the dining table turned out to be one of my unexpected favorites of everything I purchased for the deck. Because I needed 6 of them, I wanted to find something relatively affordable, but I also didn't want something cheap that I would have to replace in a year or two either. I ordered this ivory stacking chair from Pier 1 (had them shipped free to the store for pick-up) because they were on sale for half off, and I loved the idea of a black and white chair paired with the whitewashed dining table. To say I love these chairs would be an understatement! The frame is wrought iron and very sturdy, and the seat and back is made with an all-weather plastic wicker that is super easy to clean and actually very comfortable! The chairs stack together for easy storage, and to me look much more stylish than the typical outdoor chair you think of that usually comes with a dining set. The chair comes in four additional colors: a light brown, dark brown, teal and red. I would buy these again in a heartbeat, and they are currently still on sale!
MORE DINING CHAIR OPTIONS: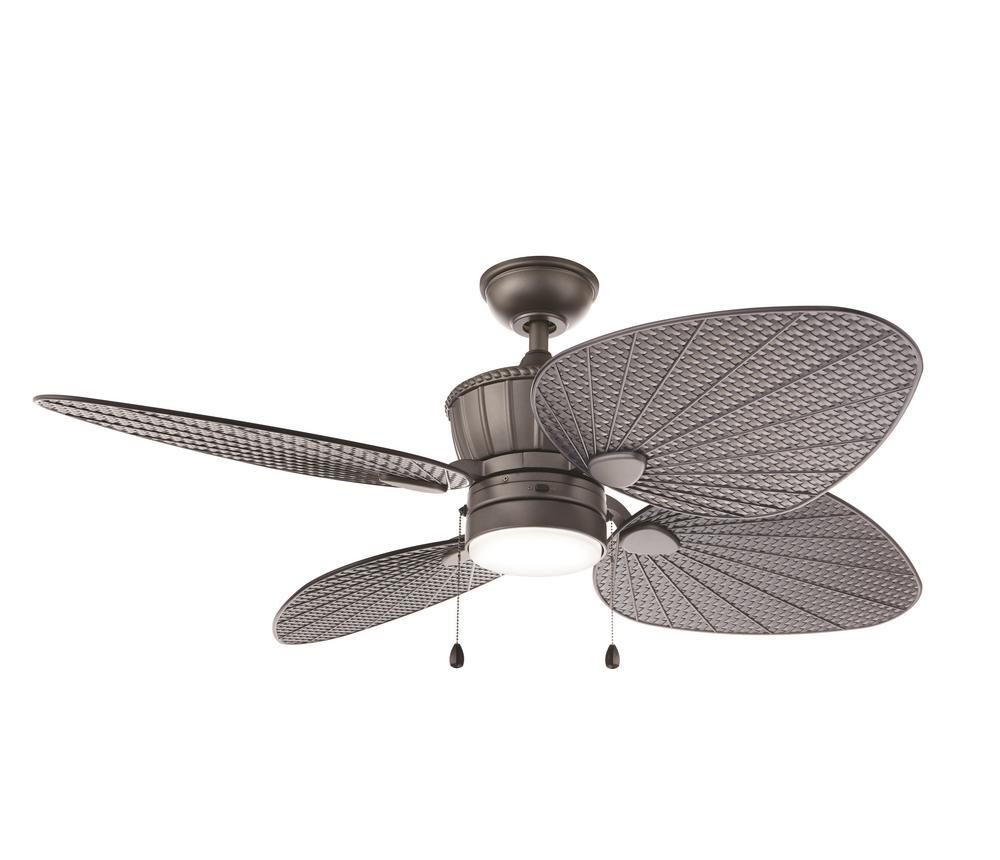 from Home Depot
When I decided to make part of the deck covered by adding a gazebo, that gave me the opportunity to add a light fixture to the ceiling, which I think is going to totally elevate the space and make it even more functional and enjoyable. Of course I toyed around with the idea of some kind of pretty, decorative chandelier, but the more reasonable, logical side of my brain decided that having a ceiling fan out on the deck for the summer days when it's 95 degrees outside would be a much smarter choice. I've never shopped for an outdoor ceiling fan before, and I definitely had to dig a little to find one I really liked.
There are two types of outdoor fans: damp rated and wet rated. Damp rated fans are generally recommended for places that will be exposed to moisture, but not directly rained on, such as a covered porch or gazebo. Wet rated fans are recommended for places that will be directly exposed to rain or snow, such as an open pergola or gazebo. However, after talking to my contractor, he suggested I still go with a wet rated fan if possible because depending on the material the fan blades are made of, they may start to droop or become damaged over time from the humidity and moisture. This fan I found on Home Depot's website, and while I didn't think I would end up going with large, tropical-style blades like this, I did love the solid natural iron finish and overall look. The air flow rating is another feature you should compare when shopping for fans, and I think this style of blade will provide a really nice breeze on hot days. This fan against a white ceiling on the gazebo is going to be really eye catching I think!
MORE CEILING FAN OPTIONS: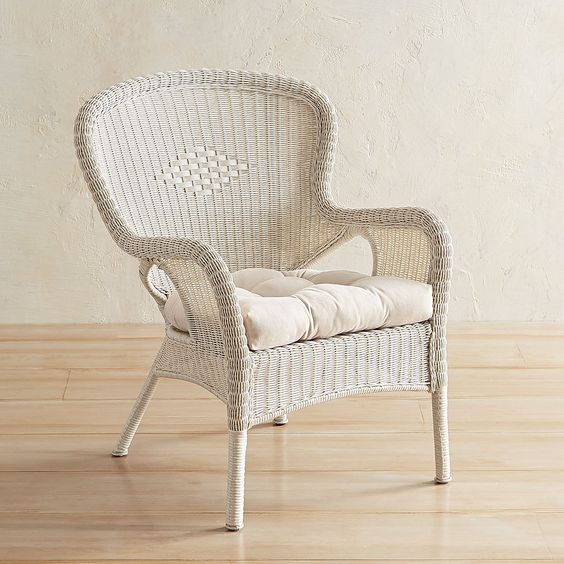 from Pier 1
I purchased these armchairs last year for my little patio, and I knew I wanted to incorporate them on the deck once it was finished. I love the size, shape, vintage appeal, and cream color, and unfortunately Pier 1 doesn't carry this exact chair anymore but does have this style that is very similar! Just like my dining chairs, this is made with an all-weather synthetic wicker that will last for a long time and cleans very easily. I just hose them off with water if they are looking a little dirty or any leaves get stuck in the wicker. I still need to get cushions for the chairs, and Pier 1 has really great options (like this) that are usually on sale. This chair comes in 9 colors and is currently on sale!
MORE LOUNGE CHAIR OPTIONS: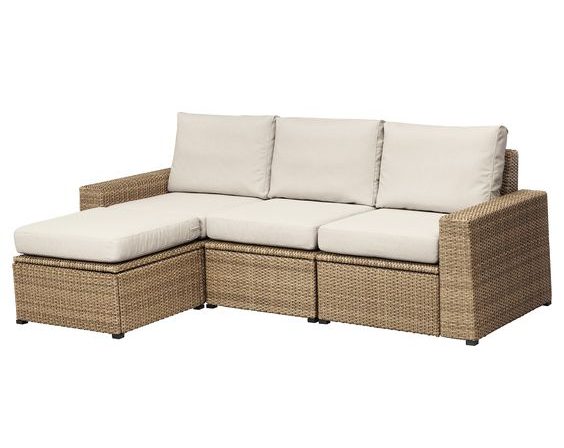 from IKEA
This was my biggest purchase for the deck and the piece I did the most research on by far. I knew I wanted to make the seating area SUPER cozy and wanted to try having an outdoor sofa that we could curl up on and relax. But I was very hesitant to pull the trigger for a few reasons. First, outdoor sofas can be very pricey, easily getting up into the thousands depending on where you shop, and I wasn't about to spend more money on an outdoor sofa than the one sitting in my living room. Second, I was worried about durability and keeping it clean. Many of the outdoor sofas I'm drawn to and love come with white cushions… pretty much pure white. You and I both know I never shy away from white when it comes to decorating, but I was worried that white cushions in an outdoor space where there will be bugs and dirt and dirty kids feet and drinks and… you get the picture. I didn't want to spend money on a nice sofa and never want anybody to use it so it doesn't get dirty. I want this space to be an extension of our indoor living and truly use it as many months out of the year as possible. So I searched and searched for an outdoor sofa that was in my budget, the style I was looking for, and had cushions that seemed like I could easily keep them clean. Side note… I've bought white cushions before that were off brand and not from a big retailer, and they almost instantly became moldy to the point of no return. I was worried about that too!
The big winner ended up being this 3 seat sofa with footstool from IKEA. They have several different seating arrangements in this SOLLERON line, but this seemed like it was big enough to give us plenty of seating and small enough that it wouldn't overcrowd the deck. The BIG selling point for me was the cushion covers. Guys, this alone made the decision for me. Many of the sofas I looked at came with cushions that were not removable or were spot clean only. I knew that if I was going to spend this kind of money and wanted this piece of furniture to last us for years to come, I HAD to be able to zip off the cushion covers and throw them in the washing machine. The covers are fade resistant, water repellent, and machine washable. The footstool can be used on either side of the sofa or even separate as a coffee table if you wanted. And HUGE bonus… all the seats and the footstool have hidden storage underneath the seat. I cannot say enough good things about this sofa! I'm fortunate to have part of the deck covered, so my cushions won't get very wet in the rain anyway, but if your sofa was sitting out in the open, you could easily store the cushions inside the seats when it rains. There are several different seat/cushion color options for this sofa, but I went with the lightest option, Froson/Duvholmen beige. This is the largest chunk of money I spent on deck furniture, but I knew this was something I really wanted for creating a cozy outdoor living space and worth every single penny. I highly recommend!
MORE SOFA OPTIONS: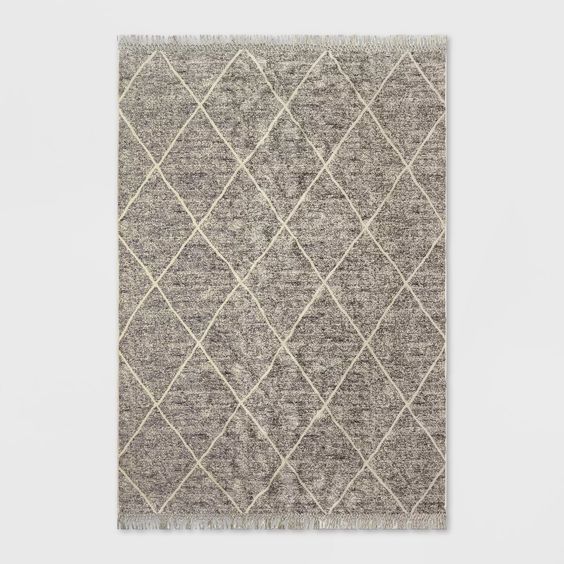 from Target
One way to really make your outdoor space feel like a cozy room inside your house is by adding a rug. Again, I did a ton of research and found that Target had the most stylish options for outdoor rugs for the best price. I found two that I really liked, and this gray diamond print rug with side tassels was perfect for the seating area under the gazebo. The color, pattern, and texture are beautiful, and I love how the gray rug tones down the warm brown wicker on the sofa. Very happy with this purchase! The only complaint I have is that because it is outdoors, the tassels on the side are often getting blown around and getting stuck under the rug or leaves and debris are getting caught in them. It's not that big of a deal, but I do feel like I'm adjusting and cleaning up the tassel sides quite often. Just something to be aware of! It comes in 4 different sizes, and I bought the 7′ x 10′.
MORE RUG OPTIONS: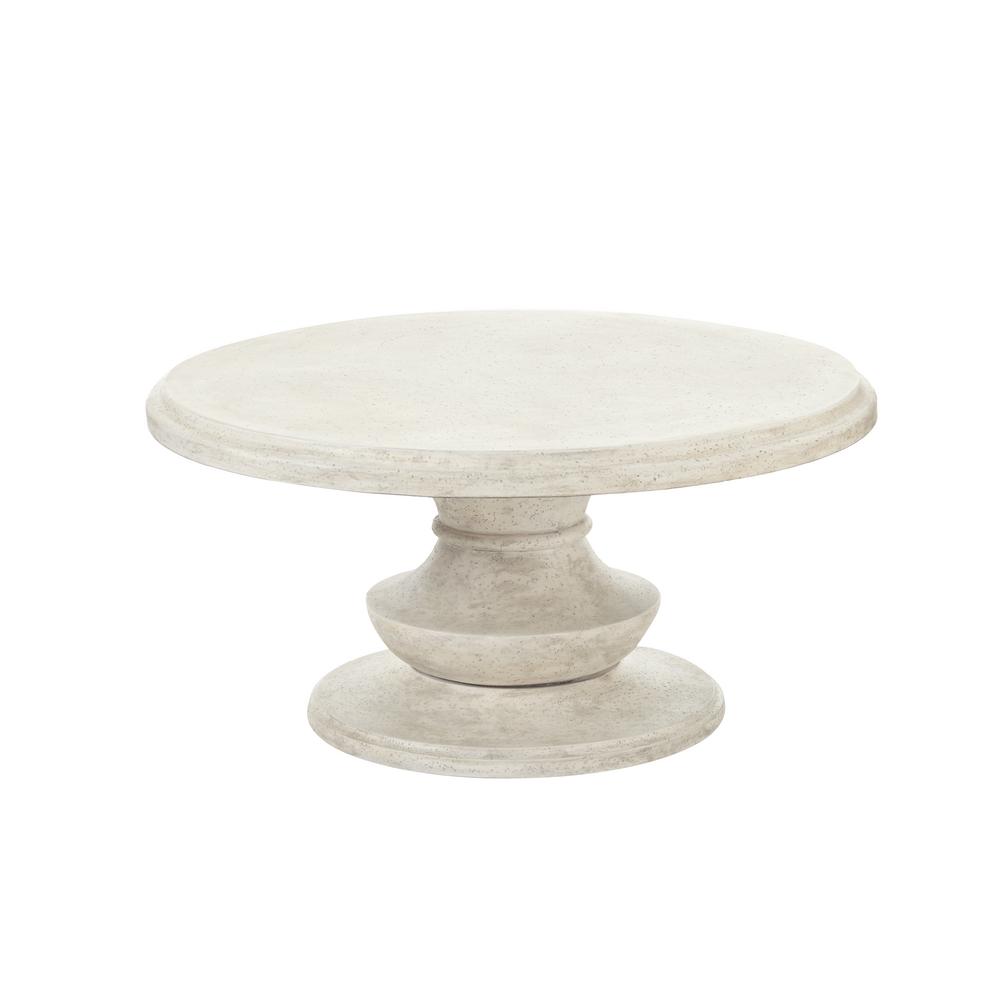 from Home Depot
Ohhhh… this coffee table. You guys are probably going to question my budgeting ability on this one, but I'll explain why I chose this! This table was the last piece I bought for the seating area. I first wanted to see what the chairs and sofa looked like together and what kind of space I had left before buying a coffee table. Much like the coffee table in my living room, I had the hardest time finding one I loved. I didn't want anything else wicker, and some of the wood ones I found were crazy expensive for something pretty basic. And then I remembered a West Elm table I've been in love with for ever and ever…
I figured if I was going to end up spending more than I wanted to on a coffee table, I might as well make it something REALLY pretty. I found the pebble table I've pinned on Pinterest a hundred times before and almost went for it, but last minute decided to research other options for stone/concrete tables. I came across this table from Home Depot and absolutely swooned over the curved details and beautiful finish. And it was less money than the pebble table I was about to buy and much bigger! Yes, it is still crazy expensive for an outdoor coffee table. But once I saw it I knew that nothing else would come close to comparing to it, and I honestly would put this piece inside in my living room if for some reason I ever didn't need it outside anymore. So I bought it. And once I pulled it out of the package and saw how beautiful and luxurious it looks in person, I have zero regrets about buying this table. Tell me you've ever seen a coffee table this beautiful?? I did buy the table when it said it was out of stock and was told it wouldn't ship out until July 23rd or something like that. Unexpectedly, it showed up a few days ago, and I didn't waste a second getting it put together and set up on the deck. This guy is HEAVY by the way! So far this is probably the piece I've gotten the most questions on from sharing little snippets on my IG stories. So here you go, friends!
MORE COFFEE TABLE OPTIONS: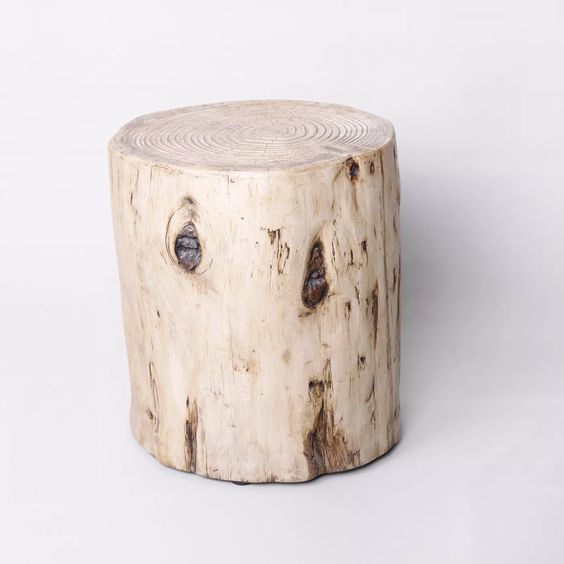 from Target
This little table was an unexpected Target purchase, but I am so glad it came home with me. After spending a large portion of my budget on the other main pieces of furniture for the deck, I didn't have much left to spend on a side table and finding one I liked was difficult. I already had a lot of wicker going on with the sofa and armchairs, and most of what I found that I liked happened to be wicker also. I came across this faux wood stump indoor/outdoor side table online and loved the natural element and texture it would bring to the sitting area on the deck. I wanted to see what it looked like in person and how durable it would be outdoors, and although it was sold out online, luckily my local Target still had a few left in stock. It is a very solid piece and the material (it says magnesium oxide on the website) seems like it will hold up well in the elements. It does come in two different colors: a lighter brown similar to birch wood and a darker driftwood brown. Check the website to see if your Target still has some in stock!
MORE SIDE TABLE OPTIONS: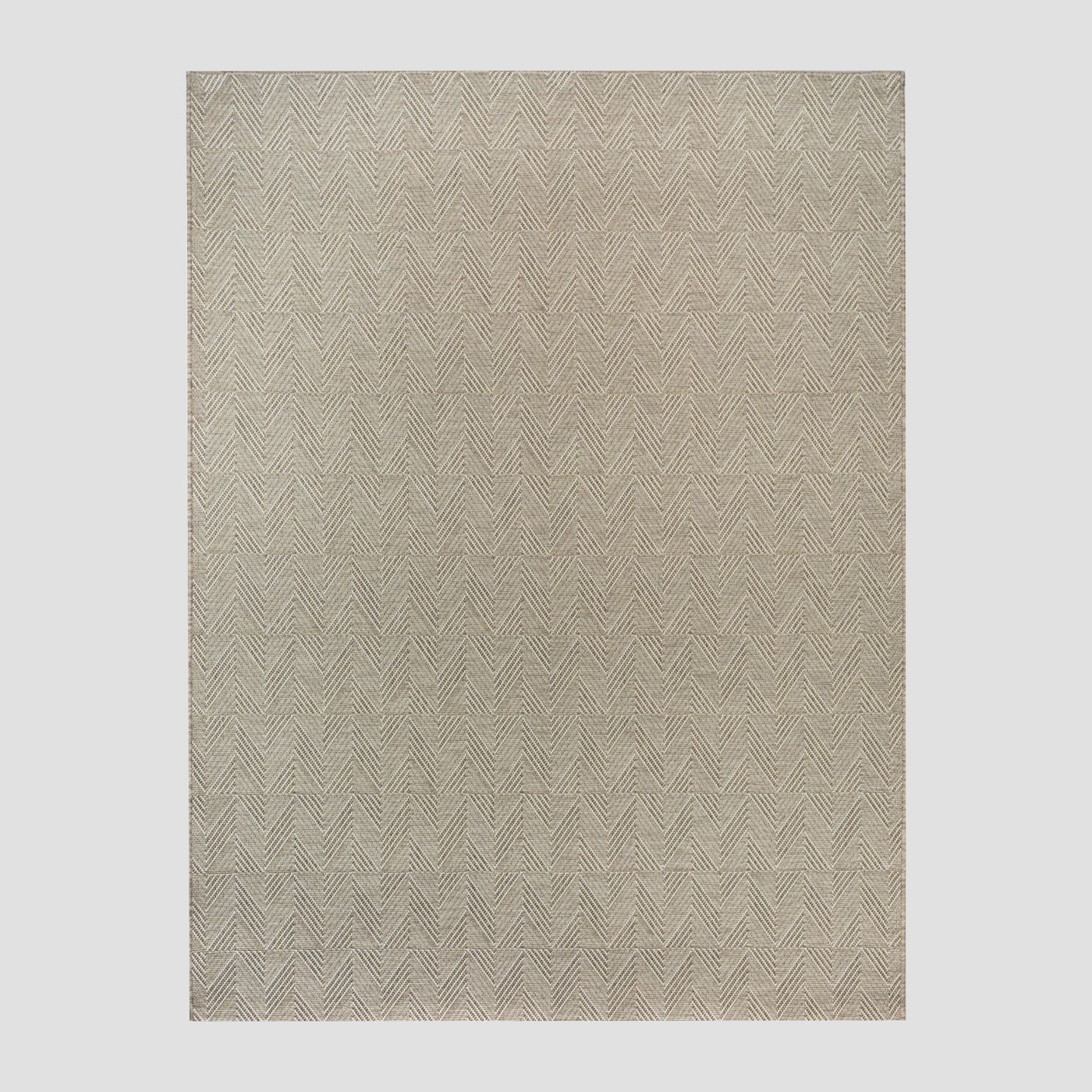 from Target
This is the second outdoor rug I bought from Target for the deck, and while it isn't nearly as showy or exciting as the gray tassel one, this is a great basic neutral rug with a subtle pattern and great texture. You can see a better close-up photo of the pattern on the website, but the rug comes in 3 different neutrals colors, a gray, natural, and beige. I went with the natural in 7′ x 10′, and this one will go underneath the dining table! The rugs are currently on sale and less than $140 for a large, great quality outdoor area rug.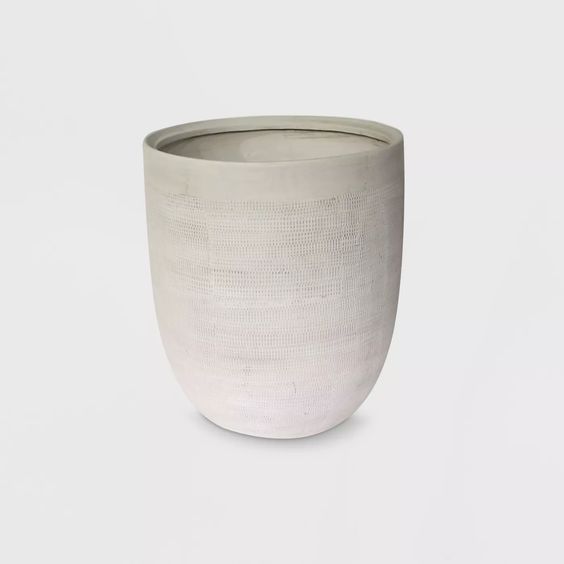 from Target
I'm still not quite done with adding finishing touches to the deck, but one thing I did pick up was a couple of neutral planters. I actually bought this textured ceramic pot last year, but Target still has them available in multiple sizes this year. It does have a drain hole at the bottom, and the color and texture is just beautiful. I think it pairs perfectly with the coffee table!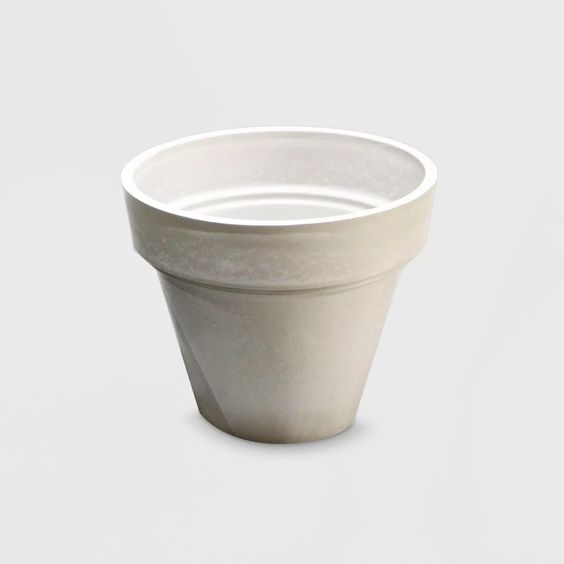 from Target
The other planter I bought was this recycled double lip pot that has a really pretty neutral beige/gray almost marbled look to it. It also comes in multiple sizes and blends in perfectly with the soft neutral colors on the deck!
——————————
That is everything I've bought for the deck so far, and I hope this post was really helpful for you! I knew going into this deck project that I was going to have to buy a lot of furniture for it (I didn't have much that fit on our little patio before), so I planned my budget accordingly. It was a lot to buy all at once, but I wanted to be able to completely enjoy the deck the way I've envisioned for all these years and had money saved up for it.
If you already have or are planning on creating an outdoor living space, I hope you found some pieces from this post to inspire you! Thank you for stopping by to see the deck progress, sweet friends. I'll share more once I have another update! xoxo Liz
---
Subscribe to Blog | Follow on Instagram
Follow on Pinterest | Follow on Facebook