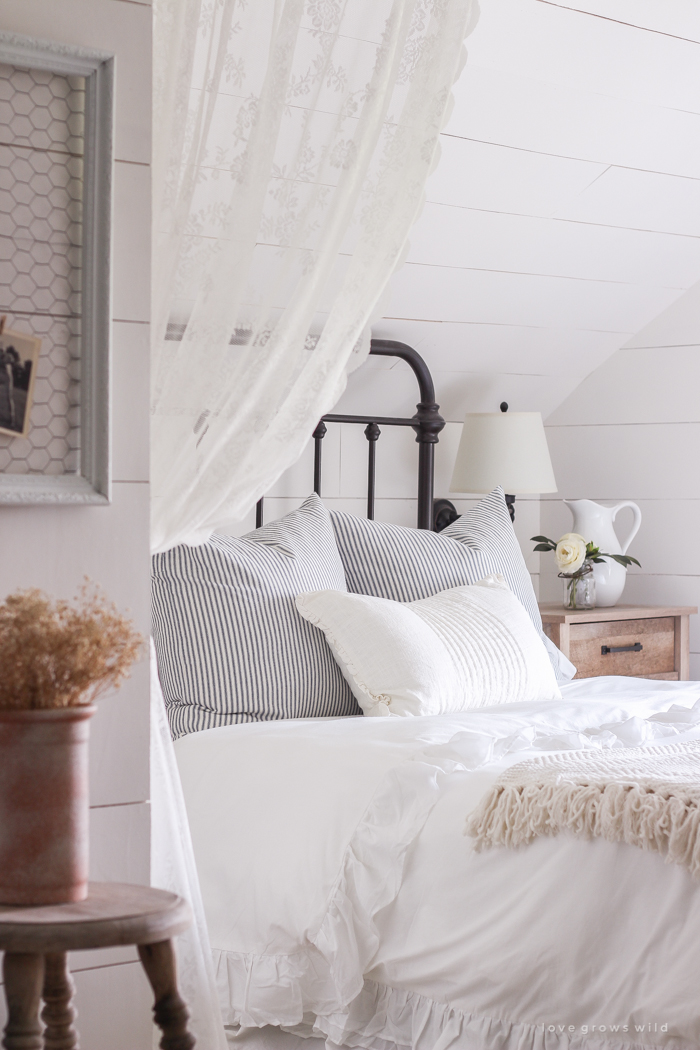 I think the last few times I've shared my master bedroom here on the blog was during the holidays or sometime when it was all decorated for a certain season. So I wanted to share a little update of what my bedroom currently looks like in everyday life, plus a few updates I've made in here recently… bedding, wall art, plants, and pillows to name a few!
My bedroom is probably one of my favorite rooms to photograph in the house because it has quite a few features that really make the photographs pop… the soft, romantic lace curtains hung from a (faux) wood beam, the lines of bright white shiplap on the walls (which we installed with this tutorial), the contrast of the strong iron bed frame against all the white in the room… it all comes together beautifully through my camera lens. But the camera also points out what the room is lacking when I upload the photos on my computer and start to edit them. For a long time I've just had a basic white quilt on my bed and usually an extra throw blanket draped over the top. But this winter the thin quilt wasn't very warm, and in photos the quilt all by itself looks very flat and hard. At the end of a long day when you want to crawl into your bed and sleep, you want it to look soft and cozy and plush, not like a hard cot with a tiny blanket.
So to add an extra layer of softness and warmth to my bed, I bought a down alternative comforter and a feminine ruffled duvet in white. What a HUGE difference this made! It feels like I'm sleeping in a fancy hotel bed every night, and the soft ruffles make the bed look so much more cozy and inviting.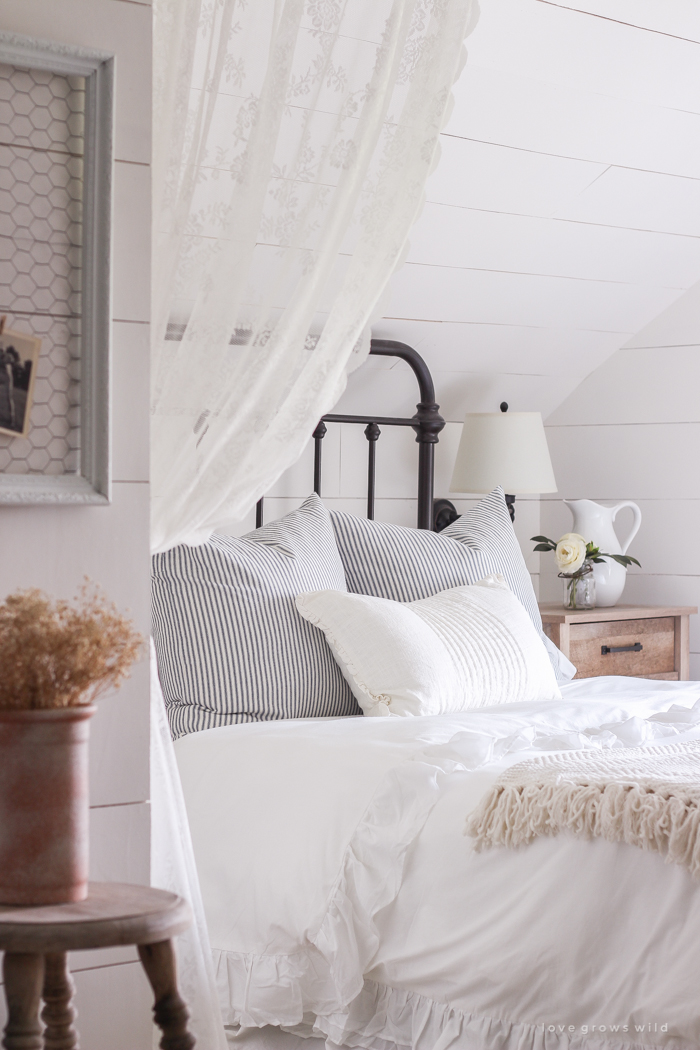 Note: Some of the links in this post are affiliate links, which allows me to make a small commission from your purchase, but your purchase price stays the same. Thank you for helping support our blog!
When the duvet arrived on my doorstep (does anyone else get SUPER excited like a kid on Christmas when packages arrive?), I couldn't wait to open it up and get it on my bed. Once I had it perfectly situated on my bed, I realized the duvet had a ton of wrinkles from being folded during shipping, and I had no desire to iron the whole darn thing. #laziness
So I used my favorite little trick for easily getting wrinkles out of bedding…
I grabbed a spray bottle with water in it, misted the duvet where the wrinkles were, and smoothed the fabric with my hands. You don't have to totally soak the duvet, just dampen it enough so you can smooth out the wrinkles. Once the water dried, all the wrinkles were gone! I might be totally lazy or a complete genius (or both!), but either way this saved me a ton of time and effort not having to drag out the iron and wrestle with a giant queen size duvet. I hope this tip helps you too!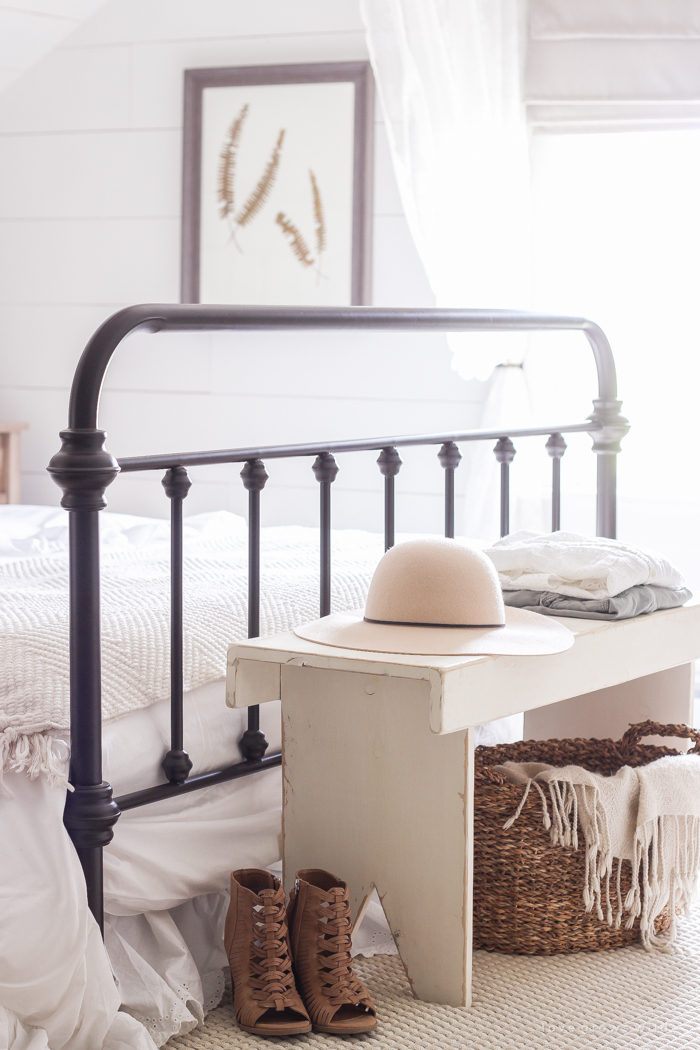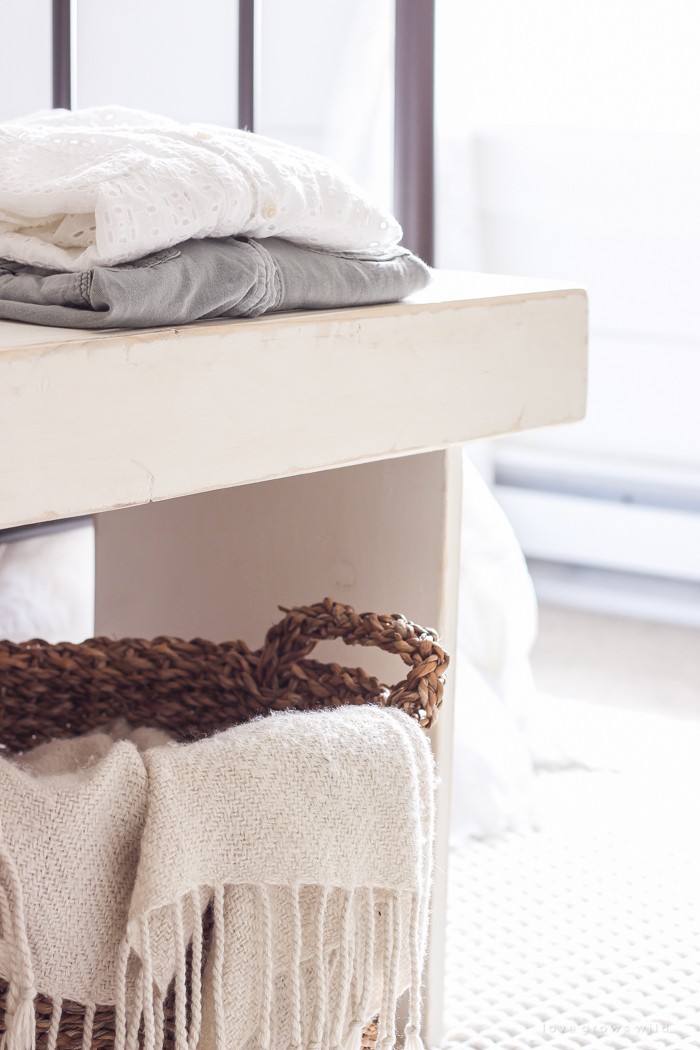 I also added a new… well, a repurposed piece of art on the wall. While I was writing my book, I created some framed pressed ferns for my bathroom that hung in individual frames, but I recently took the frames down to switch them out with something different. I didn't want to get rid of the pretty ferns, so I reframed them together in a larger wood frame and hung it up here in my bedroom. I think it's a perfect little botanical touch that is great for everyday decor. I usually hang something more festive in that spot for the holidays, but I think this piece of art will stay up the rest of the year!
Speaking of plants and botanicals…
I feel like every space needs a little bit of plant life to make the room feel brighter and more alive. Since this bedroom doesn't get much sunlight through the one tiny window, I opted for faux plants and flowers in here, which I use often throughout the rest of the house as well. I put some faux flowers and greenery in vintage mason jars on the nightstands and also moved my beloved faux olive tree set in an antique crock up here next to the window. Between these plants and the botanical wall art, I love the fresh feeling in here now… perfect for spring!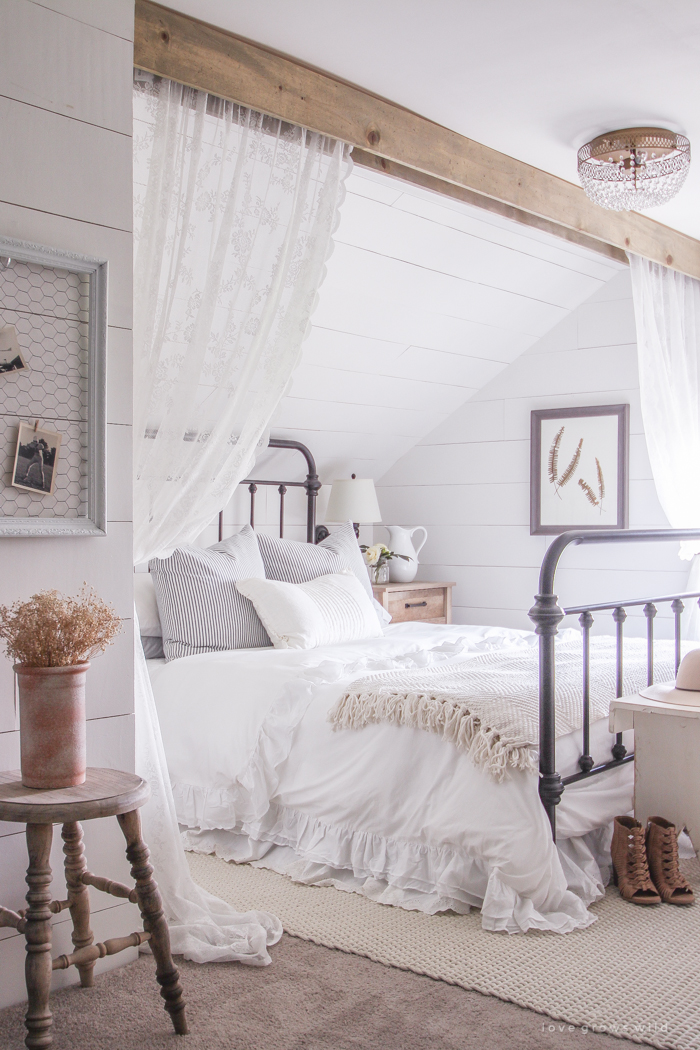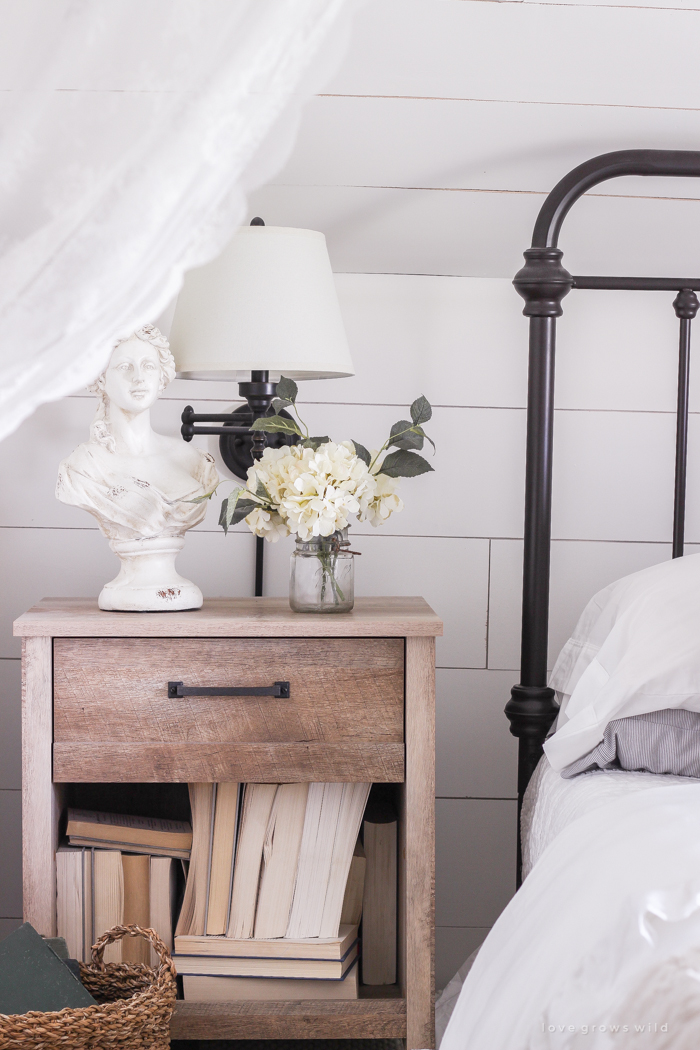 If you read about my trip to Waco to meet Chip and Joanna (yes… I met them!!), you probably saw my shopping spree at Magnolia Market and these gorgeous pillows that came home with me. When I was in the store, I remember standing there with Liz (who also brought these pillows home to her gorgeous farmhouse) and thinking… okay, do I really need these and where am I going to use them? I had no idea where they would end up in my house, but I decided to go ahead and purchase them anyway since they were such good quality and so large. And I am SO happy I did because they work perfectly on my bed! I don't currently see them on the Magnolia website, but they may still be available in the physical store.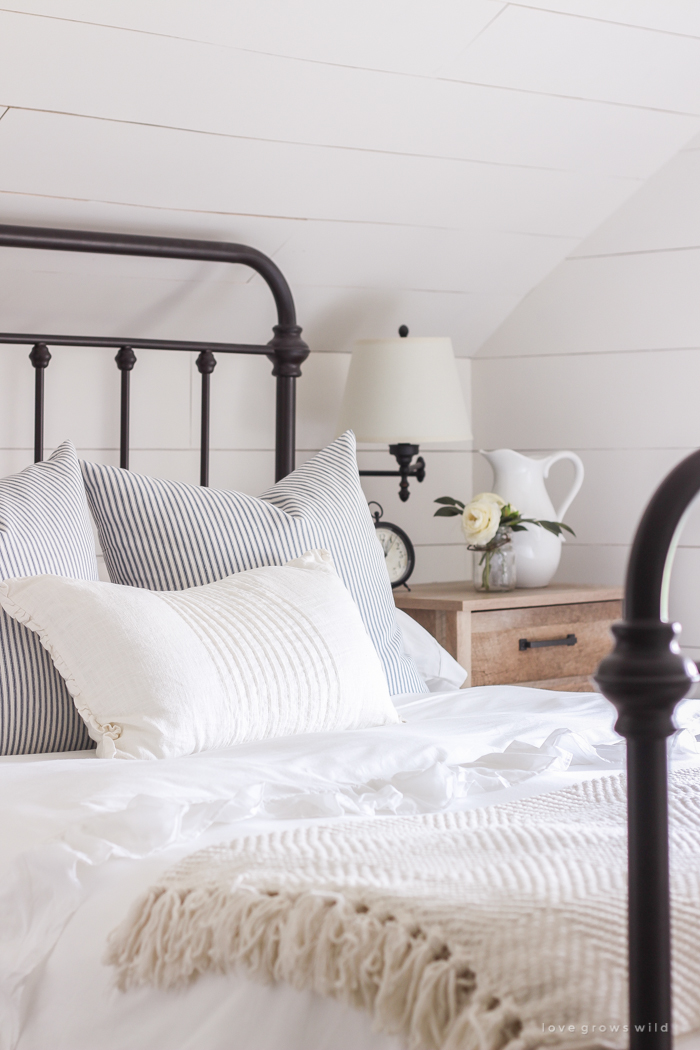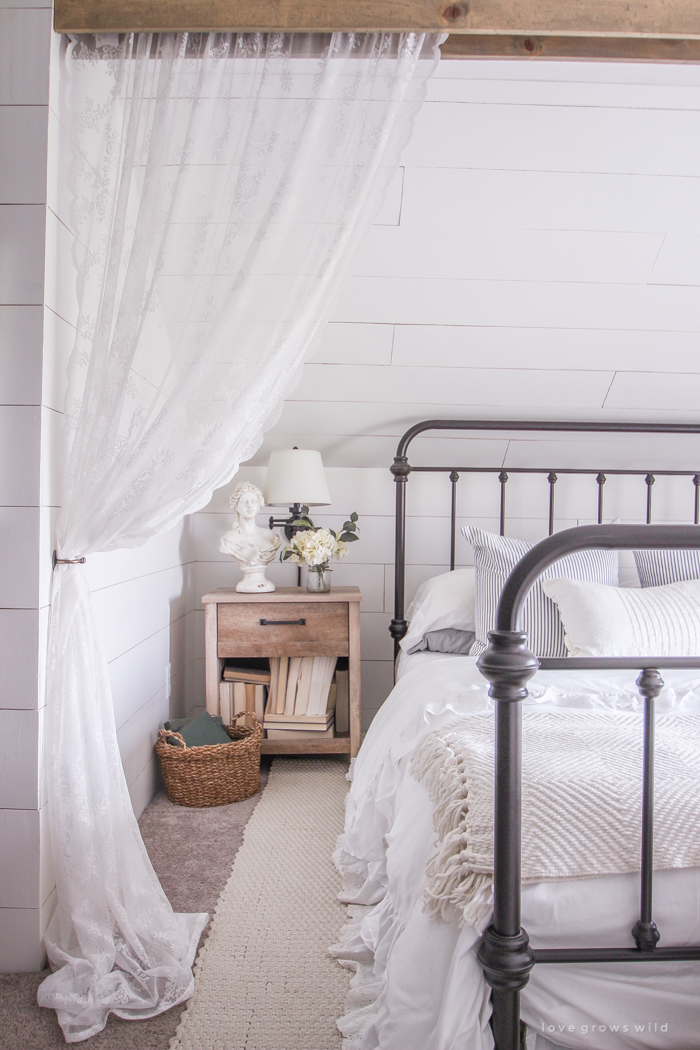 Dried baby's breath is one of my favorite inexpensive things to decorate with, and this wire frame that was another project from my book is perfect for holding some old photos of my grandfather and a locket necklace my sister bought me that has an "E" engraved on the front for Elizabeth. It's all the little touches like these that turn a house into a home.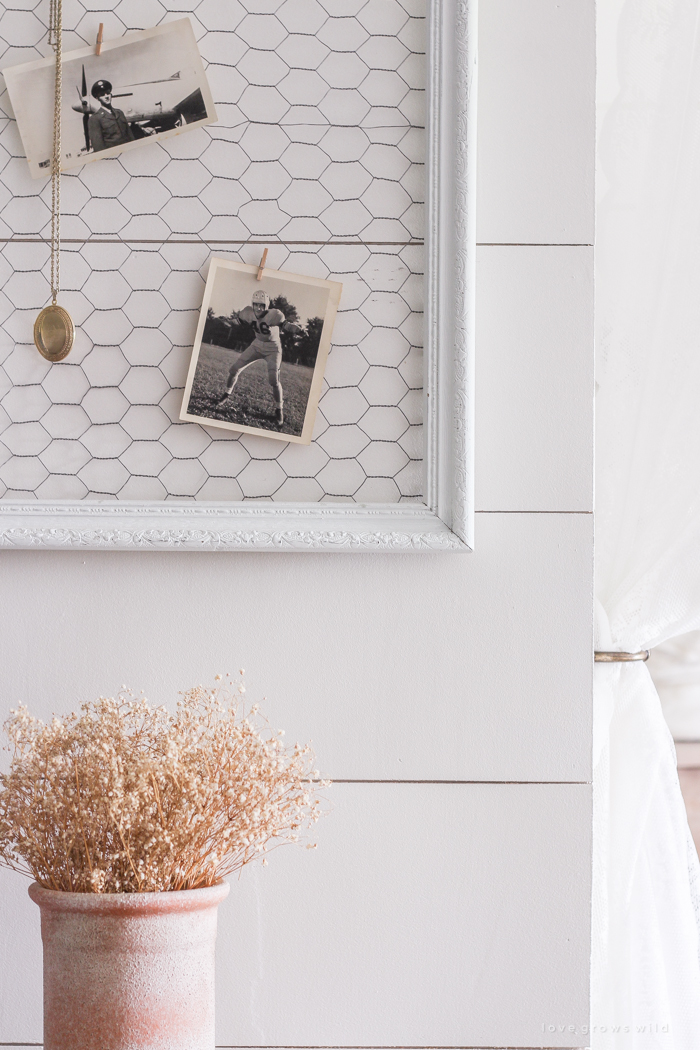 I love the happy, fresh feeling I get when I walk into my bedroom now, which is such a welcome change after the long winter. I hope you enjoyed seeing a little update of this space!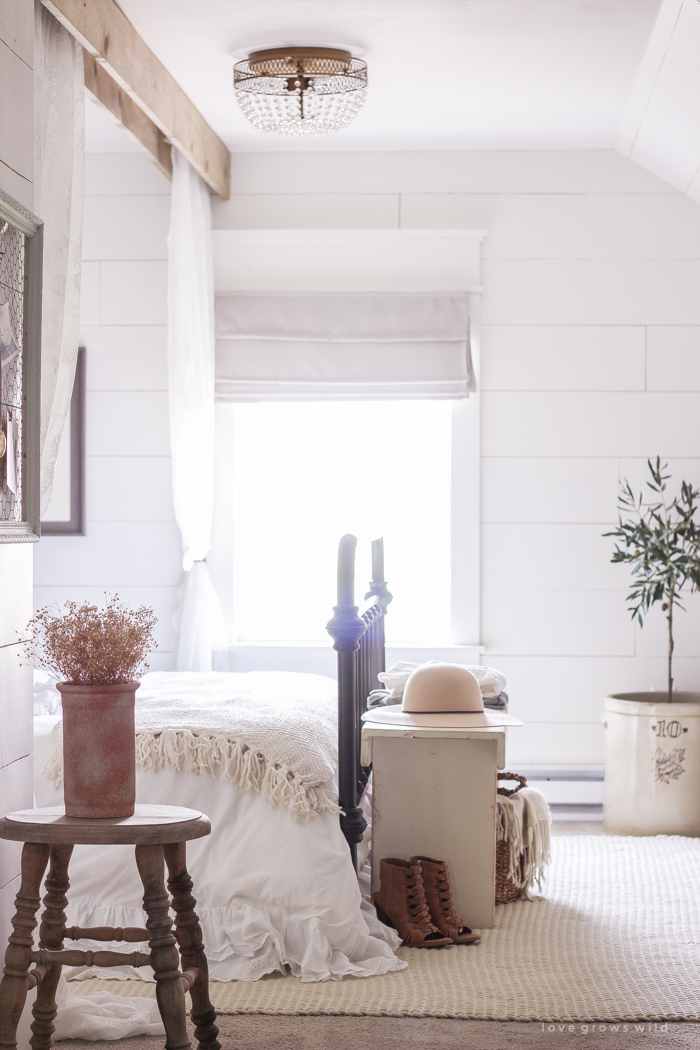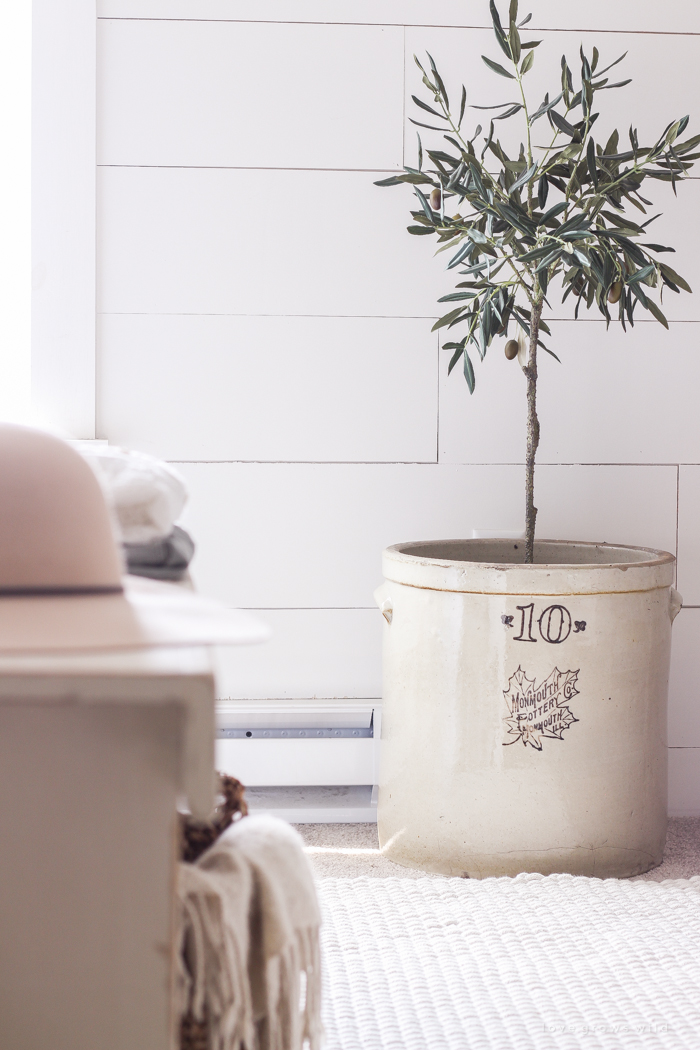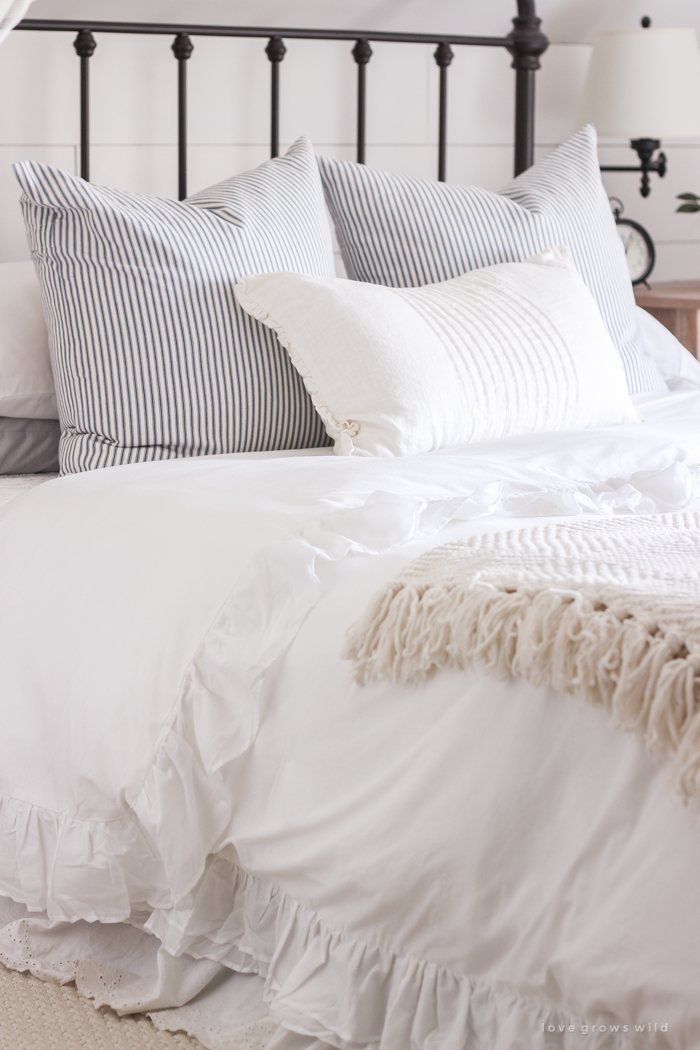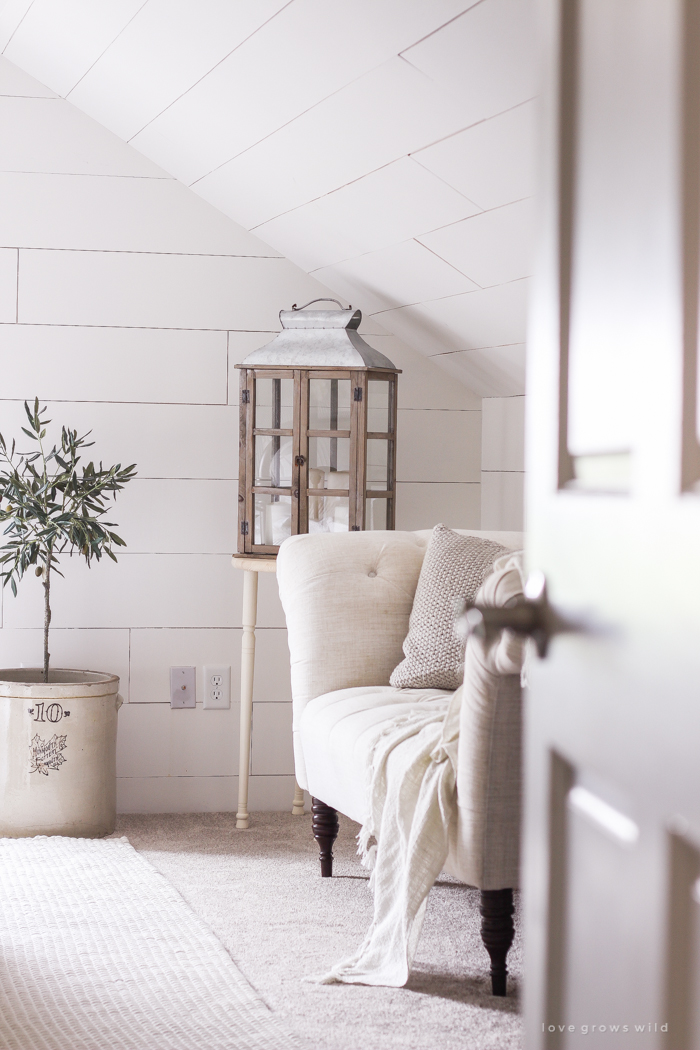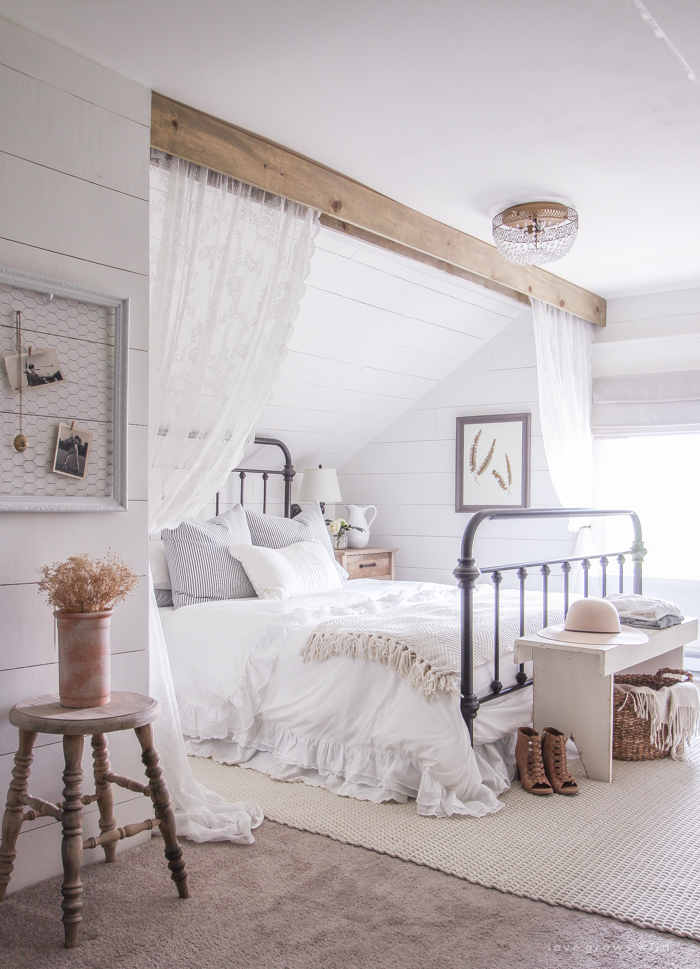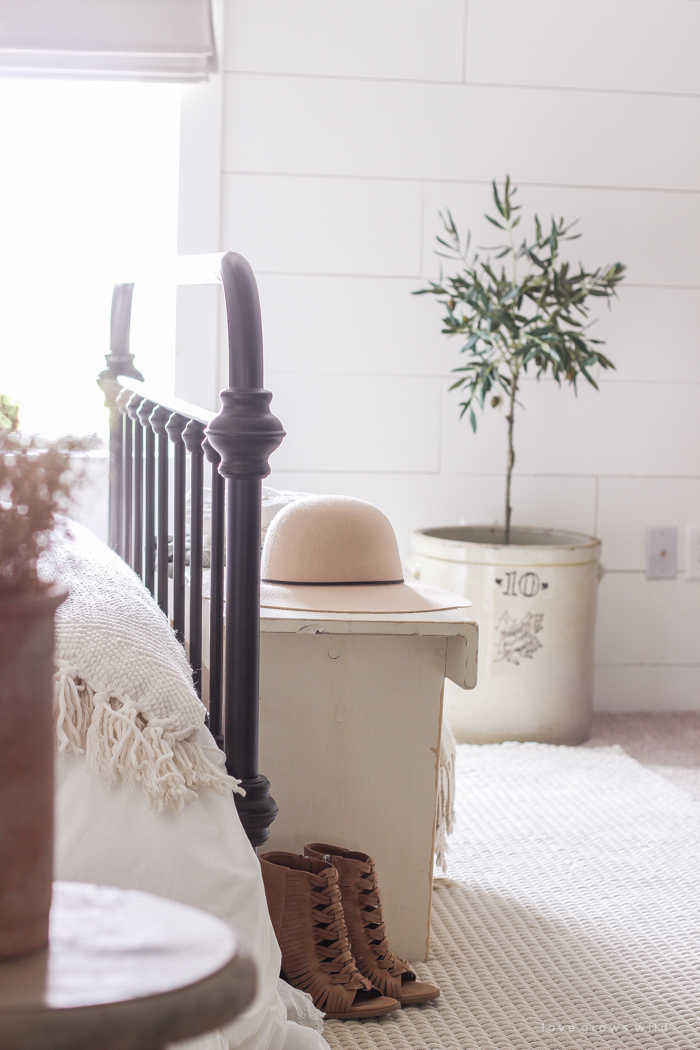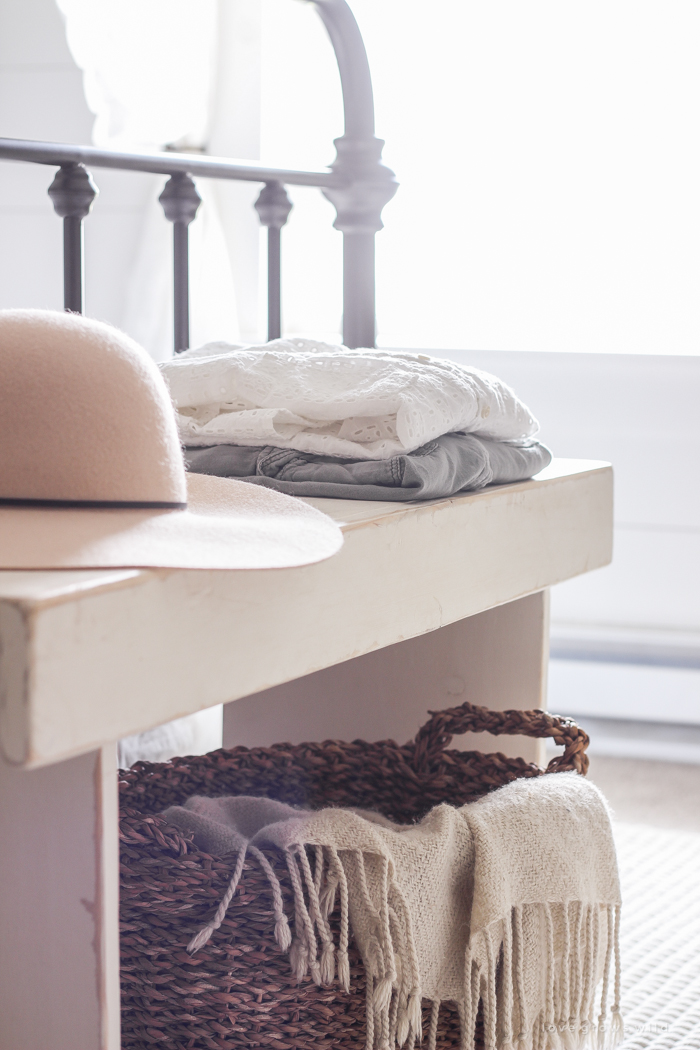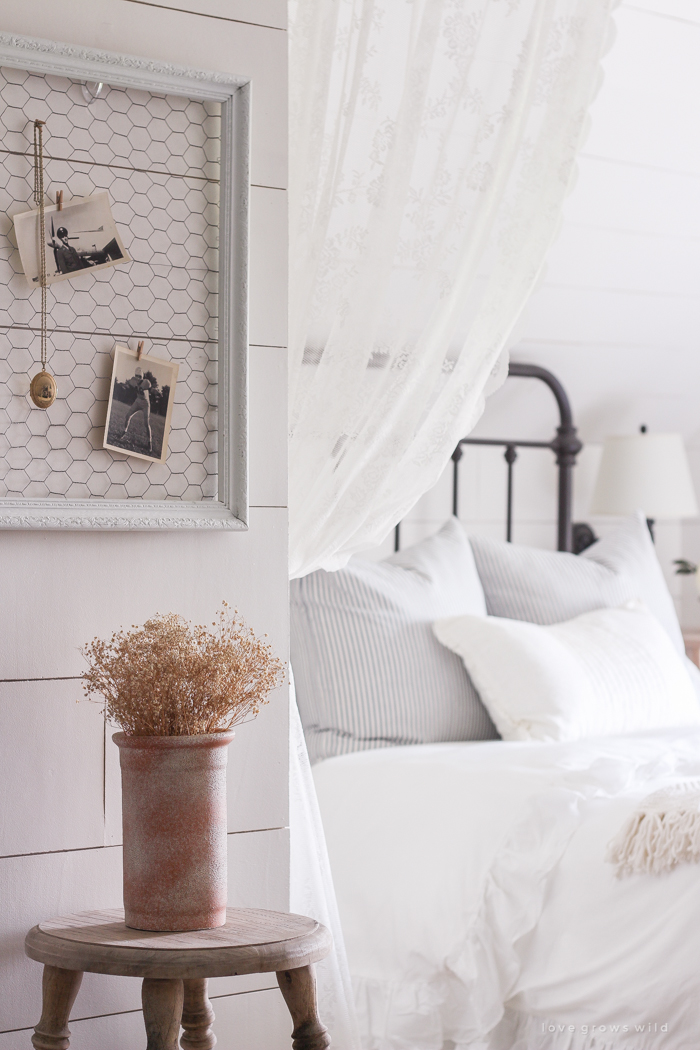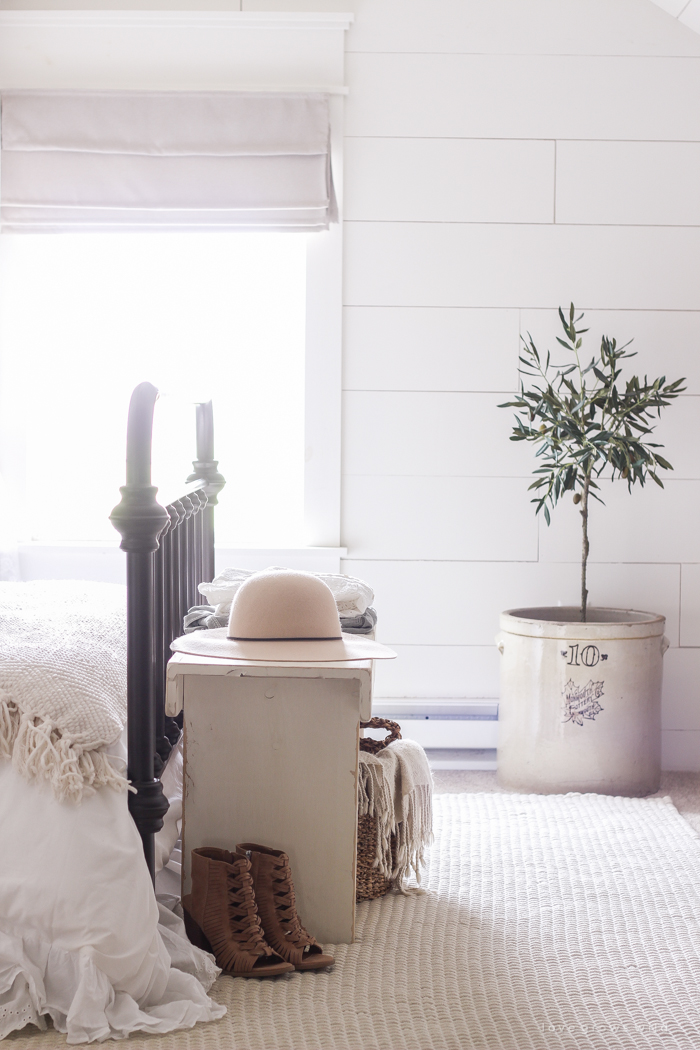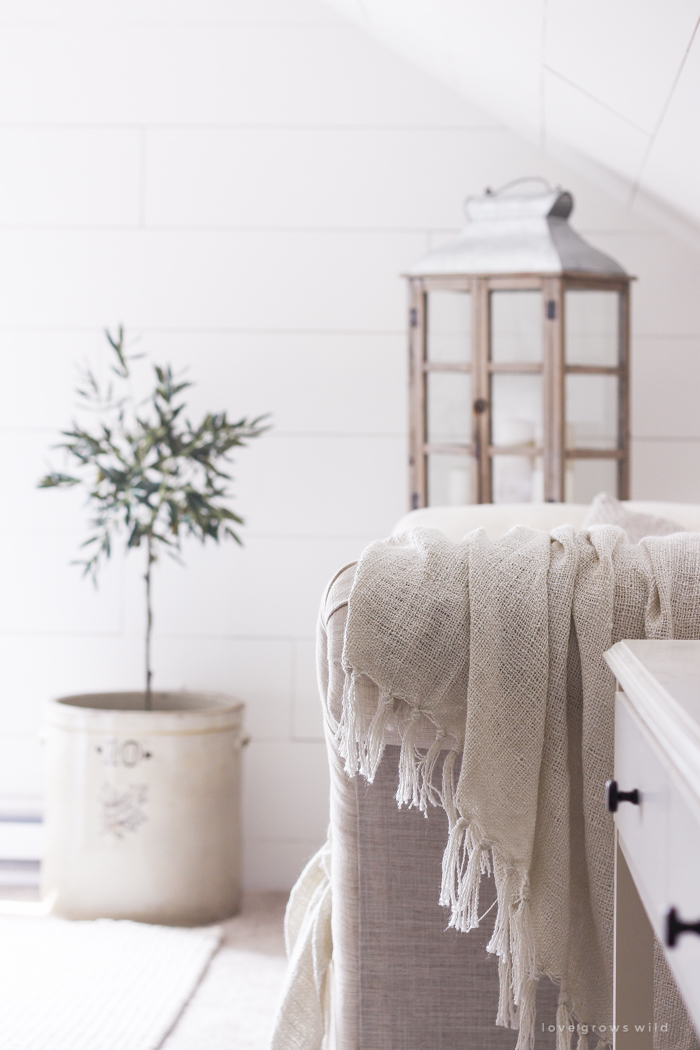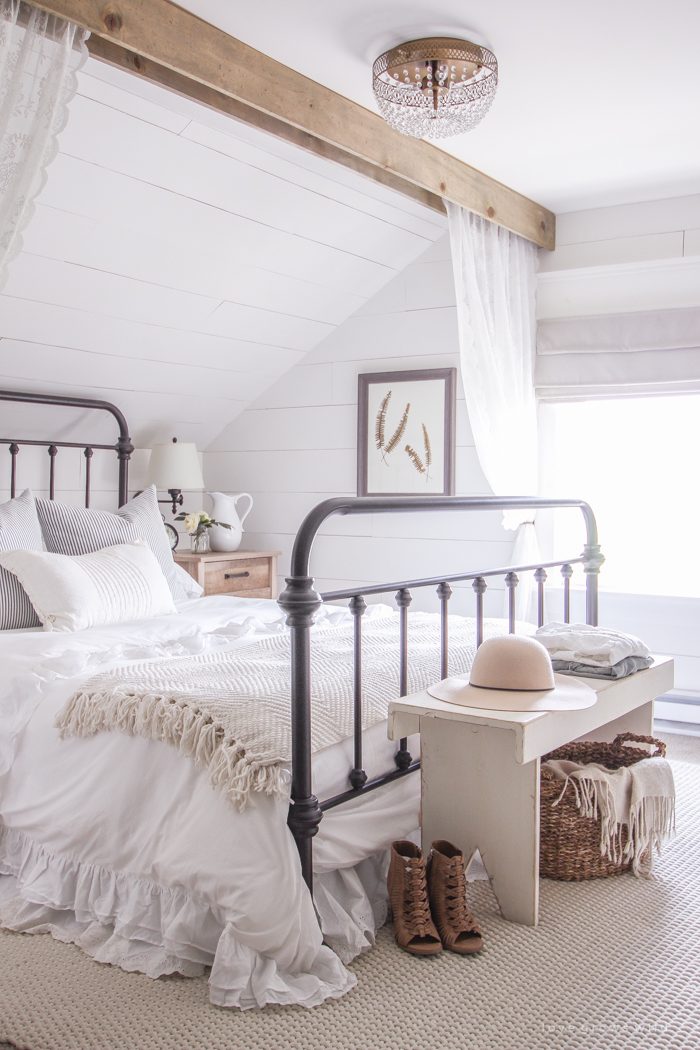 ---
SOURCES:
---
---
LET'S KEEP IN TOUCH!
---
Subscribe to Blog | Follow on Instagram
Follow on Pinterest | Follow on Facebook