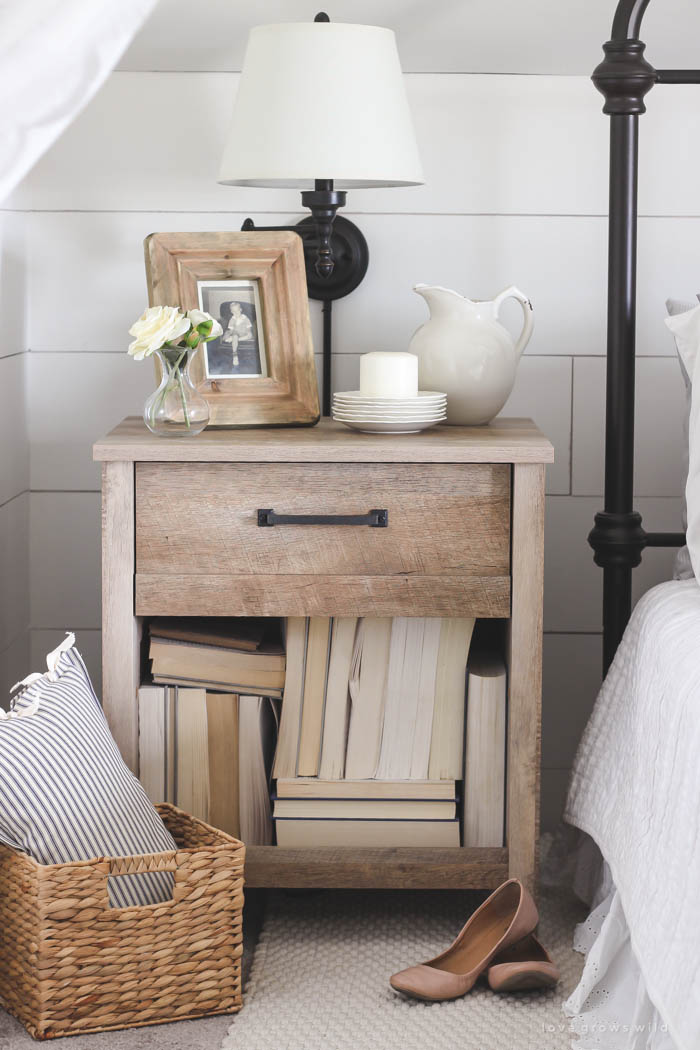 We're back! As promised, Jeremy and I teamed up again this week for a fun challenge that I think you guys are going to find pretty entertaining. We're doing a little design throw down… Husband vs. Wife! I enjoyed having him on the blog so much earlier this week that I thought I'd keep him around for another day. Did you guys read his Q & A yet? Let me tell you, he LOVED reading your comments!
I'm assuming most couples have probably gotten into an argument or two about how the house should be decorated, and Jeremy and I are no exception. So today I thought I'd be sweet and share HIS version of the perfect decor for a nightstand. But first I'll show you mine. 🙂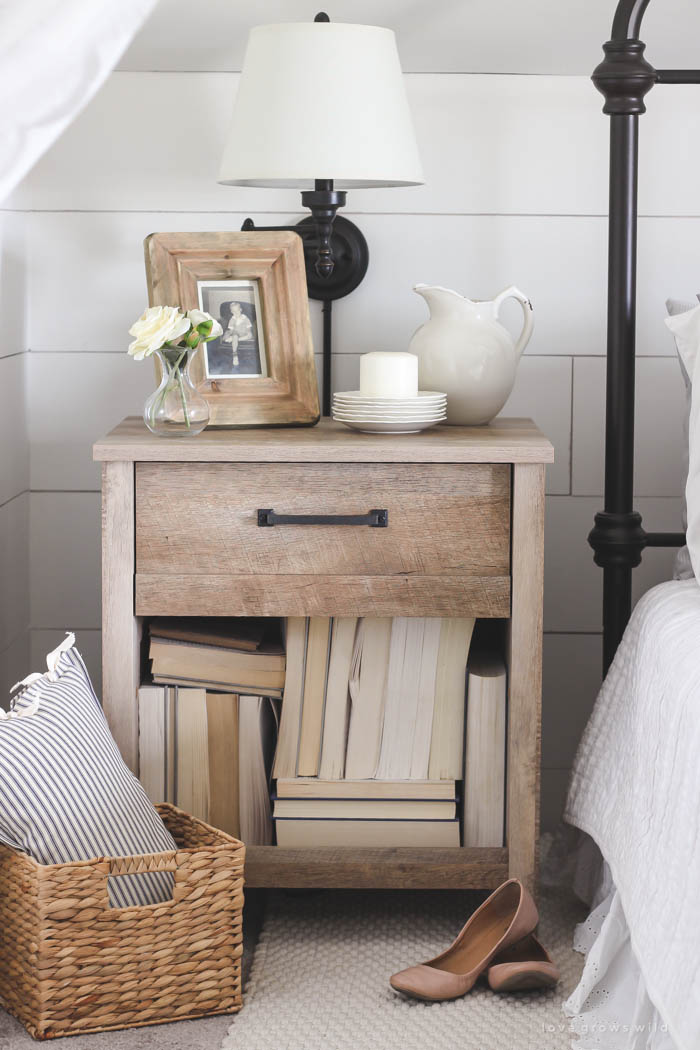 Jeremy and I have matching nightstands and swing arm lamps, but today we each put our own personal spin on the accessories.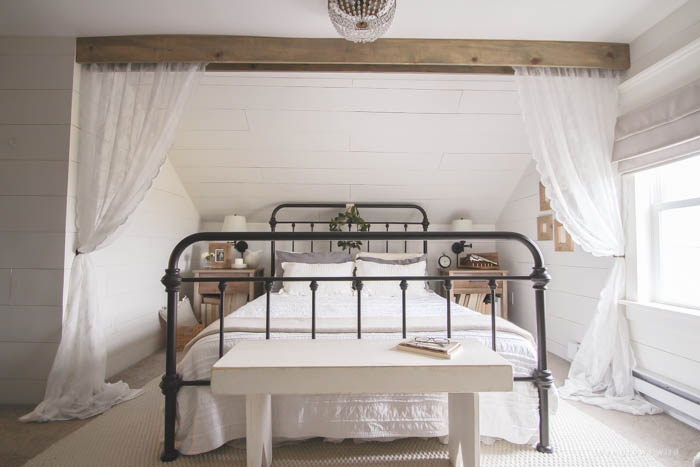 I told him that he could pick anything he wanted to decorate his nightstand, and the next thing I knew he was up at the farm for about 2 hours working on a "project" for our style challenge. I'm not going to lie… I was a little nervous wondering what in the world he was up to. But he finally arrived home with his masterpiece, and even though it's not something I would ever decorate with, it is totally him. And for that reason alone, I love it.
He used two pieces of wood and some old horseshoe nails to create a display for his favorite pistol. He also drilled holes along the front of the wood to hold some of the bullets. If this nightstand isn't rugged and manly, I don't know what is. He said the only other thing that would complete his vignette (although guys definitely don't say "vignette") would be a picture of the boys and I up at the farm with him. Isn't he the cutest?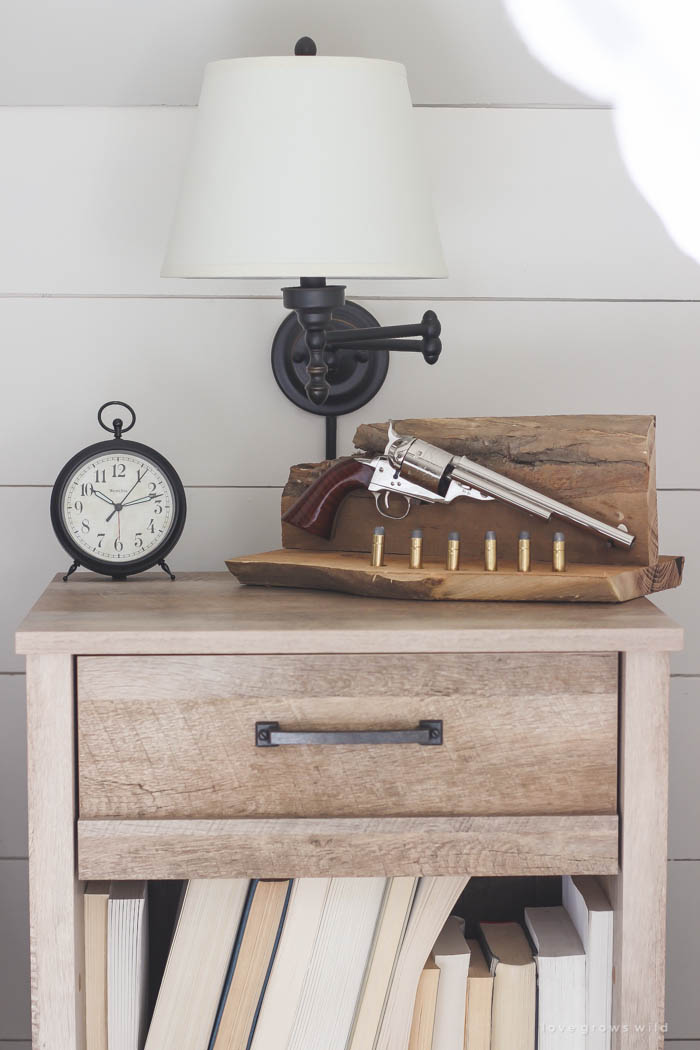 For my nightstand, I went with some small white plates holding a candle, an old pitcher, a vase of flowers and a framed photo of my grandpa as a child. I was given a handful of old black and white family photos last year, and I cherish them dearly. My son, Wyatt, reminds me so much of my grandpa, and I love seeing his smiling eyes every morning when I wake up.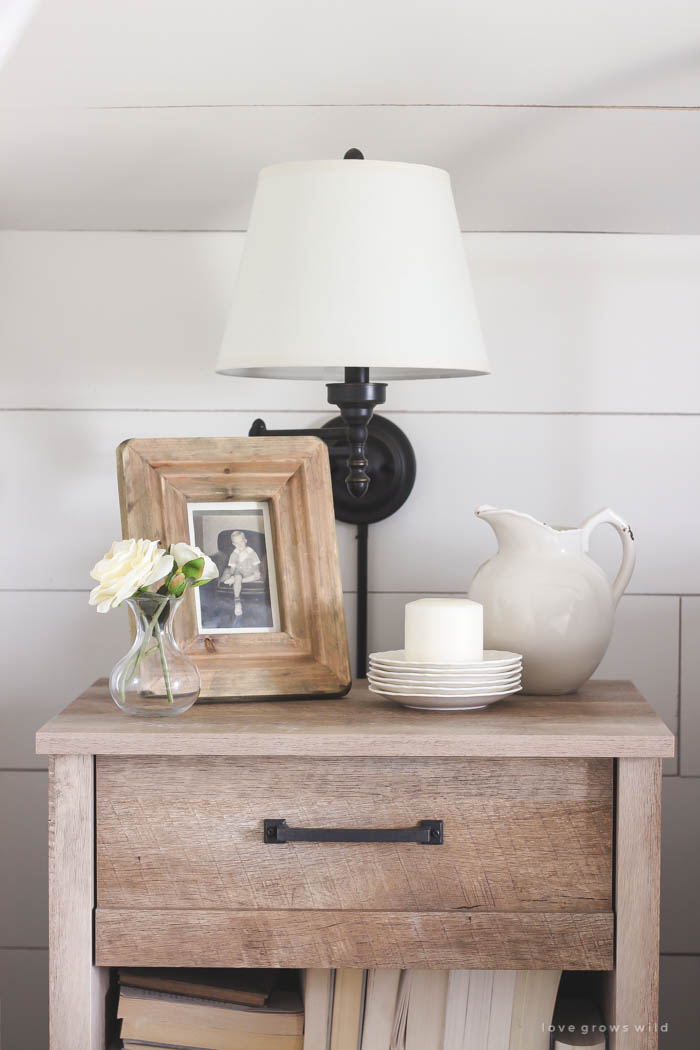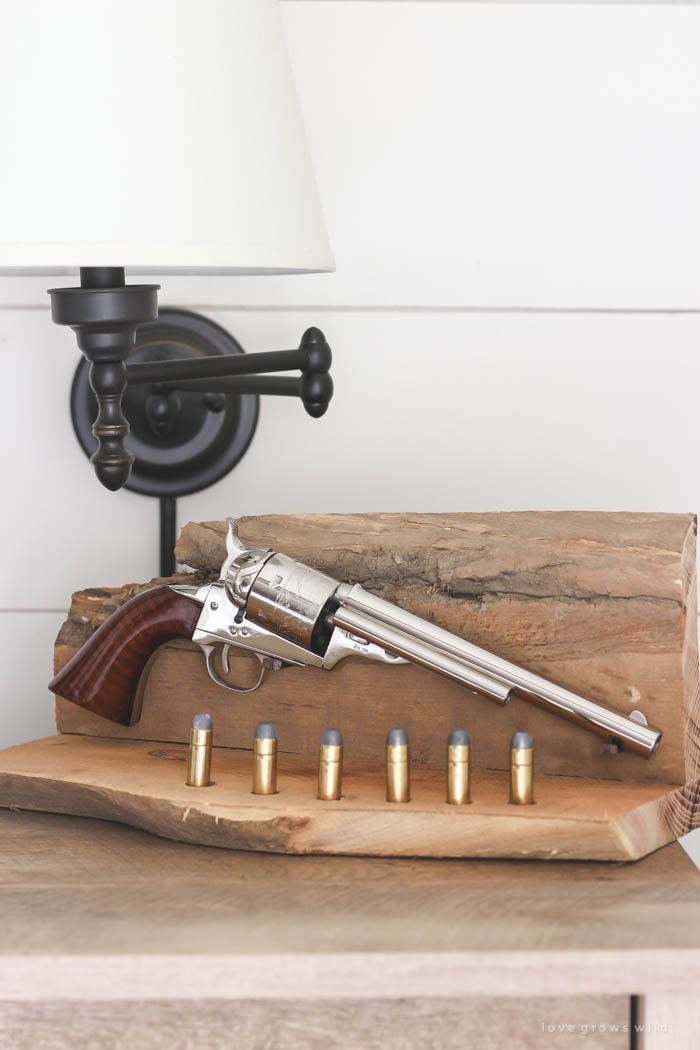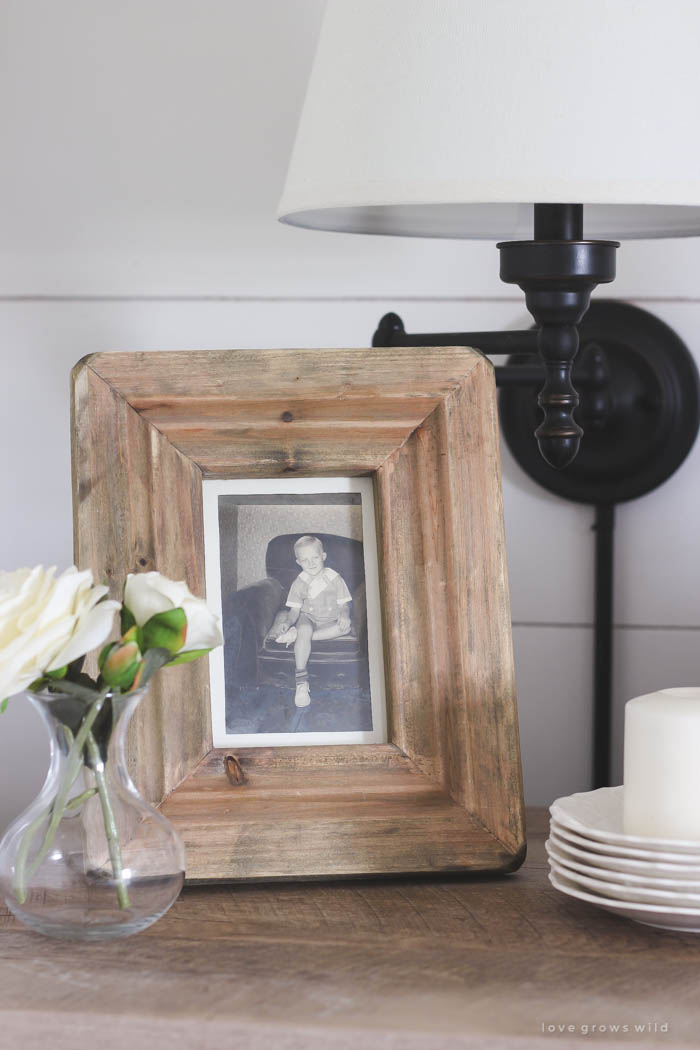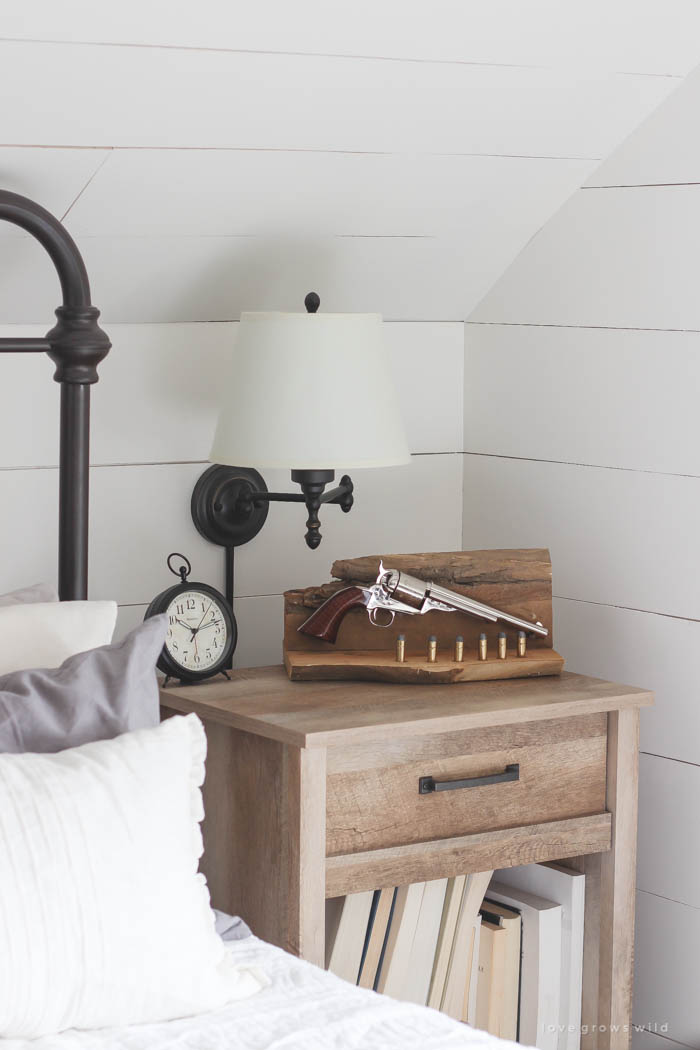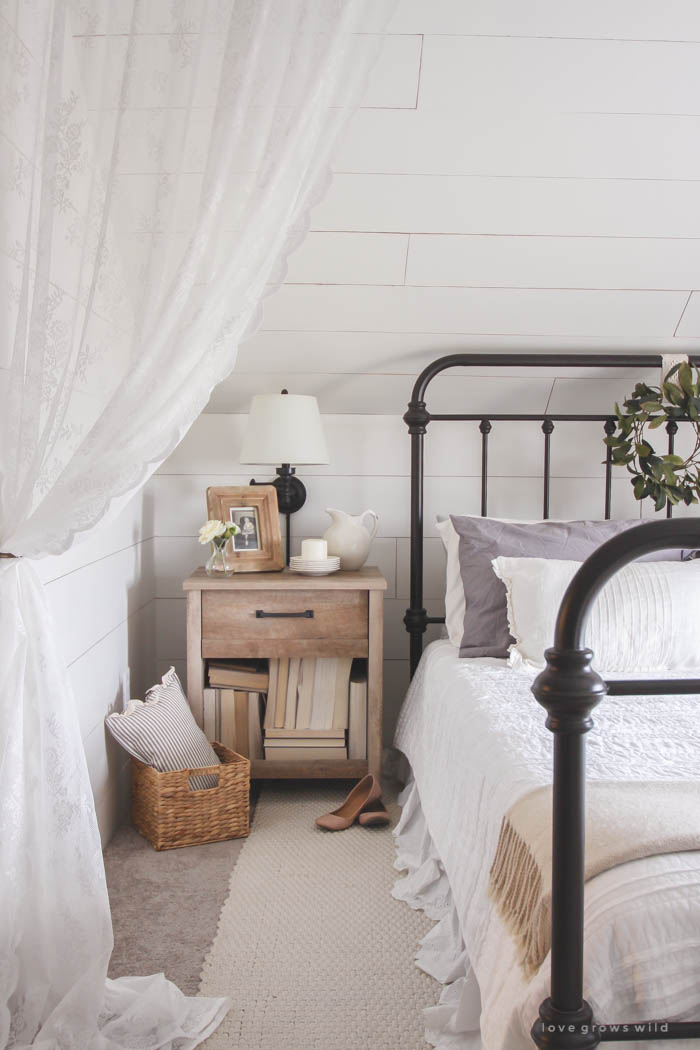 Jeremy stood over my shoulder as I took photos of his nightstand, making sure I got just the right lighting for his masterpiece. I know that he really could probably care less what is or isn't on his nightstand, but the fact that he was such a trooper this week working on the blog with me and actually coming up with a really sweet project for the challenge reconfirms just how much he loves and supports me in everything I do.
Jeremy… thanks for being my better half. I love you!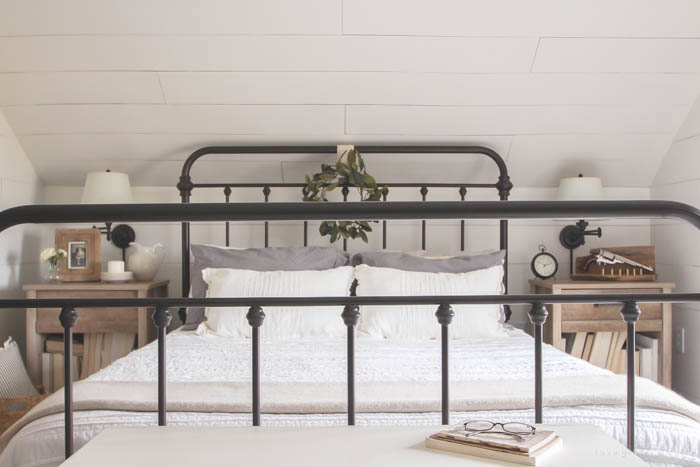 Okay guys… your turn! What did you think of our style challenge? Did you enjoy getting a bit of Jeremy's perspective this week? We both had a lot of fun, and who knows… maybe I'll convince Jeremy to do something like this again one day. But for now spring is almost here, and that means it's planting season on the farm. If you want to read more about our farm and how Jeremy and I work together, be sure to read Jeremy's Q & A from this week. Also, stop by The Wood Grain Cottage to see what Shayna and her husband did with their style challenge! Enjoy your day, sweet friends!

Sources:
Note: Some of the links in this post are affiliate links, which allows me to make a small commission from your purchase, but your purchase price stays the same. Thank you for helping support our blog!
faux wood beam – tutorial
lace curtains – IKEA
planked walls – tutorial
iron bed frame – Amazon
nightstands – Sauder
ceiling light fixture – Home Depot
swing arm lamps – Lowe's
quilt – Target
rug – Amazon
white pillows – IKEA
---
LET'S KEEP IN TOUCH!
Subscribe to Blog | Browse my Shop | Follow on Facebook | Follow on Twitter
Follow on Google+ | Follow on Pinterest | Follow on Instagram