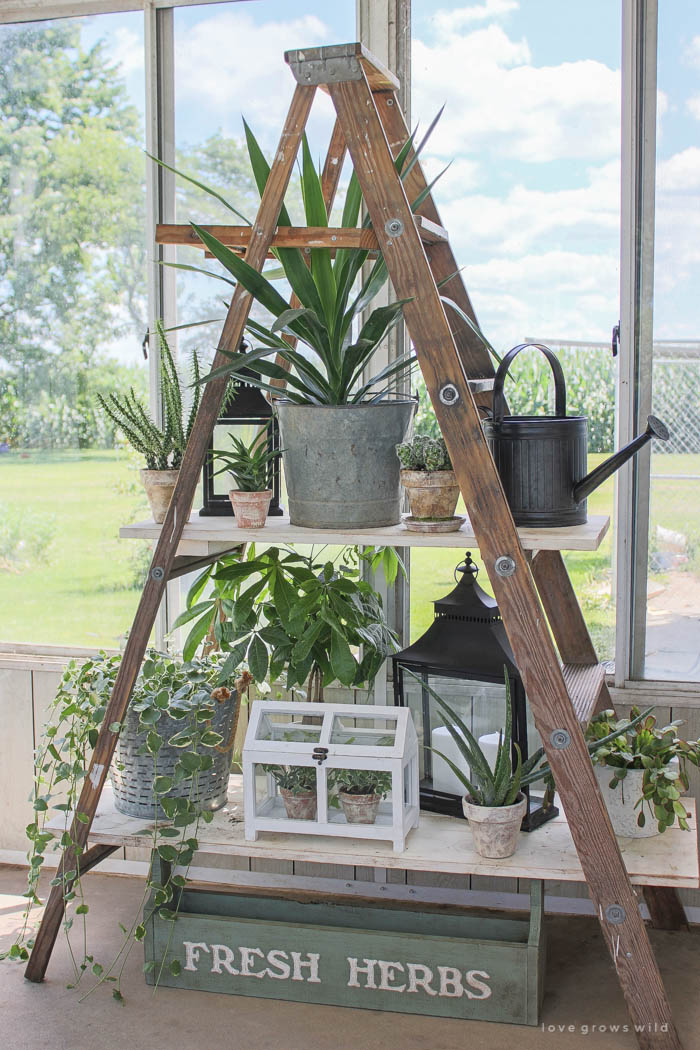 This antique ladder shelving I added to our breezeway has been one of my favorite projects all summer, and I thought it would be a good time to show you some of the updates we've made since you last saw it!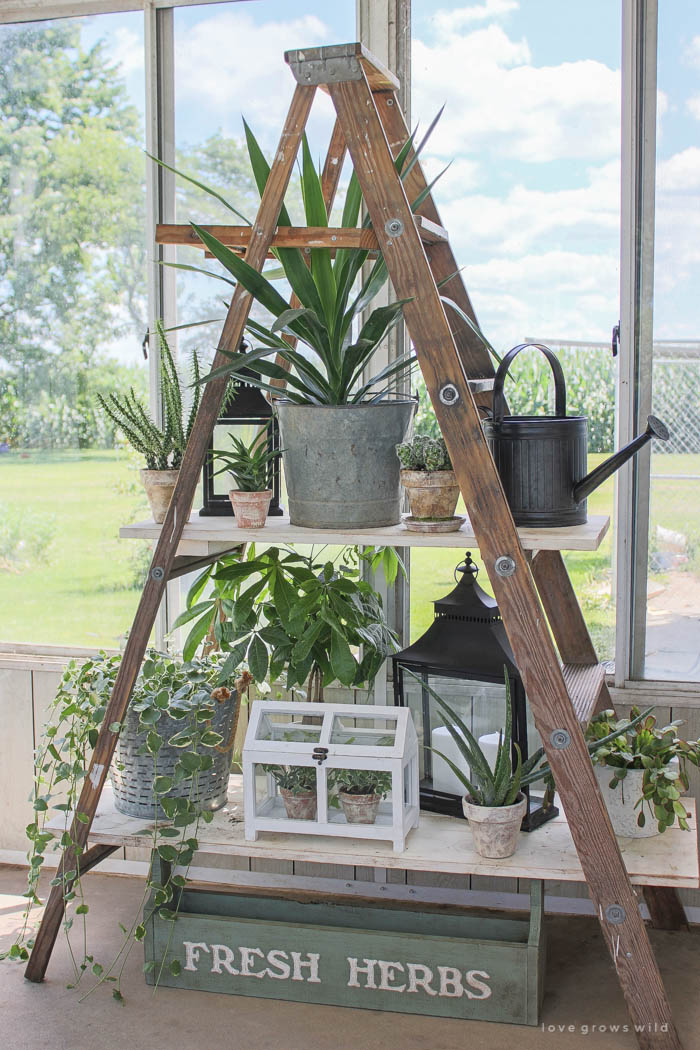 Sponsored by Miracle-Gro // Okay, first of all, if you're dying to see exactly how I made this ladder shelving, you can click here to see the original post! I needed a place to keep all the plants I somehow seem to keep accumulating, and these shelves made from an old antique ladder were the perfect solution. I have plenty of space for my "garden" to grow, and my breezeway looks so much more homey and inviting now.
I do not have a green thumb AT ALL, but these plants have actually done really well in our little breezeway. When I looked back on the original photos I took of this project, I couldn't believe the difference a few months can make! Here's what our ladder shelves look like now: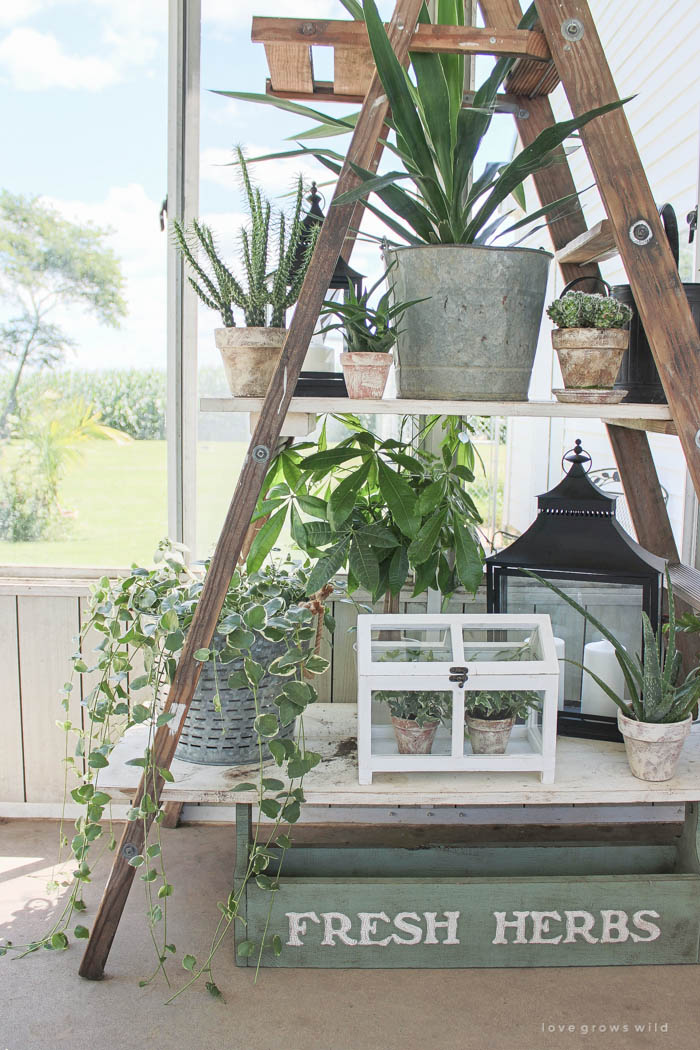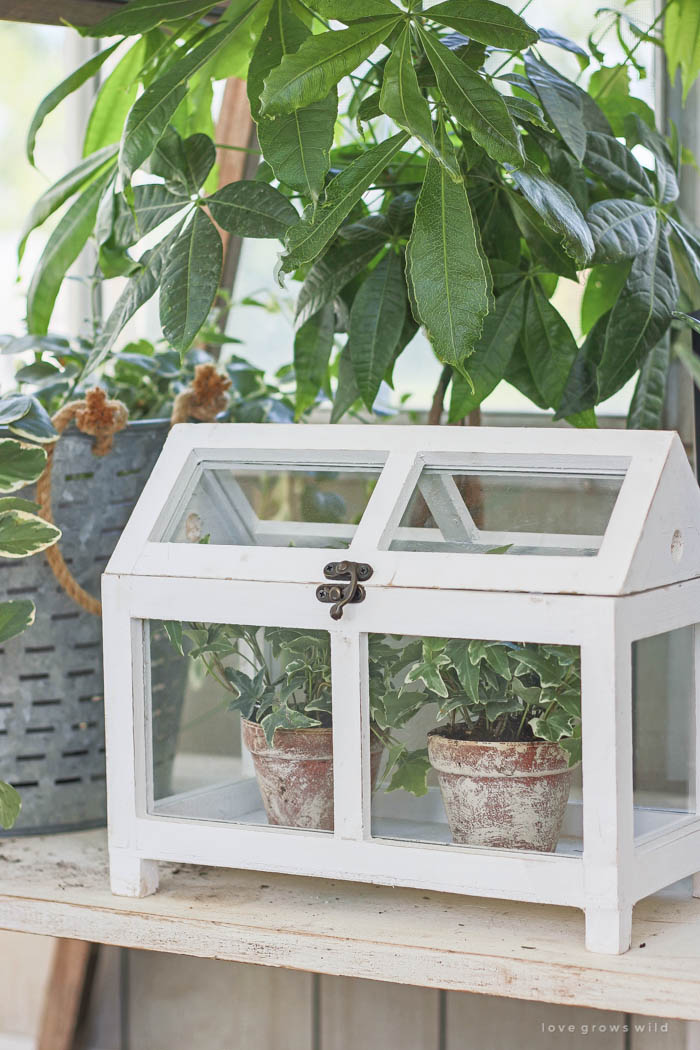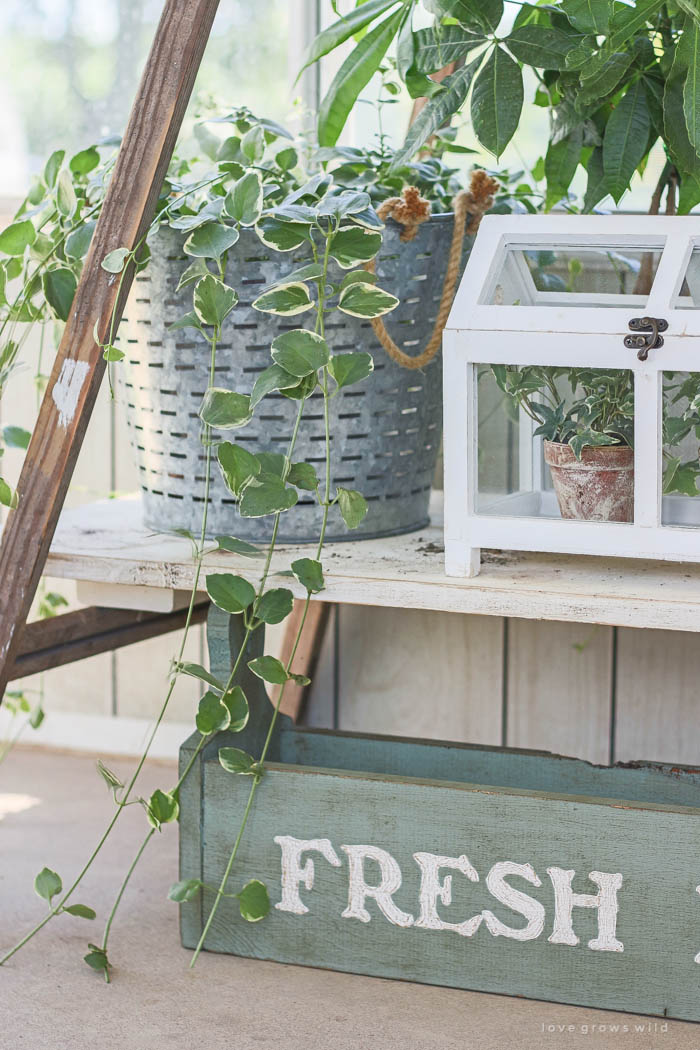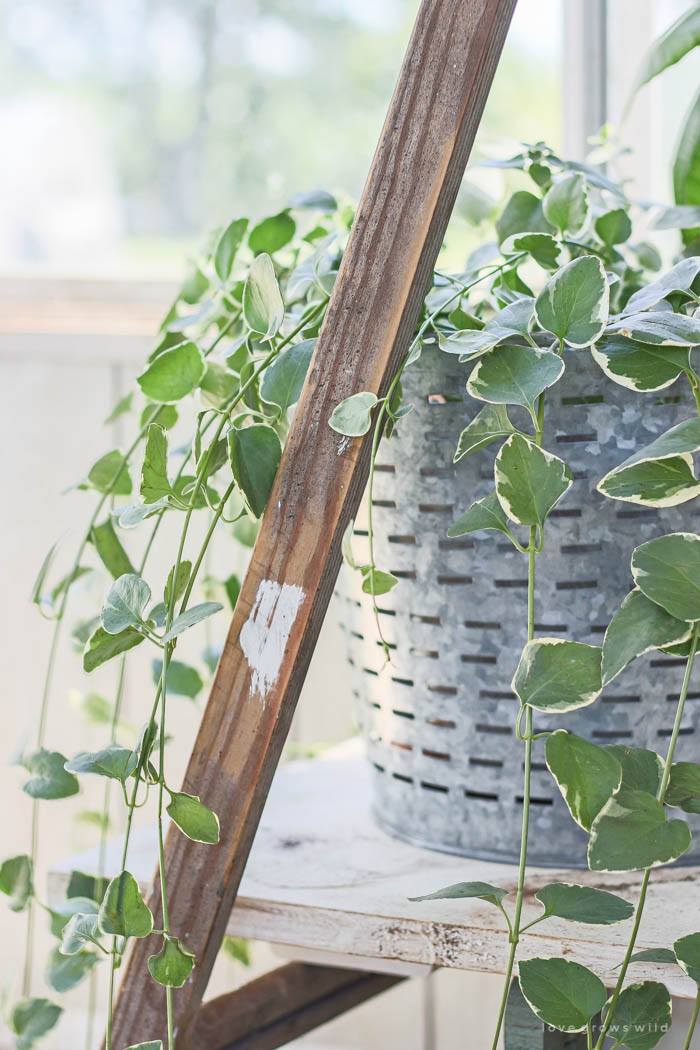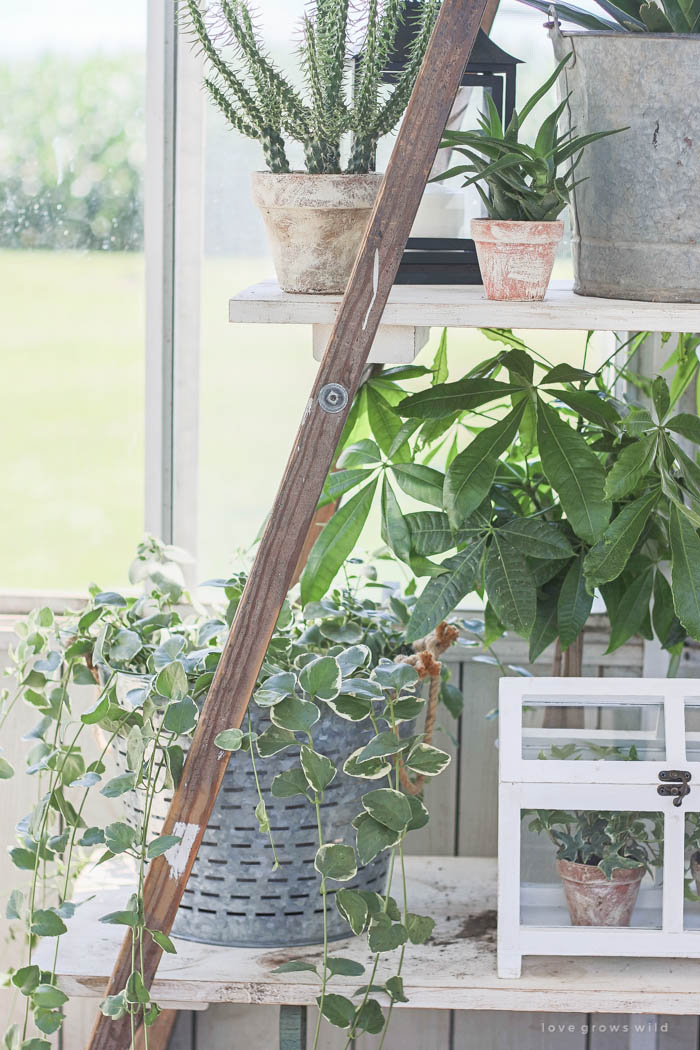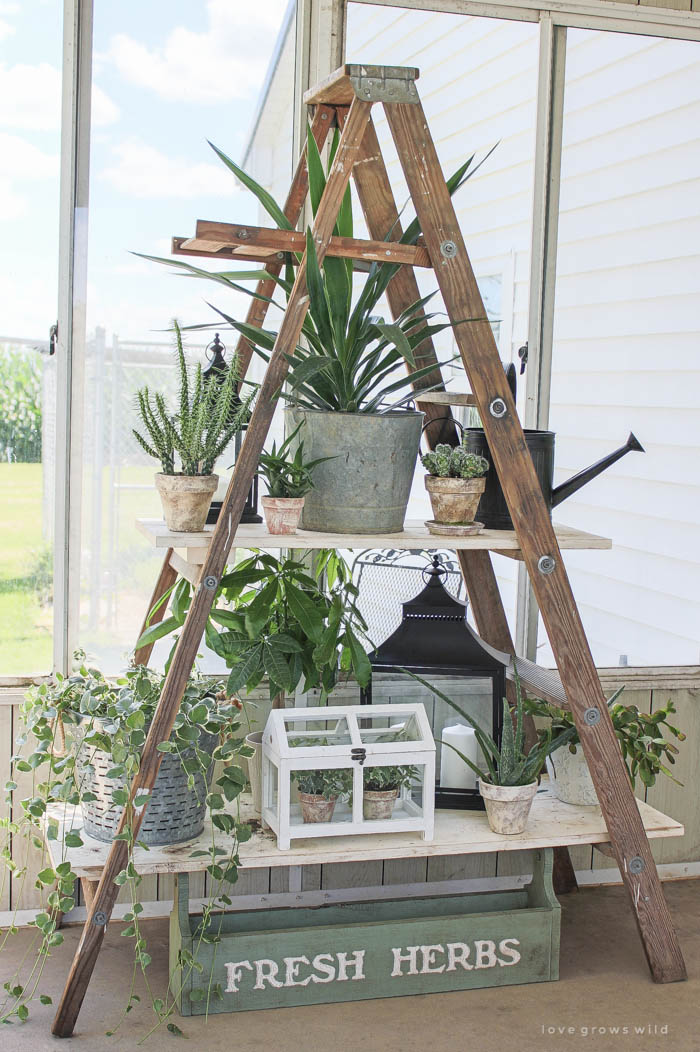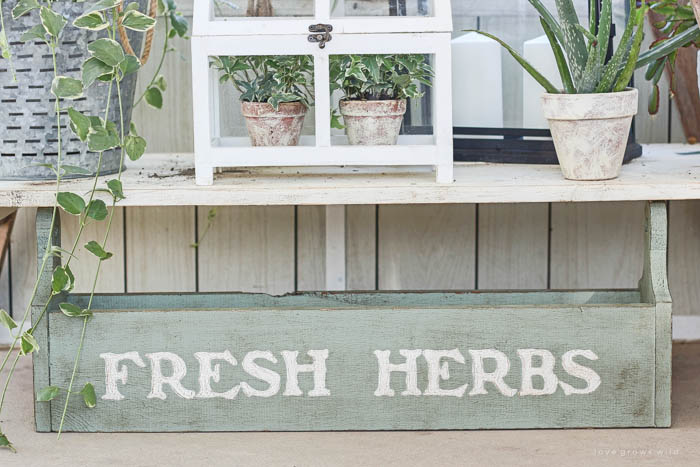 Oh my… I love my little garden! I recently moved a few of the plants around, since everything looks different now that they've grown. I also brought out a little white greenhouse and made a "vintage" garden box to set underneath the shelves. The box is more for looks than function, but it would also be a great place to store my garden gloves and hand trowel. I used all scrap wood from the garage, and it only took about 30 minutes to put together. Here's a quick tutorial on how I made it:
Some of the links in this post are affiliate links. When you make a purchase using them, you help us keep this blog running! We thank you so much for your support!
– First, I cut two small pieces from a 1×6 about 10″ long for the short sides of the box. I used the handle on one of my wood cutting boards to draw an outline for the curved top of those pieces and cut along the outline with my jigsaw. Then I used a spade bit to drill a hole in the top of the handle.
– I cut two more 1×6 pieces to 27″ long to use as the long sides of the box. I applied wood glue on the edges of the long sides and attached them to the short sides using my brad nailer.
– Then I painted the entire box with a custom mix of chalk paint and added "fresh herbs" to one side of the box in white paint. To do this, I printed the words from my computer in a size and font I liked, then lined up the paper on the box and traced over the outline of the letters. This leaves an indent in the wood and gives you a great outline to paint your letters on! To give the box an aged look, I rubbed dark wax over the whole piece and buffed it with a clean rag. Done!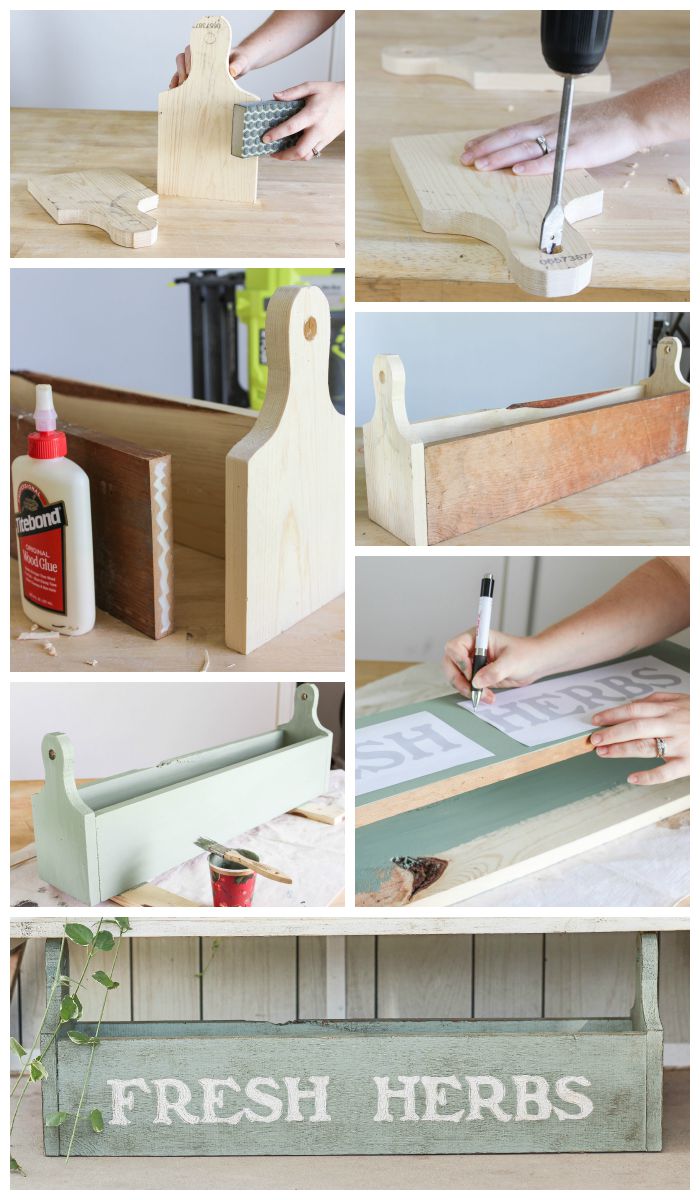 One thing I've learned about having a garden like this is that potted plants can't pull nutrients from the soil like plants in a typical garden can. Especially during times of drought, heat and cold stress, or insect damage, plants need those nutrients to continue growing strong and healthy, and Miracle-Gro LiquaFeed Universal Feeder is my plant food of choice. It attaches right onto your spigot and changes from "water" to "feed" with just the flip of a switch. You can use LiquaFeed on your vegetable garden, fruit trees, flowers, hanging baskets, and even indoor plants to help them grow stronger and last longer.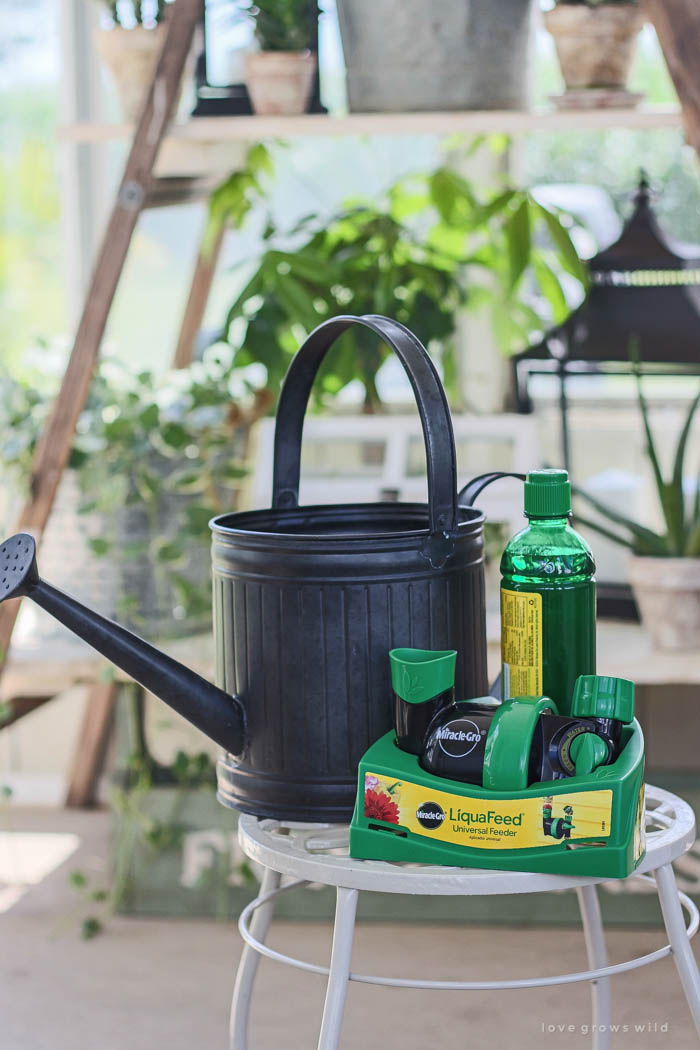 This summer has been so busy with projects and travel, but I've kept up with watering and actually remembered to feed the plants about every 7 days or so because the Universal Feeder makes it so easy. On Sundays, I like to sort of "reset" for the week. We clean the house, stock up on groceries, pay bills, and work on laundry, so it's easy to remember to feed the plants on Sunday too. To show you guys how much the plants have grown since the beginning of May, here are some side-by-side comparisons: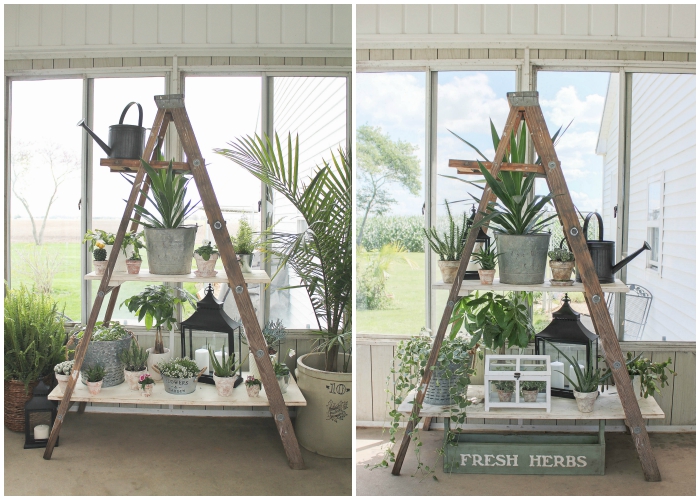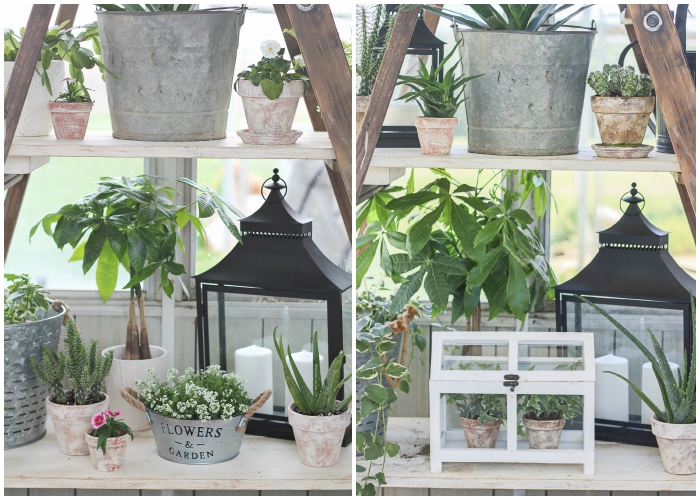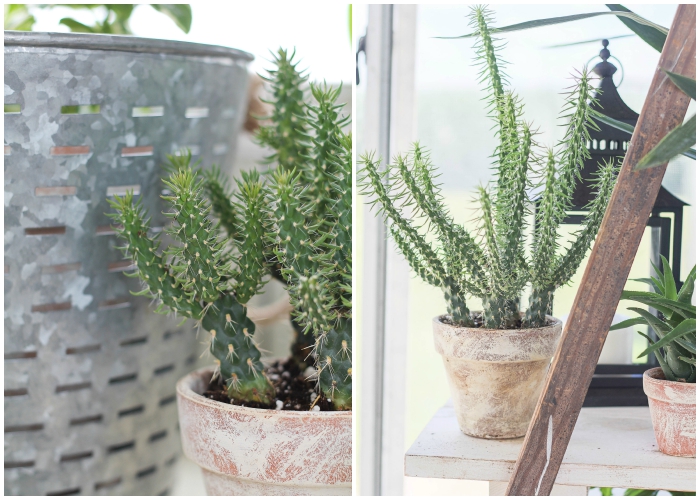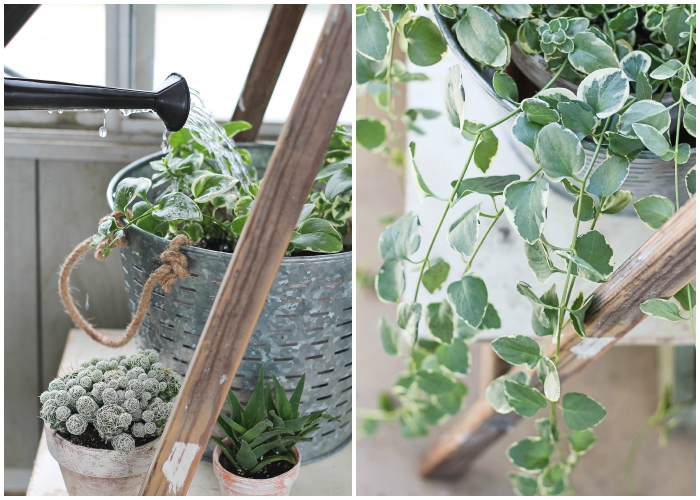 It's such a good feeling to see our little plants thriving! Especially for a girl with two black thumbs. : )
Now it's your turn! Tell me what YOU think of our little garden! What do you grow at your house? I'd love to hear your feedback in the comments below!
---
LET'S KEEP IN TOUCH!
---
Subscribe to Blog | Browse my Shop | Follow on Facebook | Follow on Twitter
Follow on Google+ | Follow on Pinterest | Follow on Instagram
---
If it waters, now it feeds with Miracle-Gro® LiquaFeed® Universal Feeder. It's a great tool to help you reach your gardening goals by providing the essential nutrients your plants need to thrive all season long.
This is a sponsored conversation written by me on behalf of Miracle-Gro, but the opinions and text are all mine. Thank you for supporting the brands that make this blog possible!