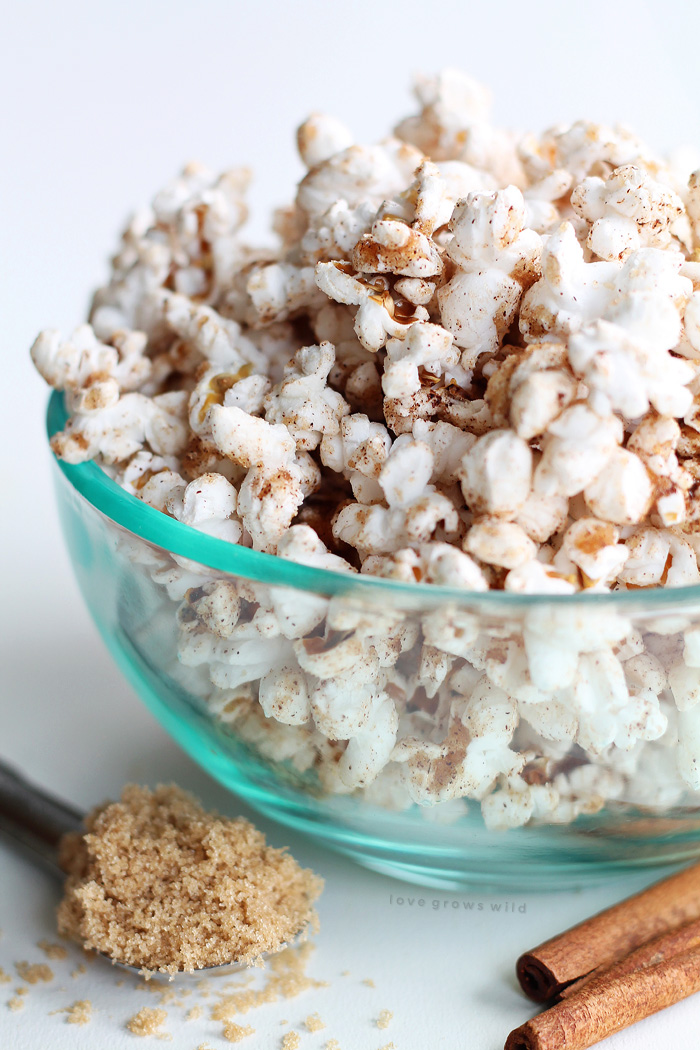 This Cinnamon Brown Sugar Popcorn is the perfect snack for satisfying your sweet tooth without sabotaging your diet. It's a little sweet, a little salty, super crunchy, and under 140 calories per serving!
I'm a snacker. Always have been and always will be. Everyday around 2:30 pm, my stomach starts telling me, "go grab some potato chips… you know you want an ice cream bar… there's a Snicker's sitting in the pantry with your name on it…". Of course all that junk food is delicious, but about 6 months ago now I joined a local gym and have been determined to get some healthier habits in my life. 6 months strong of going to the gym every week… that's HUGE for me!!
So now I try to reach for healthier snacks like cheese sticks, yogurt, nuts, fruit… that kind of stuff. But every once in awhile I get tired of eating the typical healthy stuff and start to crave that evil junk food again. That's where this recipe comes into play!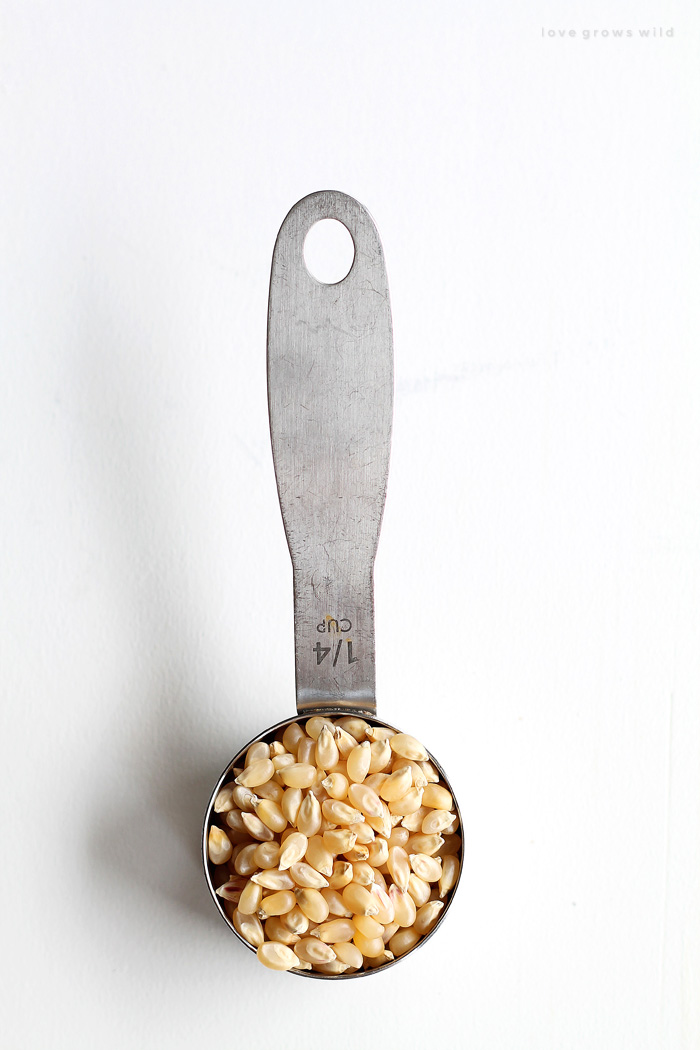 This wicked-good popcorn recipe comes from the new cookbook, 400 Calories or Less with Our Best Bites
. I've tried quite a few recipes over the years from these talented bloggers (Sara and Kate), and they always turn out amazing. When I saw they were coming out with a new cookbook geared towards a healthy lifestyle, I couldn't wait to get my hands on it! I sat flipping through page after page of delicious low-calorie recipes and marked over half of them with little Post-it's so I could try them ASAP. Every recipe comes with a big, beautiful photo as well as nutritional information including calories, fat content, carbs, sugar, etc. This book actually got me excited about cooking and eating healthy again!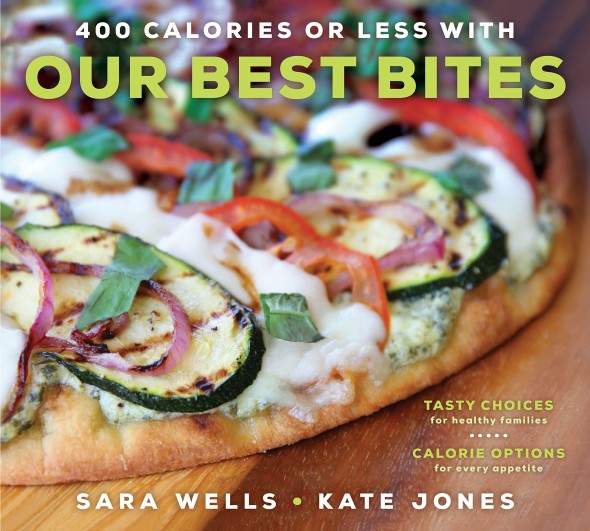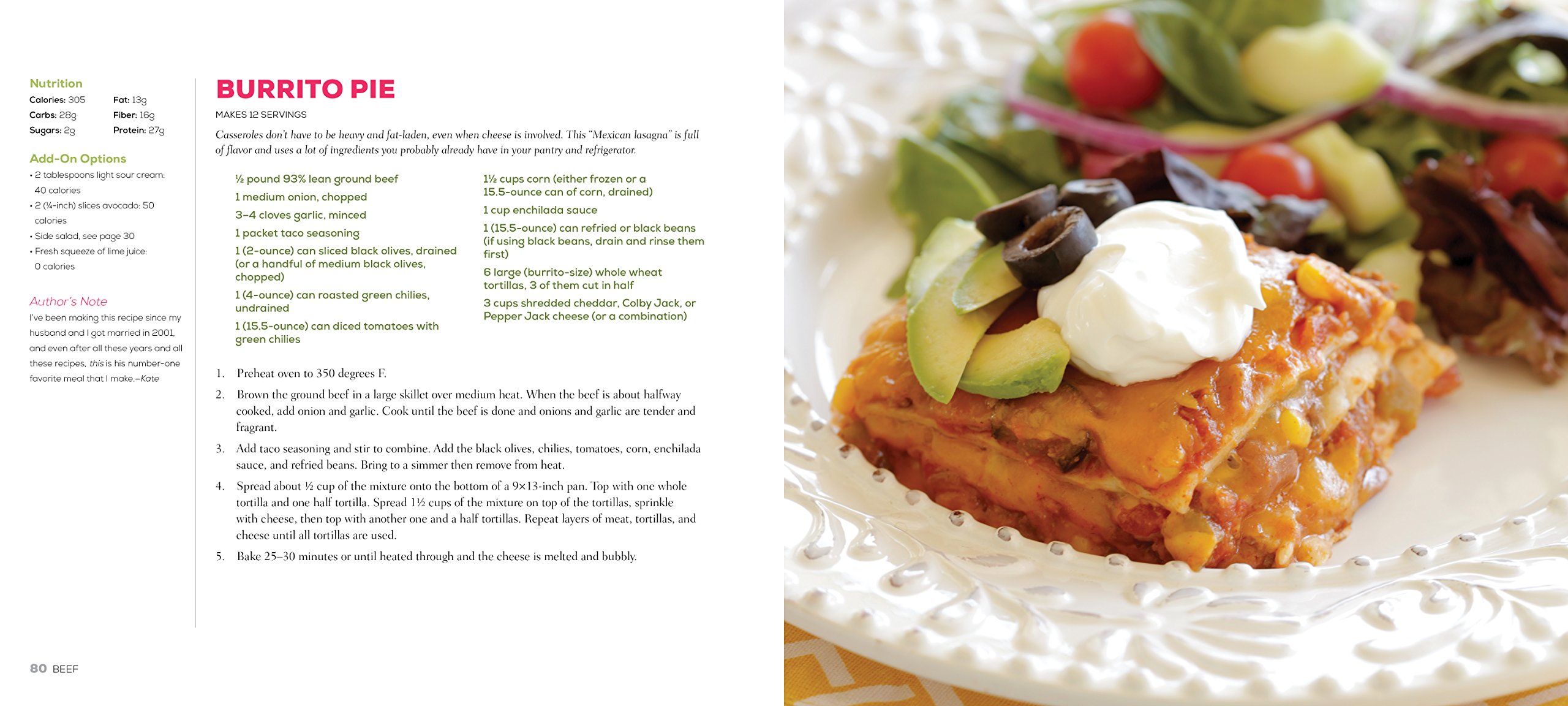 Here are some of the other recipes I have bookmarked to try: Crispy Baked Fish and Chips, Slow Cooker Pot Roast, Grilled Steak Gyro Pitas, Cheddar Bacon Burgers with Caramelized Onions, Grilled Chicken Caprese, Oven-Baked Cinnamon Apple Chips, Chocolate Crepes with Bananas and Caramel
Psst… there's a cookbook giveaway at the bottom of this post… keep reading!!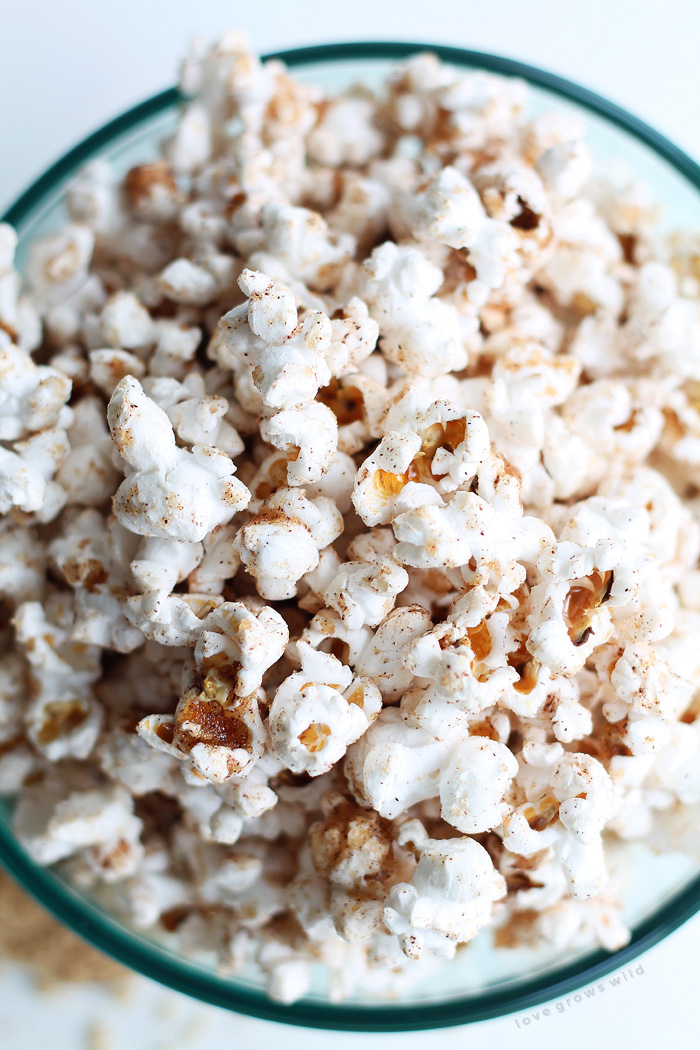 So back to the popcorn recipe. This Cinnamon Brown Sugar version is actually one of THREE flavored popcorn recipes featured in the 400 Calories or Less book, but this one is by far my favorite. You just can't beat a crunchy, sweet, and salty snack! You need 8 cups of air-popped popcorn, which will give you 4 servings, but if you prefer to use the microwaveable kind, just look for a plain variety.
Once the popcorn is popped, season it lightly with salt, then drizzle on a mixture of melted butter, cinnamon, and brown sugar. Yuuuuummmm. I like to pour the butter mixture on slowly while I toss the popcorn with a big spoon to evenly distribute the butter throughout the popcorn. I'm not going to lie… every time I've made this I eat closer to 2 servings instead of 1 (oops!), but each 2-cup serving is only 137 calories, which is awesome! You will feel like you're indulging in a big, sweet treat, but you're actually still sticking to your diet like a champ. WAY more delicious than a handful of carrot sticks, am I right??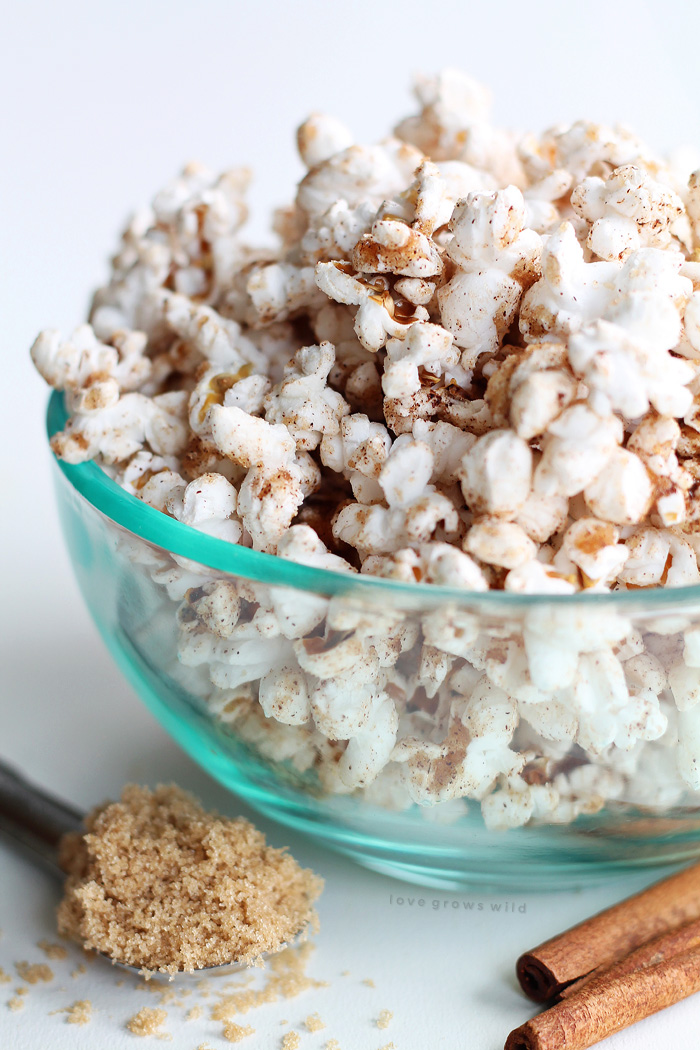 Like what you see? Subscribe to Love Grows Wild so you'll never miss a post!
Follow along on Pinterest, Google+, Instagram, and Facebook for more fun!
Cinnamon Brown Sugar Popcorn
INGREDIENTS
8 cups air-popped popcorn
2 tablespoons unsalted butter, melted
2 tablespoons brown sugar
½ teaspoon ground cinnamon
Salt to taste
INSTRUCTIONS
Place popcorn in a large bowl. In a small bowl, stir together melted butter, brown sugar, and cinnamon until completely combined. Drizzle over popcorn and quickly toss to coat popcorn evenly. Serve immediately.
NOTES
- If using microwave popcorn, look for plain varieties.
– recipe from 400 Calories or Less with Our Best Bites Cookbook
You know I can't tell you all about this awesome cookbook without giving one away… Who wants to win the new cookbook from Our Best Bites?? Just use the giveaway form below to enter:
Shadow Mountain Publishing provided the cookbook for this giveaway as well as one for review, but all thoughts and opinions are 100% my own. This giveaway is not endorsed or affiliated with Pinterest or Instagram in any way. Giveaway begins on April 21st and ends at midnight EST on April 28th. Winner must be a United States resident, will be chosen at random by Rafflecopter, and notified by email. There are also affiliate links within this post… thank you for helping support our blog!
If you want some healthy eating inspiration and DELICIOUS new recipes to try, click here
to purchase the book now!

---
More recipes to try:
---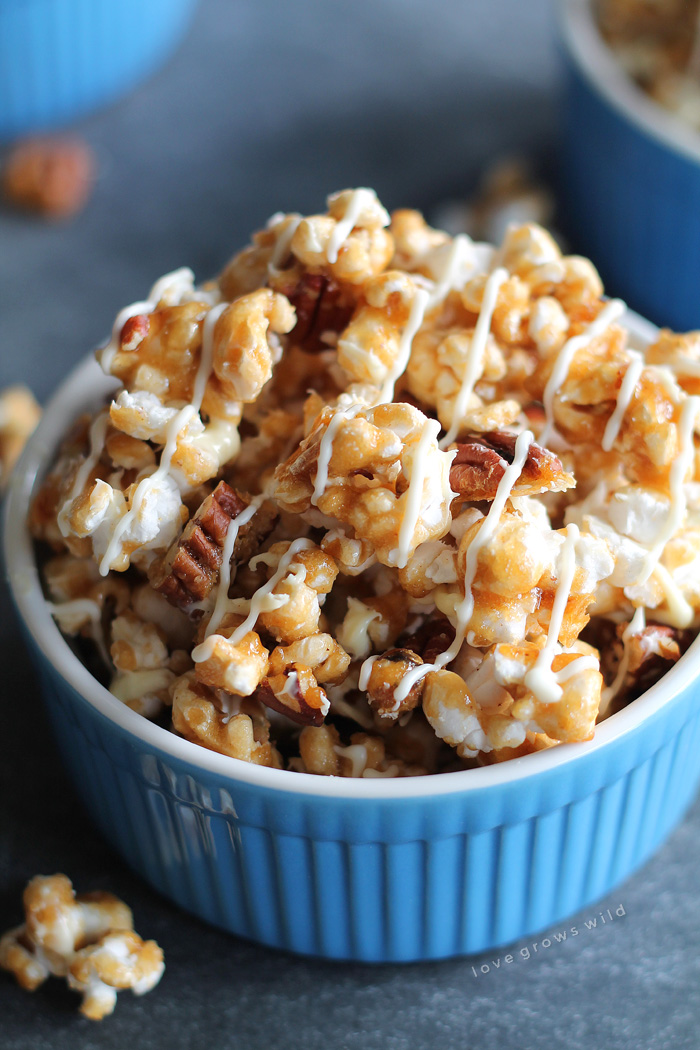 White Chocolate Pecan Caramel Corn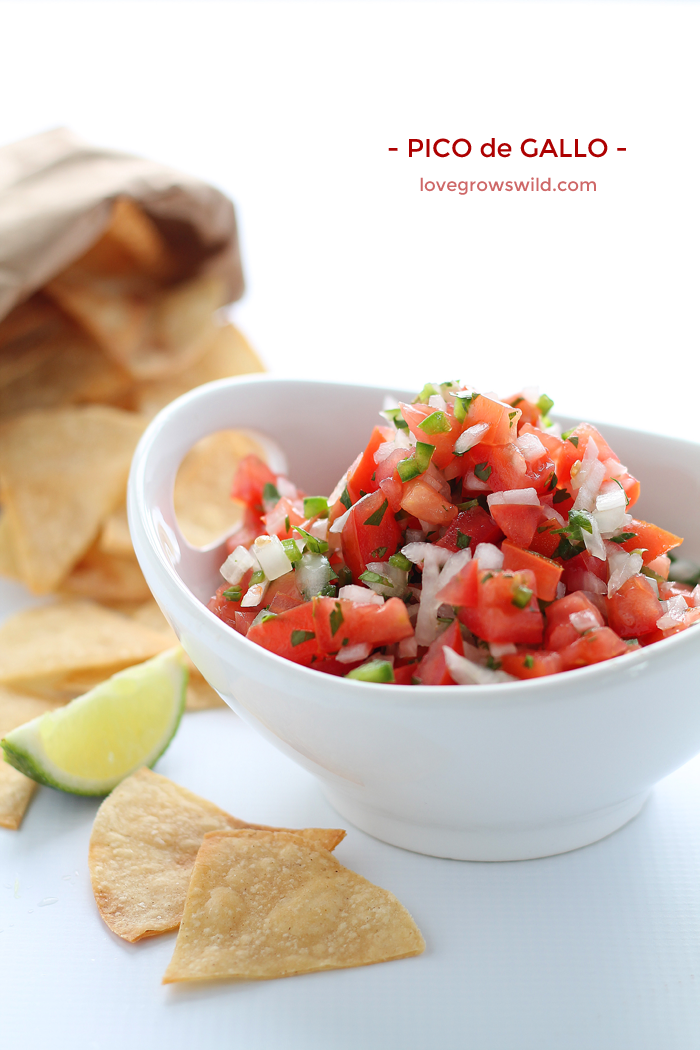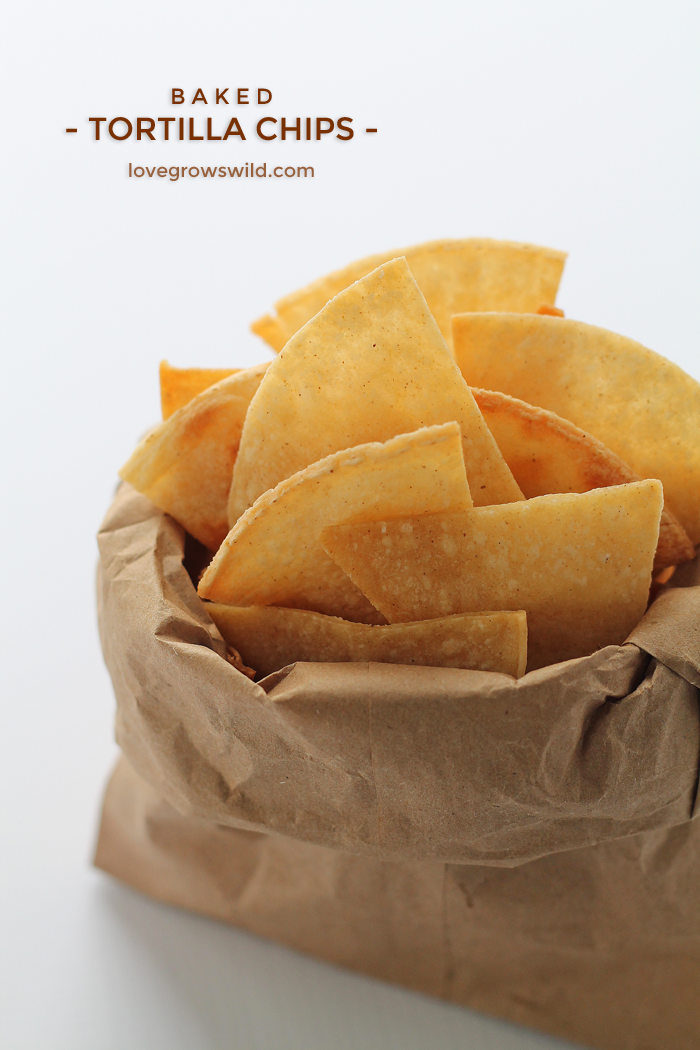 ---
LET'S KEEP IN TOUCH!
---
Subscribe to Blog | Browse my Shop | Follow on Facebook | Follow on Twitter
Follow on Google+ | Follow on Pinterest | Follow on Instagram