Cheesy Scalloped Potatoes with Ham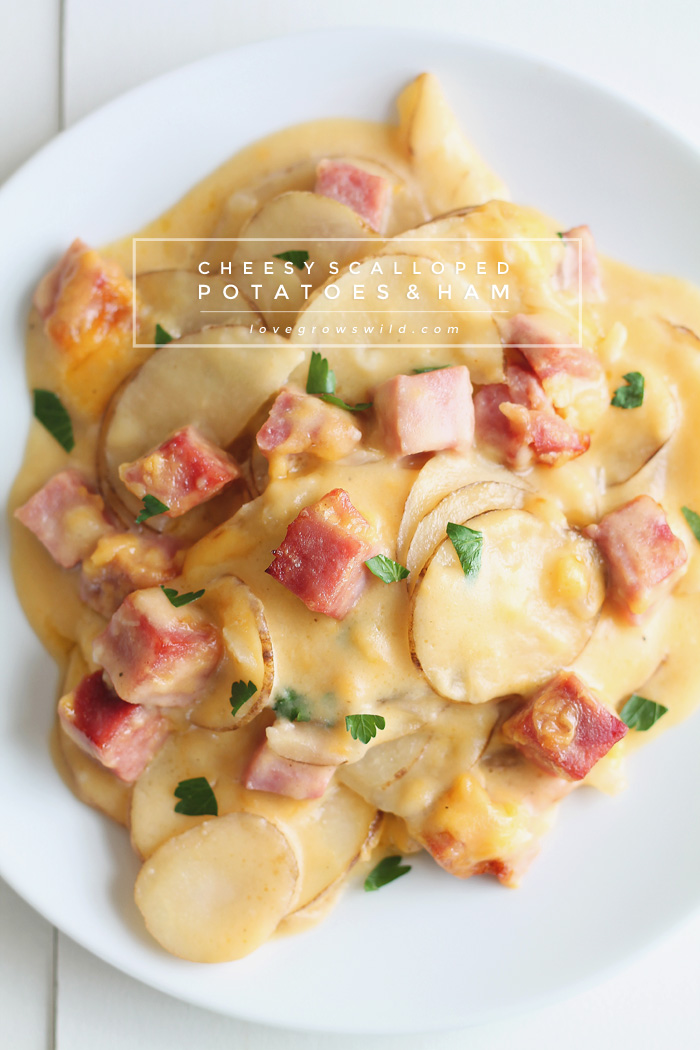 4 tablespoons unsalted butter
1 cup diced onion
2 garlic cloves, minced
⅓ cup all-purpose flour
3 cups milk (I used 2%)
½ teaspoon salt
¼ teaspoon pepper
2 cups sharp cheddar cheese, shredded
2 pounds russet potatoes, washed and very thinly sliced
1 pound diced ham (about 4 cups)
fresh parsley, for garnish
Preheat oven to 350ºF and coat a 3 quart baking dish in nonstick cooking spray. Melt butter in a large skillet over medium heat. Add onion and cook, stirring occasionally, for 4 minutes. Add garlic and cook for another 1-2 minutes until garlic is fragrant and onions are tender. Sprinkle in flour and cook, stirring, for 1 minute. Whisk in milk and cook until sauce is thickened and bubbly, about 4-5 minutes. Add salt, pepper, and cheese and stir until cheese is melted. Remove sauce from heat.
Place half the sliced potatoes in bottom of prepared baking dish. Top with half the ham, then pour on half the sauce. Repeat layers and cover dish tightly with foil. Bake covered for 45 minutes, then remove foil and bake for another 20-30 minutes until potatoes are tender and top is golden and bubbly. Let cool 10-15 minutes before serving. Garnish with fresh chopped parsley, if desired.
- Using a mandolin to slice the potatoes is the easiest way to get super thin, even slices, but a sharp knife will also work. If your potatoes are sliced thicker, you may need to adjust the cooking time a few minutes.
- The potatoes will turn brown quickly while you're slicing them, so drop them in a bowl of cold water once they're sliced and drain when you're ready to assemble the dish.
Recipe by
Love Grows Wild
at https://lovegrowswild.com/2015/04/cheesy-scalloped-potatoes-with-ham/