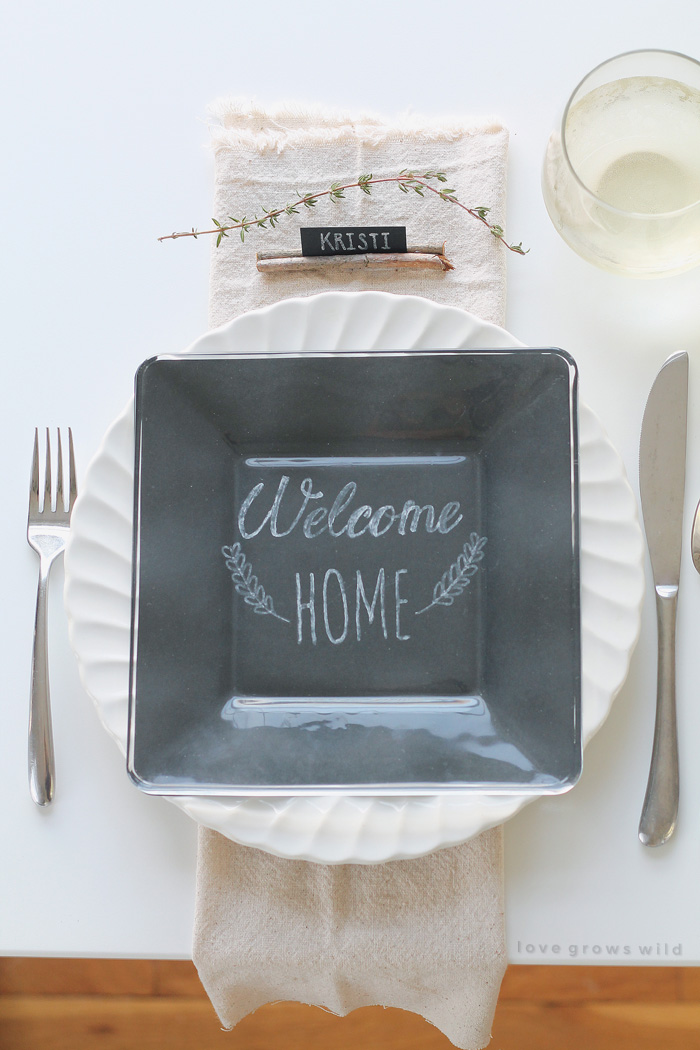 The countdown to the holidays has officially begun! I can almost taste the pumpkin pie, cranberry sauce, turkey, stuffing, and mashed potatoes already. The holidays are such a fun, exciting, and memorable time for my family, but they can get a little hectic too, traveling to see all the family and making sure you have everything checked off your holiday to-do list. Do you ever feel that way too?
I know that I'm a complete Type A control freak, so over the years I've learned to keep things as simple as possible. The K.I.S.S. theory, if you will. I love seeing photos of the big, elaborate holiday table settings with giant bouquets of flowers, candles scattered everywhere, and a huge stack of plates set on top of perfectly pressed linens, surrounded by 8 different forks, knives, and spoons… per person.
But let's get real… that's just not me. I don't have the time to wash that many eating utensils, let alone iron everyone's napkins. I'm lucky if I get the food on the table without any major disasters like forgetting to take out the turkey innards or burning 3 different batches of rolls! Not that those things have ever happened…
So today I'm sharing with you a simple rustic table setting idea that you can do quickly, easily, and inexpensively. I think you're going to love it!
The inspiration for this table setting came from some gorgeous West Elm plates that I saw on Just Destiny's blog last year. It wasn't in the holiday budget to purchase these pricey plates, so I got creative and came up with a solution with a much smaller price tag. I picked up some small clear plates from the store (I've seen lots of different stores carry them) and used black cardstock to create a pretty "chalkboard" design underneath the clear plate. It looks like the design is printed right on the plate, but guests can easily remove the paper when it's time to load their plates up with food.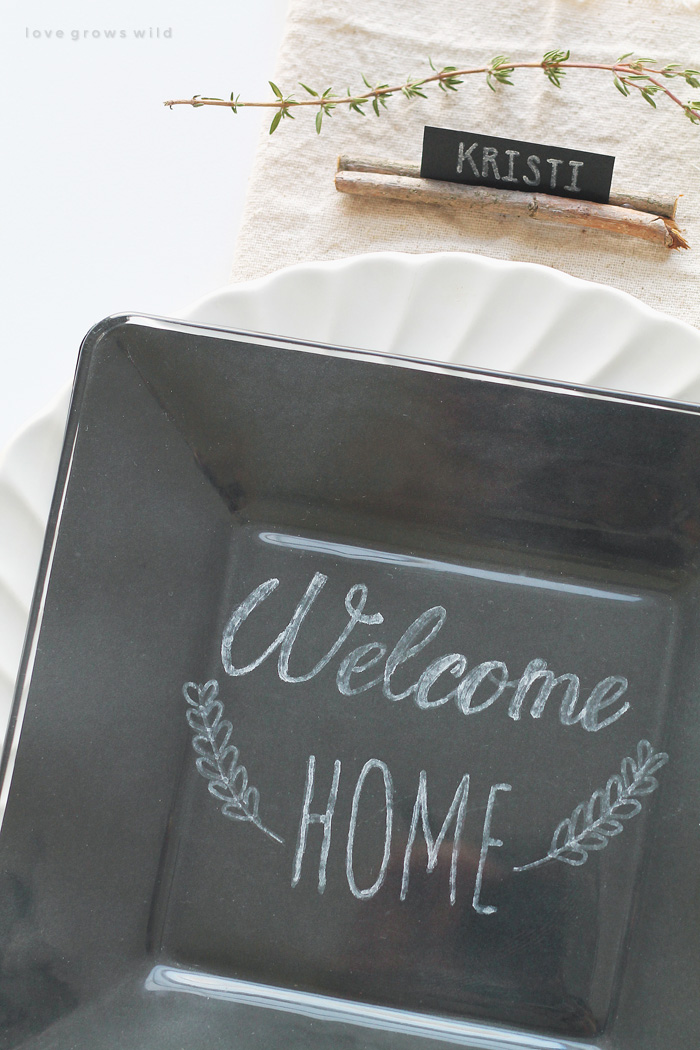 Yes, I did do the lettering by hand, but I had a little help! Here's my easy trick:
First, I cut the black paper to the exact size and shape of the plate. Then I used my computer (Microsoft Word) to create different sayings such as, Welcome Home, So Thankful, or Glad You're Here. You can find all kinds of pretty fonts that you can download for free, but here are the two that I used for mine: Antrokas and Amatic.
I printed out the design and placed it on top of the black paper. Then I traced over the outline of each letter, creating an indent in the thick cardstock. Make sure you press decently hard to get nice lines on your paper.
Then I removed the top piece of paper and traced over my letter outlines with a white paint pen.
After letting the paint dry for a few minutes, I set a clear plate over the black paper and added it to my table setting.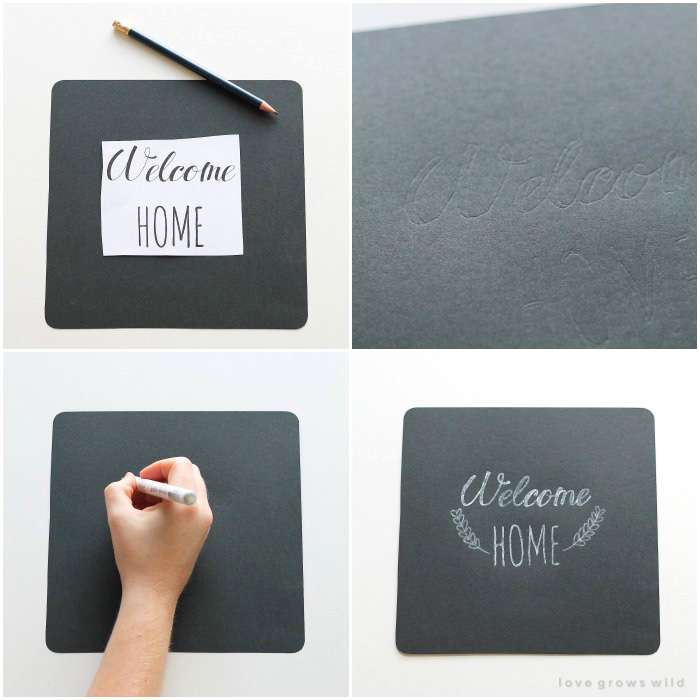 In keeping with the rustic look, created simple place card holders by trimming a couple branches from my yard and using hot glue to attach two small branches together. Then I used a small piece of the black cardstock from my plates and the paint pen to write my guest's name on the paper. Simple, easy, rustic, beautiful!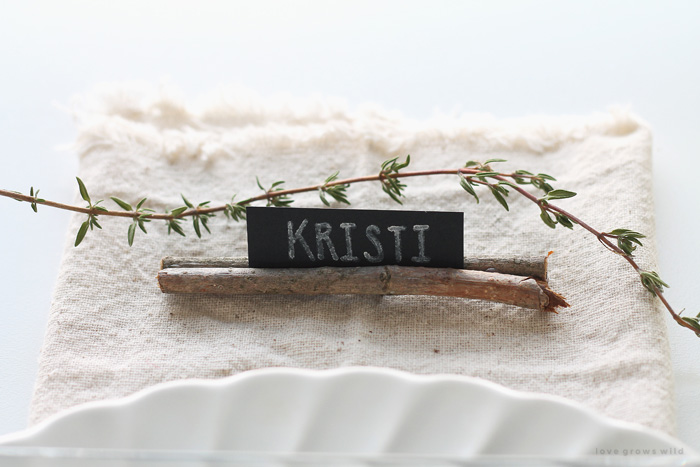 I finished the look with a simple white tablecloth, white dinner plates, linen napkins, and a sprig of thyme from my garden. I think this look is cozy and inviting, yet simple and sophisticated.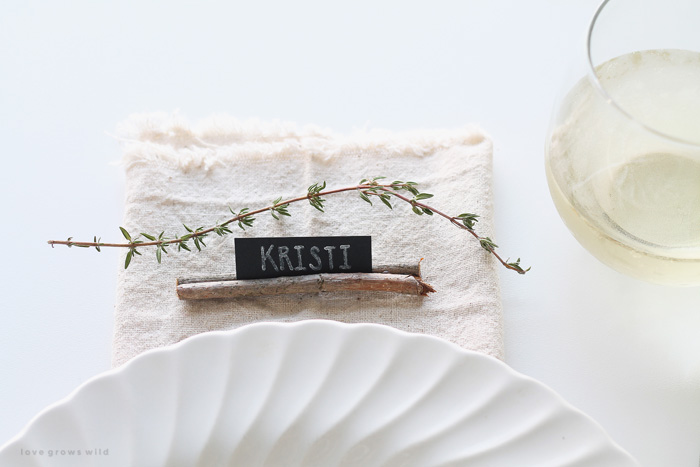 This whole table setting was created using things I already had at home, except the clear plates which I purchased. But since the plates are clear, I can re-use them for ANY occasion, swapping out the black paper for a different paper to fit the theme or season. You could use a pinecone or ornament in place of the thyme for Christmas… the possibilities are endless!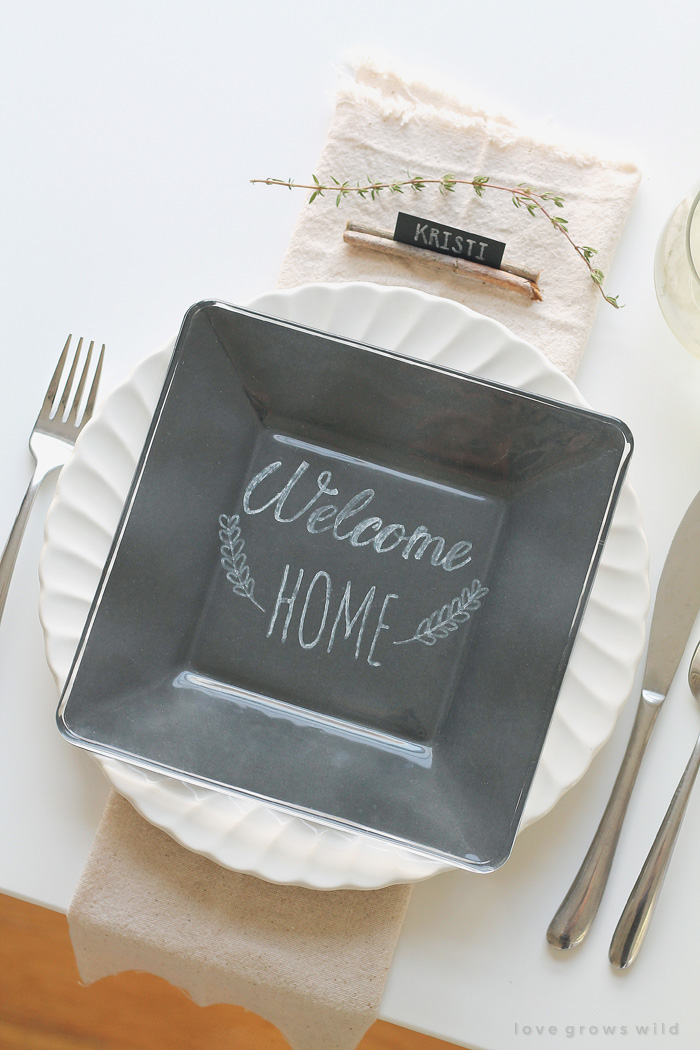 So tell me what YOU think! What's your holiday decorating style? Do you go all out with fancy china or keep it simple with paper and plastic? I'd love to hear your thoughts and best holiday tips!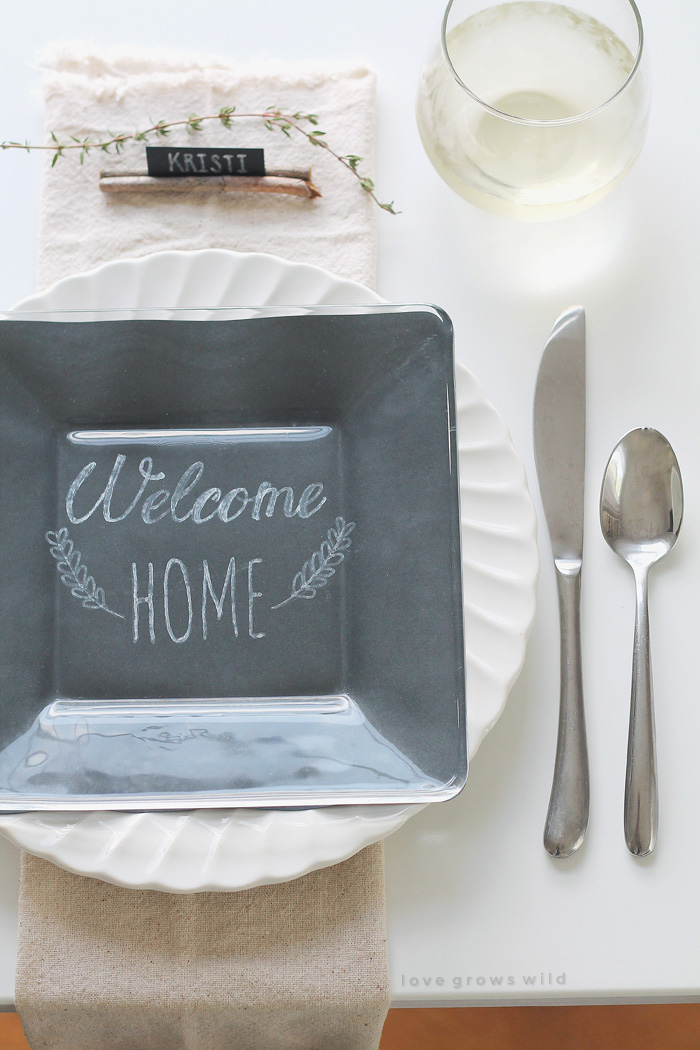 Like what you see? Subscribe to Love Grows Wild so you'll never miss a post!
Follow along on Pinterest, Google+, Instagram, and Facebook for more fun!
But this post isn't finished just yet! I know you're craving more holiday inspiration, and I have TONS to share with you! 24 of my blog buddies put together their own beautiful holiday tablescapes, and you can find them all at the links below!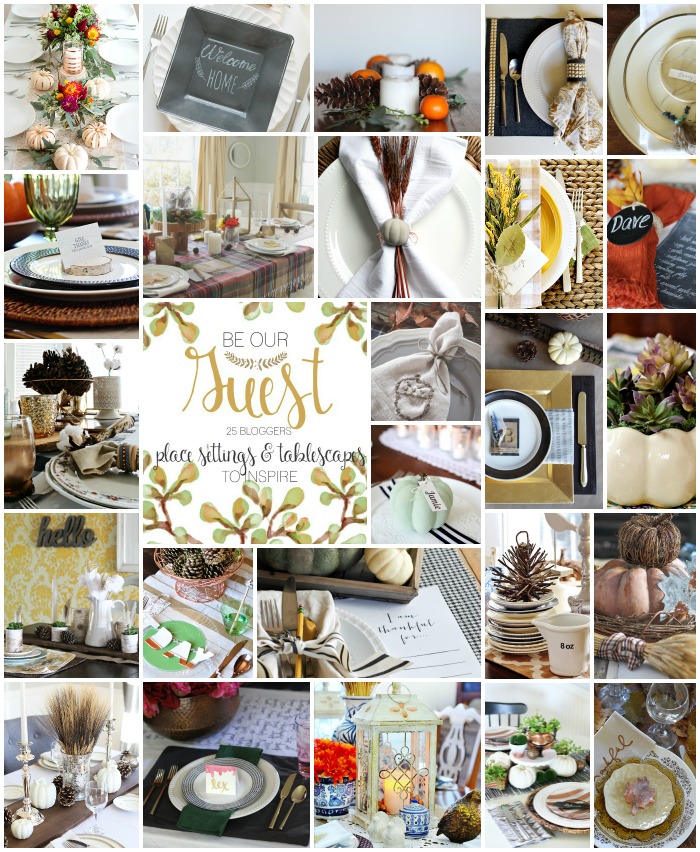 My Fabuless Life |Live Laugh Rowe | Brepurposed
The Crafted Sparrow | Anderson & Grant | Julie Blanner | Shabby Creek Cottage
City Farmhouse | Eighteen25 | Love Grows Wild | A Night Owl Blog
Homey Oh My | Blooming Homestead | Delineate Your Dwelling | Primitive & Proper
Ella Claire Inspired | Design Dining & Diapers | The Golden Sycamore
Lolly Jane | Clean & Scentsible | Unskinny Boppy |Thistlewood Farms
At The Picket Fence | The 36th Avenue | Persia Lou
I hope you're feeling inspired for the holidays! Stop back by for more holiday fun coming soon!
---
LET'S KEEP IN TOUCH!
Subscribe to Blog | Browse my Shop | Follow on Facebook | Follow on Twitter
Follow on Google+ | Follow on Pinterest | Follow on Instagram