Mint Oreo Cheesecake Bars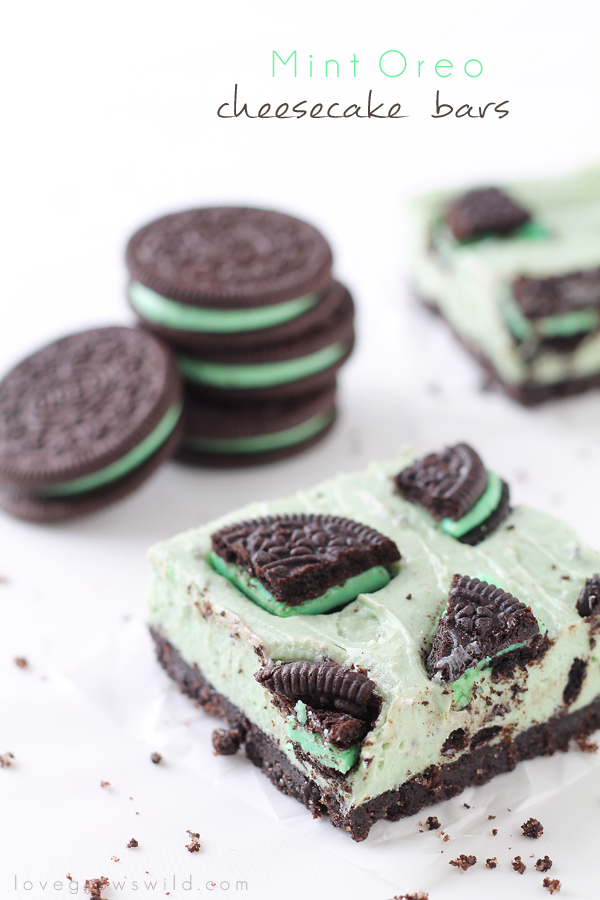 crust layer:
16 Mint Oreo cookies
6 tablespoons butter, melted
⅓ cup sugar
cheesecake layer:
1 large egg
12 ounces cream cheese, softened
filling from 16 Mint Oreos
⅓ cup sugar
1 teaspoon vanilla
4.2 ounce box Jell-O Oreo Cookies 'N Cream Instant Pudding
8 Mint Oreos, cut into quarters
Preheat oven to 350º F. Line an 8 × 8 inch pan with foil.
To make the crust layer: Pull apart 16 Mint Oreos and scrape the mint filling into a bowl and set aside. Add the Oreo cookies (without the filling) to a food processor and pulse until fine crumbs form. Add the sugar and pulse again to combine. Pour in melted butter and continue to pulse until mixture is fully combined. Press Oreo crust mixture evenly into the bottom of the prepared pan. Bake 12 minutes and set on a rack to cool.
To make the cheesecake layer: In a large bowl, whisk the egg until it is light and foamy. Add the softened cream cheese, reserved Mint Oreo filling, sugar, vanilla, and dry pudding mix. Blend with a hand mixer (or in a stand mixer) until smooth. Spread cheesecake layer over the Oreo crust and gently press the quartered Mint Oreo pieces into the top of the cheesecake. Bake 15-20 minutes until the cheesecake layer is set. Allow to cool completely before cutting into bars. Store in refrigerator.
- You can also use regular vanilla pudding if you can't find the Oreo Cookies N' Creme flavor.
Recipe by
Love Grows Wild
at https://lovegrowswild.com/2014/03/mint-oreo-cheesecake-bars/