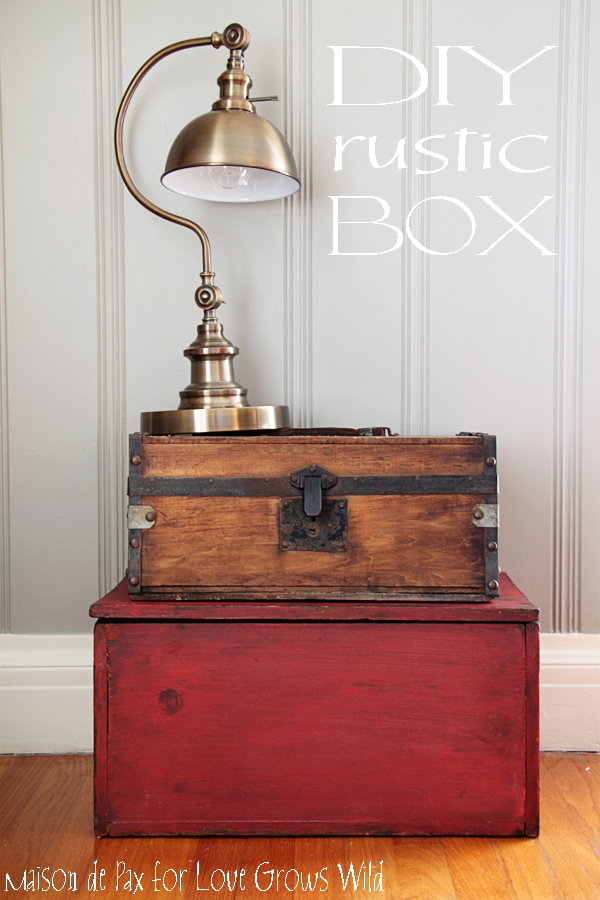 Happy New Year, Love Grows Wild readers! It's Rachel again from Maison de Pax. Today I'm pleased to share with you an easy technique for creating gorgeous, aged finishes on any wooden surface. To demonstrate, I turned a boring pine box into this rustic beauty:

I use this box all over my house. You may have seen it as part of the decor during the vintage travel-themed party I hosted. Sometimes it serves to hold toys or blankets, and it even makes its way into my fireplace from time to time. I love versatile pieces!
To achieve this look, you will need:
raw wood box (or frame, or sign, or tray… or whatever you'd like to paint!)
dark stain
vaseline
milk paint (I used Miss Mustard Seed's in tricycle red)
sand paper
clear wax
dark wax (optional)
You can truly use this on any piece of raw wood, but I found this pine box at Goodwill for $3! The best part about this layered technique is that it can create beauty out of…. well, something not so beautiful. This box was definitely. not. so. beautiful. before.
1. Stain the entire piece with a dark stain. Let dry.
2. Add vaseline in random places, especially focusing on areas that would receive natural wear and tear (like corners).
3. Paint the outside of the box with milk paint. My first experience with milk paint was transforming a dresser for my husband. If you've never worked with milk paint before, it has a different texture than latex or chalk paints. You can achieve a similar effect by layering vaseline with latex or chalk paints, but the dual effect of vivid color that is slightly transparent is best achieved with milk paint. You can see how the grain of the wood almost shows through in places, even where vaseline was not applied. And, obviously, I chose only to paint the outside of my box, leaving beautiful dark stain showing when the lid is open.
4. Use sandpaper (especially where you put the vaseline) to distress the paint. Keep going until you love it.
5. Wax the entire piece with clear wax. Follow with antique wax if desired.

It's that easy. I love how the red acts as a fun accent, while the rustic nature of the piece keeps it from being too overpowering in a room. I've been toying with making more of these since a cheap pine box would be a simple DIY construction… In the meantime, I'm enjoying this one. 😉
What's your favorite versatile accent piece?
Connect with Rachel: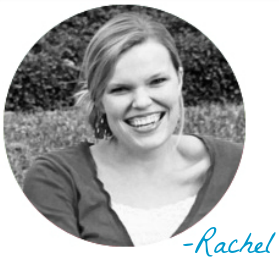 Blog | Facebook | Twitter | Pinterest

Let's Keep in Touch!
Subscribe to Blog | Browse my Shop | Follow on Facebook | Follow on Twitter
Follow on Google+ | Follow on Pinterest | Follow on Instagram