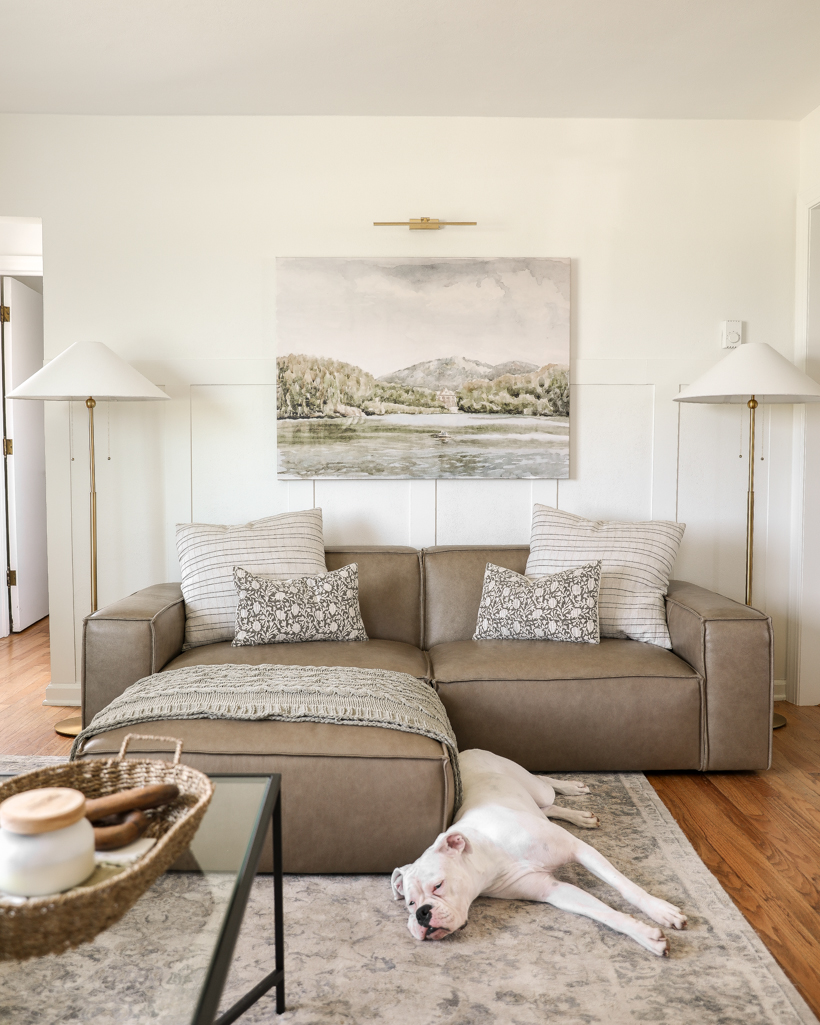 I've been putting off this project for far too long, and it feels so good to finally have a fresh coat of paint on every bit of our main living area. Since the last time we painted our living/dining/entryway (which all flow together into one continuous space), the baseboard trim has taken a beating from dogs, vacuums, furniture, etc. And my constant desire to re-decorate has added quite a few screw holes in our plaster walls that I got tired looking at.
I picked out a new paint color – yes, still white. 😂 But believe it or not, this is actually a very different white! It's softer and more creamy without appearing the slightest bit yellow, and although I was extremely nervous to fully commit to a new paint color for the majority of the house, I'm very, very happy with what I chose.
I took some photos of this beautiful new view in our living room to show off the paint color in real life, and below I'm going to outline all the details of this project:
the specific paint color
what paint sheen I went with
what I used on the trim
the special primer I purchased
and why I primed a room going from white to white!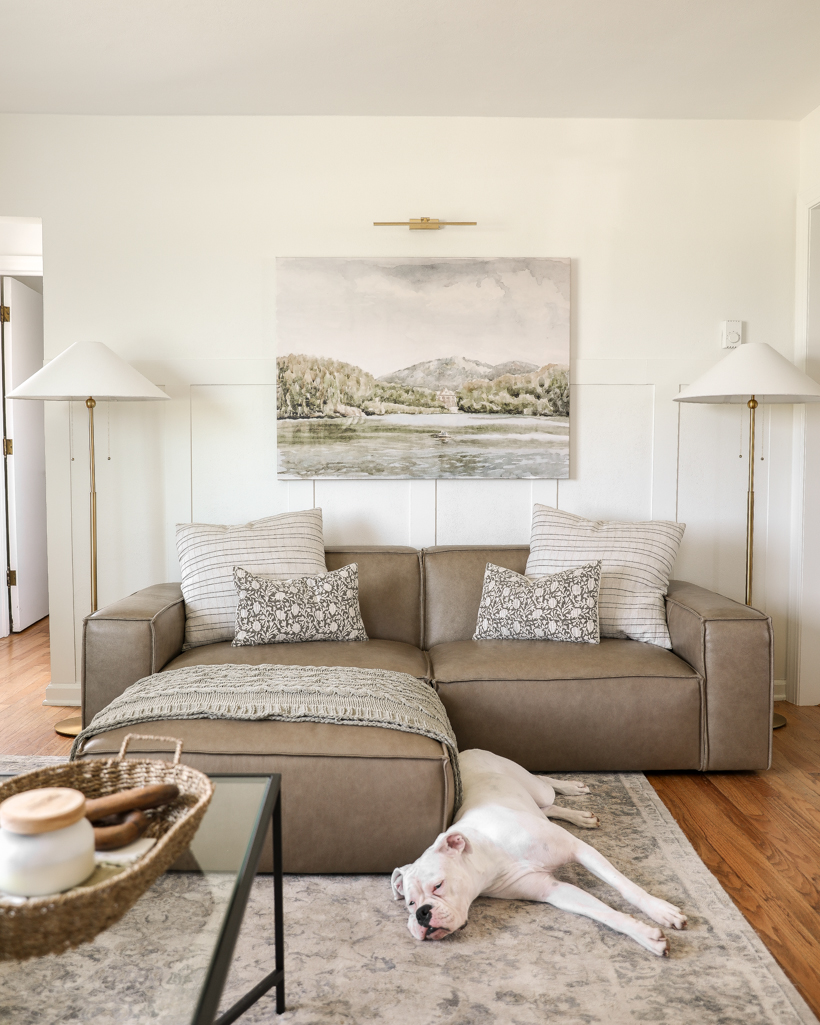 MY NEW FAVORITE WHITE PAINT COLOR
Let's start with the paint color, since I know that's what you're probably here for! I had several white paint colors in mind that I thought would work well for our home, and after looking at a lot of inspiration online, I decided to go with White Dove by Benjamin Moore.
No, I did not sample it first before committing, nor did I try any other colors – both of which I recommend if you're painting such a large main part of your house!
But my gut just knew that of all the ones I really liked, White Dove would be the best fit for what I envisioned. It's a soft, neutral white that keeps the rooms feeling bright and airy, but has just enough depth and creaminess not to feel stark or cold. And now comparing it to the color we previously had – Du Jour by Valspar– this new White Dove color feels like it fits the age of our 1940's home so much better.
I did look at another very popular color, Swiss Coffee, but I knew the green and yellow undertones I wouldn't love on our walls. White Dove does have a slight yellow undertone, which gives it that creamy appearance, but it also has much more gray, which balances the warmth out beautifully.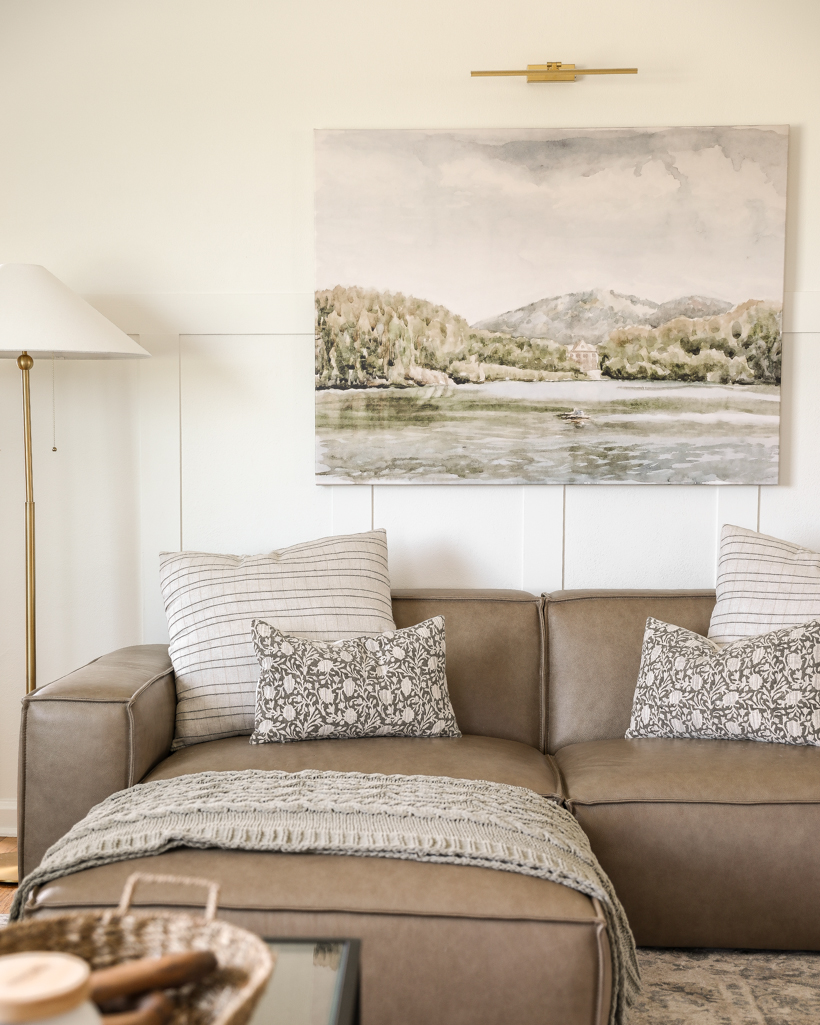 BUT WHAT ABOUT THE TRIM?
I really wrestled with the decision of what color to paint the trim. Our previous Du Jour color was so close to a pure white that it just made sense to paint the walls and trim the same color.
My initial instinct was to keep the trim a bright, pure white, which would be a slight contrast from the walls. But I love the look of interiors that have all the walls, trim, even doors painted the same color, and I thought trying that look would be a pretty safe bet since it's just a white we're working with.
The result = so so good
Because our ceilings aren't very high, keeping the same color from the baseboards all the way up to the ceiling gives the illusion of added height. I did, however, make one small change in the paint formula from the walls to the door/window casings and baseboard trim…
Can you guess what it is?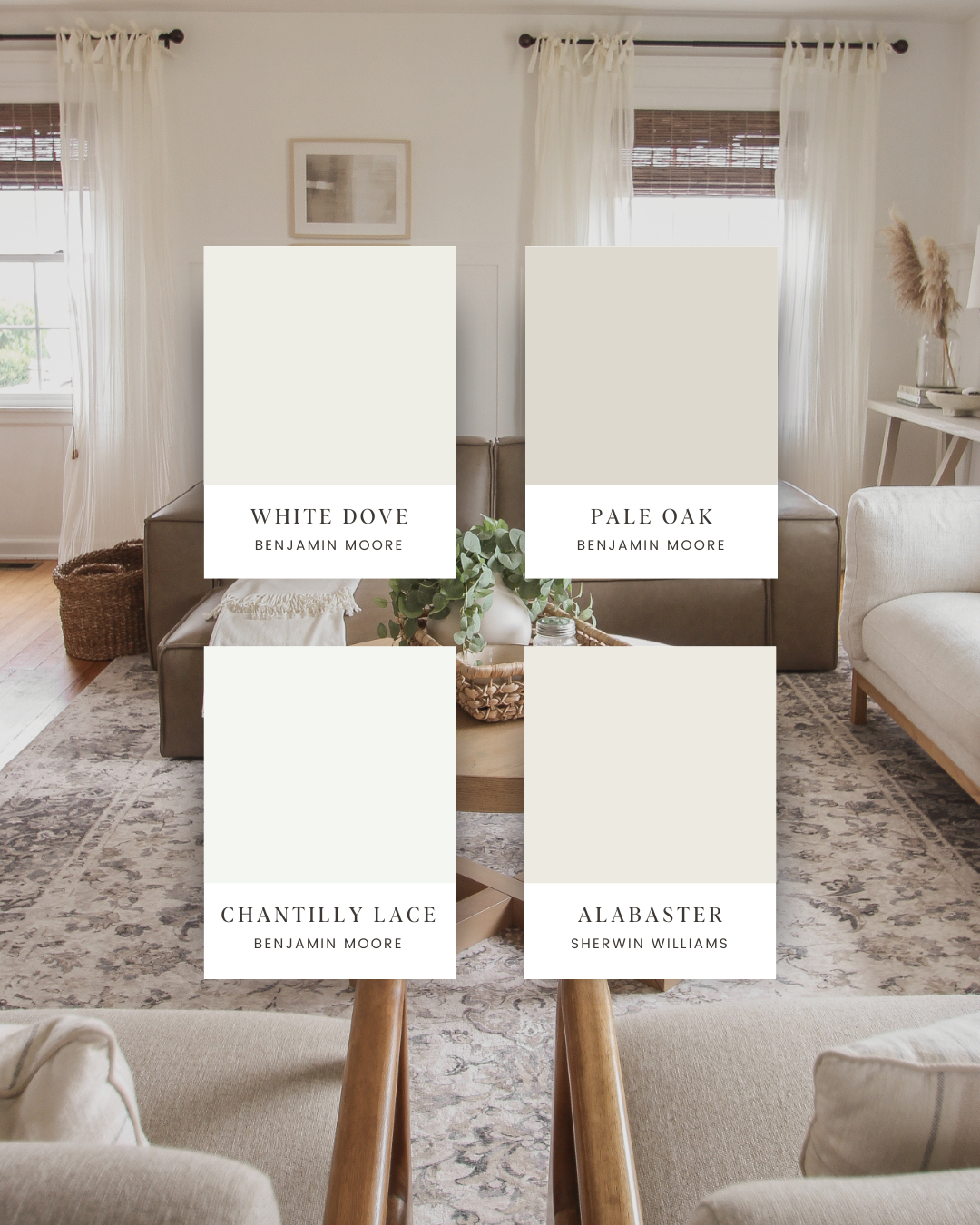 Answer = the paint sheen.
I painted the same color on both the walls and trim, but in two different sheens – flat and satin.
White Dove is a Benjamin Moore color, but I went to Lowe's and asked them to mix that color formula in a paint base that they carry simply for convenience. I went with:
Walls: Sherwin Williams Infinity in Flat
This is a paint and primer in one that is supposed to fully cover in just one coat. It pains me to buy the more expensive cans of paint, but for a project like this where I had SO much surface area to cover, I would pay just about any price to only have to do ONE coat. Highly, highly suggest spending the extra money on a higher quality paint in situations like this.
Trim: Sherwin Williams Interior/Exterior Door and Trim in Satin
This is an acrylic urethane enamel that gives the performance of an oil-based paint with the ease of soap and water clean-up. Goes on really smooth with no visible brush marks, and should stand up to years of scuffs and scratches.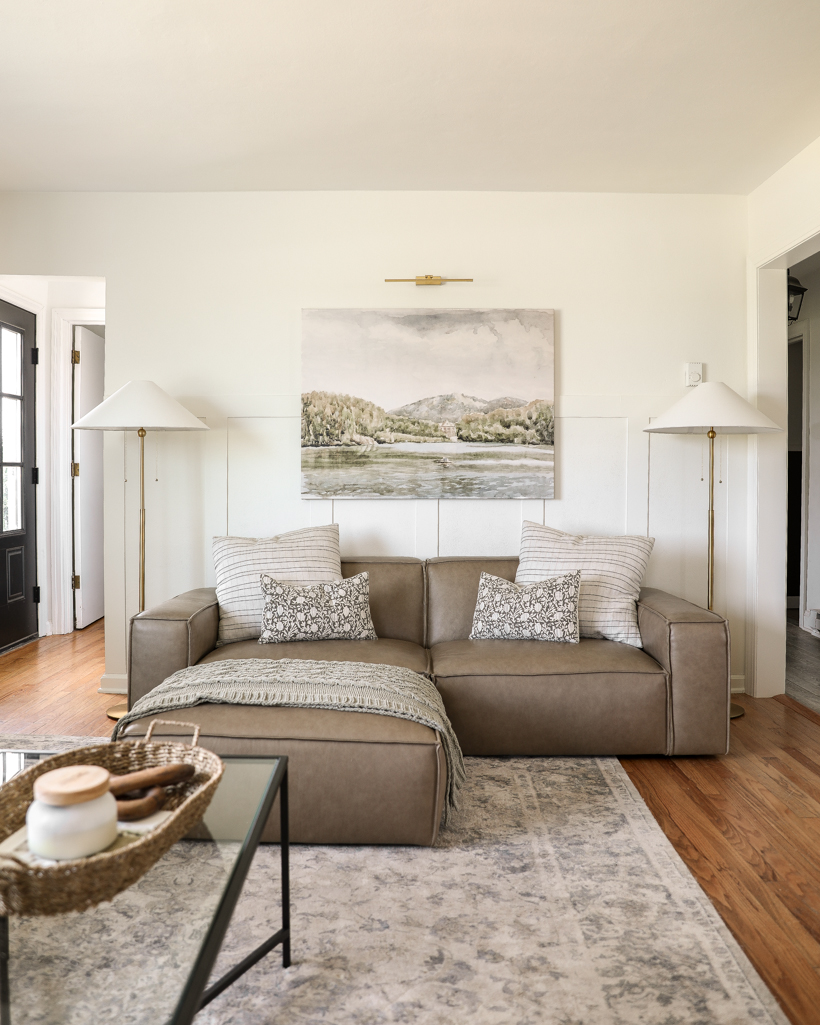 HOW TO SMOOTH THE APPEARANCE OF TEXTURED WALLS
We have textured plaster walls, and since we added board and batten trim almost 7 or 8 years ago, it's always bothered me that you can see a very obvious difference between the smooth board and batten and the texture of the walls.
I did two things differently this time painting this space:
I used a flat finish on the walls.

This is not a common recommendation to use because it's the least durable finish and typically doesn't stand up very well to scrubbing if it needs to be cleaned. However, it IS the best paint sheen for hiding imperfections and creating a more uniform surface because it has a very velvety, matte look that does not reflect light.

I primed everything first with a high build primer.

A high build primer is used to fill and smooth surface irregularities such as uneven drywall in new construction, scratches, sanding grooves, nicks, pinholes, etc. Starting with a high build primer allows for a more uniform paint finish and hides imperfections, which is exactly what I needed to mask the varying wall texture and years of remodeling and piecing trim work together.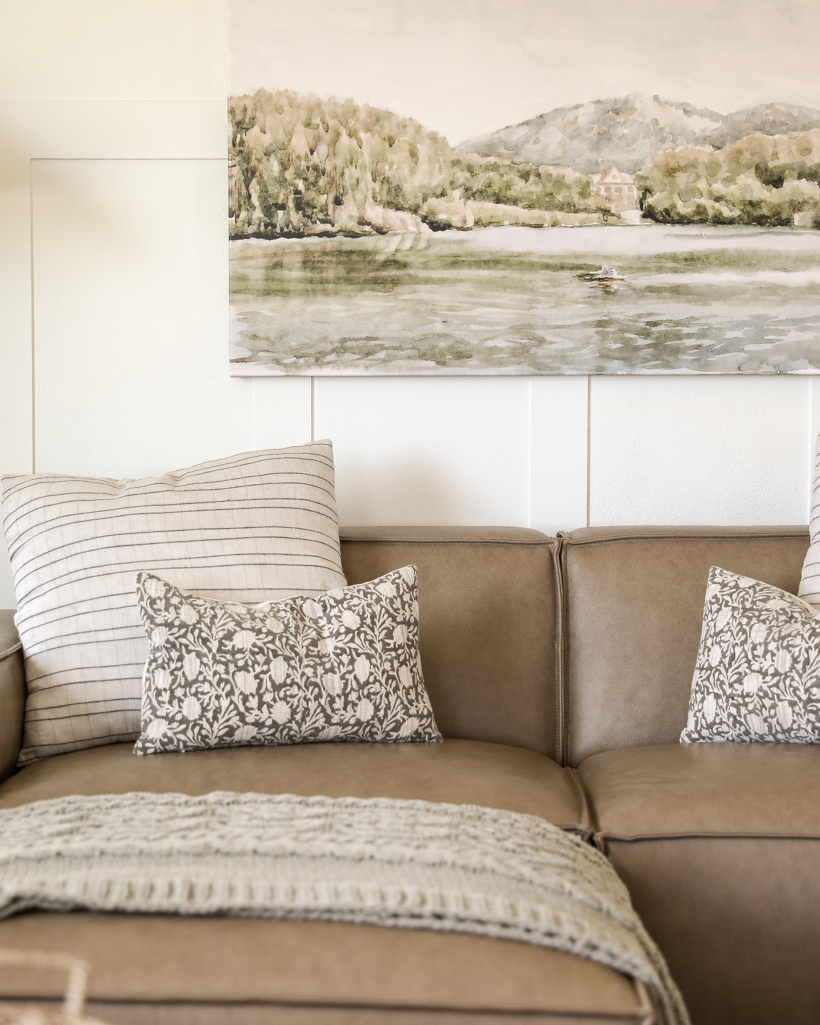 WHY PRIME WALLS GOING FROM WHITE TO WHITE?
This was one of the most common questions I got while documenting this project on Instagram, and you're right – it makes no sense to prime when the paint color is almost staying the same.
The reason I primed wasn't to hide a previous color, but to help hide the texture and imperfections. One great example of this is all the screw and wall anchor holes I had to fill and paint over. No matter how well you sand and smooth the spackle, it still has some variances in texture and porosity. We did one good coat of this high build primer on everything (walls, baseboards, window/door casings, board and batten), and I cannot recommend this "method" enough.
Are the walls perfectly smooth with zero texture? No, but they do look 100x better! The only way to truly eliminate the texture we have would be to skim coat all the walls, which would be a massive, messy undertaking with how large this space is and working around the board and batten. I was hoping to avoid skim coating at all costs and so very grateful I tried a high build primer!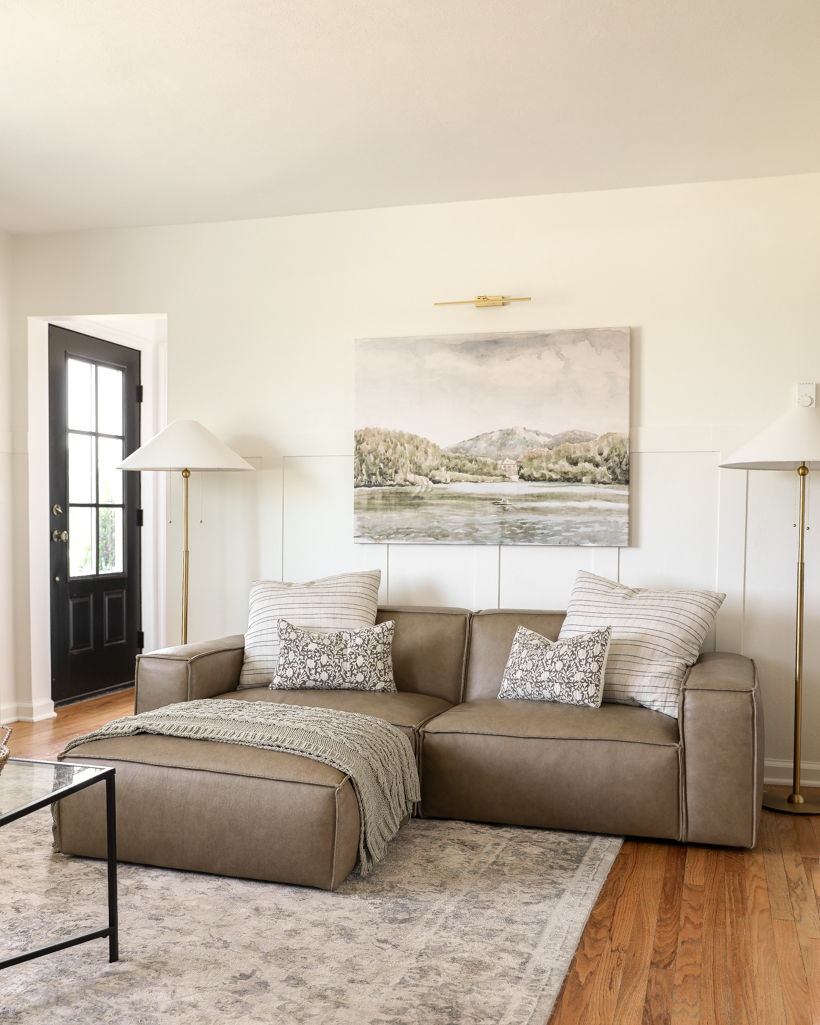 I still have a few small projects and some styling to do before I'm ready to photograph the entire space, but I wanted to give you this pretty, little view in the meantime. Don't worry, more details on that massive piece of art and the lighting coming soon. 😊
SHOP THE POST:
– click any photo to shop –

rug | sofa | coffee table
lamp | picture light | wall art
---
As always, I sincerely appreciate you shopping through the links I share, which allows me to make a small commission from your purchase while your purchase price remains the same. When you use my affiliate links, I'm better able to create content for this blog as well as support my family, and I thank you from the bottom of my heart for supporting what I do!
---
Our Store: Grow + Gather
Shop my Posts | Shop my Amazon Store
Join our Community | Follow on Instagram
Follow on Pinterest | Follow on Facebook