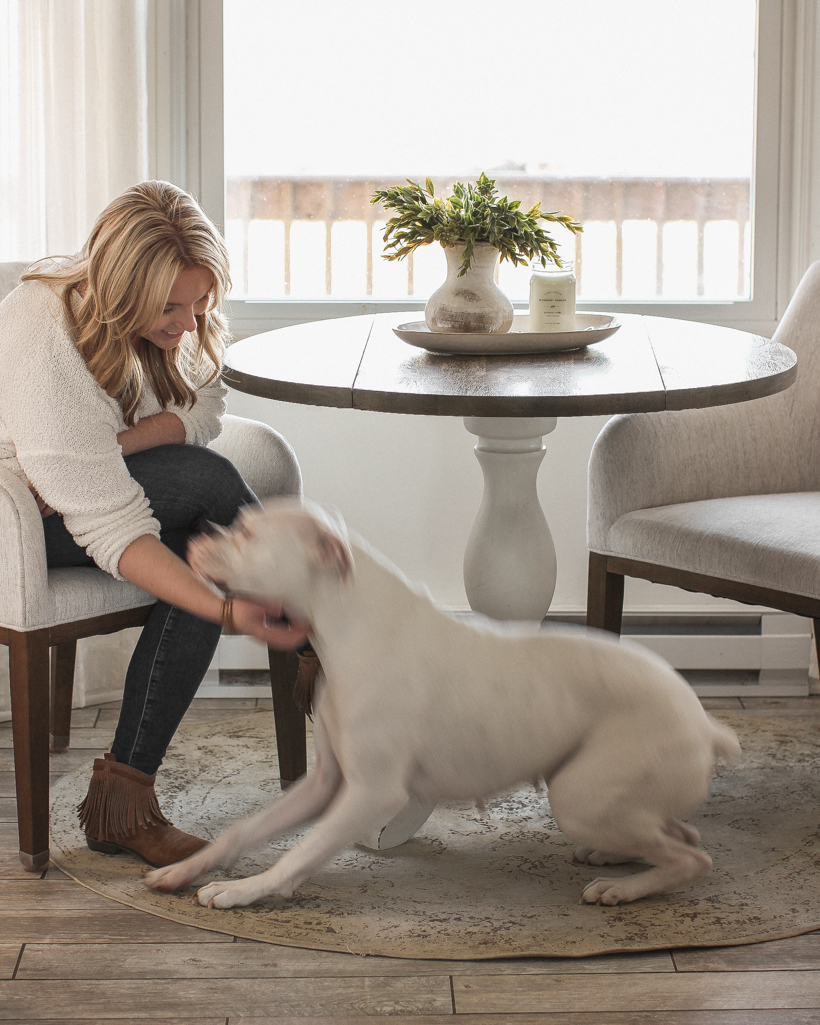 I've had dogs all my life and don't know any other way to live. It started with a miniature sheltie when I was a kid, then a crazy red-haired cocker spaniel with big curly ears, and now our little French bulldog, Remy, and our sweet boxer, Lady. The pure joy and unwavering love we receive from our pets is one of the best gifts in life, and I can truthfully say these dogs have helped get me through some of the darkest moments of my life. They know when you're sad and will lick your tears and snuggle up close when you need comfort. If you're a dog lover, you just get it. Tell me in the comments what breed of dog you have or is your favorite!
I've always had small dogs and only one at a time, which is pretty easily manageable. Two years ago Oscar gave me my first "big" dog, which upgraded us to a 2 dog household. As Lady got bigger, I had to do a lot of research and put products and systems in place to keep our house clean and our sanity intact. I feel like the amount of time and effort you put into your animals will dictate the amount of love and enjoyment you get out of them. I made a list for you of ALL the things that have made life with our dogs so much better/easier in case you could use some help in this department too!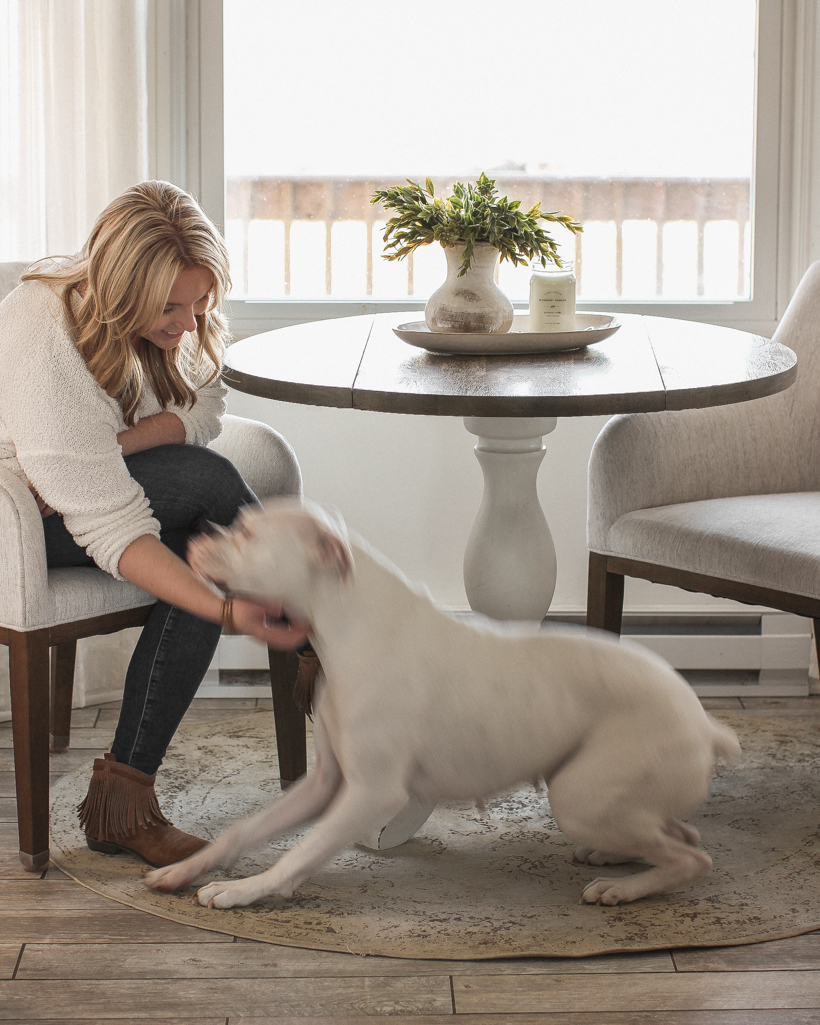 This list isn't full of things that just look cute – most of these are the actual products I use on a daily basis and can speak to the quality of. I'll put a description below for each piece we actually own!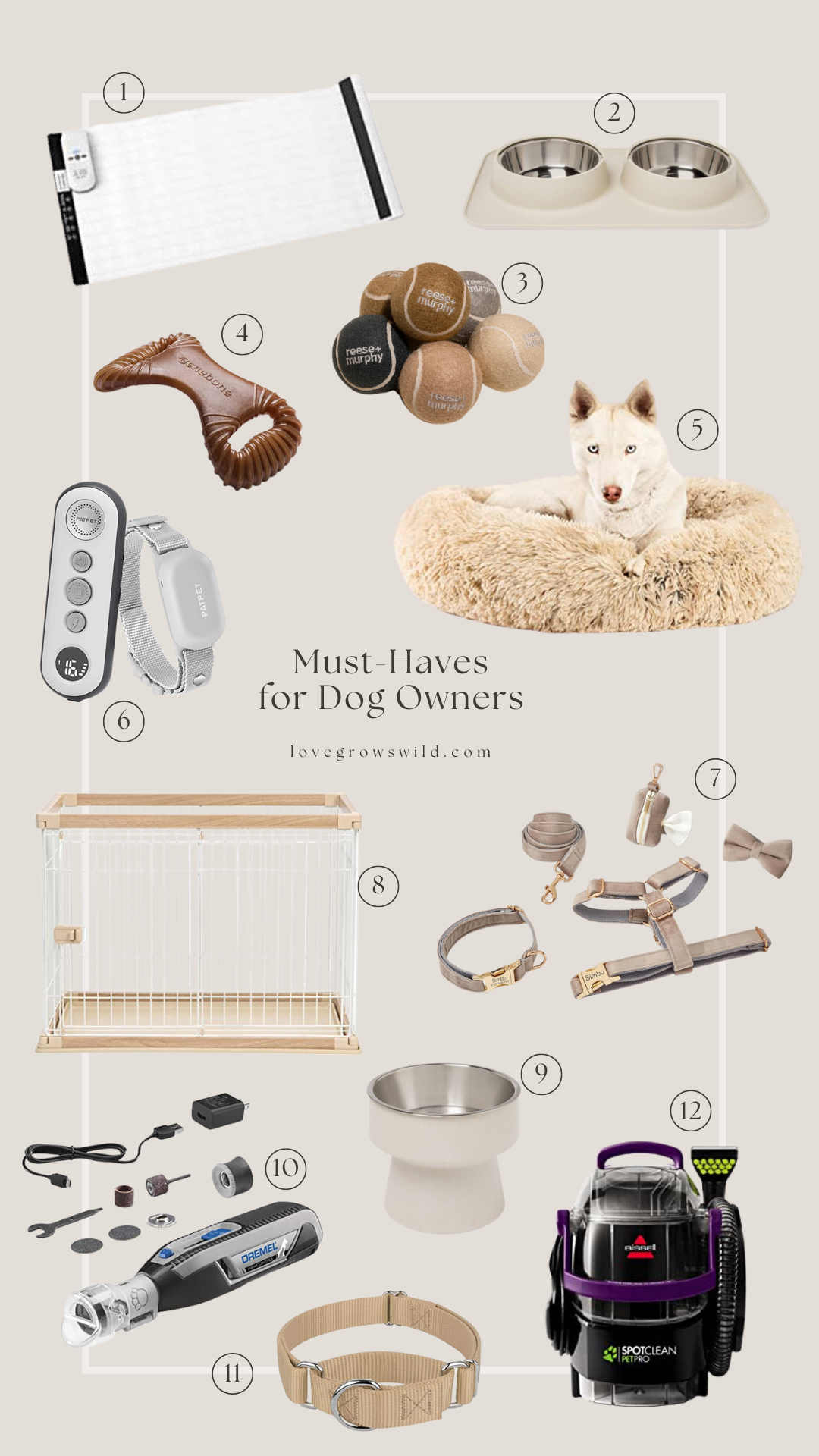 CLICK ANY PHOTO BELOW TO SHOP:

pet training mat – $35.99

When I got our new sofas in the living room, I wanted to keep the dogs from jumping up on them. It took some time and training for them to understand mom's new rule, but this training mat was the biggest help.

pack of 5 tennis balls – $14
durable chew toy – $14.20

My dogs will chew through soft plush toys and most other toys meant for "strong chewers" like it's nothing. I love these durable dental chews because they last and are made in the USA, and the dogs love the yummy peanut butter flavor.

circle shag dog bed – $109.99 (currently on sale for $65.99)

I've gone through plenty of dog beds, both affordable and more expensive ones, that my dogs chew on when I leave the house and they get bored. This soft, plush bed with vegan faux shag fur is the ONLY one my dogs love, fight over, and haven't chewed at all! I have a second in my cart right now so I can have one both downstairs and up.

pet training collar – $49.99

My Frenchie thinks he's official house security for any mailmen that come near our driveway, and he unfortunately has taught Lady to bark whenever she hears a noise too. I use these training collars to correct bad behavior using either a beep, vibration, or static shock. You can put two dogs on the same remote and adjust the levels to suit each dog appropriately. In all honesty, my dogs react best to the beep, so I rarely have to use a higher setting.

gray velvet harness and leash set – $14.26 (currently on sale for $8.56)
open wire pet pen – $199.99
elevated dog bowl – $12.99
dremel pet grooming kit – $59.98

Remy is small enough that I can wrestle him into submission to trim his nails, but Lady is a whole other story. I tried clipping her nails once, and after an hour of sweating and getting covered in dog hair, I hadn't trimmed more than two nails. This dremel tool makes it SO much easier to file them down safely so you don't accidentally end up with bloody paws.

heavy duty dog collar – $15.97 (currently on sale for $12.97)

Lady has an anxious temperament and gets nervous when we're on walks and she sees another animal or human. I bought this collar for her that is designed to gently tighten when she pulls. It comes in 22 colors and has lots of great reviews.

portable carpet cleaner – $169.88

Even if you have the best trained dog, messes are inevitable from time to time. Spring is the worst for us when muddy paws come charging through the door, and this spot cleaner has been amazing at cleaning up pet stains – even old ones!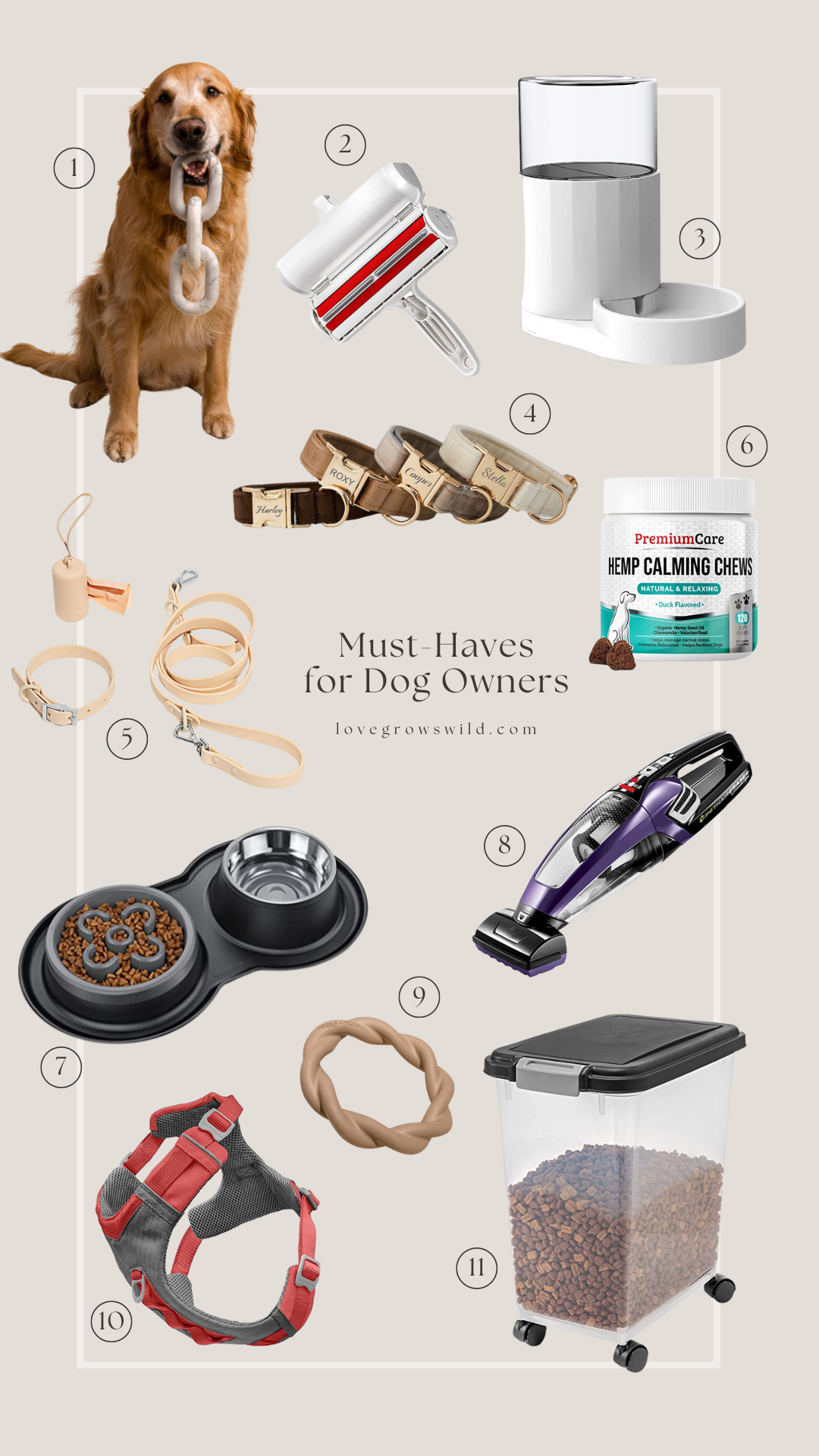 CLICK ANY PHOTO BELOW TO SHOP: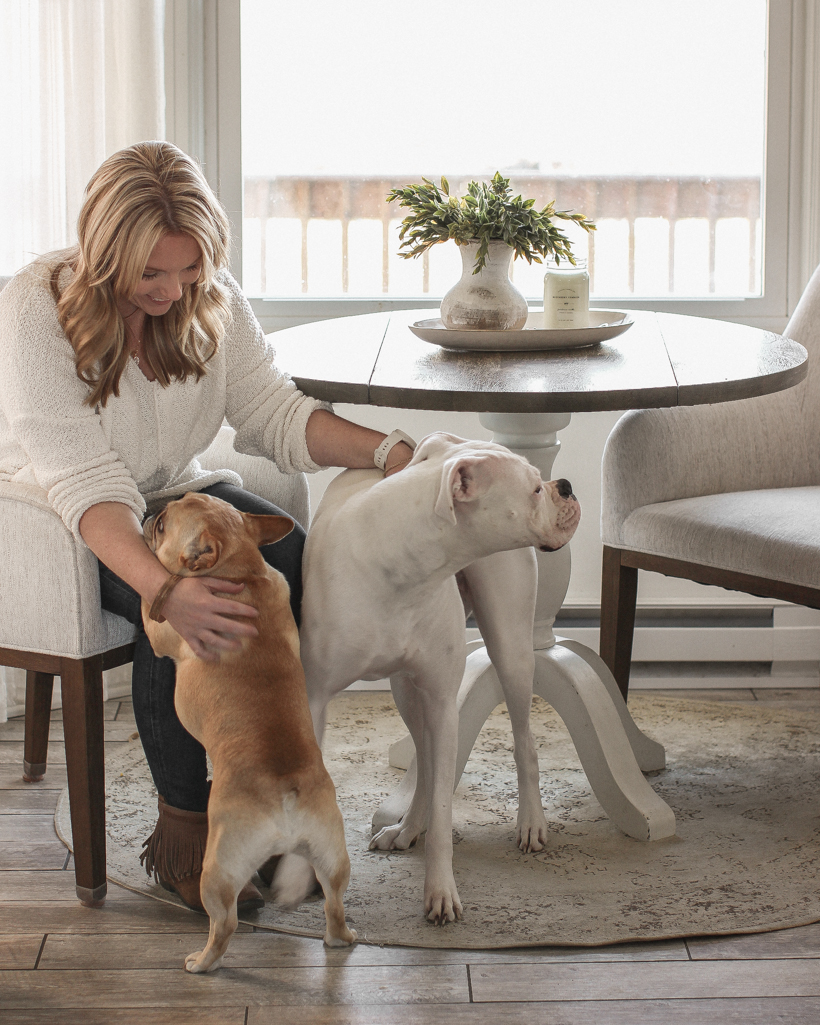 Two other products I wanted to mention and explain in a little more detail:
Halo Wireless Dog Fence and Training Collar – $699
We don't have a fenced in yard, and I constantly worry about the dogs getting out and running into the road. I researched the cost, pros, and cons of a buried electric fence, and actual fence, and this wireless fence collar. None of them are cheap, but I was curious to see if this collar would do the trick without having to actually install anything.
The Pros:
You can create up to 20 unique wireless fences in different locations without the need for underground wires or wi-fi. This means you can go to the beach, the park, grandma's house… wherever you go, they can safely go.
The GPS technology allows you to see where your dog is at using the Halo app you an install on your phone.
It comes with training from the creator of this product, Cesar Millan.
The Cons:
You have to pay a monthly subscription starting at $4.49 a month for the GPS technology.
You have to remember to recharge the collars every night.
I've found that if you use the collars daily, they work pretty well. When the dogs are outside enough for the GPS satellites to do their thing, the collar's location accuracy is fair. If you go several days without using the collar, it can take a bit for the collar to recalibrate with the GPS satellites.
Overall:
It's far from perfect, but I wouldn't say I regret the purchase. It saved me the expense of having to install an actual fence, and we do get good use out of them. But for the amount these collars cost (especially for 2 dogs), I would hope the technology would be near flawless. I recommend doing your own research before purchasing to weigh the pros and cons for yourself. I give the Halo collar a B-
____________________
The Doggie Lift – starting at $224.99
Remember when I said how difficult it is to trim Lady's nails? I stumbled across this small company that makes a product that in my opinion, is GENIUS. Essentially, it is a metal frame that attaches to your door frame, a harness to hold the dog, and suspension straps to safely lift the dog up off the ground. Once suspended, your dog can't move easily, making it so much easier to brush their teeth, trim their nails, give them shots, clean their ears, etc. There are harnesses similar to this available on Amazon, but none of them are this quality or come with the frame and suspension straps. Worth every penny, and I love that it supports a small US company. Pair this with the dremel nail tool I shared above for your dog's next manicure!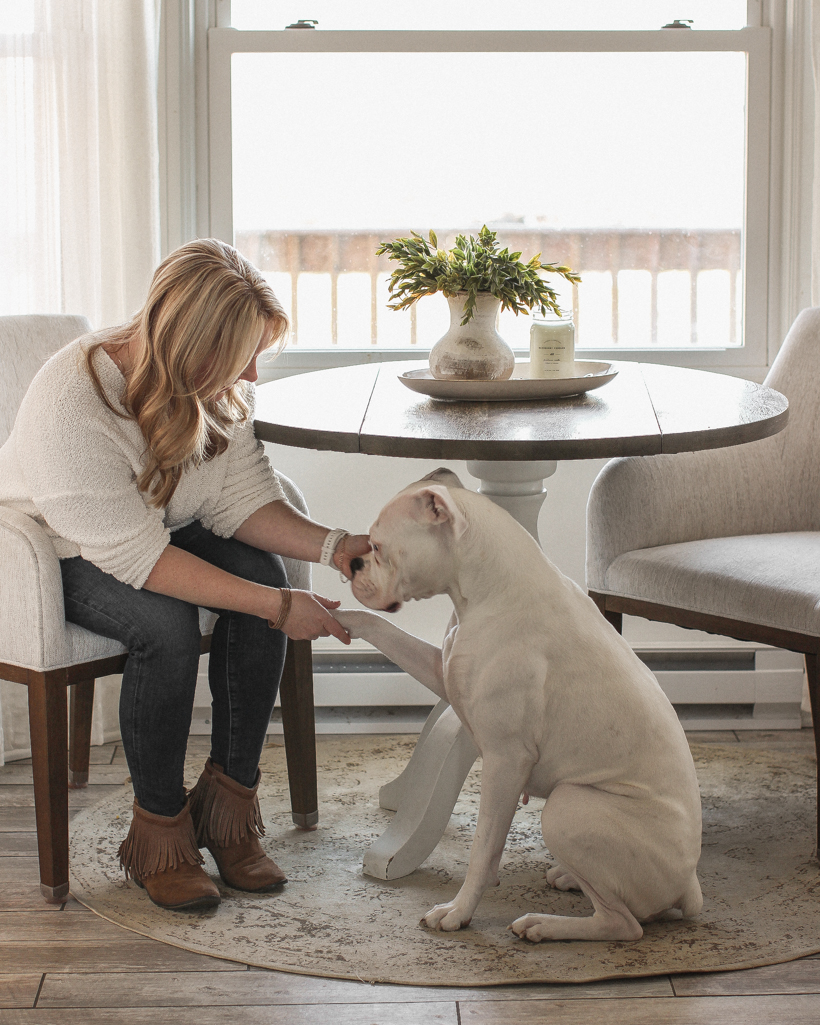 As always, I sincerely appreciate you shopping through the links I share, which allows me to make a small commission from your purchase while your purchase price stays the same. When you use my affiliate links, I'm better able to create content for this blog as well as support my family, and I thank you from the bottom of my heart for supporting what I do!
---
Our Store: Grow + Gather
Shop my Posts | Shop my Amazon Store
Join our Community | Follow on Instagram
Follow on Pinterest | Follow on Facebook