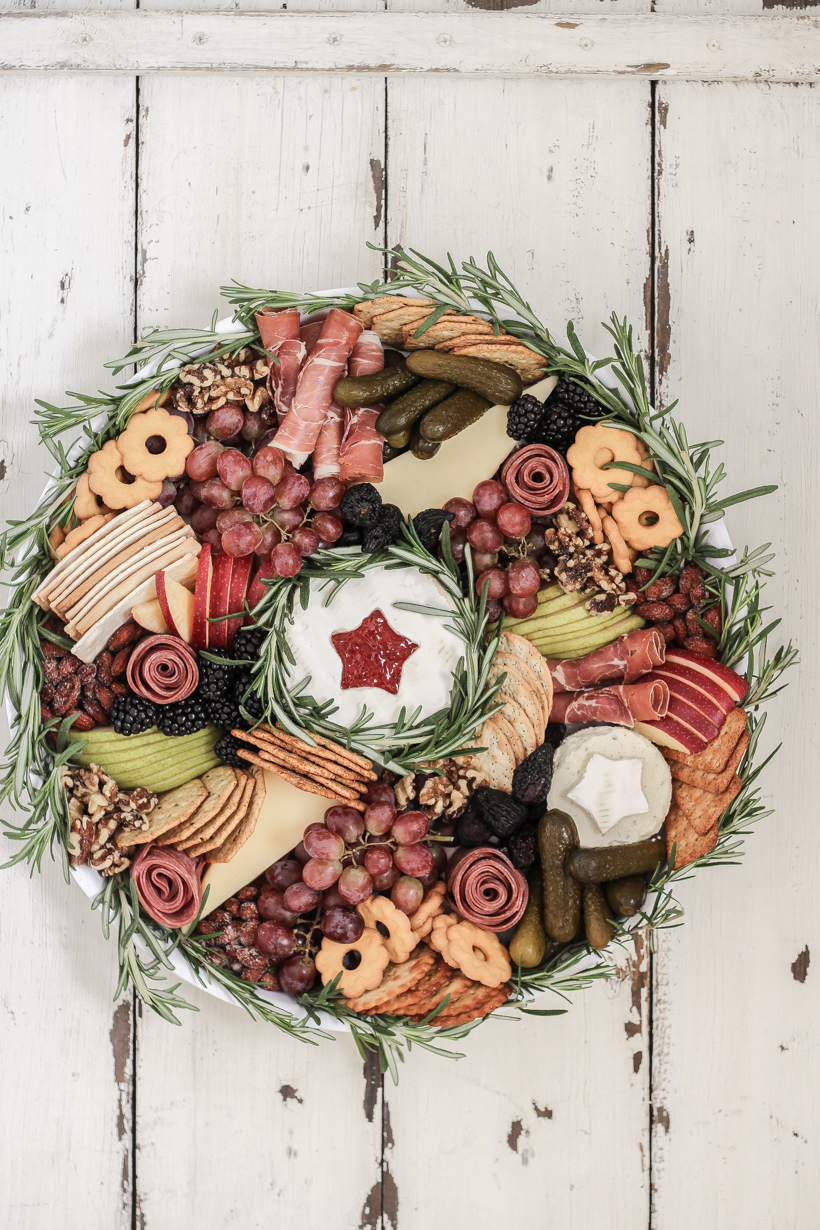 In partnership with Walmart | As the holidays are quickly approaching, it's time to start thinking about gatherings with friends and family, and I have SUCH a fun food idea to share with you today. I like to keep things as simple as possible this time of year when schedules are busy and time is short. So instead of doing a big, fancy meal for Christmas, I love throwing a party with yummy appetizers and finger foods so guests can nibble all night long.
One of my favorite things is creating a big charcuterie board filled with bite-size meats, cheeses, fruits, crackers and more. With just a few special details, I turned this snack board into a festive "wreath" for the holidays, and today I'm going to break down exactly how I did it! I promise it's really easy to do, and your friends and family will be so impressed by the display. Let's create a Christmas Wreath Charcuterie Board!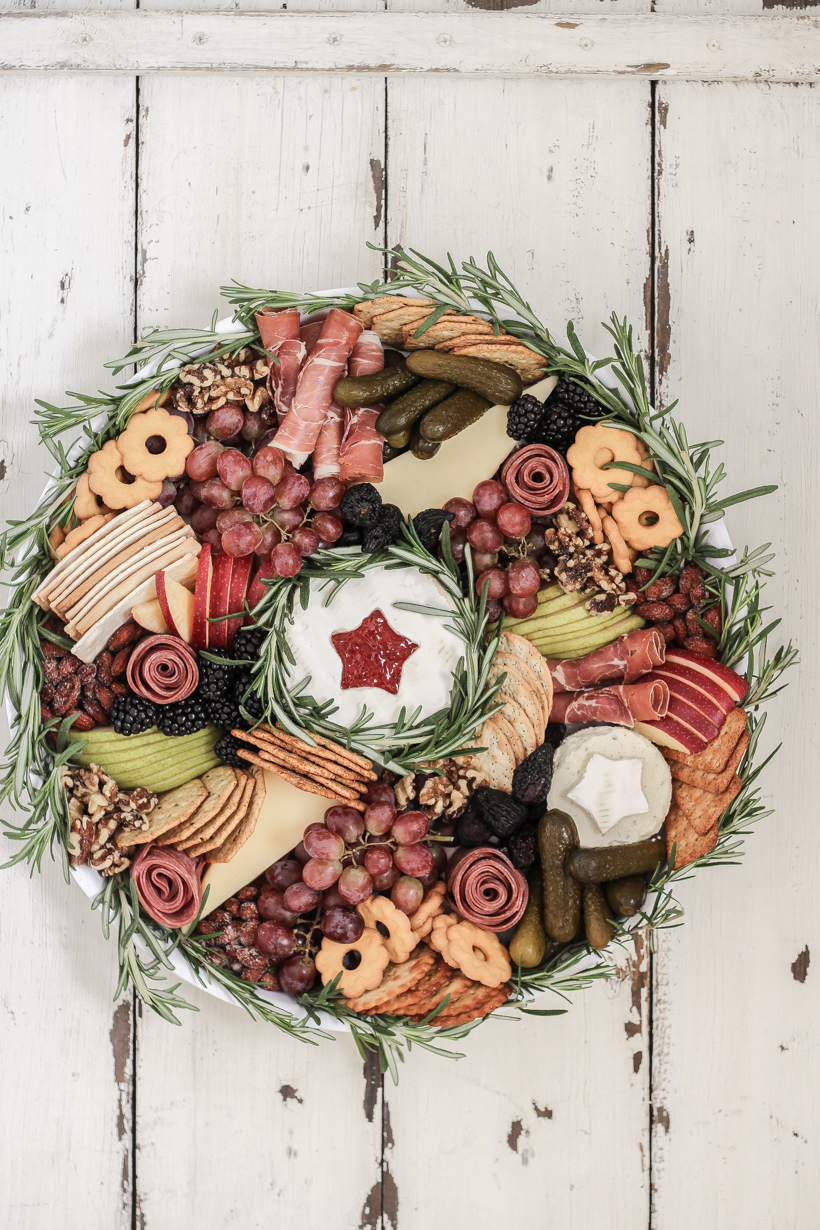 Charcuterie is a French culinary term for prepared meat products, so essentially a charcuterie board is a meat tray with additional pairings to compliment the meats. You can build your board with anything your heart desires and cater it to the specific guests you're serving, but here is a guideline of some basic elements of a charcuterie board:
meats – salami, prosciutto, calabrese, mortadella, soppressata
cheeses – brie, sharp cheddar, gouda, havarti, boursin
fruit – apple, pear, grapes, pomegranate, figs, cucumbers, berries
crackers – pita chips, bagel crisps, Triscuits, butter crackers
nuts & dried fruit – candied walnuts or pecans, smoked almonds, dried apricots, figs, dates
jams/spreads – hummus, honey, artichoke dip, pimento cheese spread, dijon mustard, fruit jams
pickles – sweet gherkins, dill pickles, olives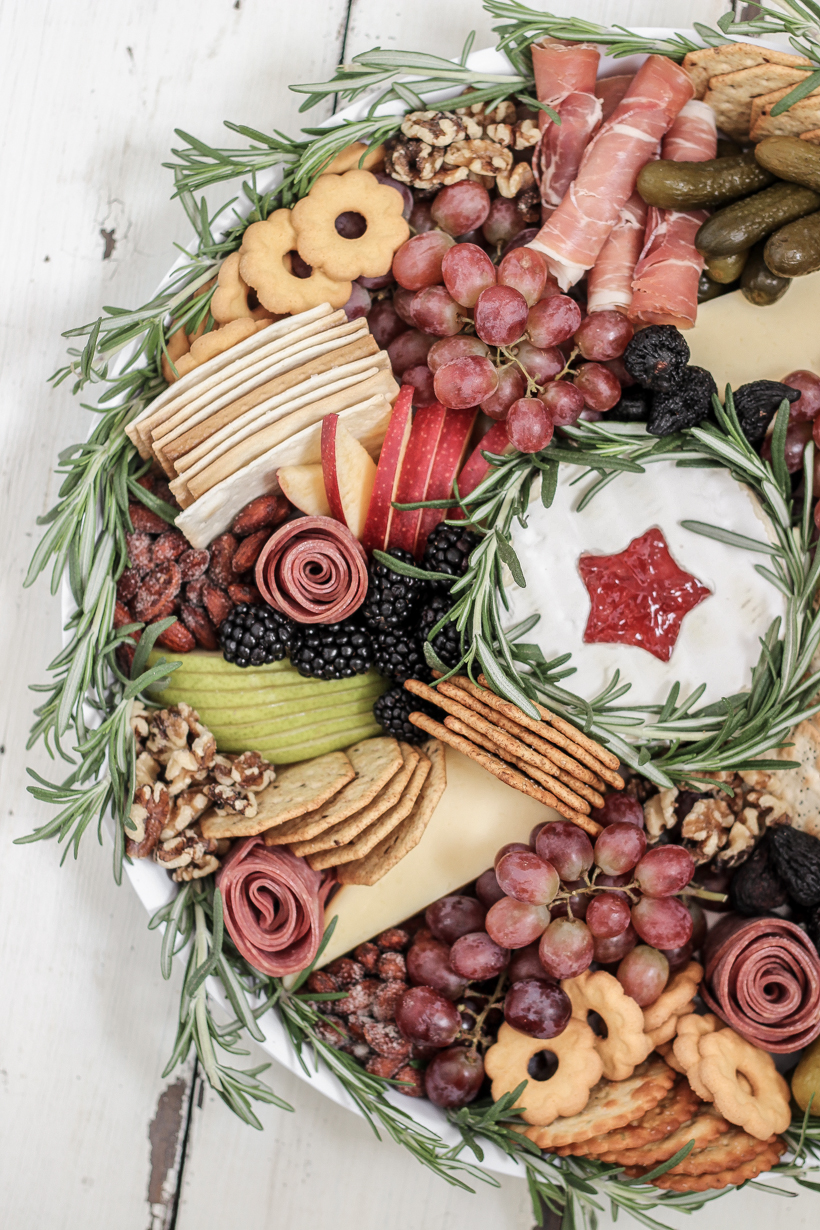 To get the look of a wreath, I used a large round serving platter I picked up at Walmart (it was next to the plates in the home section) as the base and grabbed some fresh rosemary to help define the wreath shape and bring in a touch of natural greenery. Rather than leaving the very center of the tray bare, I decided to use a wheel of brie cheese in the middle to give the illusion of blank space that a wreath would have in the center. I made this a one-stop shopping trip and found the brie and all the food ingredients at Walmart while I was picking up the platter. If you walk through the deli and fresh produce section, you'll find all kinds of specialty meats, cheeses and crackers to make your charcuterie board with. SUCH an easy appetizer with such an impressive display that I promise your guests are going to love!
ASSEMBLING THE BOARD
I started with the cheeses since they take up the largest amount of space. I used brie in the center, a block of havarti cut into two wedges (you can cut them into slices to make it easier to serve), and herbed boursin cheese spaced evenly around the tray.
Then I added the meats: prosciutto individually rolled and salami rolled together in little "roses". To do this, fold about 6 slices of salami in half and place them in a line lengthwise slightly overlapping each other. Roll the salami pieces into one large roll and secure with two perpendicular toothpicks at the base. (here is a video showing the process)
Next I added the fruit: clusters of red seedless grapes still on the vine, blackberries, and gala apples & anjou pears cut into thin slices.
I bought a variety pack of crackers that was perfect for a charcuterie board and very affordable: stone ground wheat, sea salt & black pepper, multigrain, wheat & flax, rosemary, and poppy & pepper. I added little handfuls of crackers spaced around the board, some fanned out flat and some standing straight up on the edge.
Then I added a few sweet gherkin pickles and made sure to dry them well on a paper towel before setting them on the platter.
I filled in any remaining small holes with nuts and dried fruit, which are perfect for covering up bare spots, toothpicks, and making the platter look nice and full. I used walnuts, honey roasted almonds, and dried figs.
FINAL TOUCHES
To give the board a festive holiday touch and make it really stand out, I added a few details for shape, texture & color that made a huge difference. First, I added a star cut-out to the top of the brie cheese and filled it with strawberry jam in the center. To do this I put the brie in the freezer for about 10-15 minutes to help it firm up, then cut the top layer off with a sharp knife. I used a cookie cutter to cut a star shape in that top layer, removed the star, and placed the layer back on top of the cheese wheel. Then I carefully spooned a small amount of strawberry jam into the star-shaped well.
I was hoping to find some little snowflake or gingerbread man shaped cookies to add some visual interest to the tray… something that would catch your eye right away. But instead I found little flower/wreath shaped shortbread cookies, and I love how they pop against all the other more colorful foods.
Once I had the entire board finished and was happy how it looked, I added stems of fresh rosemary all the way around the tray and around the brie cheese in the center. This helped further define the wreath shape I was going for and added some really pretty color and texture.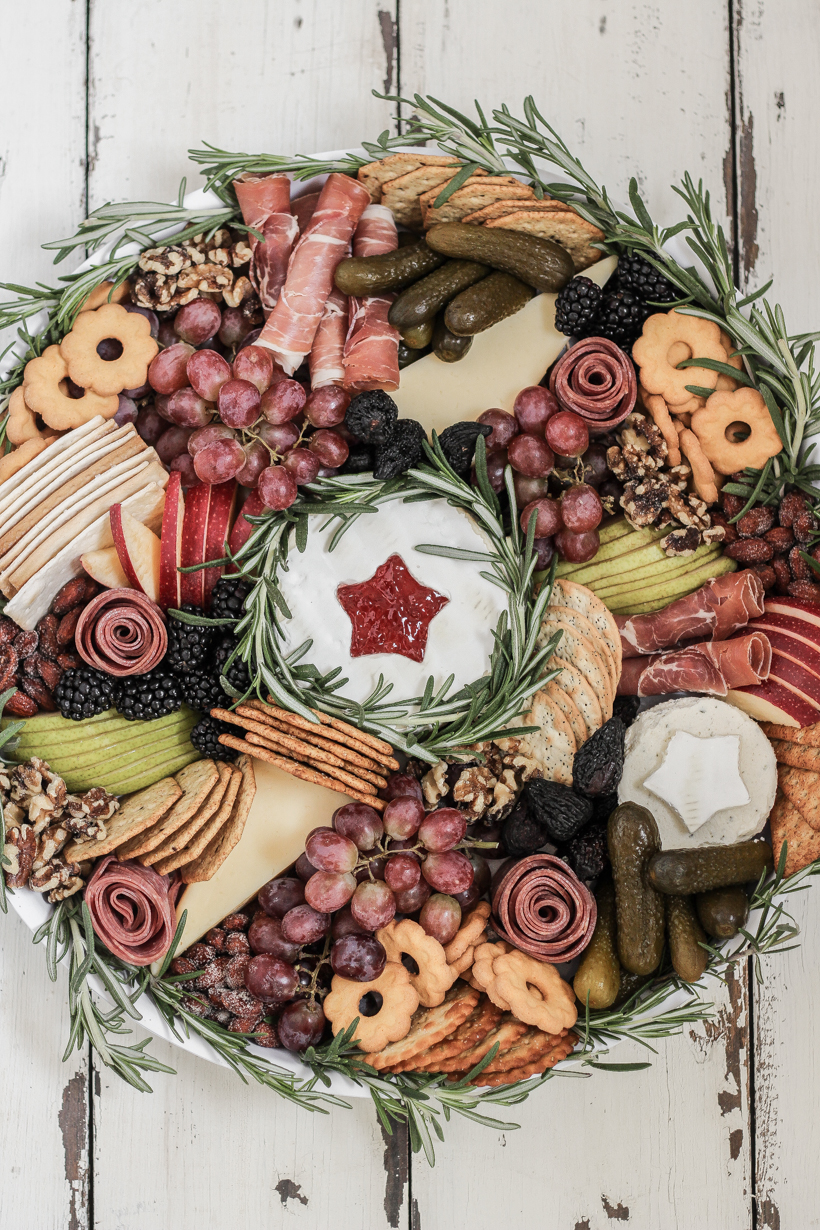 THE KEY TO A BEAUTIFUL BOARD
Want to take your board from basic to a beautiful work of art? Here's the key: as you place each food on the platter, think about these two things: SHAPE and TEXTURE.
Notice how the prosciutto is rolled up individually and laid flat, but the salami is rolled together and stood up so you can see the edges from overhead? See how some of the fruit and crackers are fanned out and some are stood up on their edges? Notice how I paired round clusters of grapes and blackberries next to the solid flat chunks of havarti cheese? Try to alternate the colors, shapes and textures that are next to each other on the tray for a really nice visual impact.
CUSTOMIZE
Please trust me when I say you can't mess this up, and there is no wrong way to put together a charcuterie board! You could do one that would pair well with a wine tasting, you could do a Mediterranean or Mexican themed board, or you could do something completely different and create a dessert focused board. The possibilities really are endless.
My family could care less about fancy cuts of meat or expensive cheeses, and they won't touch olives, figs, or cheese that smells even remotely funky. So I plan on doing something like this for them!
salami, summer sausage, ham
cheddar, colby jack, pepper jack cheese
grapes, apples, pears
candied pecans/walnuts, honey roasted almonds
dill & sweet pickles
pretzels, butter crackers
CHEESE BOARDS & KNIVES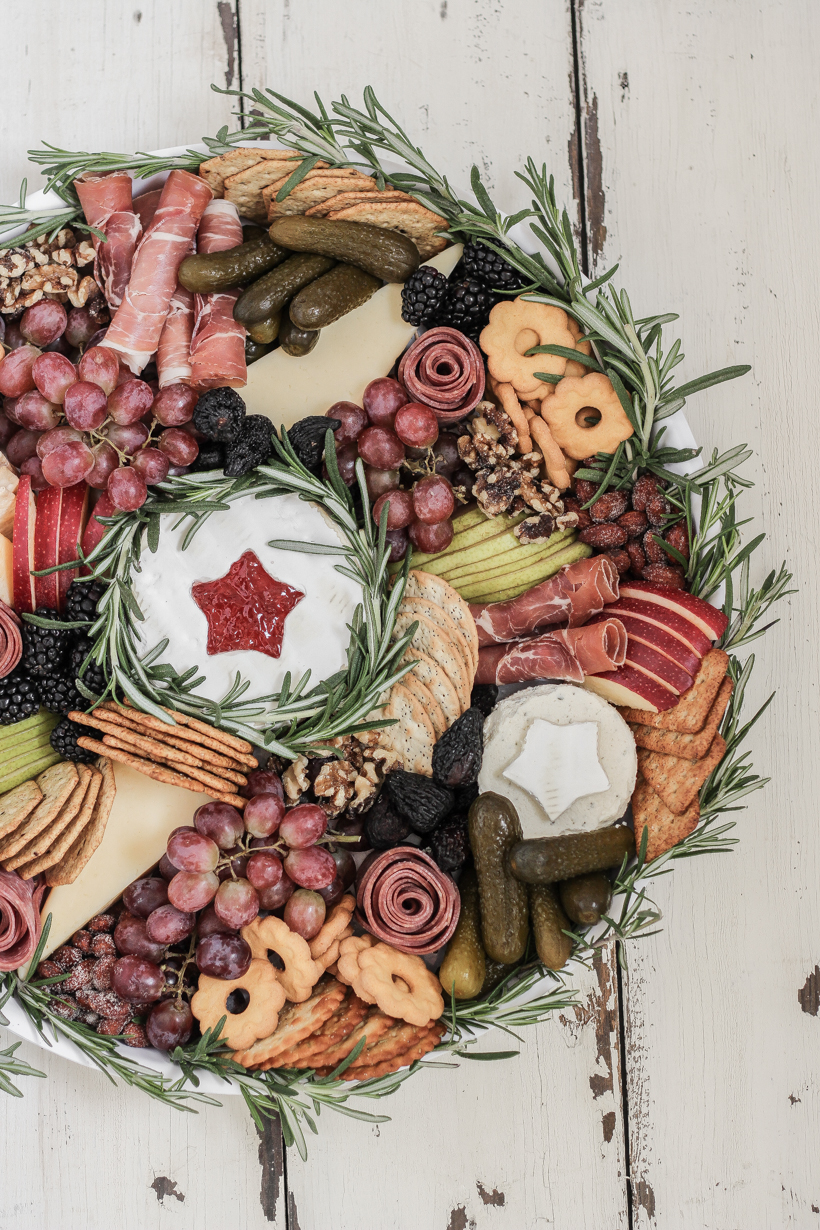 Tell me in the comments what your favorite foods are for snack boards! I hope this post inspired you to create a beautiful charcuterie board for your holiday gatherings this season, and I would love to see photos if you do! Make sure you tag me on Instagram so I can see your works of art: @lizlovegrowswild
---
I partnered with Walmart on this post, but as always the thoughts and opinions shared are 100% my own. Thank you for supporting our blog and brand partners! As always, I sincerely appreciate you shopping through the links I share, which allows me to make a small commission from your purchase while your purchase price stays the same. When you use my affiliate links, I'm better able to create content for this blog as well as support my family, and I thank you from the bottom of my heart for supporting what I do!
---
NEW: Join my text community
Subscribe to Blog | Follow on Instagram
Follow on Pinterest | Follow on Facebook