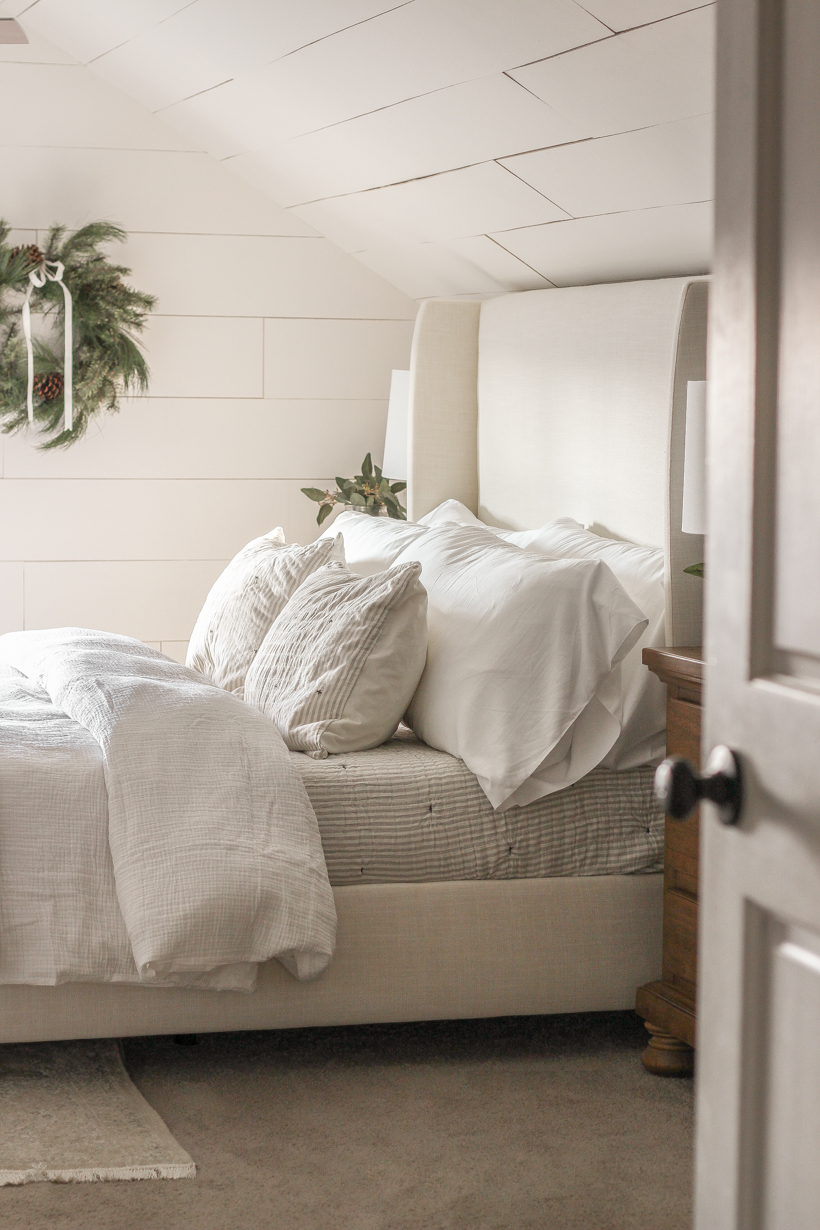 Way back in 2015 was when I first started working on my master bedroom, which was previously an attic that I had renovated into two upstairs bedrooms. I added an affordable DIY version of shiplap to all the walls, created the perfect cozy little nook for the bed by installing a faux wood "beam" and lace curtains, and bought the first pieces of furniture I owned as an adult that weren't mismatched hand-me-downs. It turned out to be everything I had dreamed of and more and ended up being one of the most recognizable rooms in my home and photos on my blog, Pinterest, and even magazines.
Now six years later, I've had the itch to make some changes to better fit my style as well as improve how the room functions. I sold my immensely popular bed frame (dare I say iconic?), moved all the furniture around, and made a few upgrades that make me feel like I'm in a luxury hotel every time I go to sleep. I've been quietly working on this project behind the scenes for months now, and this is the first little peek at all the changes, just in time to decorate for the holidays.
Friends, welcome to my new and improved master bedroom…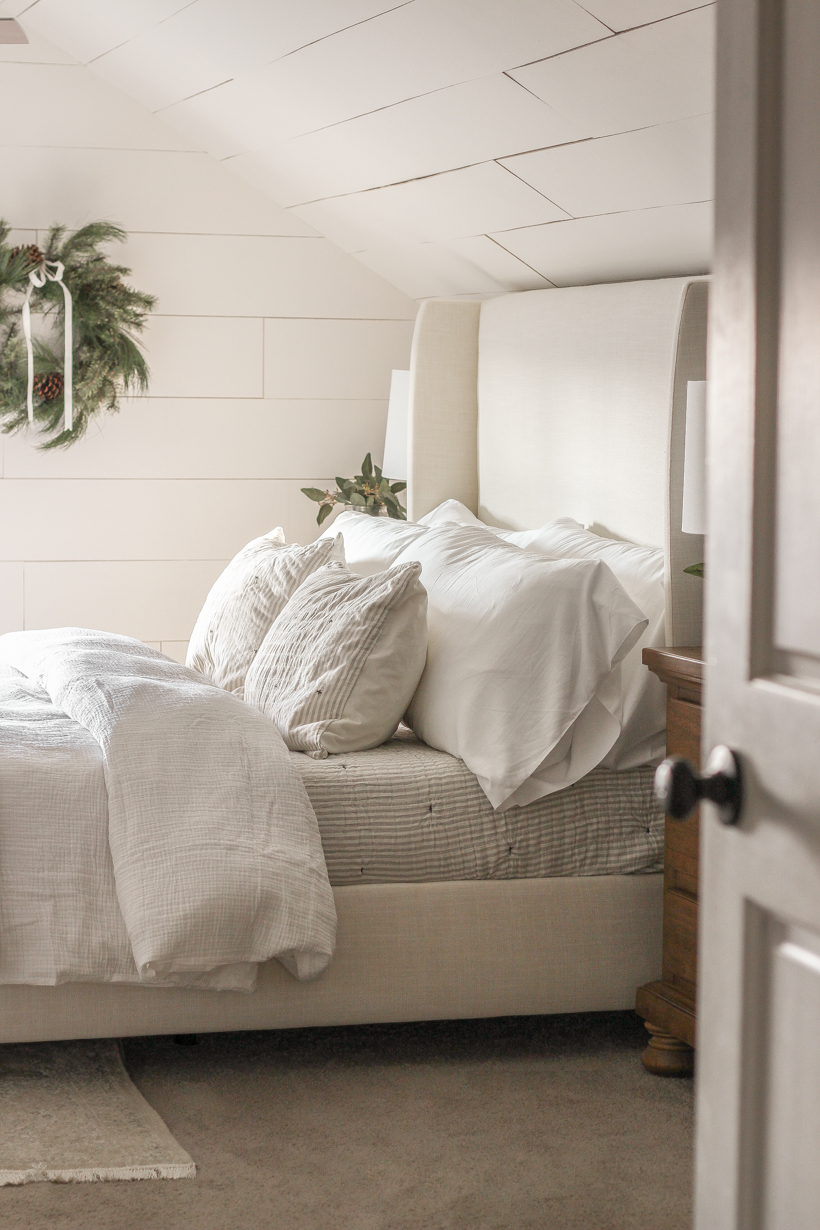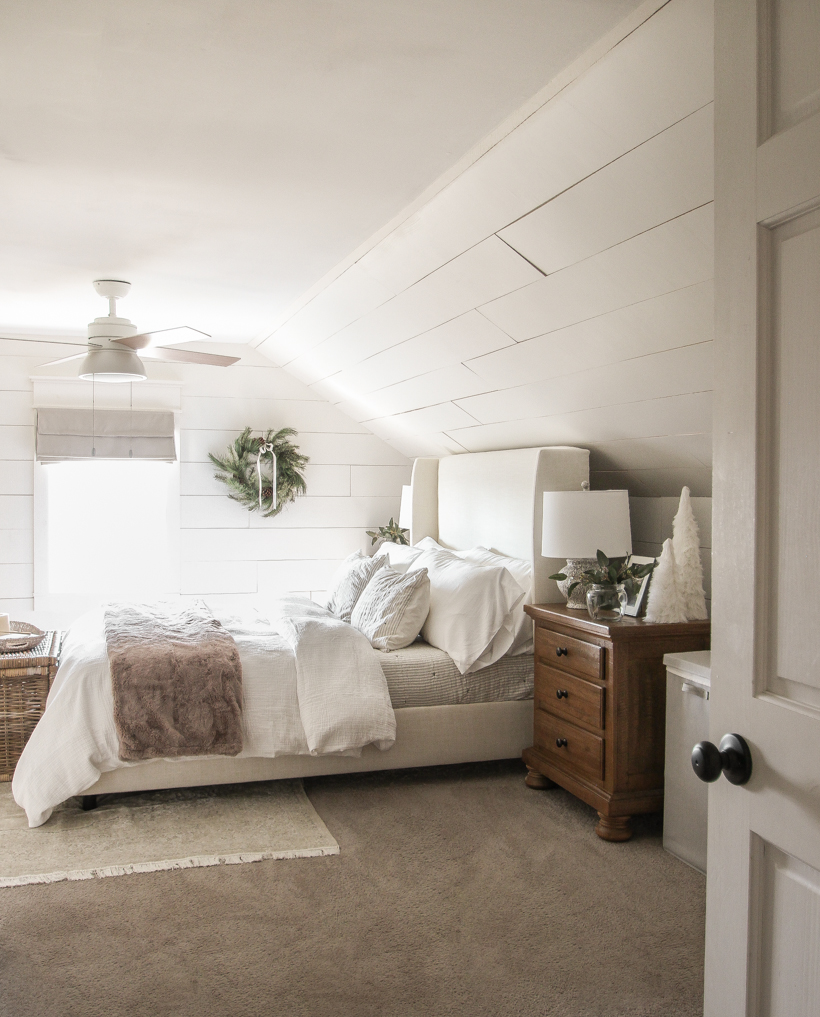 – sources are all listed at the bottom of this post –
What do we think? Probably the most noticeable change is the new upholstered bed frame and headboard that now sits on the opposite wall. There was absolutely nothing wrong with my previous iron bed frame other than I was ready for a change and an upholstered headboard is obviously far more comfortable than one with metal bars.
Not all projects around here go as planned, and I either measured wrong or just got excited and overlooked the fact that this headboard is significantly taller than the vertical portion of the wall. For a minute I contemplated trying to return it, but decided to assemble it anyway and see if I could make it work. Once I added the nightstands (still the same ones I had before) on either side, they kind of hid how far the headboard sits away from the wall, and I decided I could live with the miscalculation on my part. Most people won't have an issue with the height of the headboard, but if you have angled walls, learn from my mistake and make sure to measure twice.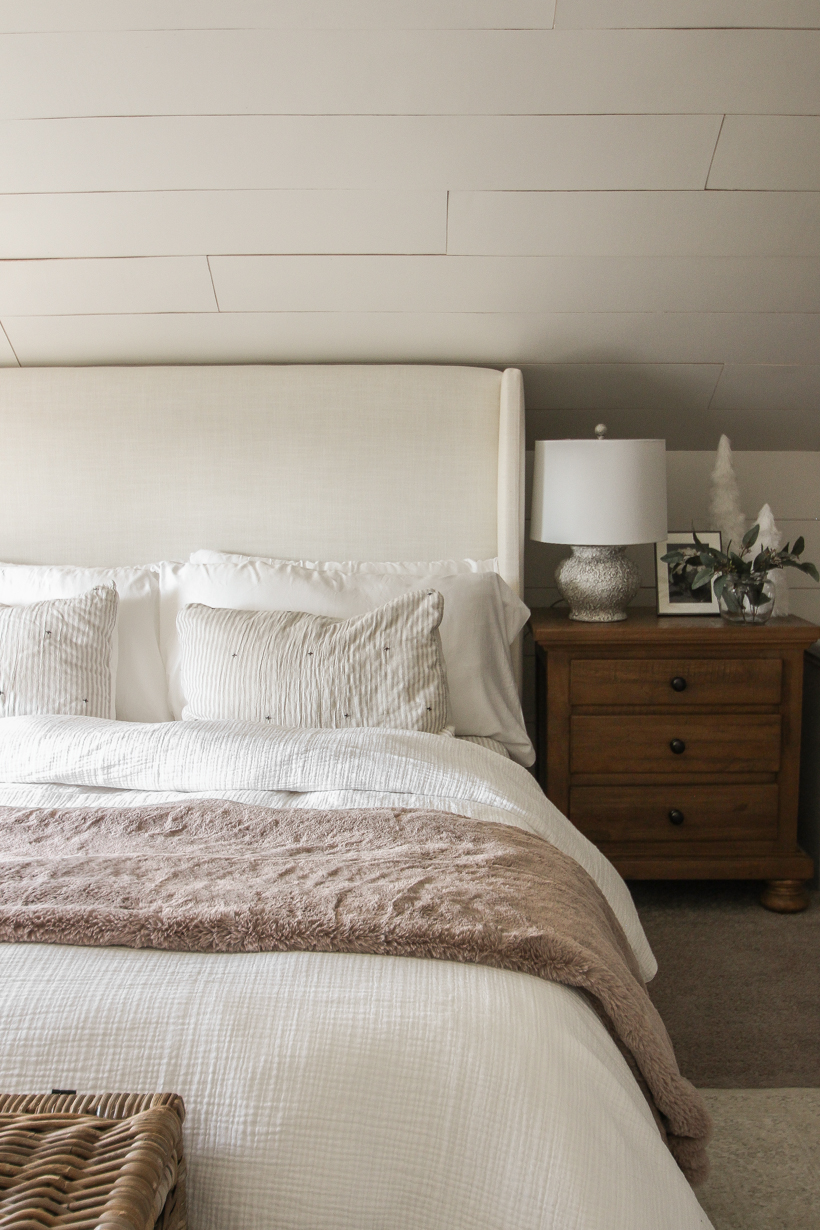 I kept the same nightstands because I love the texture of the wood and how much storage the drawers provide. They're older from Birch Lane, and I wish I had an affordable comparable option that I could give you. Here are a few that are currently in stock that are somewhat similar: nightstand | nightstand | nightstand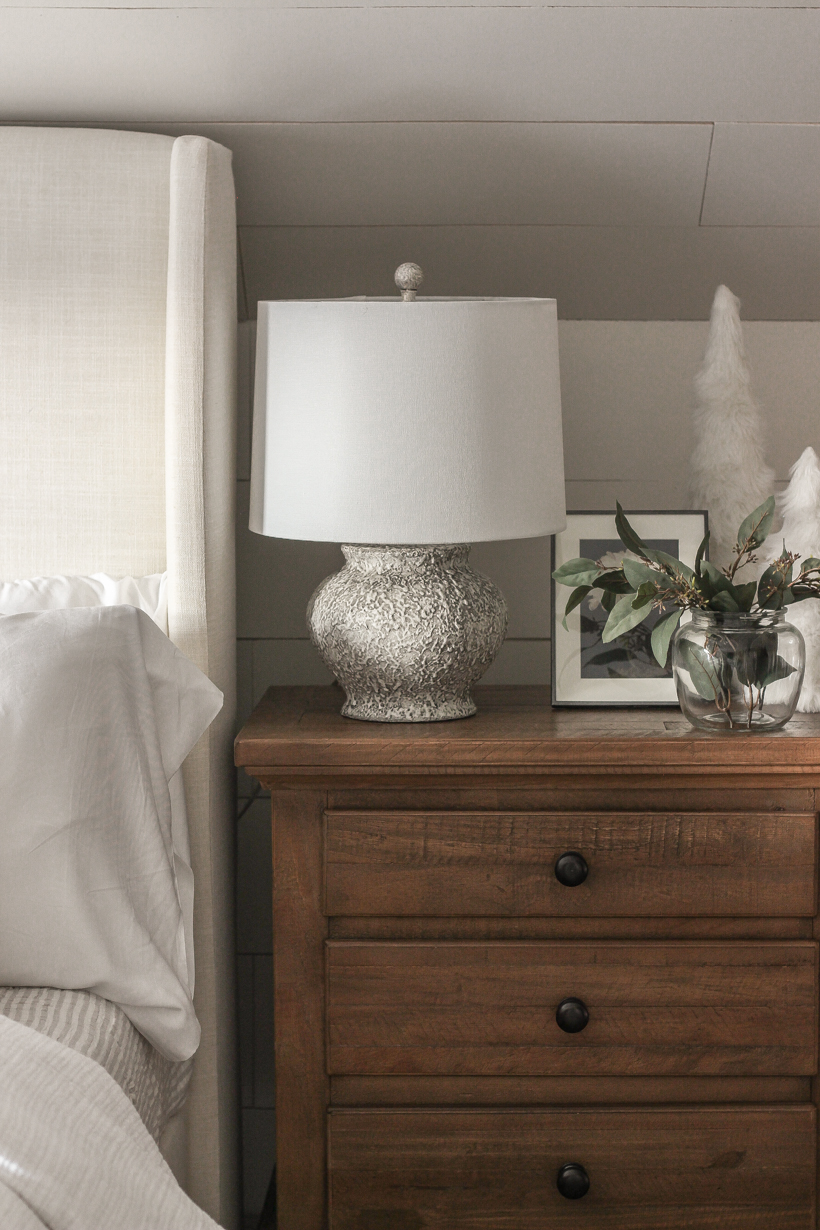 On the wall where the bed used to be, I added a ton of functional storage and a place to put my TV. I know having a TV in the bedroom isn't for everyone, but the boys (and dogs) love to cuddle up in here and watch movies together. I bought two of these white cabinets from IKEA as well as a media console with sliding glass doors, and they happen to fit perfectly wall-to-wall in this little section of the room. I store all my extra throw blankets on one shelf in the media console and have woven baskets underneath for smaller items. In the cabinet on the left I have some of my bags, purses, extra shoes, etc. And the cabinet on the right is a makeshift linen closet with extra bedding, sheets, and pillowcases.
I've had a bit of trouble getting the cabinet doors to sit completely straight and stay closed, but other than that I absolutely love all the extra storage I now have in here instead of just "pretty things" like a faux mantel and settee that no one ever sat on. You'll notice on IKEA's website the cabinet hardware is all silver, but I took them off and applied a beautiful antique gold finish to better suit the room. You can read about how I did that here.
Speaking of pretty things… did you notice the new ceiling fan? Yes, I took down my sparkly gold and crystal light fixture and installed a ceiling fan over my bed, and I'm sure many of you women can understand why. The older I get, the less I can physically stand sleeping when it's hot in my room. I need some cold air blowing on me, so I finally got over my aversion to ceiling fans (light fixtures are just SO MUCH prettier). I found the most aesthetically pleasing one I could with a white base and wood fan blades, and luckily I'm short because these ceilings are NOT tall.
Again… miscalculations on my part.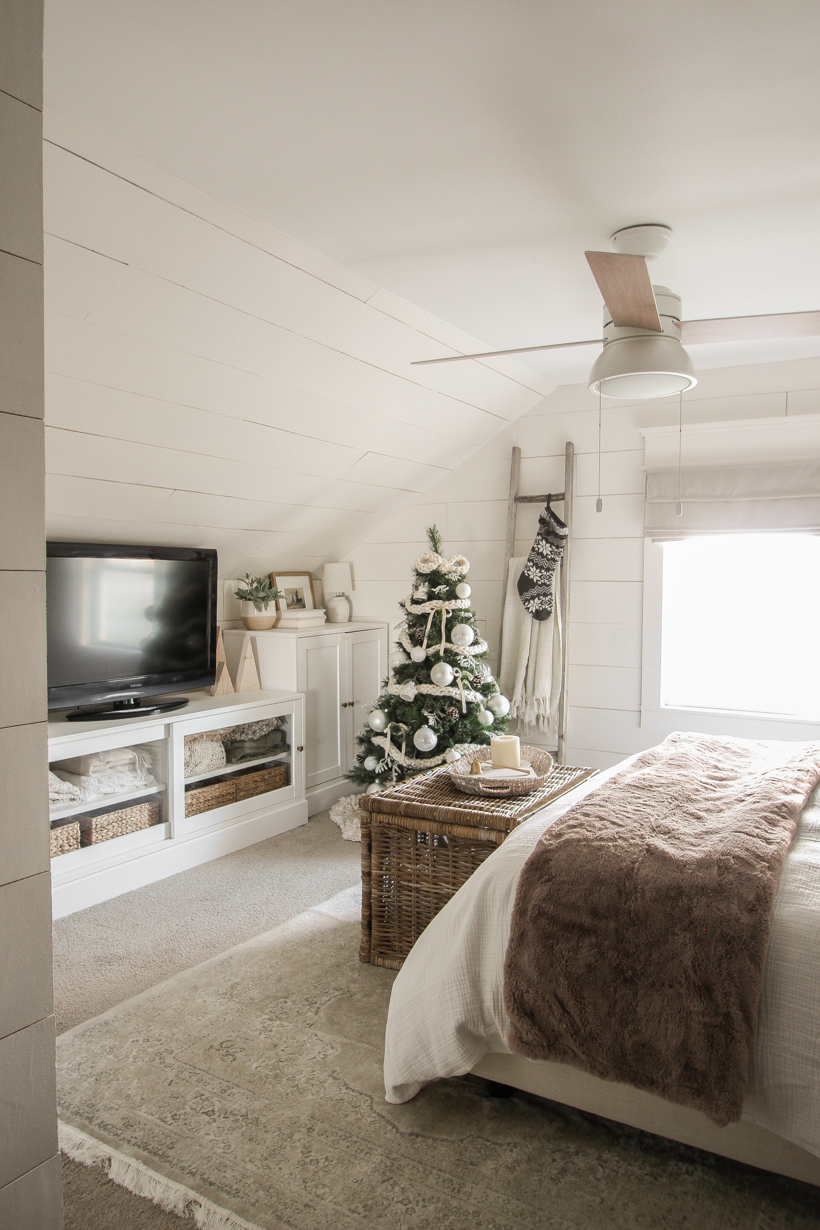 And yes… my "new" room had to have a little Christmas tree. 🙂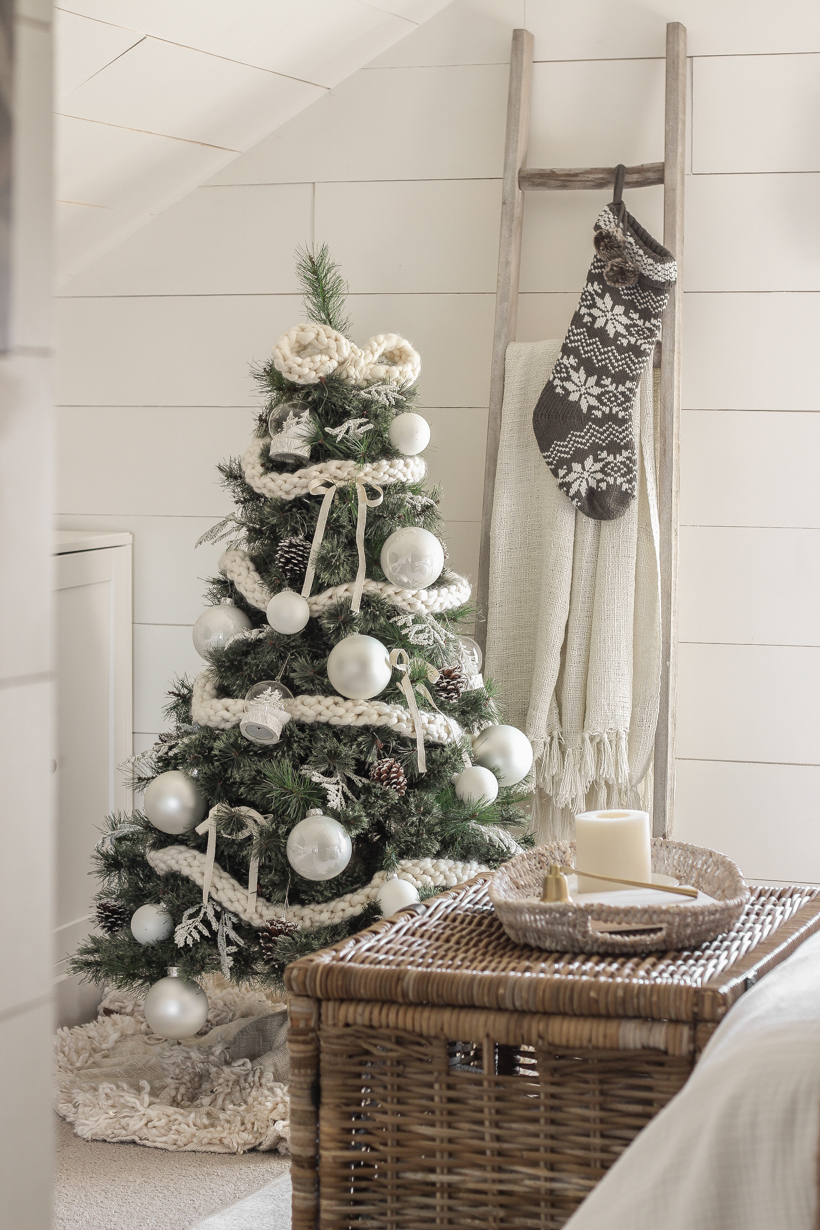 Snowy pinecones
Large white bulbs
Miniature snow globes
Cream ribbon bows
Chunky knit garland
=
Simple and sweet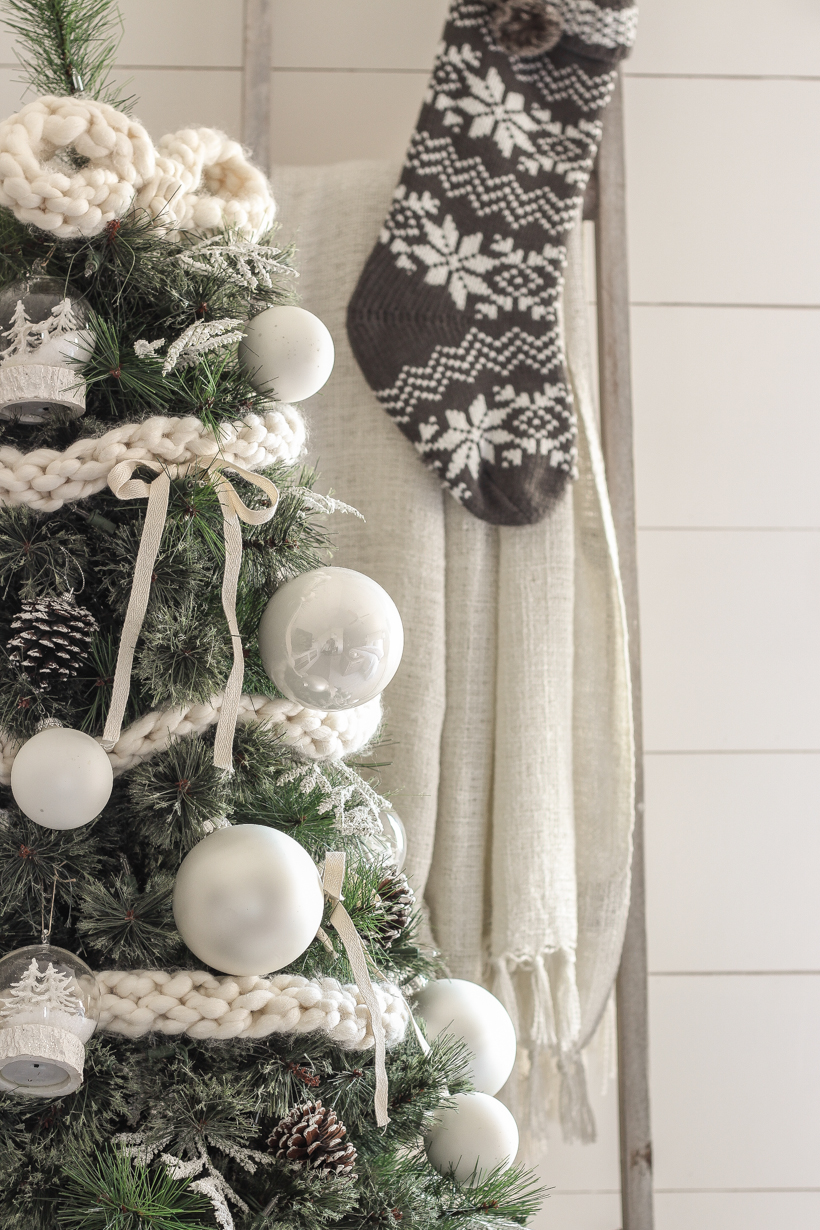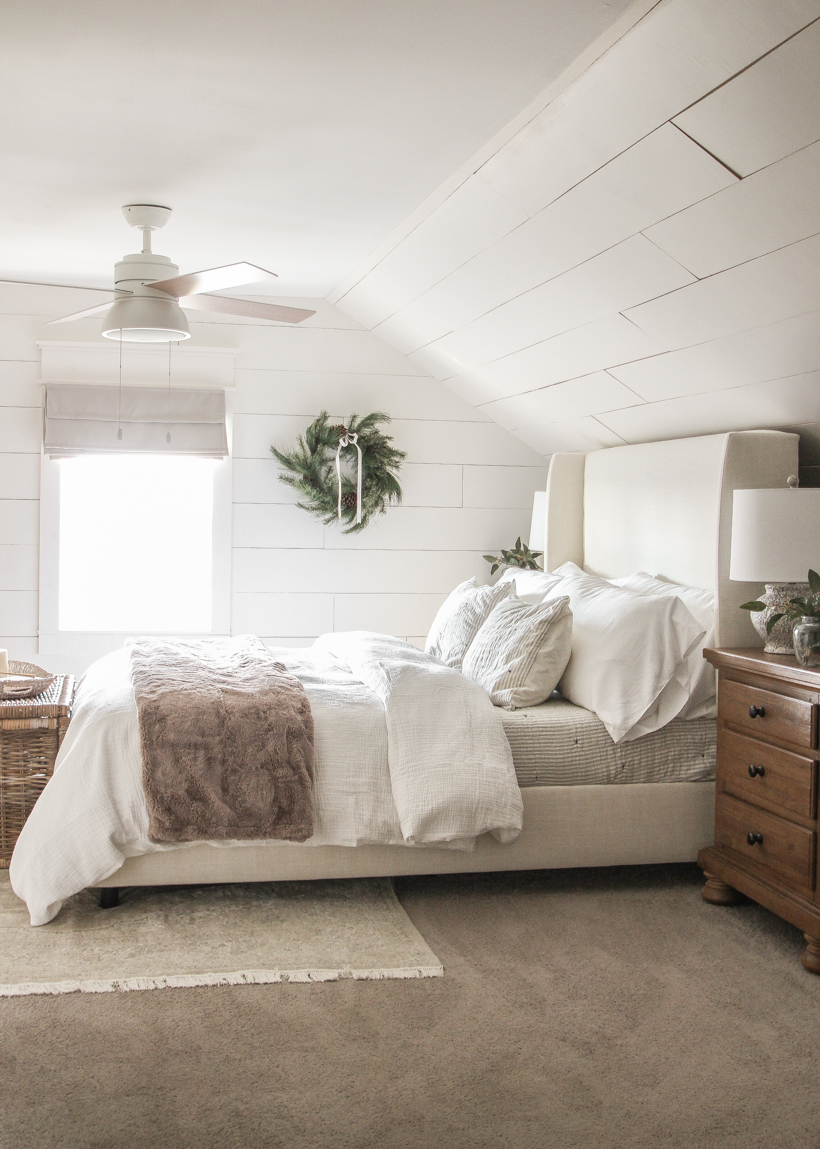 I made a few upgrades to my bedding, and without sounding overdramatic, one of them has literally changed my life.
I have a queen bed, and I've always bought standard size pillows because that's the size pillowcase that comes with most bedding sets. I study photos of my favorite interiors and noticed that a lot of bedrooms start with two huge king size pillows stacked on either side, then the more decorative pillows are added in. I ordered these king size pillows and these pillowcases, and my goodness, WHAT a difference this made.
In case you're wondering, the king size pillows do fit on a queen bed, filling the entire width of the mattress. Not only are they 10x more comfortable to sleep on, but they make the bed look so much more full and cozy. I had planned on adding several pretty throw pillows, but I honestly don't even feel like I need them anymore. They end up being clutter on the floor anyway, so I set the two standard pillows that match my quilt in front and called it good.
King size pillows on a queen bed = instant hotel-quality upgrade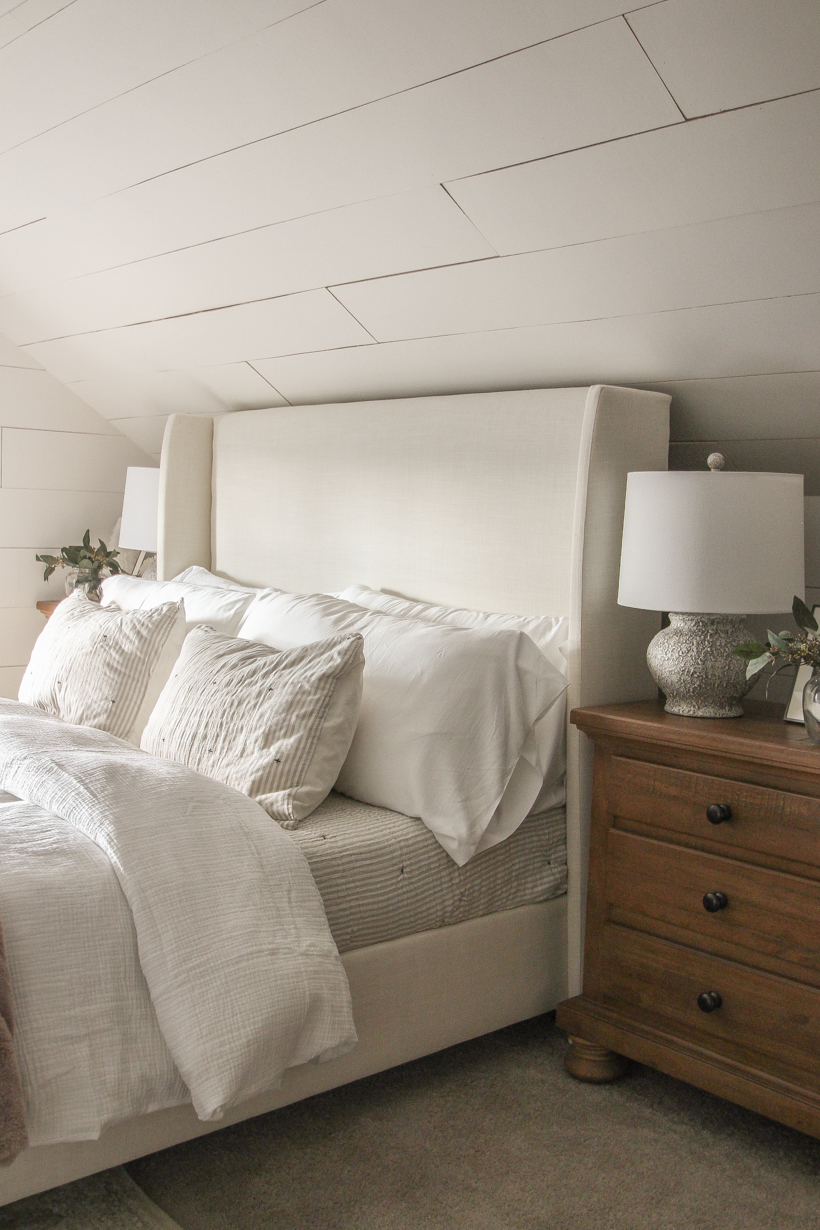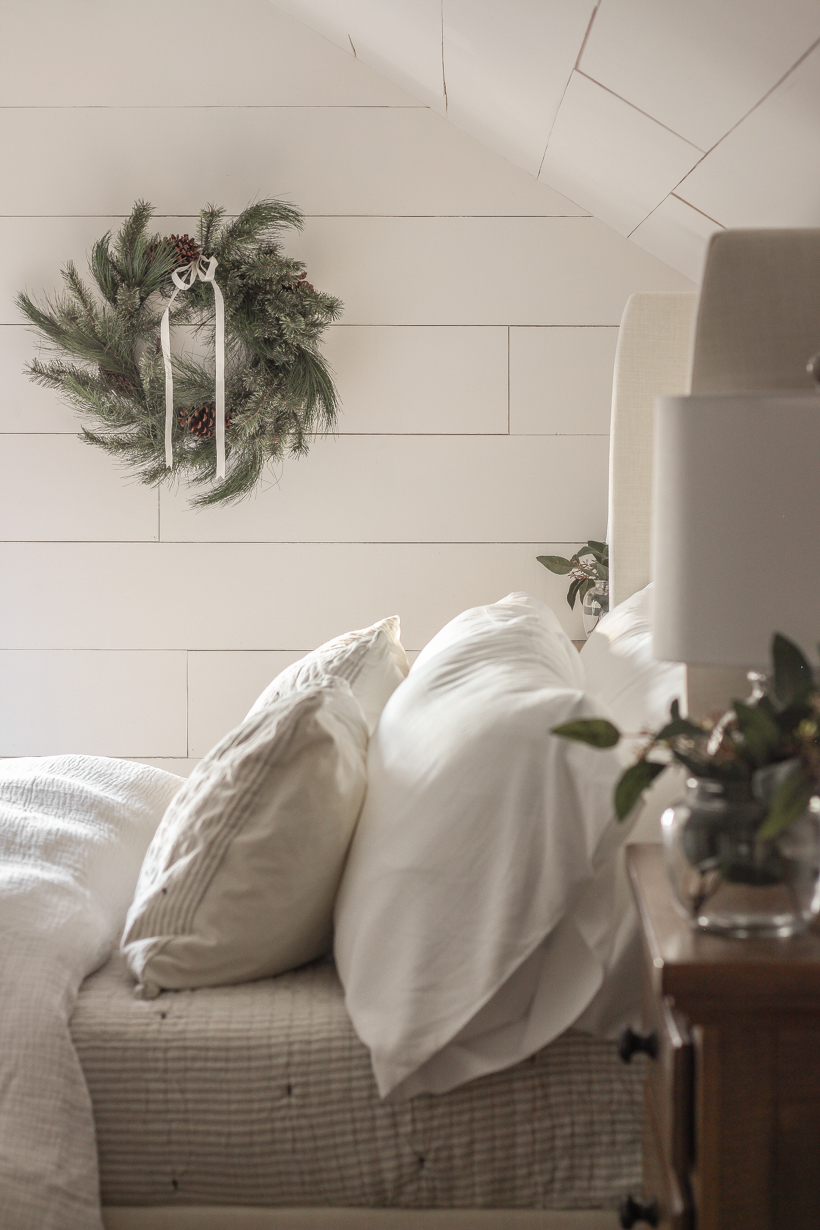 I also ordered a new duvet cover in a textured chambray cotton fabric that is exactly what I was looking for. It has a very cozy, natural look that hides wrinkles well and just begs you to come crawl into bed. And because it's winter in an old drafty farmhouse, I snagged a faux fur blanket in a really pretty taupe brown color for the foot of my bed. I can't tell you how much I look forward to snuggling up in this cozy bed each night and waking up to a room I absolutely love.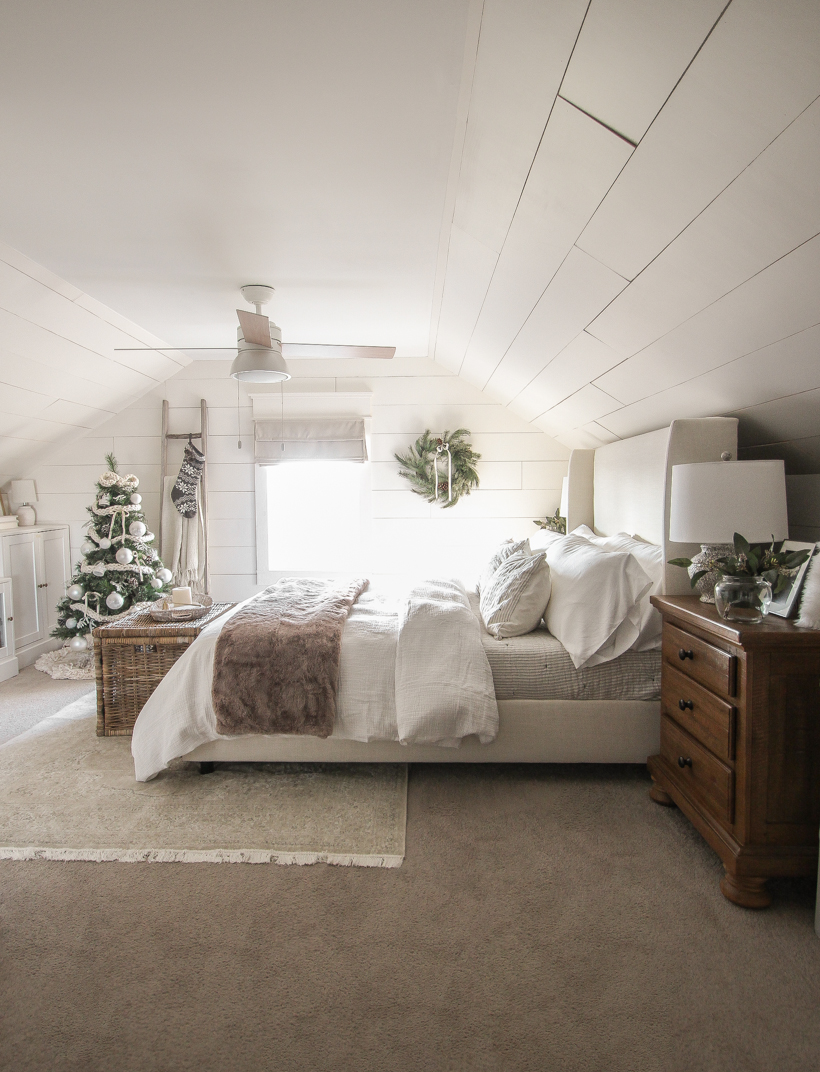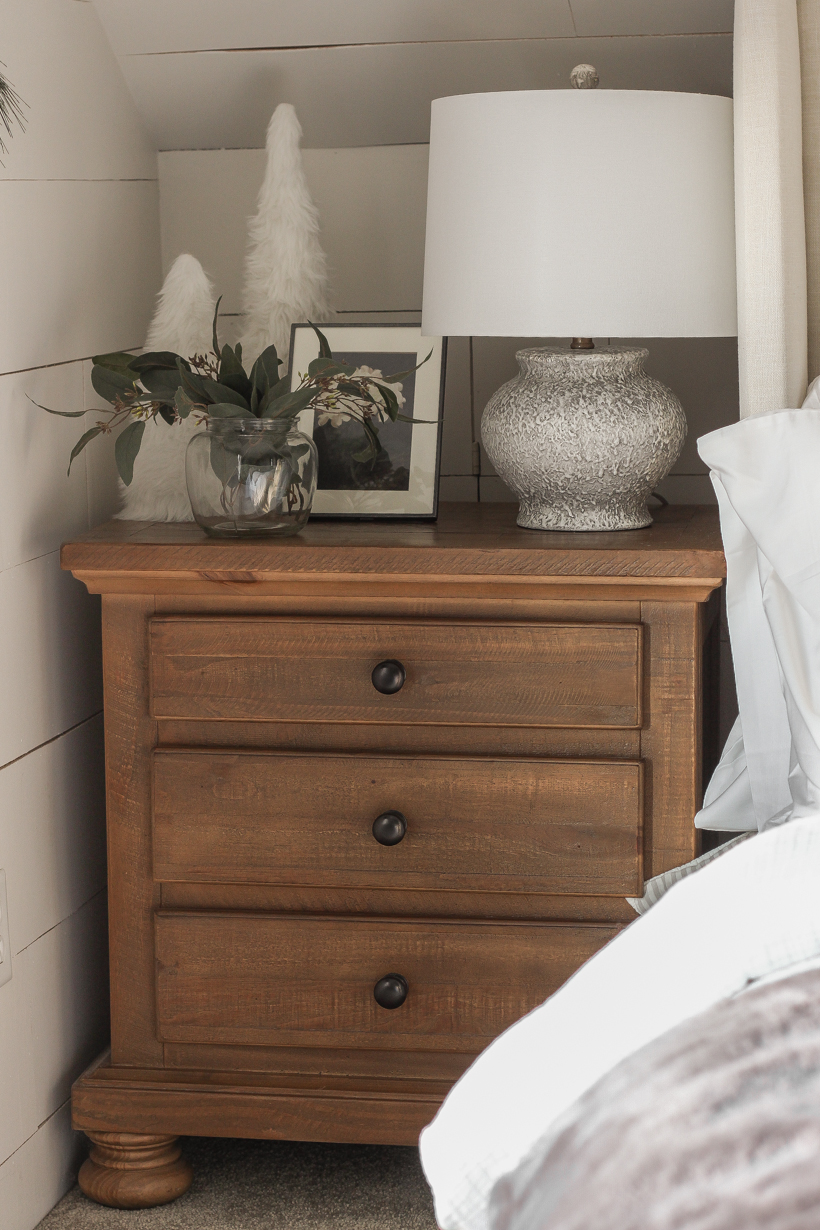 Once Christmas is over, I have a few more projects I want to do in here… some artwork on the walls, a little bit of wallpaper in my closet…
I promise I'll take more photos of my bedroom and document those projects as I get to them after the new year.
It was kind of nice to do this little makeover quietly over time instead of feeling the pressure to rush and get things completed for the blog. I think part of me wanted to make sure I was doing this design for ME and not for what anyone else might like or what would make the biggest splash on social media. I needed this room to be my oasis and an organized, soothing, quiet space for me to unwind at the end of the day. I think I came pretty darn close with how this turned out… what do you think?
P.S. I'm curious… did anyone notice the beam and lace curtains are gone now? Hopefully the new bed distracted you! 😉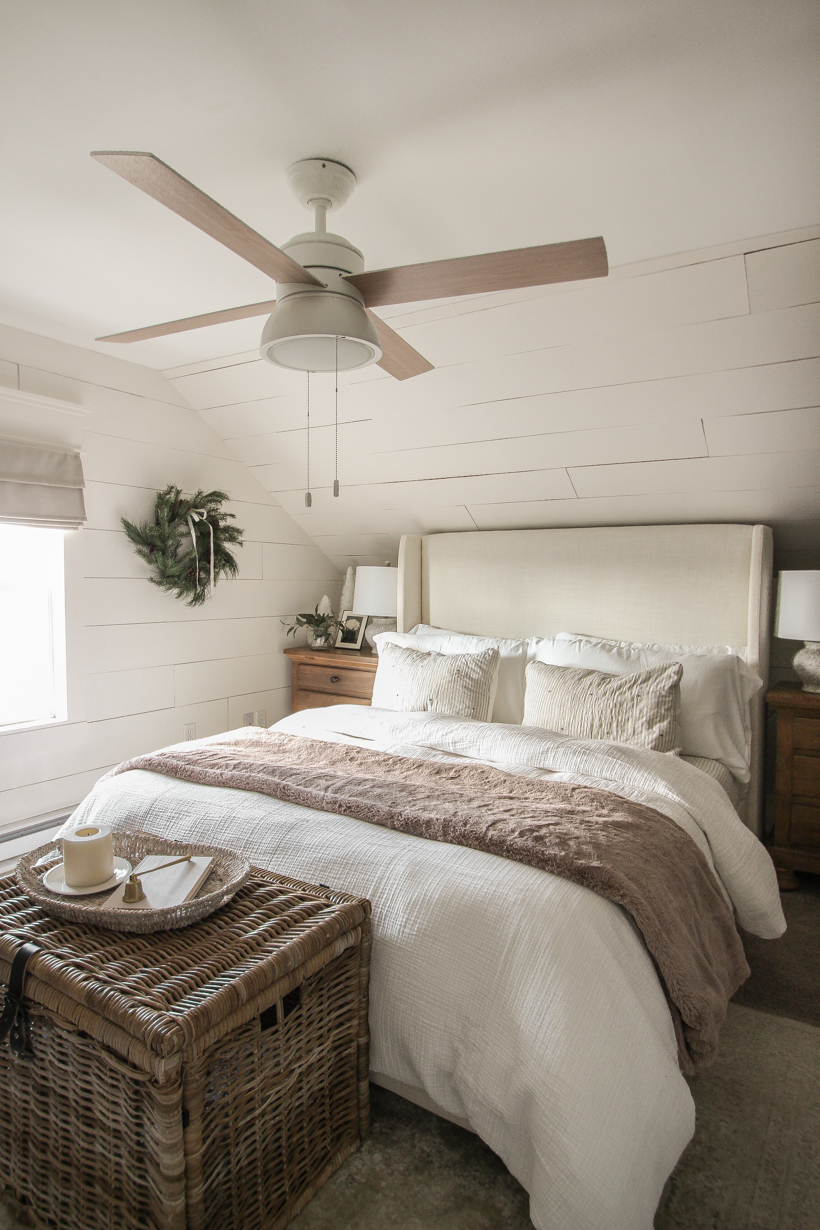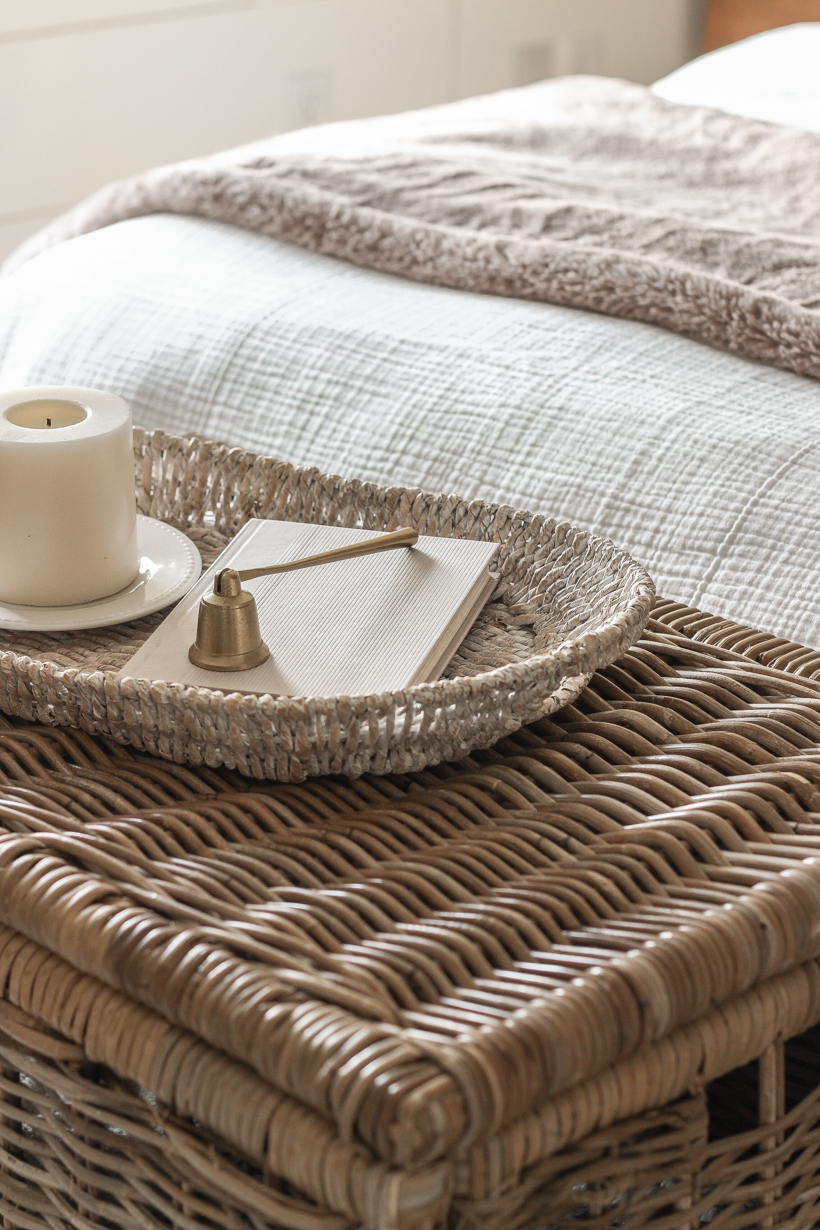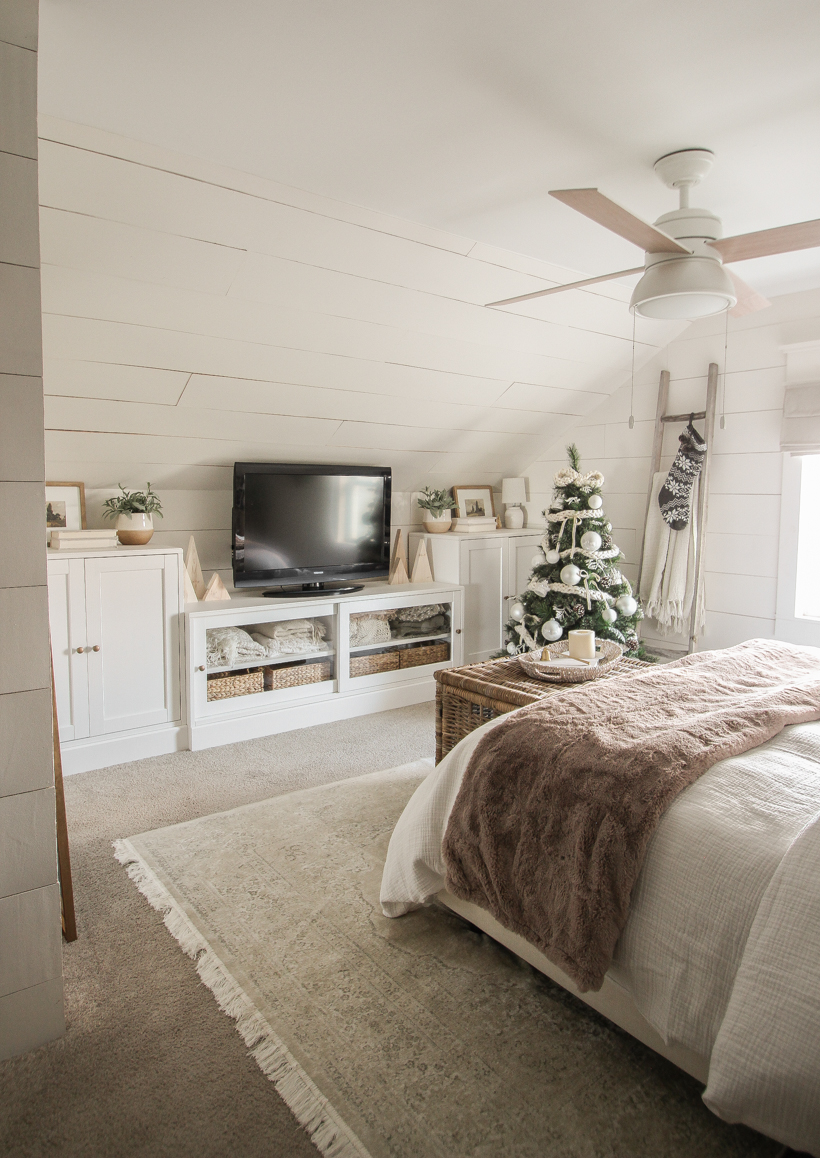 – ROOM SOURCES –
upholstered bed frame – in zuma white | duvet cover | faux fur throw blanket
king pillows | white king pillowcases | stripe comforter set
nightstands | area rug | ceiling fan
roman shade | gray textured lamp | hamper
floral art print | picture frame | rattan chest | wooden ladder
cream fringe blanket | stocking | Christmas tree
white cabinet | media console | mini lamp
landscape art | covered books | wood Christmas trees
woven baskets | fuzzy white trees | candle snuffer
tree decorations: ornaments | knit garland | skirt
– SHOP THE POST –

As always, I sincerely appreciate you shopping through the links I share, which allows me to make a small commission from your purchase while your purchase price stays the same. When you use my affiliate links, I'm better able to create content for this blog as well as support my family, and I thank you from the bottom of my heart for supporting what I do!
---
Subscribe to Blog | Follow on Instagram
Follow on Pinterest | Follow on Facebook