Strawberry Banana Popsicles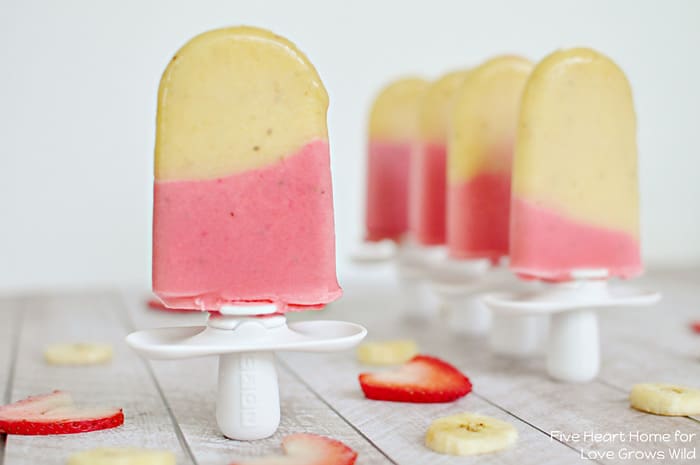 Author:
Samantha from Five Heart Home
For the Strawberry Layer:
6 ounces hulled, quartered strawberries
1 tablespoon lemon juice
2 tablespoons vanilla yogurt
1 tablespoon milk
2 tablespoons sugar
For the Banana Layer:
6 ounces (about ¾ cup) mashed ripe banana
2 tablespoons milk
1½ tablespoons lemon juice
1 tablespoon sugar
Make the Strawberry Layer by combing strawberries and lemon juice in a blender or mini food processor. Purée until smooth. Set a fine mesh sieve over a medium bowl and strain the mixture, using the back of a spoon to push the purée through the sieve; discard solids. Whisk in yogurt, milk, and sugar until mixture is smooth. Divide strawberry mixture between six (3-ounce) ice pop molds, so that each mold is halfway full. Freeze for 30 to 60 minutes or until firm.
Make the Banana Layer by combining all ingredients in clean blender or mini food processor. Purée until smooth. Pour banana mixture on top of strawberry mixture in ice pop molds. Freeze for at least 3 hours or until solid. Unmold popsicles and enjoy!
- Feel free to switch the layers if you prefer the banana on top.
Recipe by
Love Grows Wild
at https://lovegrowswild.com/2014/06/strawberry-banana-popsicles/