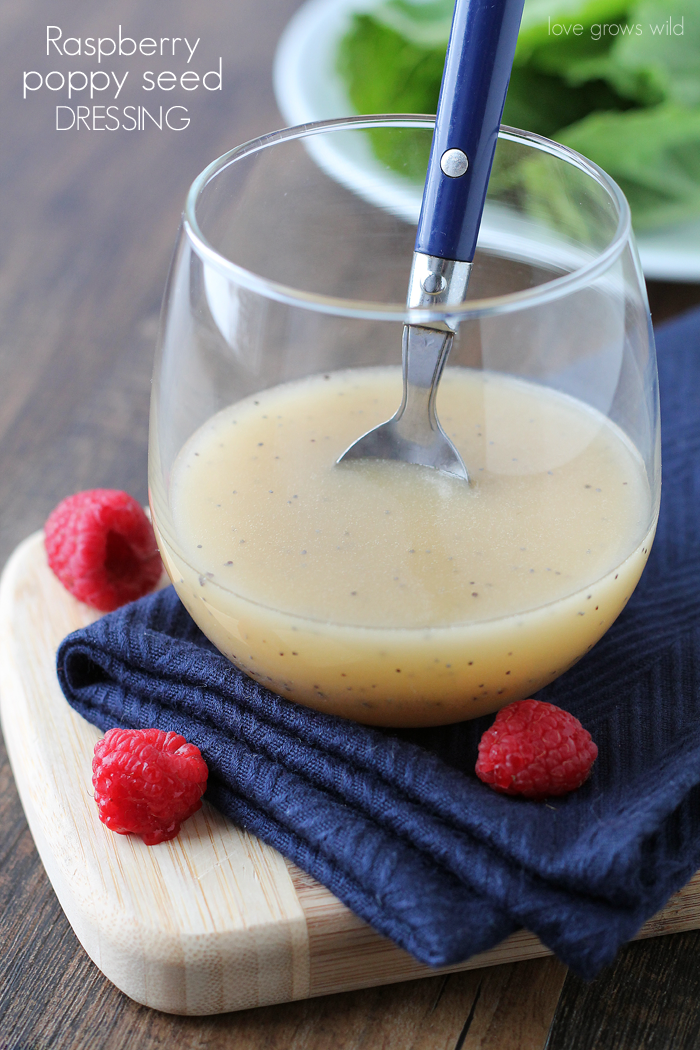 This is a sponsored conversation written by me on behalf of Rubbermaid® . The opinions and text are all mine.
The start of a new year means two things for me:
1) Get back to healthy eating and regular workouts
2) Get organized!
As soon as I put the Christmas stuff away, I got the itch to start organizing. We have Christmas gifts that still haven't been put away, stacks of paperwork that needs to be filed on the desk, and don't even get me started on my office/craft room/shove-everything-that-doesn't-fit-anywhere-else room. It's bad news. So when I got the chance to review the Rubbermaid All Access Organizers, I knew it was meant to be! Time to get this house organized! Off to Home Depot I went…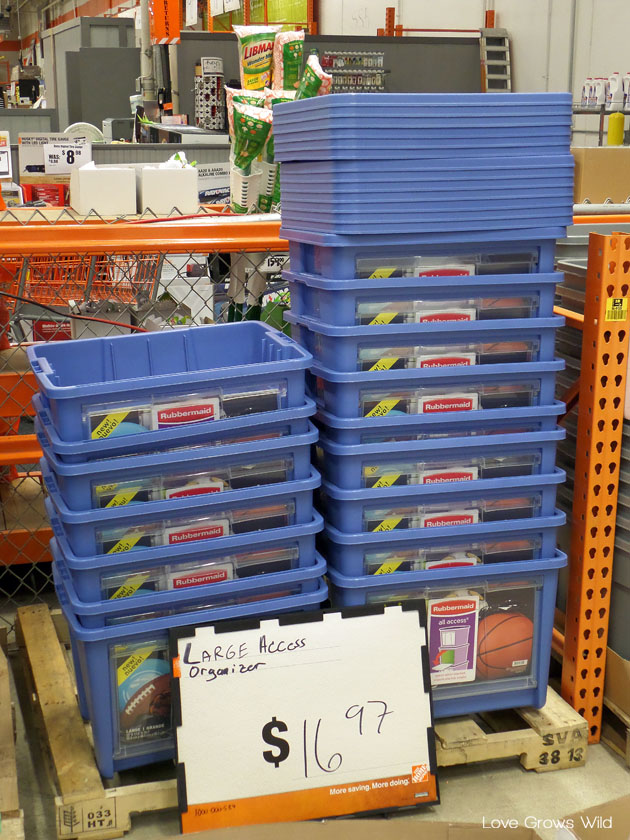 Home Depot is currently having their annual winter storage event, so I found a whole slew of organizers as soon as I walked in the door. The Rubbermaid All Access products were right in front, and I grabbed two of the large organizers and one of the small organizers they had on display. I was hoping to find their new x-small organizers that are the perfect size for shoes, but they didn't have any in stock yet. The boys' closet could definitely use some help in the shoe category! I paid $16.97 each for the large organizers and $12.97 for the small. Not too bad for these size containers!
So what did I organize?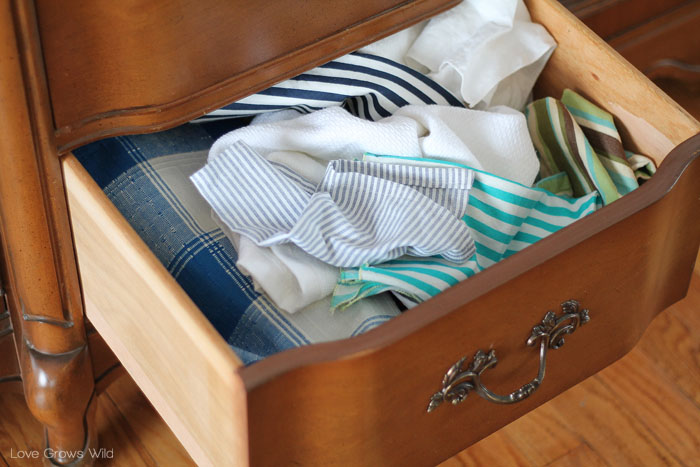 Being a food blogger, I have accumulated quite a collection of dishes, cups, napkins, and other props to use in my photos. When I'm in the middle of shooting a recipe, I'm 100% focused on getting everything just right… nice composition, perfect lighting, not letting my ice cream melt all over before I get the right shot… It's intense. So my house usually ends up a total mess before it's all done, and things get shoved in drawers instead of being put away in their proper place. Just like the drawer full of napkins and table linens shown above. It would save so much time searching for the right one if everything wasn't such a wrinkled mess!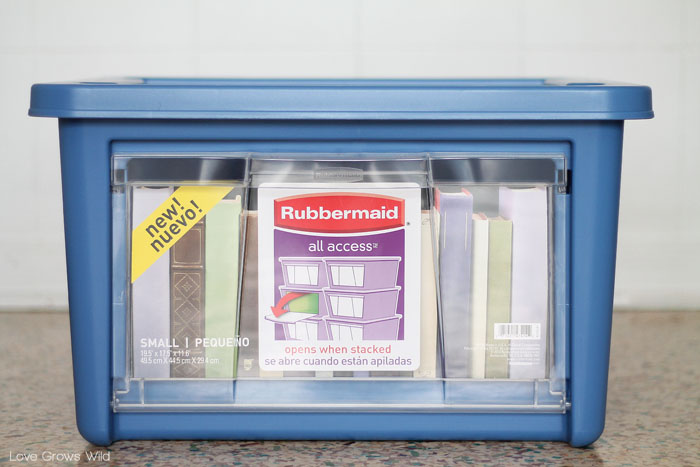 So I dumped everything out, folded all the linens into nice, neat piles and put them in the smaller organizer. I was able to fit my table cloths and runners and two stacks of napkins and dish towels.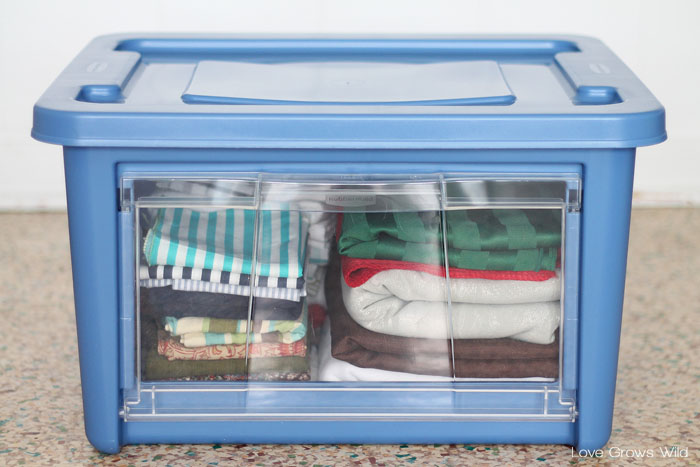 The clear, drop-down door makes it so easy to find and grab what I need, even when I have bins stacked on top of each other.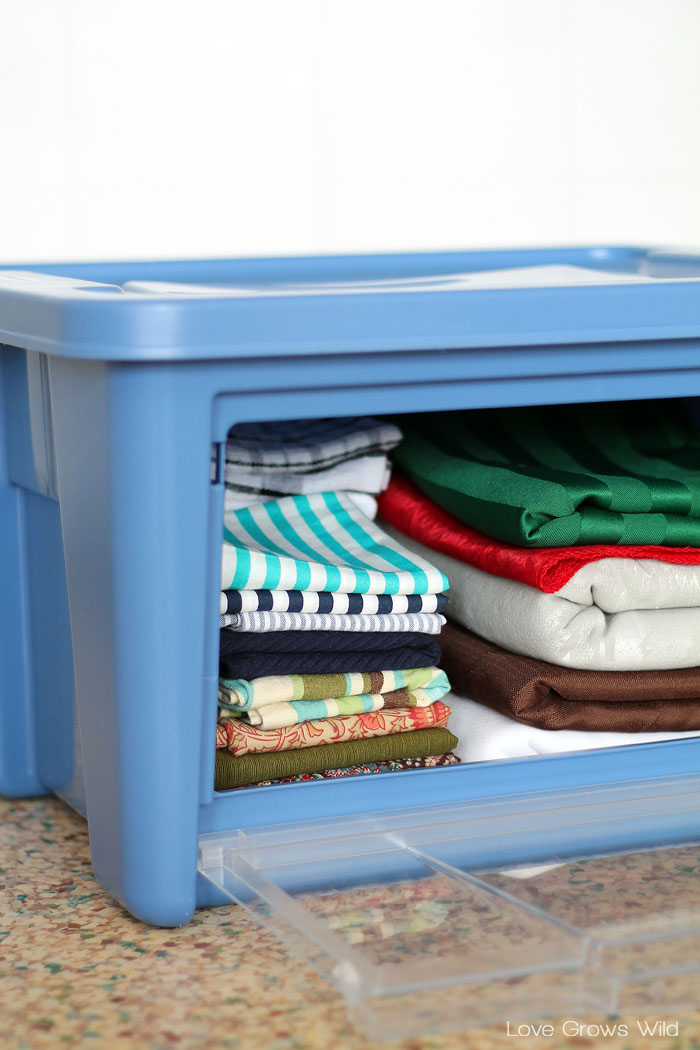 These organizers are great for toys, closets, garages, offices, or just about anywhere! They stack perfectly to save a ton of space. Now anytime I need to grab something for a photo shoot, I can see right where it's at!
I had a chance to put these organizers to work right away while photographing this delicious Raspberry Poppy Seed Dressing the other day. I knew I had a navy blue napkin to coordinate with my blue spoon, and this time I didn't have to dig through piles of linens or iron a wrinkled napkin!
In trying to stick with my other New Year's resolution of healthy eating, I've been doing a lot of salads for lunch, and this easy homemade dressing has been one of my favorite ways to switch it up.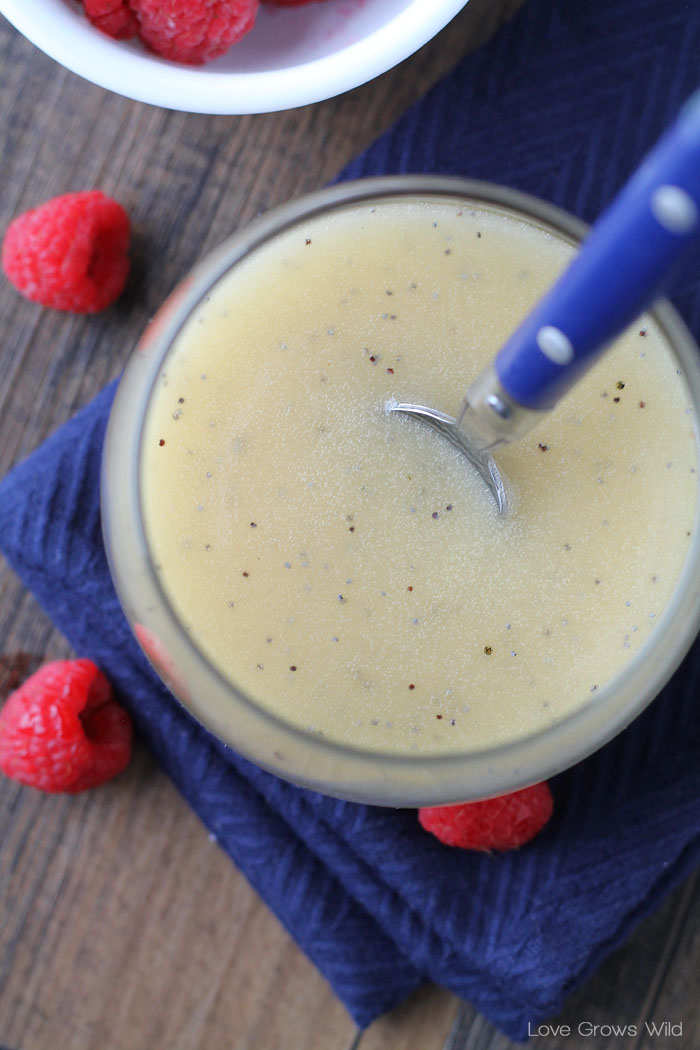 The dressing is made in under 5 minutes with raspberry vinegar and a splash of orange juice, which gives it a bright, fruity flavor that I just love. It's sweet and tangy and pairs perfectly with fresh fruit added to the salad like strawberries, mandarin oranges, or apples. YUM!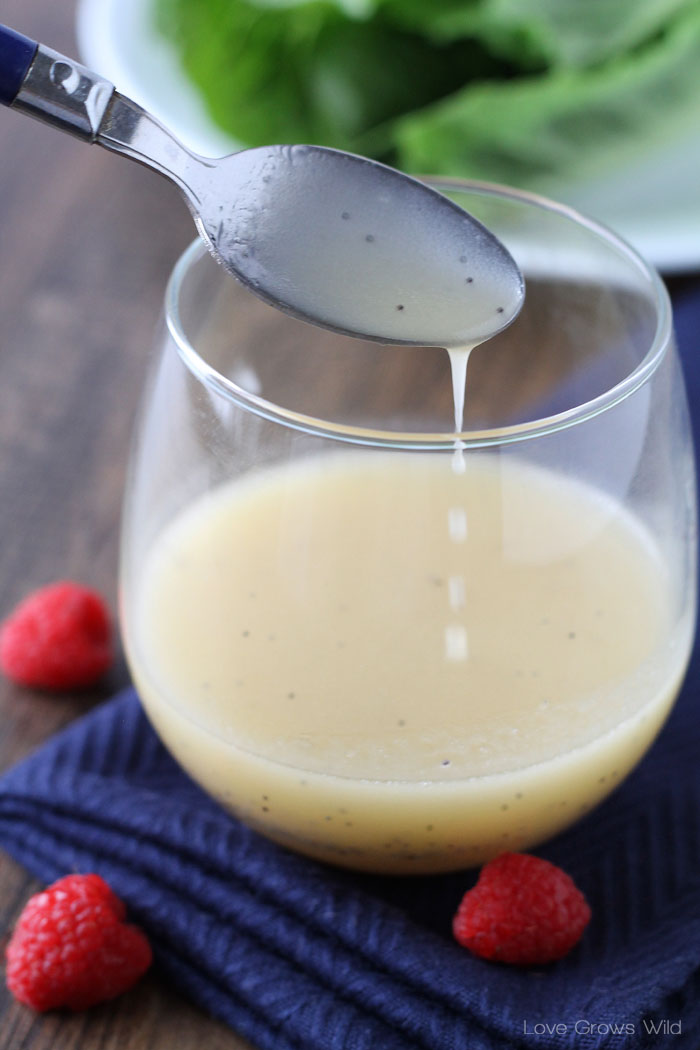 This dressing is definitely healthier than store-bought, and you can feel good knowing exactly what's going into your food. That's why I love cooking so much! This recipe doesn't include an emulsifying agent, so it will separate pretty quickly. I recommend pouring the dressing into a mason jar to chill until you need it and giving it a good shake just before serving. I think you're going to love this tasty homemade dressing!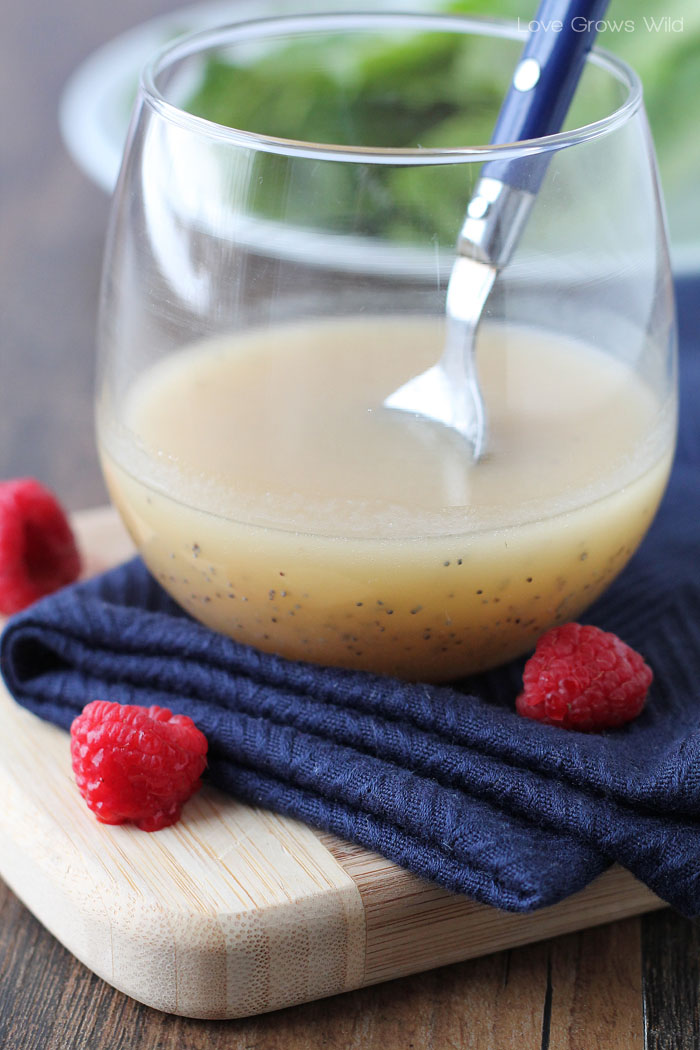 Raspberry Poppy Seed Dressing
This easy, homemade dressing can be whipped up in less than 5 minutes! Raspberry vinegar and orange juice create a sweet and tangy dressing that is much healthier than store-bought!
INGREDIENTS
⅓ cup powdered sugar
¼ cup raspberry vinegar
2 tablespoons orange juice
½ teaspoon onion powder
¼ teaspoon salt
¼ teaspoon ground ginger
⅓ cup canola oil
½ teaspoon poppy seeds
INSTRUCTIONS
Combine first six ingredients in a blender, and process until thoroughly combined.
With blender on, add the oil in a slow, steady stream.
Stir in poppy seeds, and chill until serving.
NOTES
- This dressing does separate quickly, so I recommend transferring to a mason jar after blending. Store in the refrigerator and give it a good shake just before serving.
Recipe slightly adapted from Taste of Home.
You can find this post on Pinterest too!


Open up the possibilities of easy access with Rubbermaid® All Access™ Organizers. The All Access™ line features a clear drop-down door so you can easily see and retrieve the items you want, even when they are stacked! Visit your local Home Depot to see why organization just got easier!

This is a sponsored conversation written by me on behalf of Rubbermaid® . The opinions and text are all mine.

Let's Keep In Touch!