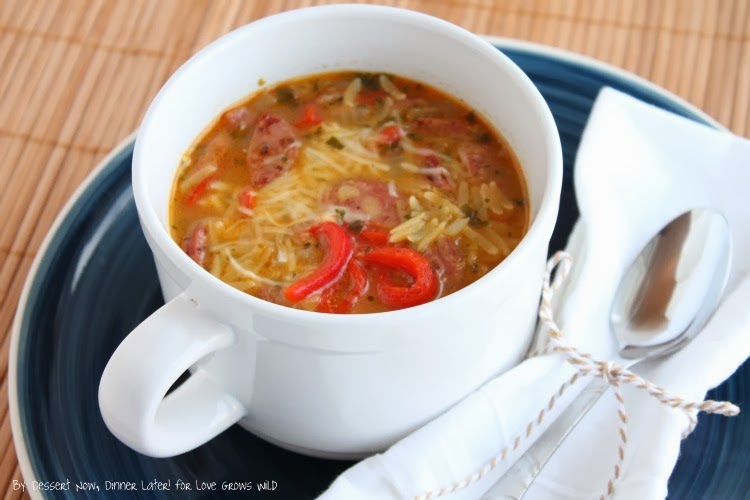 Do you love soup as much as I do? Try this delicious Roasted Red Pepper & Chicken Sausage Orzo Soup to keep you warm all winter long!
Hey ya'll! It's me, Amber from
Dessert Now, Dinner Later!
I'm back with another recipe! Last time I shared a delicious
Caramel Apple Crostata
dessert, & this time I went with one of my savory favorites: SOUP! I am a soup freak! Like we have soup at least once a week all fall & winter long. I have 21 soups/stews/chilis on my blog right now, & I can promise there will be more. This one was so good, I almost selfishly kept it for myself & my own blog, but I wanted to give Liz something good for her readers, so here it is! You're welcome. 🙂
Imagine the most flavorful, thick broth, tender roasted red peppers, smokey chicken & apple sausage, & bits of chewy orzo pasta. That is this soup. It's flipping amazing! I love the texture of orzo because it's shaped like rice, but it's a pasta, so it has that al dente feel to it. This soup is hearty & fairly healthy, so you will be nice & full & still feel good about it. I cannot recommend this soup more! Try it! You will not be disappointed!
Roasted Red Pepper & Chicken Sausage Orzo Soup
You'll love this delicious homemade soup with roasted red peppers, chicken sausage, and orzo pasta!
INGREDIENTS
1 (12 ounce) package Aidells Chicken & Apple Smoked Chicken Sausage (4 links), cut in half width-wise & then sliced
1 Tbsp olive oil
½ medium onion, finely diced
2 cloves garlic, minced
2 red peppers, roasted, peeled & finely sliced*
2 bay leaves
6 cups chicken broth (I mix hot water with Better Than Bouillon Chicken Base)
⅔ cup orzo pasta
1½ tsp dried parsley
2 Tbsp basil, chopped (I LOVE to use Gourmet Garden)
Salt & Pepper, to taste
Optional: Serve with a sprinkle of shredded parmesan cheese
INSTRUCTIONS
In a large non-stick stock pot, brown chicken sausage for about 5 to 6 minutes. Put cooked sausage into a bowl.
Heat olive oil in the empty stock pot. Add onion & saute 5 minutes or until translucent. Add garlic & cook until fragrant, 1 minute.
Add sliced roasted red peppers, bay leaves, & chicken broth. Bring to a boil, then simmer, covered with a vented lid for 15 minutes.
Remove bay leaves. Bring mixture to a boil & add orzo pasta, dried parsley & browned sausage. Cook orzo for 10 minutes or according to the time specified on the package.
Add basil & season to taste with salt & pepper. Serve hot with a sprinkle of shredded parmesan cheese, if desired.
NOTES
*To Roast the Red Peppers at Home: Rinse the peppers off. Using a gas stovetop or gas grill on medium-high heat, char each side of the pepper until black & blistered. The pepper will soften & shrivel slightly. Immediately place charred peppers into a zip-top plastic bag for 5 minutes. Peel off & discard the charred skin. Slice open the peppers, remove the seeds, veins, & stems and slice the peppers thinly for the soup.
Recipe lightly altered from Cookin' Canuck by: Amber of Dessert Now, Dinner Later!
Check out more soup recipes from Dessert Now, Dinner Later!