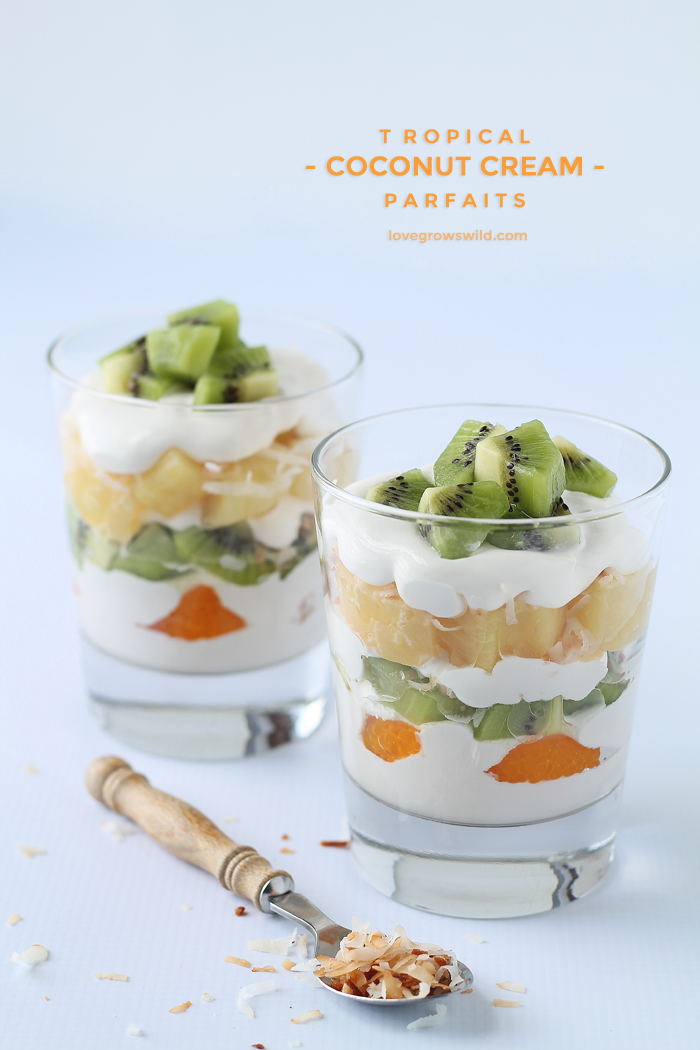 This post is brought to you by Silk // I've got big news today, people. BIG news. I, the girl who always thought she hated coconut, discovered that I actually LOVE coconut! Crazy, right? Okay, let me clarify… I actually still loathe raw coconut, but I recently tried a recipe that needed toasted coconut, and holy cow, folks… what a game changer! I think the texture of shredded coconut was what I didn't care for, but when the coconut is toasted, it gets crisp and sweet and smells absolutely amazing. I couldn't stop sneaking handfuls of the sweet toasted coconut to munch on, and ever since that day, I've had a serious craving for more toasted coconut recipes.
Which brings me to today's recipe… Tropical Coconut Cream Parfaits! Light and fresh. Sweet and fruity. Cold and creamy. In other words… the perfect dessert for summer!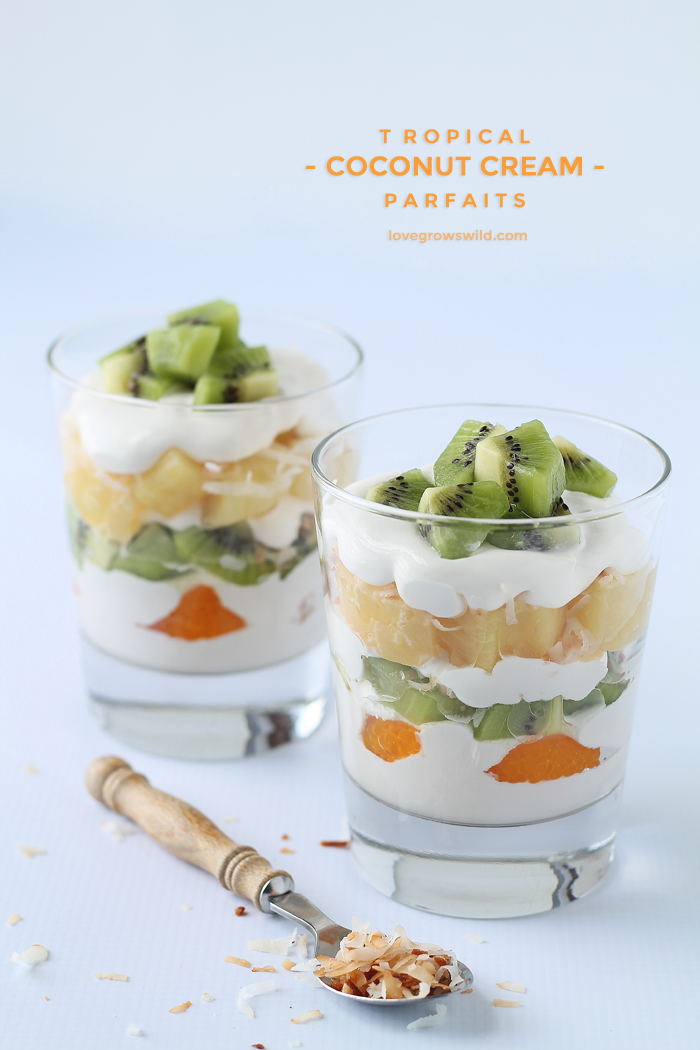 Since we are in bathing suit season, I wanted to keep the coconut cream on the lighter side, so I used one of my go-to products, Silk Original Coconut Milk. It has only 80 calories per serving and is dairy, gluten, and soy-free, which is great for anyone out there with those dietary requirements.
I start the vanilla-infused coconut cream on the stovetop until it thickens a bit, then I let it chill in the refrigerator for about 2 hours. A final addition of whipped topping makes the cream light and airy and perfectly sweet. I'll forewarn you… you'll most likely want to eat this coconut cream straight from the bowl by the spoonful!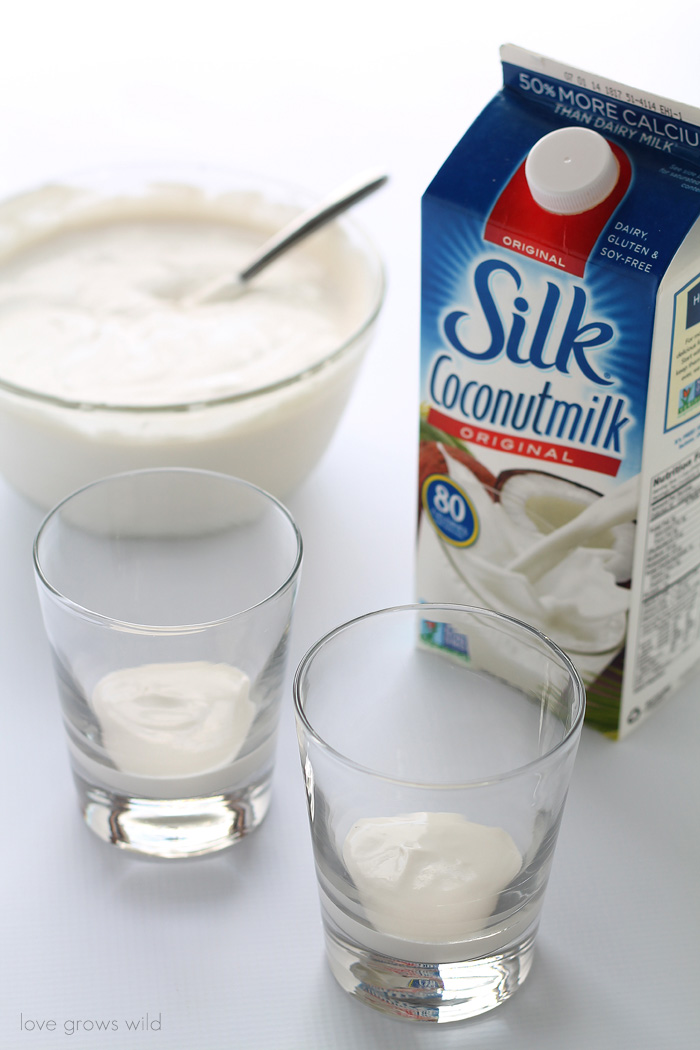 Once the coconut cream is ready, it's time to assemble the parfaits. Since I was going with a tropical theme, I added layers of pineapple, mandarin oranges, kiwi, and my beloved toasted coconut in between the cream.

The best part about this recipe is that there's no exact science to it. Just layer whatever containers you'd like to use (bowls, jars, cups) evenly with the ingredients, and feel free to sub-in different fruits, if you like. I used canned pineapple and oranges for convenience, but you can certainly use fresh too. Serve these parfaits right away or refrigerate them for an hour or two, but remember that you'll lose the texture of the toasted coconut the longer it sits.
Whether you're a coconut lover or not, this tropical fruit parfait has a just a light coconut flavor that pairs perfectly with the fruit, and I promise you will LOVE the texture of the crispy toasted coconut flakes layered in between! I hope you enjoy this fresh and fruity sweet treat!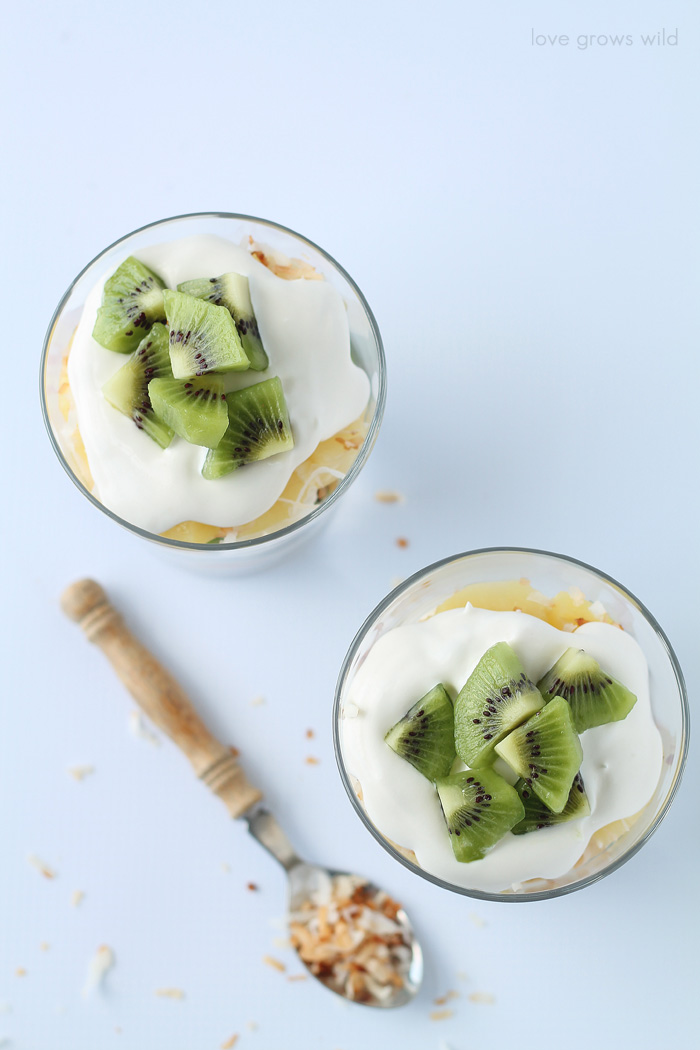 Like what you see? Subscribe to Love Grows Wild so you'll never miss a post!
Follow along on Pinterest, Google+, Instagram, and Facebook for more fun!
Tropical Coconut Cream Parfait
These Tropical Coconut Cream Parfaits made with fresh fruit and toasted coconut are perfect sweet treats for summer!
INGREDIENTS
1 - 8 ounce can pineapple chunks
1 - 8 ounce can mandarin oranges
4 kiwis - peeled and diced
1½ cups sweetened coconut flakes

Coconut Cream:
2½ cups Silk Coconut Milk
½ cup sugar
3 tablespoons butter
1 teaspoon vanilla extract
2½ tablespoons cornstarch
2 tablespoons water
4 ounces whipped topping
INSTRUCTIONS
For the Coconut Cream: Combine the coconut milk, sugar, butter, and vanilla in a medium saucepan and bring to a simmer over medium heat. In a small bowl, combine the cornstarch and water and stir until dissolved. Pour the cornstarch mixture into the coconut milk and cook over medium heat, whisking constantly, about 5 minutes or until slightly thickened. Remove from heat and allow to cool slightly. Pour the coconut cream into a bowl and cover with plastic wrap, pressing the plastic directly on top of the cream. Refrigerate until chilled, about 2 hours, then combine with the whipped topping and stir until completely smooth.
Assemble the Parfaits: In a large skillet, add the coconut flakes and cook over medium heat, stirring constantly, until the coconut is lightly toasted. Add ingredients evenly to 4 glasses or jars in the following order: coconut cream, oranges, toasted coconut, coconut cream, kiwi, toasted coconut, coconut cream, pineapple, toasted coconut, coconut cream. Garnish with additional fruit and/or toasted coconut as you like! Serve immediately or chill for 1-2 hours before serving.
-Adapted from a Food & Wine recipe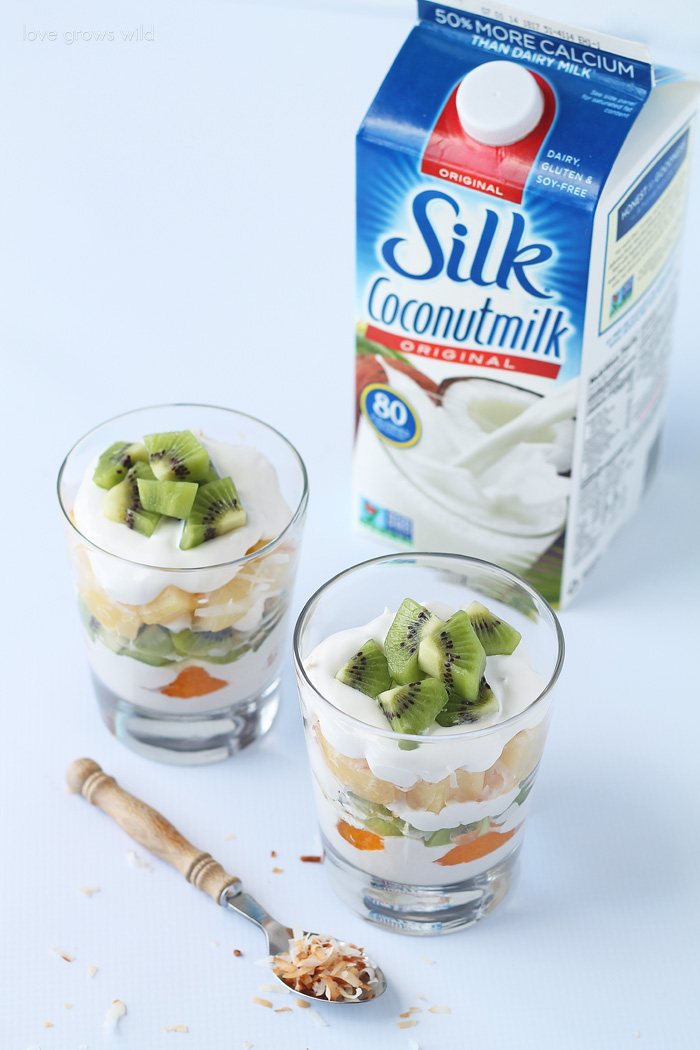 Are you ready to try Silk? Sign up for a coupon! All new registrants will receive $0.75 off any Silk half gallon!
When you register, you can also look forward to:
– Additional coupons sent straight to your inbox, plus a special birthday offer
– New of Silk sweepstakes and promotions
– Monthly chances to win a year's supply of Silk!
You can also follow Silk on Facebook!
LET'S KEEP IN TOUCH!
Subscribe to Blog | Browse my Shop | Follow on Facebook | Follow on Twitter
Follow on Google+ | Follow on Pinterest | Follow on Instagram
---
This is a sponsored conversation written by me on behalf of Silk. The opinions and text are all mine.