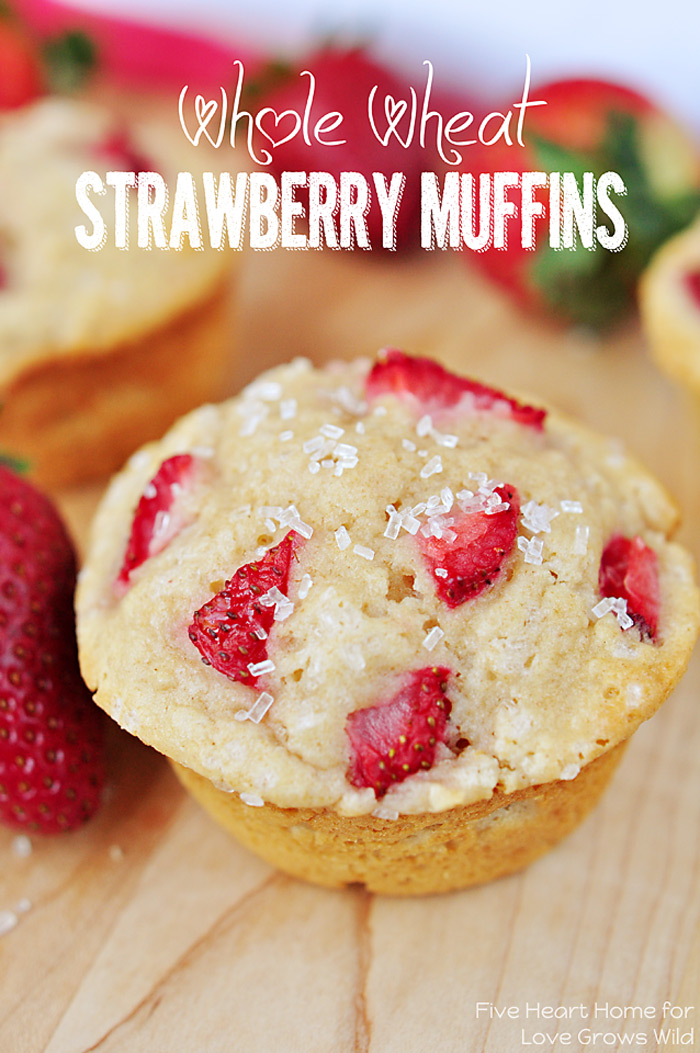 Tender whole wheat muffins are studded with sweet strawberries for a juicy pop in every bite!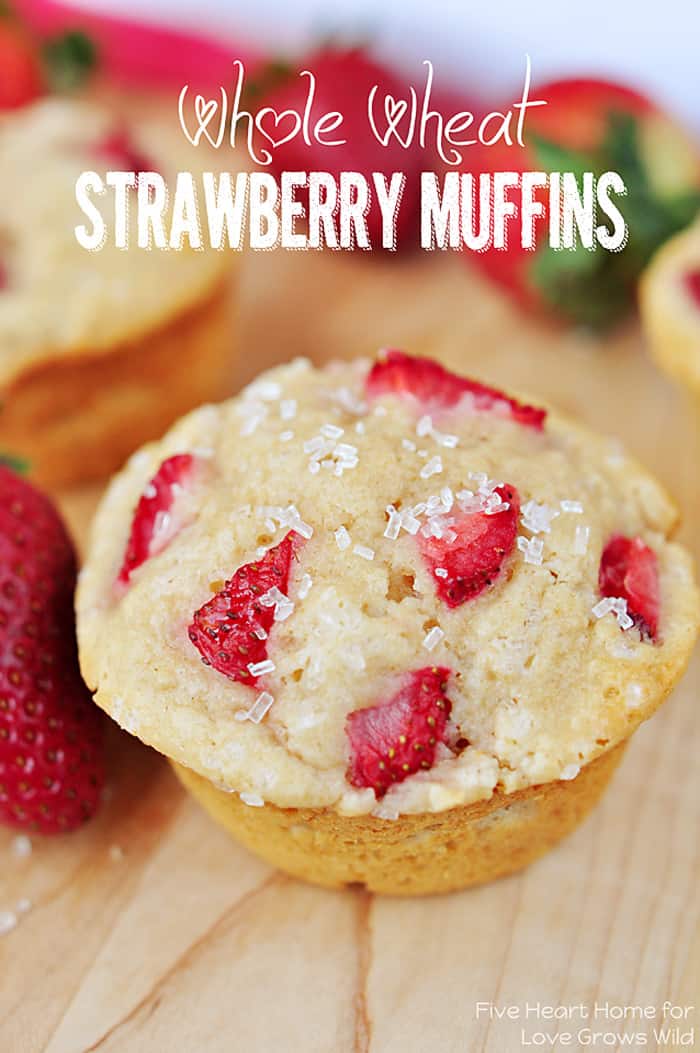 Happy spring, Love Grows Wild friends! It's Samantha from Five Heart Home and I'm happy to be here once again! Today I'm excited to be sharing a yummy muffin recipe featuring one of my family's favorite fruits…strawberries!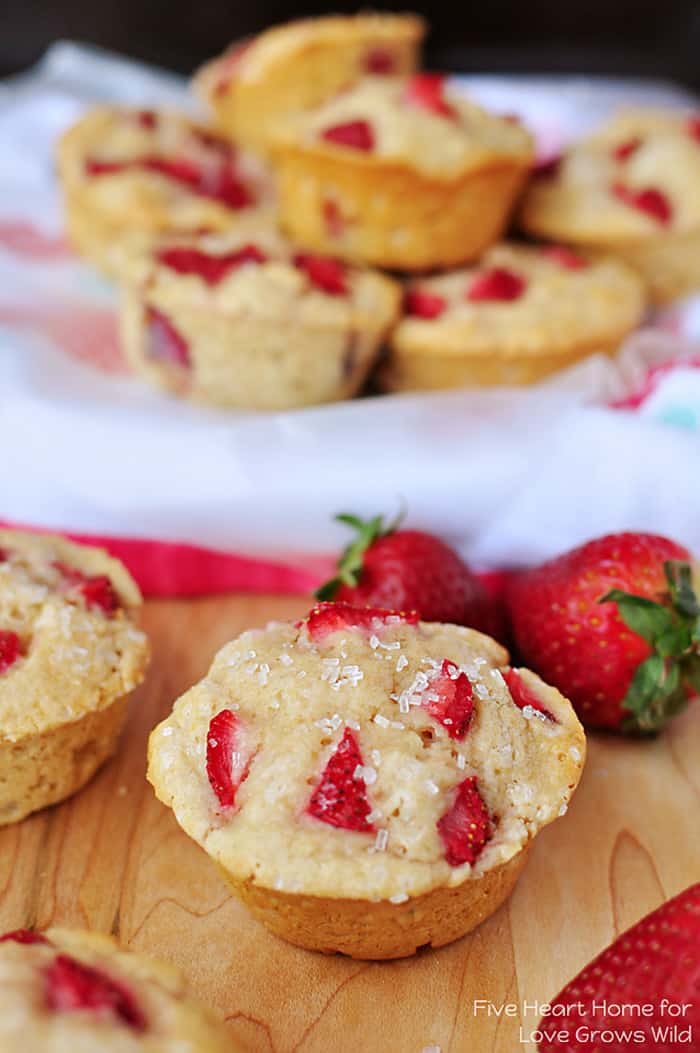 Now I realize that traditional strawberry season extends from mid-spring through early summer, but aren't we lucky that strawberries are so widely available year-round (thank you, California and Florida!)? Both of my boys love strawberries, and they're one of the only fruits I can count on my 18-month-old daughter to consistently eat. As a result, we always have a couple of cartons of strawberries in the refrigerator. But when strawberries go on sale, or when the berries in our fridge are past their prime, I like chopping them up and tossing them into these mostly healthy, totally delicious muffins!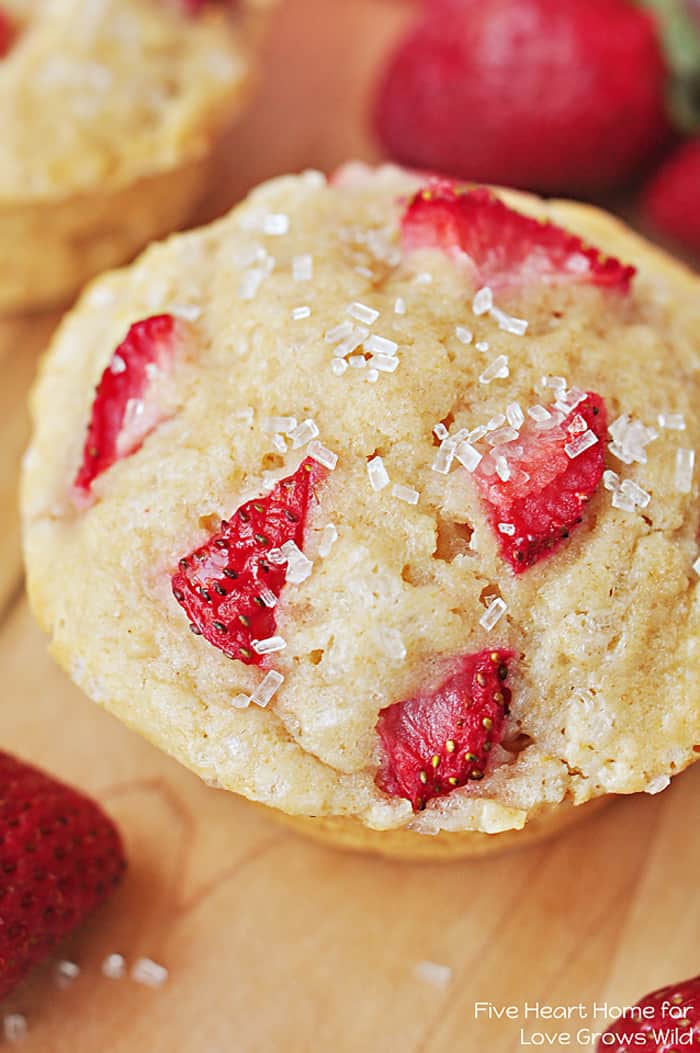 While blueberries are widely considered the quintessential fruit for folding into muffin batter, these strawberry muffins just might make you reconsider that stance. The muffin itself is tender and moist, with the strawberry chunks providing sweet, juicy pops in every bite. While you may certainly bake these up with regular all-purpose flour, I always feel better about feeding my kids muffins for breakfast when I incorporate whole wheat flour. And specifically, I like to use whole wheat pastry flour, which results in a lighter final product without an overbearing flavor of wheat. I typically substitute whole wheat pastry flour in my pancakes, waffles, and just about any quick bread you can think of with excellent results.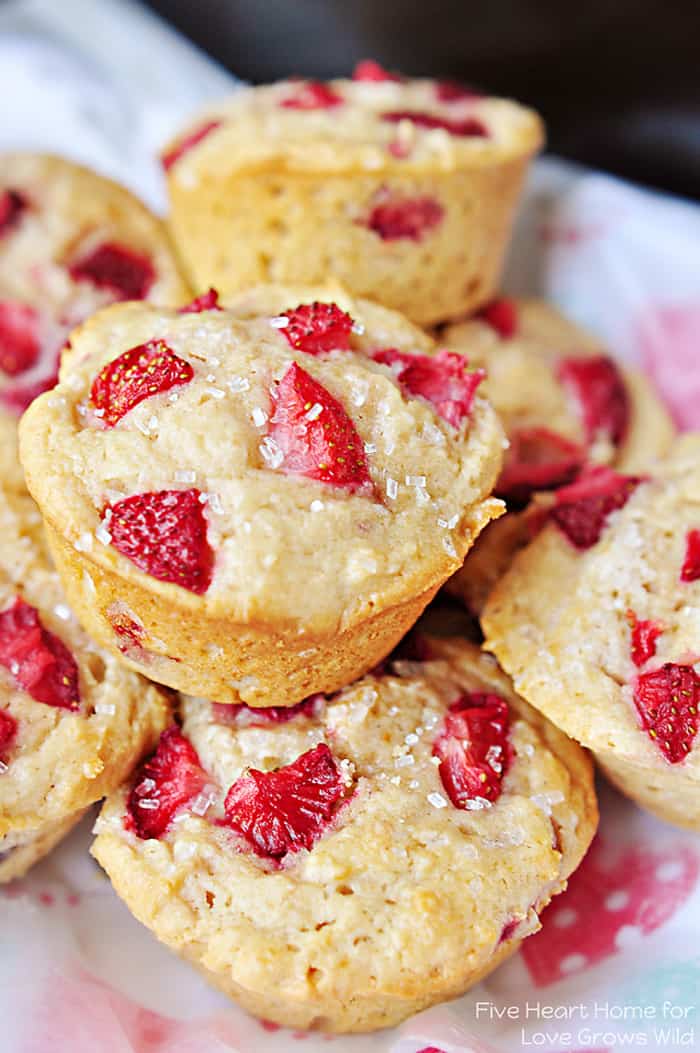 As a final touch to these tempting strawberry muffins, I like to add a sprinkle of coarse sparkling sugar. I love the crunchy contrast to the soft muffin. Some other yummy ways to enjoy these muffins would be to finish them off with a streusel topping or praline crumble, or to dip the tops in melted butter and then press them into cinnamon and sugar. Of course, all of those suggestions are optional…these muffins are perfectly delightful plain as well. 🙂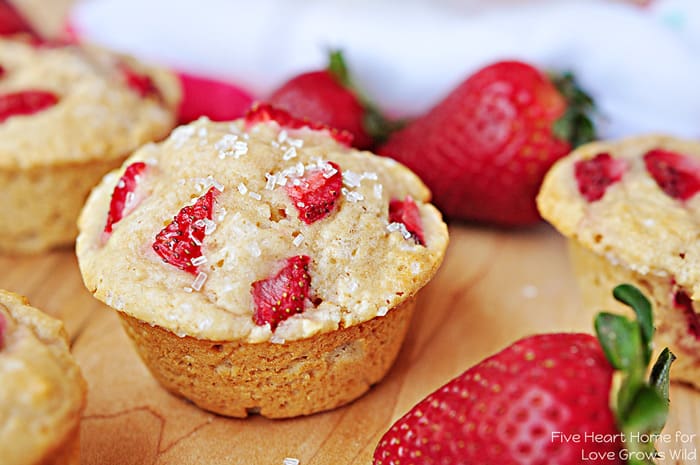 I hope that spring has arrived wherever you are, along with blooming flowers, singing birds, and warmer weather! But if you're one of the unfortunate souls who is still spying snow through your kitchen window, I hope that these strawberry muffins will at least help put you in a more spring-like frame of mind. Think spring thoughts and Mother Nature has got to follow suit sooner or later, right? 😉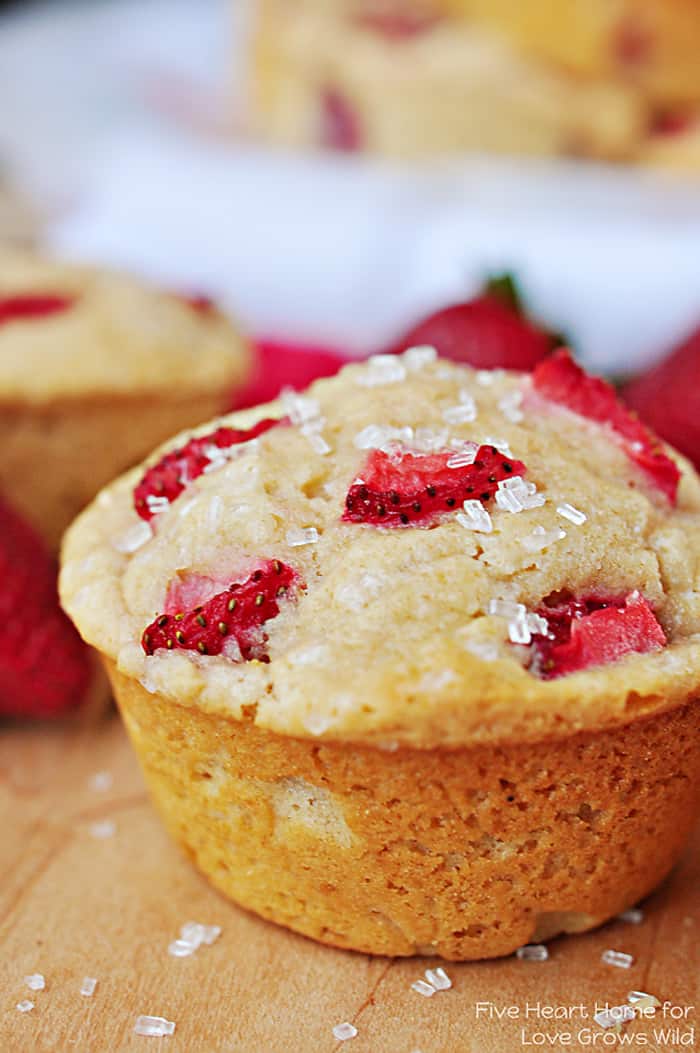 Whole Wheat Strawberry Muffins
Tender whole wheat muffins are studded with sweet strawberries for a juicy pop in every bite!
Author:
Samantha of Five Heart Home
INGREDIENTS
2 cups whole wheat pastry flour
1 tablespoon baking powder
½ teaspoon salt
1 large egg, at room temperature
1 cup sugar
⅓ cup coconut oil, melted and cooled
1 cup sour cream
¼ cup milk
2 cups diced fresh strawberries, divided
Coarse sparkling sugar, optional
INSTRUCTIONS
Preheat the oven to 350°F. Line muffin pans with paper liners, generously grease pans with softened butter, or coat with non-stick cooking spray.
In a medium bowl, whisk together the flour, baking powder, and salt. In a large bowl, mix together egg and sugar until thick and well-blended. Gradually stir in the coconut oil until incorporated, and then blend in the sour cream. Slowly mix half of the flour mixture into the wet ingredients, blend in milk, and then stir in remaining flour mixture until just combined. (Add a splash more milk if batter is too thick, but be careful not to add too much!) Gently fold 1½ cups of diced strawberries into the batter.
Evenly divide batter between about 15 muffin cups. Sprinkle tops of muffins with remaining ½ cup diced strawberries and, if desired, sparkling sugar. Bake for 20 to 25 minutes or until muffins are light golden brown and a toothpick inserted in the center comes out clean. Allow muffins to cool in pans for a couple of minutes before removing them to a cooling rack to cool completely.
NOTES
- In lieu of whole wheat pastry flour, you may substitute 1 cup all-purpose flour plus 1 cup whole wheat flour.

- If desired, you may substitute melted butter for the coconut oil.
– Adapted from Baking Illustrated.
I'd love to have you visit me at Five Heart Home sometime! Here are some of my latest spring creations…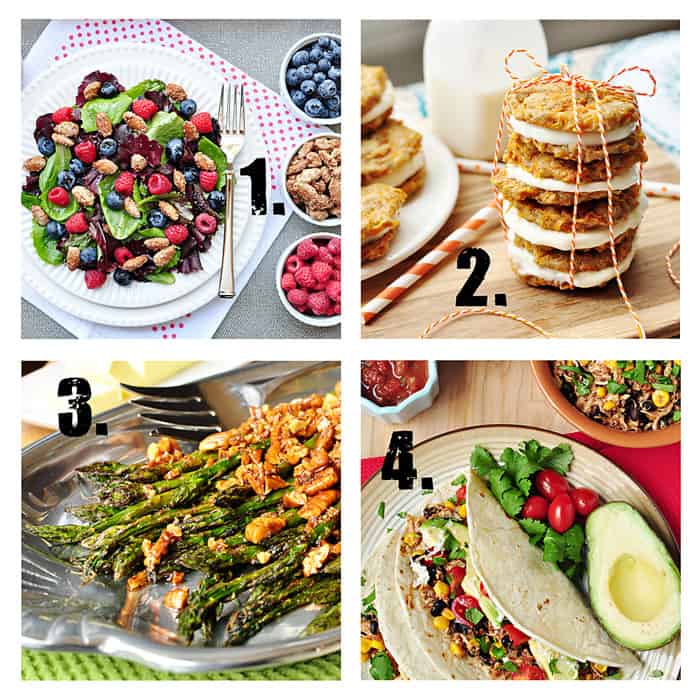 1. Spring Salad with Mixed Berries, Candied Almonds, & Honey Citrus Vinaigrette
2. Carrot Cake Sandwich Cookies
3. Roasted Asparagus with Brown Butter Pecans
4. Slow Cooker Chicken & Black Bean Tacos

CONNECT WITH SAMANTHA:
LET'S KEEP IN TOUCH!
Subscribe to Blog | Browse my Shop | Follow on Facebook | Follow on Twitter
Follow on Google+ | Follow on Pinterest | Follow on Instagram