I don't know about you, but I've had some serious mint dessert cravings lately! With St. Patrick's Day just around the corner, I've been seeing all kinds of amazing mintlicious desserts floating around the blogosphere, and today I'm sharing my contribution to the mint craze: Mint Oreo Cheesecake Bars!
When I'm grocery shopping, I strategically plan to avoid the snack aisle at ALL costs. It's a dangerous place to go, my friends. It is already hard enough trying to resist adding bags of Cool Ranch Doritos to the cart, and then I get to the end of the aisle and a glorious display of Oreos sits before me, begging to jump into my cart too. Have you seen how many varieties of Oreos they have now? It's crazy! I definitely don't remember having all those fun flavors as a kid. I spend the next 10 minutes staring at the bags of Oreos, trying to convince myself that I don't NEED them, but gosh… they're just so yummy. It's better that I avoid that aisle all together so I don't end up with a pantry stocked full of Oreos and nothing else!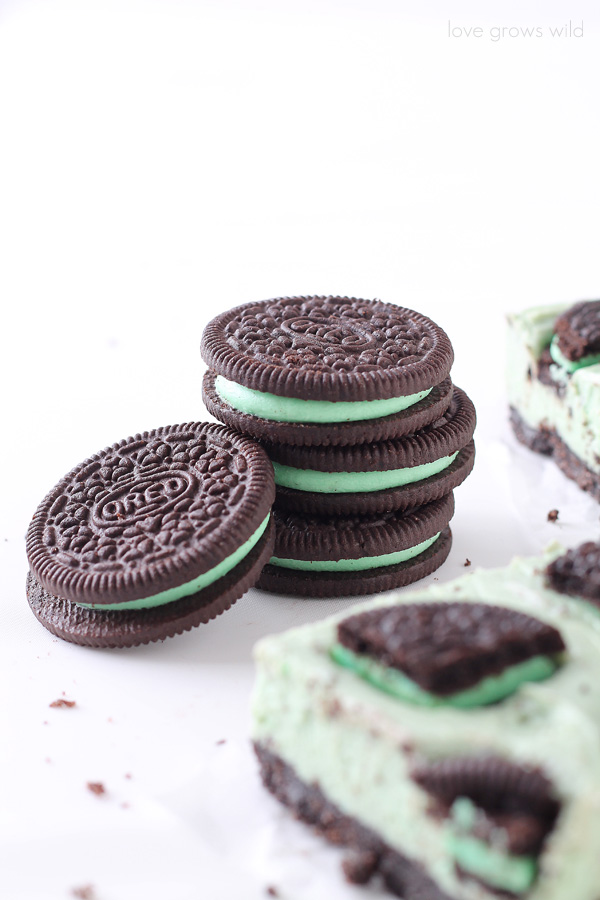 BUT, in honor of St. Patrick's Day, mint-chocolate desserts, and Oreo lovers everywhere, I broke down and bought a bag of beautiful, minty-green Oreos just so I could make these delicious cheesecake bars for you. I know… I totally earned a gold star today for this one!