Honey Chipotle Chicken Crispers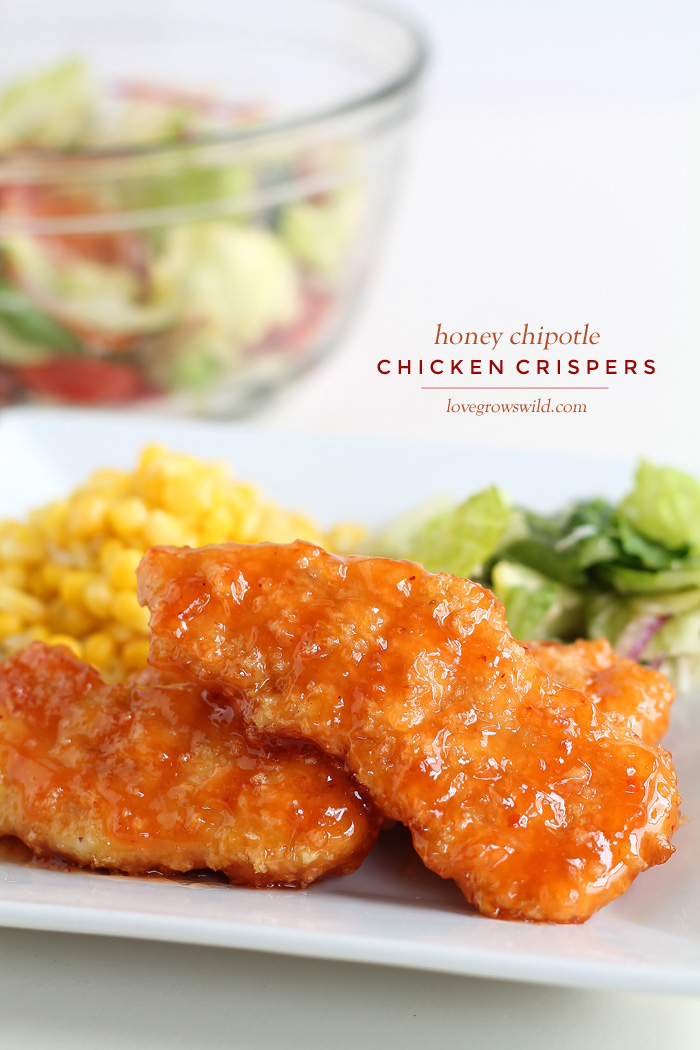 For the chicken:
2 boneless skinless chicken breasts, pounded to ½ inch thickness and cut into strips
1 cup flour
1 teaspoon each salt and pepper
2 eggs, lightly beaten
2 cups panko bread crumbs
For the sauce:
½ cup granulated sugar
⅓ cup honey
¼ cup ketchup
1 tablespoon white vinegar
2 teaspoons chipotle adobo sauce
½ teaspoon salt
½ teaspoon garlic powder
2 tablespoons cornstarch
For the chicken: Preheat oven to 400°F. In a large zip-top bag, add the flour, salt, and pepper. Seal bag and shake to combine ingredients. Place the eggs in a shallow bowl and the panko bread crumbs in a second shallow bowl. Drop a few pieces of chicken into the flour mixture and toss to coat. Then dip the chicken into the egg, turning to coat. Last dip the chicken into the bread crumbs, turning to coat and place on a baking rack set inside a baking sheet. Repeat until all chicken is coated. Bake for 16 minutes, or until chicken is crispy and cooked through. Remove from the oven and dip chicken into the honey chipotle sauce (see below). Serve warm with ranch for dipping and corn on the cob, fries, or coleslaw on the side.
For the sauce: While the chicken strips are baking, prepare the sauce. Add all the ingredients except the corn starch in a small saucepan and stir to combine. Bring to a gentle boil, whisking throughout. Once sauce comes to a boil, combine the cornstarch with ⅓ cup cold water in a small bowl and pour into the sauce. Reduce heat to low and stir occasionally until chicken is out of the oven and ready to be dipped in sauce.
- For the sauce ingredients, chipotle adobo is the sauce that chipotle peppers are packed in. You can find them canned in the international foods section at the grocery store. I just remove the chipotle peppers from the can and scoop out the sauce at the bottom.

- If you'd like your sauce to be on the spicier side, add a teaspoon or two of hot sauce to the sauce. I prefer it without!
Recipe by
Love Grows Wild
at https://lovegrowswild.com/2014/08/honey-chipotle-chicken-crispers/