Honey Nut Rugelach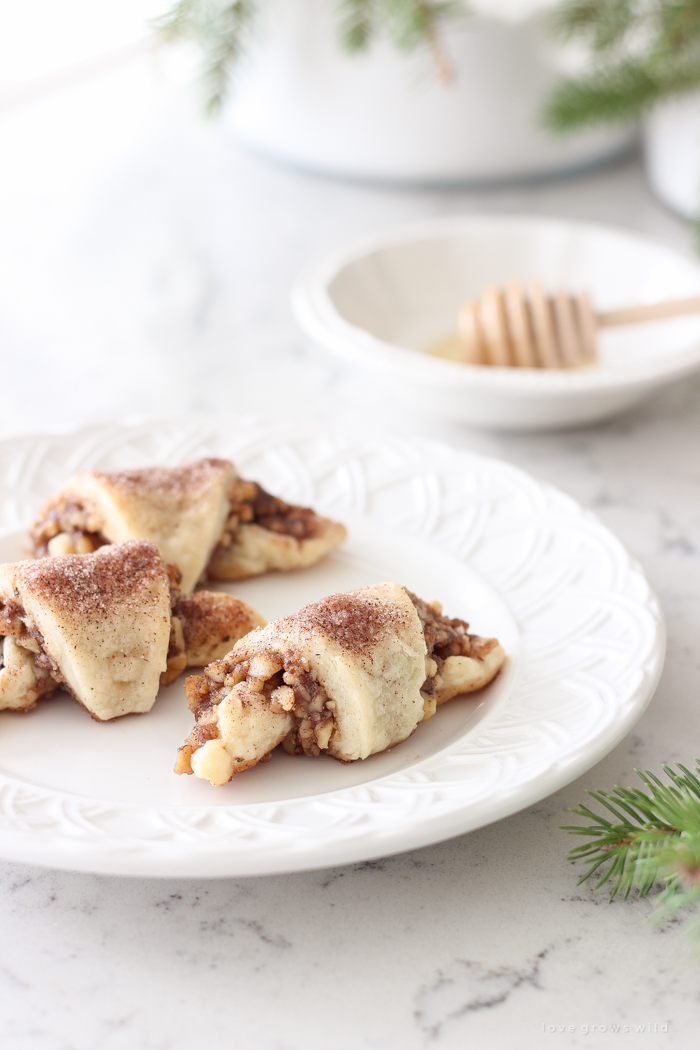 Dough:
1 cup unsalted butter, softened
8 ounces cream cheese, softened
1 egg yolk
2 tablespoons granulated sugar
1 teaspoon vanilla extract
¼ teaspoon salt
2 cups flour
Filling:
2 cups finely chopped walnuts (and/or pecans)
½ cup brown sugar
1½ teaspoon cinnamon
¼ cup honey
2 tablespoons unsalted butter, melted
Topping:
2 tablespoons whole milk
2 tablespoons granulated sugar
½ teaspoon cinnamon
In a large bowl, cream together the butter and cream cheese using a stand or hand mixer. Add the egg yolk, sugar, vanilla and salt and beat until well combined. Add the flour in two batches, mixing just until incorporated. Scrape the dough out onto a piece of plastic wrap and form a ball. Divide the dough into 4 equal portions and shape each portion into 1" thick disks. Wrap each disk in plastic wrap and refrigerate at least 2 hours and up to 3 days.
When ready to bake, preheat the oven to 350ºF and line baking sheets with parchment paper. In a medium bowl, combine the finely chopped walnuts, brown sugar and cinnamon. Pour in the melted butter and honey and stir until combined. Set aside.
Remove one disk of dough from the refrigerator at a time and allow the dough to set on the counter for 1-2 minutes before rolling. Sprinkle your work surface and the rolling pin with flour and sprinkle a small amount of flour on the surface of the dough as well. Roll the dough into a ⅛" thick circle. Then spread ¼ of the filling on the dough all the way out to the edges. Gently press the filling into the dough, then use a pizza cutter or sharp knife to cut the circle into 8 pie-shaped wedges. Starting on the wide outer edge, roll up each wedge and transfer onto the prepared baking sheet spaced 2" apart with the tip tucked underneath. Refrigerate the cookies on the baking sheet for 20 minutes while preparing the remaining batches.
Brush the tops of the unbaked cookies with milk and sprinkle generously with cinnamon sugar. Bake 22 minutes or until lightly golden with bubbling filling. Cool 5 minutes on baking sheet then transfer to a wire rack to cool completely. Store in an airtight container up to 1 week.