Maple Glazed Pumpkin Hand Pies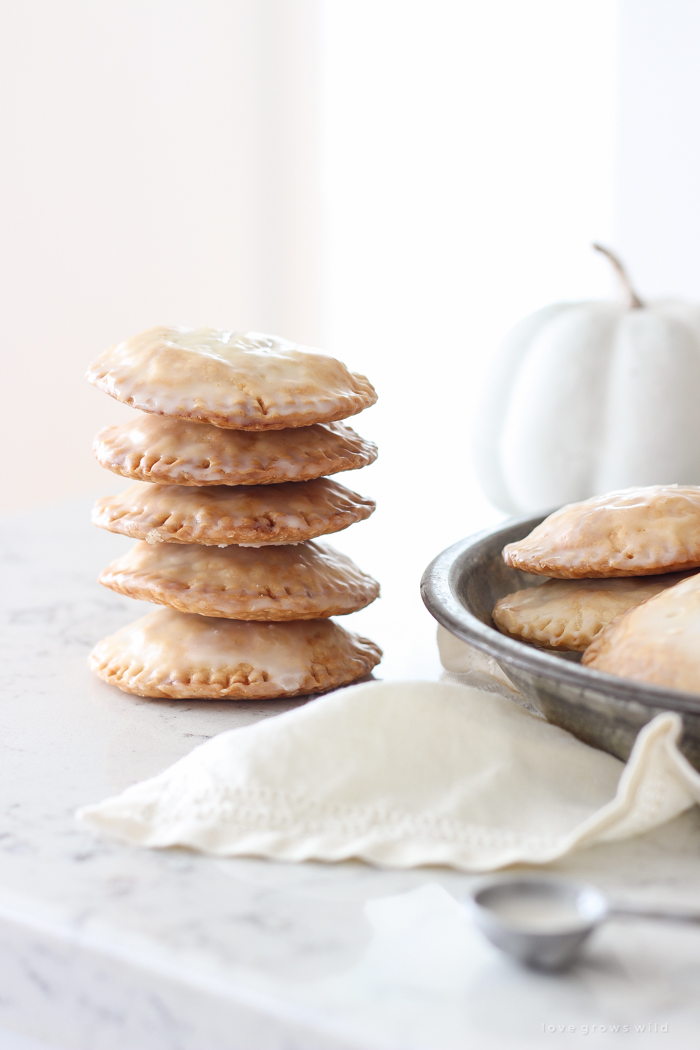 1 cup unsweetened pumpkin puree
¼ cup brown sugar, packed
1 teaspoon pumpkin pie spice
pinch of salt
1 package refrigerated pie crust (with 2 crusts) or homemade
1 egg white
1 cup powdered sugar
2 tablespoons milk
½ teaspoon maple extract
Preheat oven to 375 degrees. In a medium bowl, combine the pumpkin, brown sugar, pumpkin pie spice and salt and stir until smooth. Set aside.
Roll out the refrigerated pie crusts and use a 3-4" biscuit cutter to cut circles from the dough. Combine the scraps and roll them out again into a thin layer to cut more circles from the dough. Spoon approximately 1 tablespoon of the pumpkin mixture into the center of half the circles. Wet the perimeter of the dough circles with water to help them stick and place the remaining circles on top of the filled ones. Pinch the edges together and use a fork to crimp the dough all the way around. Create an egg wash by combining a small amount of water with 1 egg white in a bowl and brushing the wash over the tops of the sealed pies with a pastry brush. Cut a small vent in the top of each pie with a sharp knife and bake until golden, 20 -25 minutes.
Once the pies come out of the oven, mix together the powdered sugar, milk and maple extract in a small bowl. Spoon the glaze over the warm pies or brush the glaze on with a pastry brush. Allow the glaze to set before serving.
You will most likely have a good amount of the pumpkin filling left over, so you may want to pick up a second package of pie crusts to make more of these delicious pies!
Recipe by
Love Grows Wild
at https://lovegrowswild.com/2017/09/maple-glazed-pumpkin-hand-pies/