Pecan Streusel Pumpkin Pie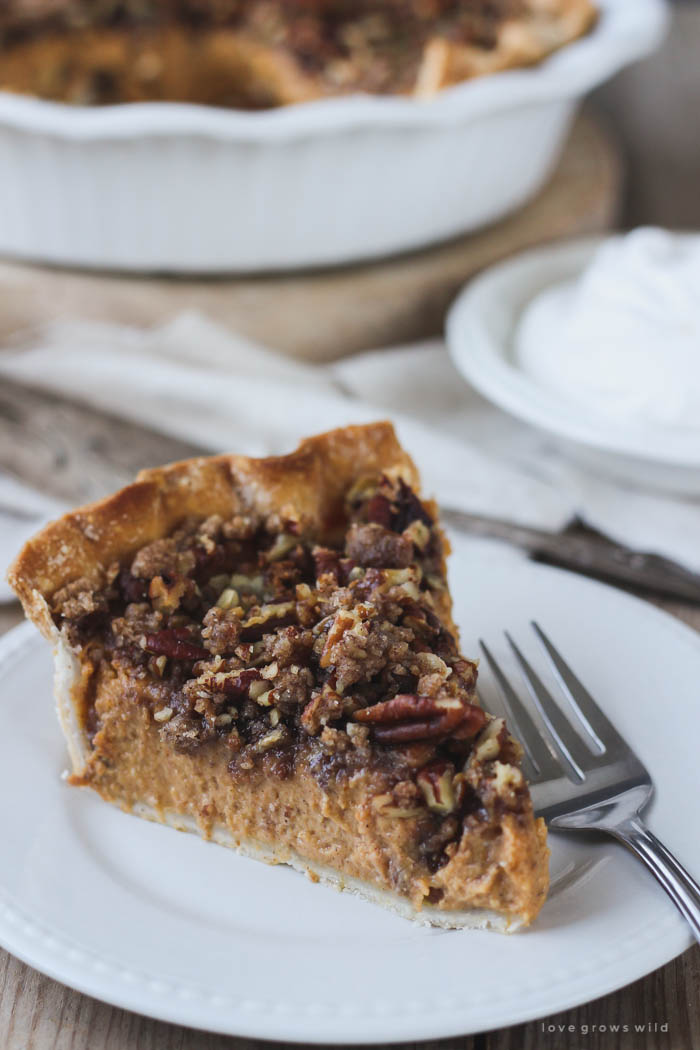 For the filling:
1 - 15 ounce can pumpkin puree
1 - 12 ounce can evaporated milk
¾ cup granulated sugar
2 large eggs
1 teaspoon ground cinnamon
½ teaspoon ground ginger
¼ teaspoon ground cloves
¼ teaspoon ground nutmeg
¼ teaspoon salt
For the topping:
¼ cup brown sugar, packed
2 tablespoons all-purpose flour
½ teaspoon ground cinnamon
2 tablespoons cold unsalted butter, cut into small cubes
¾ cup pecans, chopped
1 refrigerated pie crust or homemade
whipped cream, for garnish
Heat the oven to 425ºF. Place the pie crust in a 9" deep dish pie plate and crimp the crust edges, if desired. Prick the bottom of the dough with a fork and set aside.
For the filling: In a large bowl, mix together the pumpkin puree, evaporated milk, sugar, eggs, cinnamon, ginger, cloves, nutmeg and salt until completely combined. Pour the mixture into the prepared pie crust and bake for 15 minutes. Reduce the temperature to 350ºF and bake the pie another 30 minutes. While the pie bakes, prepare the topping (see below). Sprinkle the topping evenly over the pie and bake for another 15 minutes, until a knife inserted into the center of the pie comes out clean. Cool the pie at room temperature on a wire rack for 2 hours, then chill for another 2 hours before serving. Store the pie in the refrigerator for up to 3 days.
For the topping: Add the brown sugar, flour and cinnamon to a food processor and pulse to combine. Add the butter and pulse again until small crumbs of butter are evenly distributed throughout the mixture. Then add the pecans and pulse once or twice more to combine.
- If you do not have a food processor to make the streusel topping, here's an easy tip: Place the butter in the freezer for about a half hour. Then add the brown sugar, flour and cinnamon to a large bowl and stir to combine. Grate the frozen butter over the bowl, add the pecans, and stir to combine.
Recipe by
Love Grows Wild
at https://lovegrowswild.com/2015/10/pecan-streusel-pumpkin-pie/