Cinnamon Roll Baked Oatmeal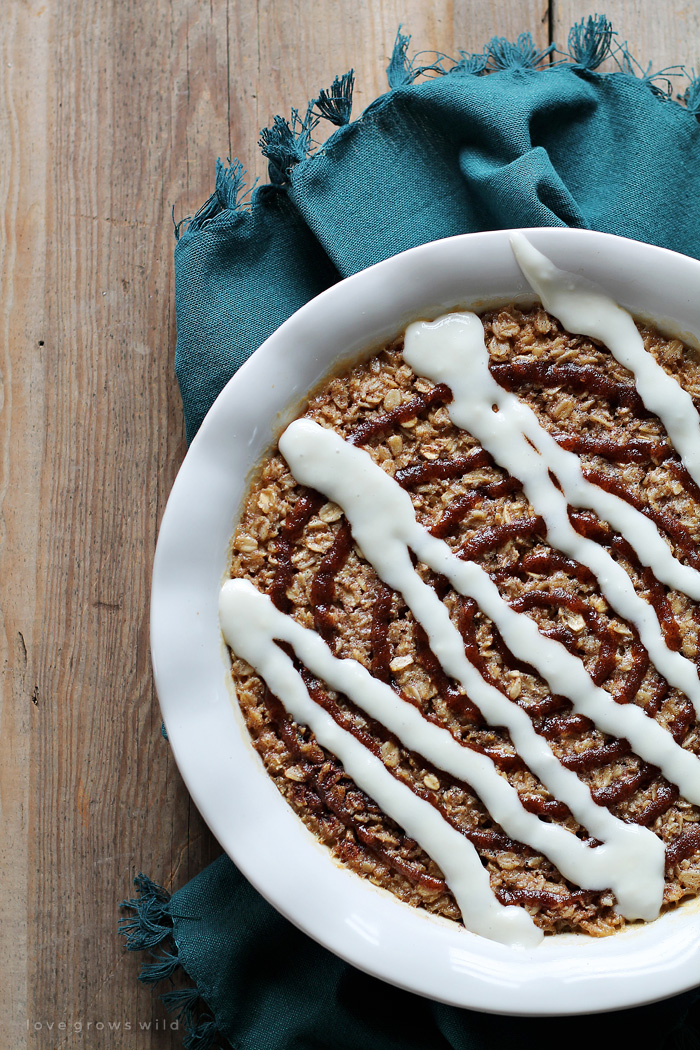 2 cups old-fashioned oats
¼ cup brown sugar
1 teaspoon baking powder
1 teaspoon cinnamon
½ teaspoon salt
2 cups milk
1 large egg
3 tablespoons unsalted butter, melted
1 teaspoon vanilla extract
Cinnamon Topping:
5 tablespoons unsalted butter, melted
½ cup brown sugar
1½ tablespoons cinnamon
Cream Cheese Icing:
4 ounces cream cheese, softened
¾ cup powdered sugar
2-3 tablespoons milk
Preheat oven to 350ºF and spray an 8" square baking dish or pie plate with nonstick cooking spray.
Add oats, brown sugar, baking powder, cinnamon, and salt in a medium bowl and stir to combine. In another large bowl, whisk together the milk, egg, and vanilla. Slowly pour in the melted butter, whisking constantly.
Add the oat mixture to the wet ingredients and stir to combine. Transfer to the greased baking dish and bake for 25 minutes. Cool slightly before serving.
While the oatmeal bakes, prepare the cinnamon topping by mixing the butter, brown sugar, and cinnamon together until combined. Then in a separate bowl, mix together the cream cheese, powdered sugar, and milk to prepare the cream cheese icing. Drizzle the cinnamon topping and cream cheese icing over the baked oatmeal before serving.
- If you want to make a pretty design on the top of your baked oatmeal, set the cinnamon topping and cream cheese icing in the refrigerator while the oatmeal bakes so it has a chance to thicken up a bit first.
Recipe by
Love Grows Wild
at https://lovegrowswild.com/2015/06/cinnamon-roll-baked-oatmeal/