Sausage and Cheese Breakfast Casserole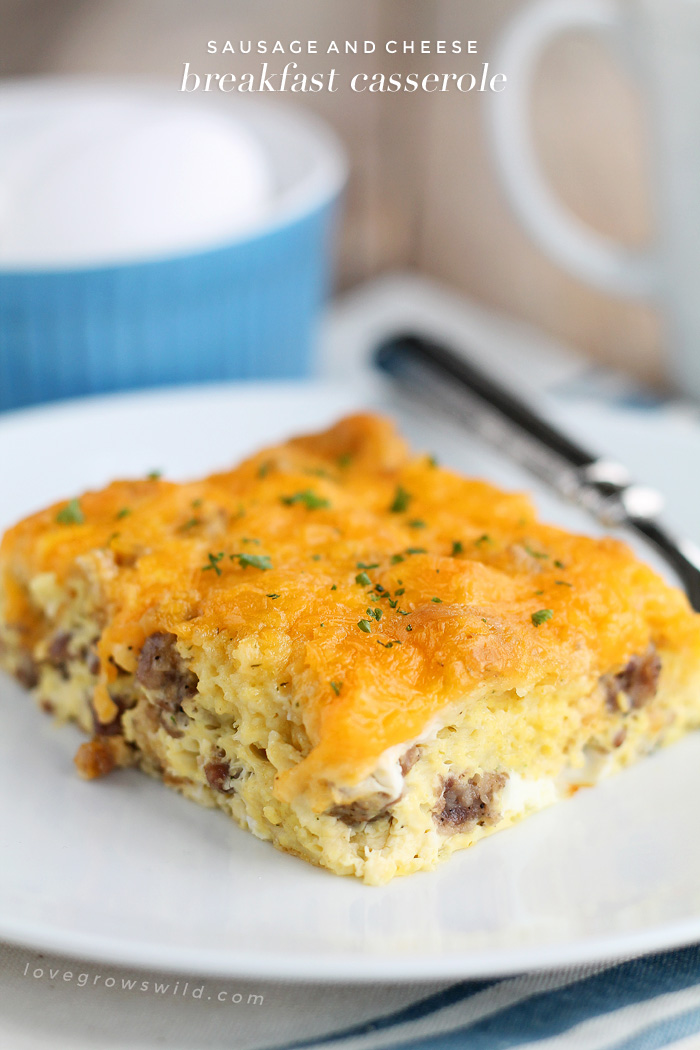 1 pound pork breakfast sausage
2 cups croutons
10 large eggs
1½ cups 2% milk
1 teaspoon ground dry mustard
¼ teaspoon salt
⅛ teaspoon pepper
8 ounces cheddar cheese, shredded
nonstick cooking spray
Cook the sausage in a large skillet until no longer pink, then drain any fat. Transfer sausage to a plate to cool. Spray a 13" x 9" baking dish with nonstick cooking spray and spread the croutons in the bottom of the dish in an even layer. Cover the croutons with a layer of the cooled sausage. In a large bowl, add the eggs, milk, dry mustard, salt, and pepper and whisk until well combined. Pour the egg mixture evenly over the sausage and sprinkle the cheddar cheese over top. Cover with plastic wrap and chill in the refrigerator at least 8 hours or overnight.
When ready to bake, take the casserole out of the refrigerator and preheat the oven to 350ºF. Bake uncovered for 50-60 minutes until the cheese is melted and the top is starting to turn golden brown. Cool about 5 minutes before cutting into pieces and serving.
- You can use mild or spicy breakfast sausage, although I prefer the mild.
- Any type of croutons will work, but I usually go for the seasoned croutons for an extra kick of flavor.
Recipe by
Love Grows Wild
at https://lovegrowswild.com/2014/12/sausage-cheese-breakfast-casserole/