White Chocolate Pecan Caramel Corn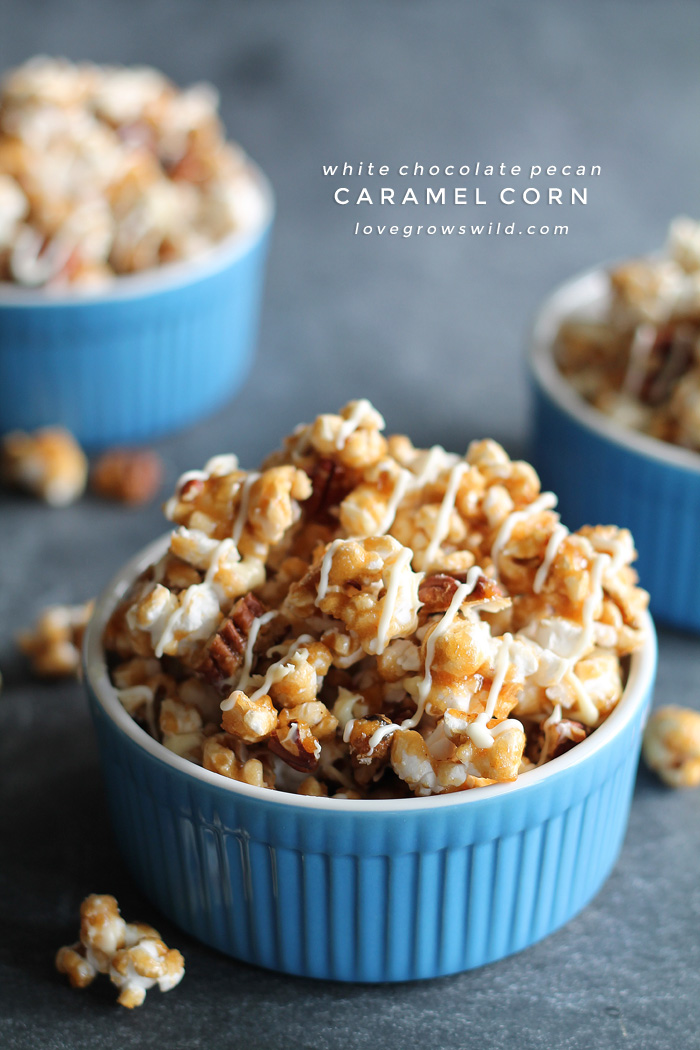 ⅓ cup popcorn kernels
3 tablespoons canola oil
1½ cups whole pecans, roughly chopped
10 tablespoons unsalted butter (1 stick + 2 tablespoons)
⅓ cup light corn syrup
1¼ cups packed light brown sugar
½ teaspoon salt
¼ teaspoon baking soda
5 ounces white chocolate
Add the oil and popcorn kernels to a large pot and shake until all the kernels are coated. Put a lid slightly askew on the pot to allow steam to escape. Place the pot over medium high heat and give it a shake every 30 seconds or so as the popcorn starts popping to avoid burning the popcorn. As soon as the popping stops and all the kernels are popped, remove the pan from heat and pour the popcorn into a large bowl. Add the chopped pecans to the bowl and set aside.
Preheat oven to 250°F and line two baking sheets with parchment paper. Melt the butter in a large saucepan over medium heat. Stir in the corn syrup, brown sugar, and salt and cook until the sugar dissolves, stirring occasionally. Add a candy thermometer to the pan and raise the heat to high. Bring the mixture to a boil. Continue boiling WITHOUT stirring until the candy thermometer reaches 248°F. Remove from heat and stir in the baking soda.
Immediately pour the caramel over the popcorn and pecans, stirring until evenly coated. Pour the caramel corn onto the two prepared baking sheets, spreading into a single layer. Bake for 45-50 minutes, stirring twice throughout baking. Remove from the oven and let cool completely.
Melt the white chocolate and drizzle over the caramel corn. Refrigerate for 10 minutes, until the chocolate is set, then break the caramel corn up into small pieces. Store in an airtight container for up to 1 week.
Recipe by
Love Grows Wild
at https://lovegrowswild.com/2014/10/white-chocolate-pecan-caramel-corn/