Peanut Butter Stuffed French Toast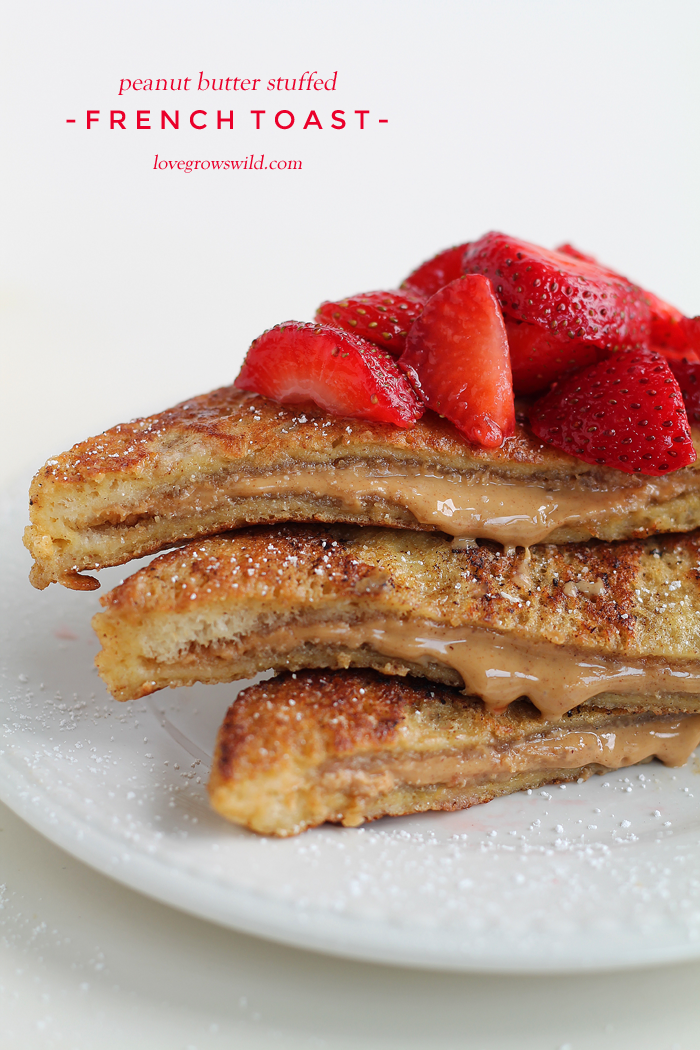 8 slices white bread
½ cup creamy peanut butter
4 large eggs
¼ cup Silk Unsweetened Almond Milk
2 tablespoons granulated sugar
1½ teaspoons vanilla extract
½ teaspoon cinnamon
dash salt
2 tablespoons butter
confectioners' sugar, for serving
maple syrup, for serving
Topping:
1 pound fresh strawberries, hulled and sliced
2 tablespoons granulated sugar
For the topping: Add sliced strawberries to a medium bowl and toss with granulated sugar. Set aside.
For the french toast: Cut the crust off bread slices (if desired) and spread about 1 tablespoon of peanut butter on each slice in a thin, even layer. Top 4 of the bread slices with the other 4 slices, sandwiching the peanut butter in the middle.
Whisk together the eggs, almond milk, granulated sugar, vanilla extract, cinnamon, and dash of salt in a shallow dish. In a large skillet or griddle pan, heat the butter over medium heat until butter melts and begins to sizzle. Dip both sides of the sandwiches in egg mixture and place in hot skillet. Cook 3-4 minutes, then flip the french toast and cook another 3-4 minutes until golden brown. Cut french toast in half and serve topped with confectioners' sugar, maple syrup, and strawberries.
Recipe by
Love Grows Wild
at https://lovegrowswild.com/2014/08/peanut-butter-stuffed-french-toast/