Asian Noodles with Snow Peas and Mushrooms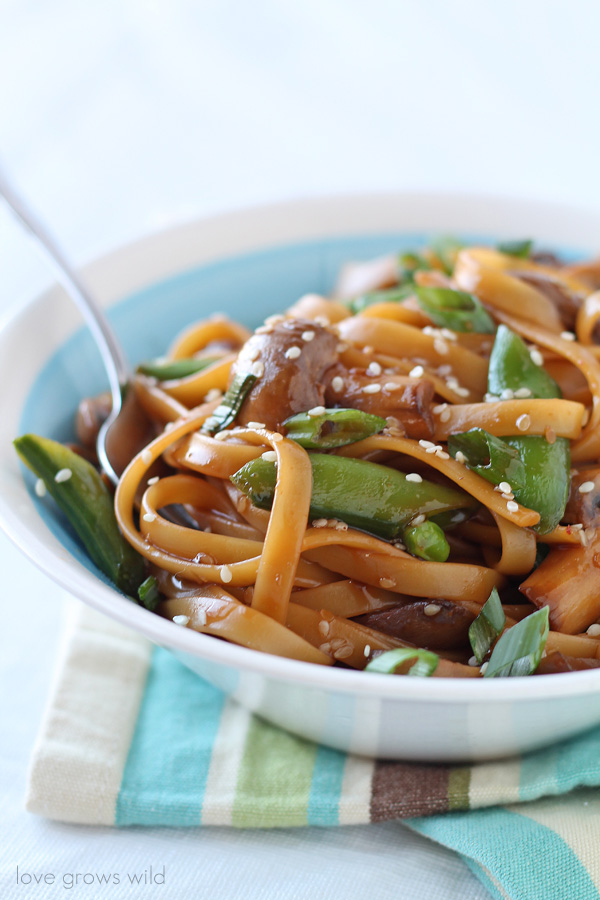 2 tablespoons sesame oil
2 green onions, chopped
1 tablespoon sesame seeds
8 ounces button mushrooms, sliced
¼ cup soy sauce
¼ cup honey
¼ cup chicken stock
1 tablespoon cornstarch
1 teaspoon Sriracha sauce (or any hot sauce you have)
40 snow peas, ends trimmed and cut in half
½ lb. fettuccine pasta
In a large pot, bring water to a boil and cook pasta according to package directions (about 10-12 minutes). Drain and set aside.
In another pot, bring water to a boil and cook the snow peas for 3-5 minutes until tender but still crisp. Drain and set aside.
Meanwhile, heat sesame oil in a large frying pan over medium-high heat. Add green onions, mushrooms, and sesame seeds and cook for 5 minutes, stirring often.
Remove pan from the heat and stir in the soy sauce, honey, chicken stock, and Sriracha. In a small bowl, mix 1 tablespoon of cold water with the cornstarch until smooth and add to the pan. Stir to combine and place pan back on medium-low heat. Once sauce is slightly thickened, add the drained pasta and snow peas and mix well to combine. Serve and enjoy!
- To wash your mushrooms before slicing, use a damp paper towel to gently wipe away any dirt.

- If you prep the veggies and cook the sauce while the pasta and snow peas are boiling, the dish should all come together about the same time!
Recipe by
Love Grows Wild
at https://lovegrowswild.com/2014/03/asian-noodles-with-snow-peas-and-mushrooms/