Slow Cooker Chicken Fajitas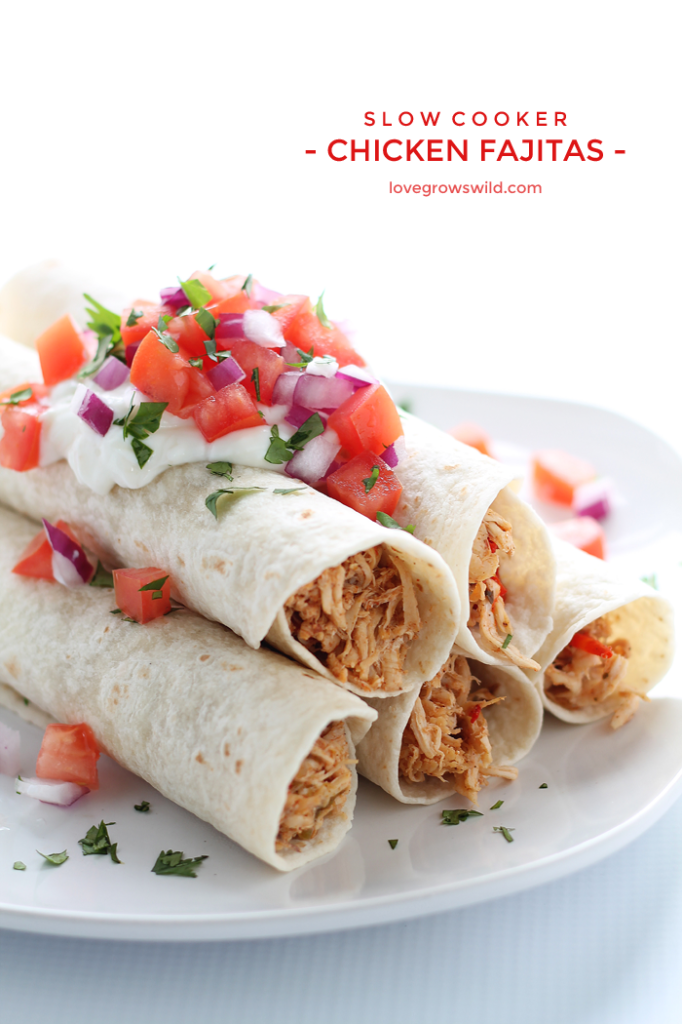 2 pounds chicken breasts
1 onion, sliced
1 red bell pepper, cut in strips
1 green bell pepper, cut in strips
¾ cup salsa
flour tortillas
optional toppings: tomatoes, cilantro, shredded cheese, sour cream
Fajita Seasoning:
4 teaspoons chili powder
2 teaspoons salt
2 teaspoons paprika
1 teaspoon garlic powder
1 teaspoon onion powder
1 teaspoon sugar
1 teaspoon cumin
½ teaspoon cayenne pepper
¼ teaspoon oregano
Place the chicken, onion, and peppers in a 6-quart slow cooker. In a small bowl, combine the salsa and fajita seasoning (see ingredients above) and pour into the slow cooker. Cover with a lid and cook 6-7 hours on low or 3-4 hours on high until chicken is cooked through and tender.
Stir the chicken until it shreds into bite-size pieces. Spoon the chicken mixture into a tortilla and add desired toppings.
- When filling your tortillas, use a slotted spoon or tongs and allow any excess liquid to drip back into the slow cooker. No soggy tortillas!
Recipe by
Love Grows Wild
at http://lovegrowswild.com/2014/05/slow-cooker-chicken-fajitas/